(View From The Couch is a weekly column that reviews what's new on Blu-ray, DVD and Streaming. Ratings are on a four-star scale.)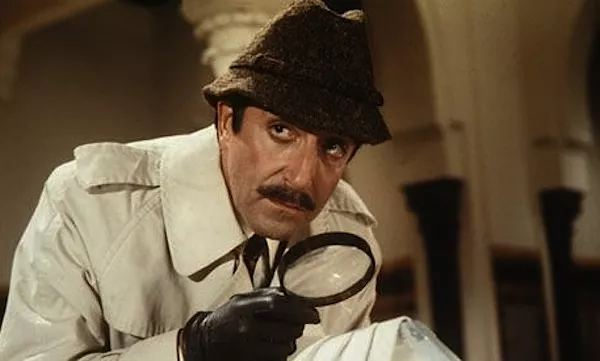 Peter Sellers as Inspector Jacques Clouseau (Photo: Shout! Factory & MGM)
THE PINK PANTHER SERIES (1964-1993). "I believe everything and I believe nothing. I suspect everyone and I suspect no one." So goes the personal philosophy of Inspector Jacques Clouseau, the bumbling French detective immortalized in a series of motion pictures by the brilliant Peter Sellers. Shout! Factory has brought together all six Sellers/Clouseau features in a Blu-ray box set titled The Pink Panther Film Collection, but that's not all. In addition, the Kino Lorber label has made available the three related pictures that do not star Sellers, meaning that completists can now own all nine movies on Blu-ray.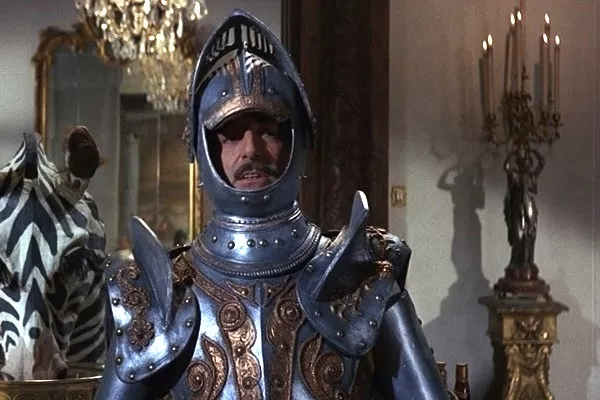 Peter Sellers in The Pink Panther (Photo: Shout! Factory & MGM)
The interesting thing about The Pink Panther (1964) is that Sellers isn't the top-billed star – that would be David Niven, cast as debonair playboy Sir Charles Lytton. Sir Charles also happens to be the notorious jewel thief known as The Phantom, and while he sets his sights on stealing a priceless diamond known as "The Pink Panther," Clouseau sets his sights on finally apprehending his evasive prey. Despite the game efforts of a top cast that also includes Capucine, Robert Wagner and Claudia Cardinale, director Blake Edwards (who co-wrote the film with Maurice Richlin) — to say nothing of audiences — noticed that Sellers and his fumbling character were the true stars of the film, a lighthearted caper yarn that also introduced both the animated Pink Panther character and Henry Mancini's wonderful theme music.
Peter Sellers and Elke Sommer in A Shot in the Dark (Photo: Shout! Factory & MGM)
The Pink Panther was a box office hit, and electing to strike while the iron was still red-hot, Edwards and Sellers reunited a few months later for A Shot in the Dark (1964). Co-written by Edwards and William Peter Blatty (still a few years away from penning The Exorcist), this hysterical comedy remains the best of the Pink Panther franchise, with Clouseau investigating a murder committed at the swanky estate of Benjamin Ballon (George Sanders). All evidence points to one of the resident's maids, Maria Gambrelli (Elke Sommer), as the killer, but because Clouseau is smitten with her beauty, he determines that she must be innocent. One ingenious set-piece is quickly followed by another, and the picture introduces several players who would become series mainstays: Herbert Lom, marvelous as the long-suffering Chief Inspector Dreyfus; Bert Kwouk as Clouseau's manservant Kato; Andre Maranne as Dreyfus' patient assistant Francois; and Graham Stark, who would play different characters over the years but is best in this one as Clouseau's put-upon assistant Hercule.
Alan Arkin in Inspector Clouseau (Photo: Kino)
Edwards and Sellers would reunite for 1968's The Party, which, despite its comic worth, is not a Clouseau/Pink Panther entry. For its part, the studio wanted one, so they proceeded without the involvement of either Sellers or Edwards with Inspector Clouseau (1968), with Bud Yorkin serving as director and Alan Arkin taking over the role of the inept police detective. Not surprisingly, it fared poorly. Arkin is a fine actor and superb comedian (eventually winning an Oscar for Little Miss Sunshine), and he's OK as long as you pretend he's not playing Clouseau (actually easy to do). But the movie itself is a mediocre yarn in which Clouseau gets mixed up with bank robbers as well as a traitor within Scotland Yard.
Peter Sellers and Burt Kwouk in The Return of the Pink Panther (Photo: Shout! Factory & MGM)
Eleven years after the one-two punch of The Pink Panther and A Shot in the Dark, Edwards and Sellers finally delivered another chapter in the beloved series. In The Return of the Pink Panther (1975), the Pink Panther diamond again gets stolen, and everyone naturally suspects Sir Charles Lytton (here played by Christopher Plummer). Maintaining his innocence, Lytton opts to play detective, doing a far better job than the real detective. That would be Clouseau, who this time falls victim to a telephone, a vacuum cleaner, and a swimming pool. As always, Kwouk and especially Lom are given moments to shine, and the picture was successful enough to resuscitate the franchise.
Herbert Lom and Peter Sellers in The Pink Panther Strikes Again (Photo: Shout! Factory & MGM)
The forward momentum resulted in The Pink Panther Strikes Again (1976), second only to A Shot in the Dark as the series' apex. Now completely over the edge, Lom's Dreyfus will stop at nothing to destroy Clouseau – this includes offering a sizable reward to anyone who kills the incompetent officer. This in turn leads to a fantastic sequence in which countless international assassins attempt to off the inspector (look for an amusing cameo from an unbilled Lawrence of Arabia star). Sellers is especially hilarious in this installment, forever mangling words, tripping over himself, and somehow always succeeding despite himself. Also: The "Does your dog bite?" gag is pure genius (and always makes me think of my late dad, who loved it so much that he would often bring it up in conversation). The animated opening credits, with the Pink Panther spoofing Batman, King Kong and even The Sound of Music (which starred Edwards' real-life wife, Julie Andrews), is another highlight.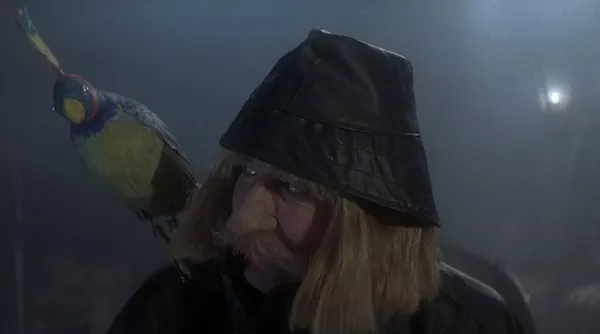 Peter Sellers in Revenge of the Pink Panther (Photo: Shout! Factory & MGM)
Like all of its predecessors, Revenge of the Pink Panther (1978) proved to be another box office hit for the Edwards-Sellers tag team, even though it doesn't quite match the films that came before it. In this outing, a mob boss (Robert Webber) puts out a hit on Clouseau's life – once it appears that the inspector has indeed been killed, it allows him and Cato to work behind the scenes to uncover various criminal activities. Revenge is often more frantic than funny, while Dyan Cannon, Oscar-nominated for the same year's Heaven Can Wait, isn't given enough to do as a gangster's moll. But it's a treat watching Dreyfus react to Clouseau's "death," and it's nice to see Kwouk enjoying a larger role than usual.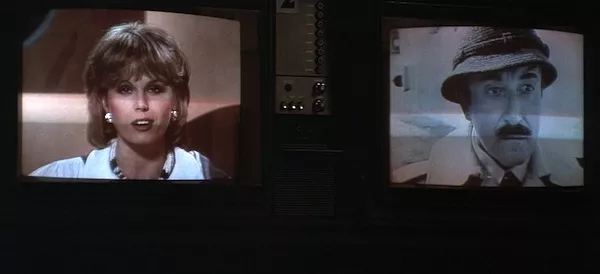 Joanna Lumley and Peter Sellers in Trail of the Pink Panther (Photo: Shout! Factory & MGM)
Sellers was ill for many years and finally died of a heart attack in 1980, at the age of 54. At this point, Edwards should have allowed the series to die with its star; instead, he made a few ill-fated attempts to continue the show on his own. Trail of the Pink Panther (1982) employed popular routines, unused footage and alternate takes of Sellers from previous Pink Panther movies to prop up a feeble storyline in which Clouseau disappears without a trace. Edwards brought back many familiar faces from previous entries – along with the regulars, there was also Niven, Capucine, and Revenge's Robert Loggia — and new characters included an intrepid reporter (Joanna Lumley) and Clouseau's equally dotty father (Richard Mulligan). It was a waste of everyone's time, and Sellers' widow, Lynne Frederick, was left fuming: She sued the studio for diminishing her husband's reputation with this film, eventually earning a one-million-dollar settlement for her troubles.
Ted Wass in Curse of the Pink Panther (Photo: Kino)
Nevertheless, with Trail, Edwards had the bridge he needed to continue the series with a new star. Curse of the Pink Panther (1983) picks up where the previous film left off, with Clouseau still missing. It's determined that the world's greatest detective should be hired to find him, but Dreyfus programs the computer so it instead picks the world's worst detective: New York cop Clifton Sleigh (Ted Wass). All of Trail's stars (plus Robert Wagner from the very first film) are again brought back, this time to prop up a new character who, as portrayed by Wass, proves to be resoundingly unfunny. Curse is a poor excuse for a comedy, but its worst offense comes toward the end. The cameo by an actor with a licence to kill is admittedly clever, but the new direction given to the character of Inspector Jacques Clouseau completely undermines the man we've known and loved over a series of great comedies. The character deserved a far better sendoff than the one he receives here, and Edwards, normally a savvy filmmaker who makes quality projects, should have known better than to cheapen Clouseau's legacy this way.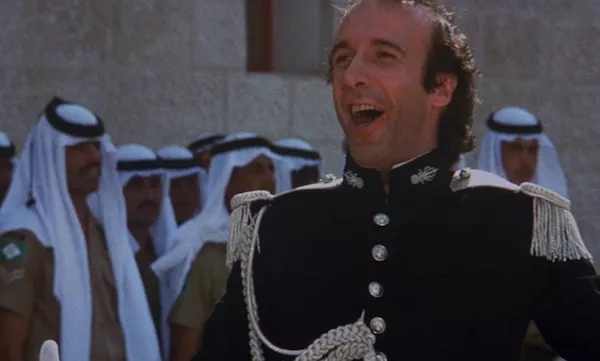 Roberto Benigni in Son of the Pink Panther (Photo: Kino)
Alas, Edwards wasn't through yet. Ten years after the critical and commercial disaster Curse of the Pink Panther, the filmmaker found himself with another bomb in the form of Son of the Pink Panther (1993). Yes, it was another misguided attempt by Edwards to revive the series, this time by focusing on the – surprise! – illegitimate offspring nobody knew Clouseau had sired. Roberto Benigni plays this character, a bungling police officer named Jacques Gambrelli. Lom and his character of Dreyfus receive a nice sendoff, but that's about it for this awful reboot in which Benigni reveals himself to be a poor substitute for Sellers (others considered for the role included Tim Curry and Gerard Depardieu, but no one could have succeeded with this script). Sadly, this was the final film for Edwards, Lom and Mancini; equally as sad, it was not the final film for Benigni.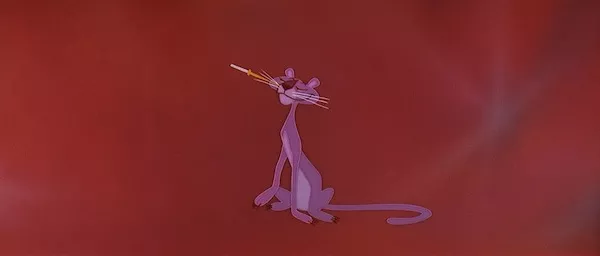 (Photo: Shout! Factory & MGM)
Blu-ray extras in The Pink Panther Film Collection include audio commentaries (including one by Edwards on The Pink Panther); new interviews with leading ladies Claudia Cardinale (The Pink Panther), Catherine Schell (The Return of the Pink Panther) and Lesley-Anne Down (The Pink Panther Strikes Again); vintage making-of featurettes on The Return of the Pink Panther and The Pink Panther Strikes Again; and extensive photo and poster galleries. Blu-ray extras on the individual titles include audio commentary by film historian William Patrick Maynard on Inspector Clouseau; an interview with Wass on Curse of the Pink Panther; and deleted scenes on Son of the Pink Panther.
The Pink Panther Film Collection:
The Pink Panther: ***
A Shot in the Dark
: ****
The Return of the Pink Panther
: ***
The Pink Panther Strikes Again
: ***1/2
Revenge of the Pink Panther
: **1/2
Trail of the Pink Panther
: ** Individual Titles:
Inspector Clouseau
: **
Curse of the Pink Panther
: *1/2
Son of the Pink Panther
: *
Charles Bronson in The Valachi Papers (Photo: Twilight Time)
THE VALACHI PAPERS (1972). Reportedly, the lazier film critics of 1972 described The Valachi Papers as a cash-in-quick rip-off of The Godfather, which was released that same year. It was a ludicrous claim on two fronts. First, The Valachi Papers had hit theaters first – not stateside, where Francis Ford Coppola's masterpiece indeed beat it into theaters by approximately seven months, but internationally, where Valachi had opened three months earlier. Second and more importantly, The Valachi Papers wasn't based on some cut-rate script someone found buried on Roger Corman's desk but an adaptation of a monumental bestselling novel by Peter Maas – one that, it should be noted, hit the streets a full year (1968) before Mario Puzo penned his gargantuan tome. And even with The Godfather breaking box office records, The Valachi Papers hardly disappeared without a trace; instead, it turned out to be a sturdy box office performer at year's end (adjusted for inflation, its gross in 2017 figures would fall just shy of $100 million). All this isn't to say that director Terence Young's Mob movie compares in any way to Coppola's achievement, but on its own terms, it's a satisfying slice of Mafia mayhem, based on the true-life tale of a Cosa Nostra flunkie who eventually becomes an informant. Charles Bronson stars as Joe Valachi, who served in various capacities (driver, bodyguard, hit man, etc.) for various Mob bigwigs over the years. Eventually becoming unsure of his own place in the "family" and dealing with treacherous colleagues and suspicious kingpins, he elects to become a government informer in an effort to save his own skin. Bronson delivers an excellent performance in this brutal yet absorbing crime flick.
The only Blu-ray extra is an isolated track of Riz Ortolani's music score.
Movie: ***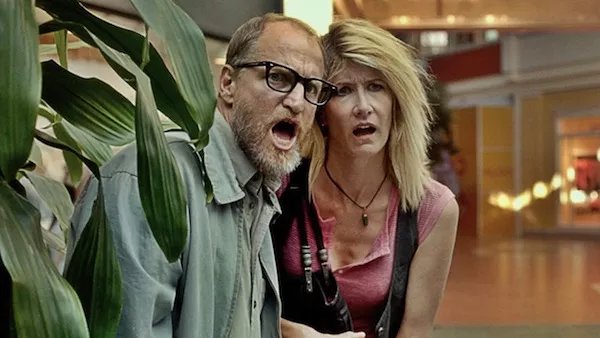 Woody Harrelson and Laura Dern in Wilson (Photo: Fox)
WILSON (2017). The title character in the seriocomedy Wilson comes from the graphic novel by Daniel Clowes, but, truth be told, he might as well have come from the Dennis the Menace comic strip created by Hank Ketcham. Like Mr. Wilson, Dennis's next-door neighbor, this Wilson is positioned as a grouchy guy but ultimately revealed to be a sweetheart. It's a bait-and-switch tactic that was more believable in the Sunday funnies than in this lackluster film. Wilson starts out by painting its protagonist (played by Woody Harrelson) as a raging misanthrope, albeit one who has convinced himself that he actually likes people. But the thaw begins almost immediately, with Wilson soon emerging as nothing more than a socially maladjusted guy with an ex-wife (Laura Dern), a cute dog, and a desire to have a family. Sentiment quickly takes the place of cynicism, and, despite the occasional flash of brutal wit, the film settles into a well-worn groove of indie preciousness. Harrelson, who over the last decade has built himself up into one of our best supporting players (The Edge of Seventeen, The Messenger, The Hunger Games franchise, etc.), is more than fine as Wilson: There's no doubt the actor would have taken the character to greater extremes, but that's not what's asked of him. Instead, he's forced to play a man who, quite frankly, isn't particularly interesting – certainly not as a leading character in a motion picture – and the overriding feeling is that the filmmakers should have just made a movie about Tom Hanks' Cast Away volleyball. At least that Wilson exhibited a bit more bounce.
Blu-ray extras include deleted scenes and theatrical trailers.
Movie: **
==============================
FROM SCREEN TO STREAM
(Recommended films currently available on streaming services)
James Coburn and Rod Steiger in Duck, You Sucker aka A Fistful of Dynamite (Photo: MGM)
DUCK, YOU SUCKER (1972). Since this was made by Sergio Leone, helmer of the 1964 classic A Fistful of Dollars, it's not surprising that its alternate title is A Fistful of Dynamite. Clint Eastwood's not on hand for this Western set against the backdrop of the Mexican Revolution, but you do get Rod Steiger as a Mexican bandit (a suitably hammy turn, even if his accent often slips into the Southern twang he employed in In the Heat of the Night) and James Coburn as the Irish explosives expert who awakens the self-centered bandido's anarchic spirit and sense of national pride. As with most Leone works, this one is full of sly humor and startling camerawork, and it also finds Ennio Morricone contributing one of his most offbeat scores. (Hulu)