(View From The Couch is a weekly column that reviews what's new on Blu-ray, DVD and Streaming. Ratings are on a four-star scale.)
Michelle Rodriguez in The Assignment (Photo: Lionsgate)
THE ASSIGNMENT (2017). Walter Hill, who's been largely MIA since the 20th century (he's directed only four films post-1999), returned to helm a wince-inducing dud that barely received a theatrical release. The central character in The Assignment is Frank Kitchen (Michelle Rodriguez), a hirsute hitman who, after being betrayed by a gangster known as Honest John (Anthony LaPaglia), wakes up to learn that he is now a she. It turns out that Rachel Jane (Sigourney Weaver), a mentally unstable doctor who can't stop talking about her own brilliance, had a score to settle with Frank, and rather than just have him bumped off, she opted to perform a sex change operation on him. Distraught over losing his penis (and, presumably, that beard), Frank now seeks revenge on the good doctor, with only a young nurse (Blake Lively clone Caitlin Gerard) aiding him/her. Considering the film's view of gender reassignment as the worst punishment imaginable, it's hardly surprising that the transgender community lashed out against the picture before filming even finished. Yet even moving beyond its sticky politics, The Assignment is simply a lousy film. The methods used to turn Rodriguez into a dude — shoddy CGI Photoshopping, that unfortunate beard — fail to convince (the actress's one-note performance also doesn't help), and the wraparound scenes in which Dr. Jane is interviewed by another doctor (Tony Shalhoub) about the whole affair rely on unbearably clunky exposition that's tough to take seriously.
Blu-ray extras consist of a photo gallery and trailers for other Lionsgate titles.
Movie: *1/2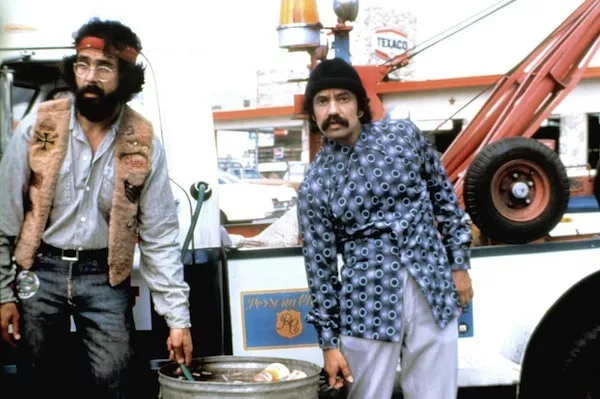 Tommy Chong and Cheech Marin in Cheech and Chong's Next Movie (Photo: Shout! Factory)
CHEECH AND CHONG'S NEXT MOVIE (1980) / WHERE THE BUFFALO ROAM (1980). Everything is going to pot over at Shout! Factory, as the label has just released two drug-addled movies on Blu-ray.
Cheech Marin and Tommy Chong became unlikely movie stars with the release of 1978's Up in Smoke, an often uproarious stoner flick that managed to become both a box office hit and a cult favorite. None of the comedy team's subsequent starring vehicles quite matched the good vibes of their initial effort (indeed, 1983's Still Smokin is practically unwatchable), although their sophomore film, Cheech and Chong's Next Movie, probably came closest. Here, the boys play — now here's a stretch — two slackers named Cheech and Chong, with Cheech also portraying a second character: Red Mendoza, Cheech's gregarious cousin from Texas. Members of the comedy troupe The Groundlings (including Phil Hartman and Cassandra "Elvira" Peterson) pop up in minuscule roles, although it's Pee-wee Herman (nee Paul Reubens), playing himself as an irate hotel clerk, who offers the most amusement — those only familiar with his gentle, kid-friendly depiction in his subsequent TV and movie projects might be startled to see him screaming such obscenities as, "You fucking assholes! Let me go! You fucking morons!"
Bill Murray and Peter Boyle in Where the Buffalo Roam (Photo: Shout! Factory)
While audiences in 1980 flocked to see Cheech and Chong's Next Movie — it ended up grossing almost as much as Up in Smoke — they steered clear of Where the Buffalo Roam, the first movie to attempt to bring the gonzo stylings of Hunter S. Thompson to the big screen. Thompson himself earned an "executive consultant" credit on the picture, but, like others involved with the troubled production, he was ultimately disgusted and disappointed with the end result. The one bright spot is Bill Murray: He's entertaining as Thompson, seen hobnobbing with his friend and attorney Carl Lazlo (Peter Boyle), bailing on covering the Super Bowl, and spending some time on the campaign trail during the 1972 presidential election (the actor playing "The Candidate" is billed as "Richard M. Dixon"). A scattered approach might have seemed like a good idea given the subject matter, but it instead results in a series of half-baked vignettes that aren't particularly insightful or amusing.
Blu-ray extras on Cheech and Chong's Next Movie consist of an interview with Marin; the theatrical trailer; and radio spots. Blu-ray extras on Where the Buffalo Roam consist of an interview with screenwriter John Kaye and the theatrical trailer.
Cheech and Chong's Next Movie: **1/2
Where the Buffalo Roam: *1/2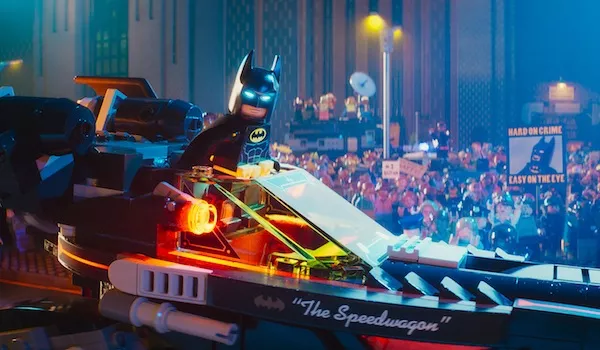 The Lego Batman Movie (Photo: Warner & DC)
THE LEGO BATMAN MOVIE (2017). The smashing success of 2014's The Lego Movie guaranteed that more blockbuster films centered around blocks would come tumbling off the assembly line, and The Lego Batman Movie was the first one to get the call. That's hardly a surprise, considering the Caped Crusader proved to be an audience favorite following his scene-stealing antics in the first picture — here, he's equally as entertaining, even as he's backed by a who's-who catalog of popular Warner Bros. players from other franchises. In this outing, Batman/Bruce Wayne (again voiced by Will Arnett) plays the loner role to the max, refusing to acknowledge the codependent needs of the Joker (Zach Galifianakis), the teamwork overtures of new commissioner Barbara Gordon (Rosario Dawson), and the simple demands of adopted orphan Dick Grayson (Michael Cena). But when Gotham City is attacked by such formidable foes as The Lord of the Rings' Sauron, Harry Potter's Voldemort, and King Kong's King Kong, the Dark Knight realizes that it's not a bad idea to have someone watching your back. What initially appears to be a facile (if fun) piece of entertainment actually deepens as it progresses, with the story nicely setting up some affecting dynamics between its central characters. Of course, the picture is a comedy first and foremost, with many of the biggest laughs coming courtesy of the knowing references to the many live-action Batman flicks from years past (particularly that 1966 spinoff from the TV series starring the late Adam West).
Blu-ray extras include audio commentary by director Chris McKay and crew; six making-of featurettes; deleted scenes; and four animated Batman shorts.
Movie: ***
Pamela Tiffin, Horst Buchholz and James Cagney in One, Two, Three (Photo: Kino)
ONE, TWO, THREE (1961). Having read (and reviewed for CL) John McCabe's excellent biography of James Cagney when it first appeared back in 1997, perhaps the tidbit I best recall was the actor's statement that, of the countless co-stars he had over the decades, the only one he truly despised was Horst Buchholz, a supporting player in Billy Wilder's One, Two, Three. Being the only person hated by one of the greatest of all Hollywood actors – now that's quite the achievement, if not a particularly envious one. Cagney primarily objected to Buchholz frequently trying to steal scenes, but he needn't have worried: The younger star is OK but nothing special, whereas Cagney delivers a marvelous performance for the ages. Moving with the speed of a NASCAR vehicle, this uproarious comedy stars Cagney as "Mac" MacNamara, a senior Coca-Cola executive overseeing the company's operation in West Berlin. Hoping for a promotion, he agrees to look after his boss's daughter Scarlett (Pamela Tiffin) as she visits Berlin for a few weeks — to his shock, he discovers that while in his care she has managed to marry a hotheaded Communist (Buchholz) from East Berlin. What follows is a dizzyingly fast-paced yarn in which Mac tries to right all wrongs and save his own skin — Cagney performs at such a breakneck speed, it's no wonder he retired from movies immediately thereafter, only returning 20 years later for a role in 1981's Ragtime. A sharp satire of the era's American and Russian philosophies, the film provides additional treats for those well-versed in politics (Khrushchev's shoe-banging) and/or cinema (The Public Enemy, Little Caesar).
Blu-ray extras consist of audio commentary by film historian Michael Schlesinger; interviews with Wilder; the theatrical trailer; and trailers for other films from Cagney (The Gallant Hours) and Wilder (Witness for the Prosecution and The Private Life of Sherlock Holmes).
Movie: ***1/2
Rosamund Pike and David Oyelowo in A United Kingdom (Photo: Fox)
A UNITED KINGDOM (2017). The sort of formidable true story that doesn't generally make it into the textbooks handed out during history classes, A United Kingdom centers on the difficulties encountered by a loving couple whose different skin colors meant they had to deal with an astonishing amount of societal prejudices. David Oyelowo, terrific as Martin Luther King in Selma, here plays another crusader for equal rights: Seretse Khama, a prince who in the 1940s journeys from Bechuanaland (now Botswana) to England to further his education before he returns home to claim the mantle of king. While in London, he meets and falls in love with Ruth Williams (Rosamund Pike), a secretary who returns his affection. The two plan to wed, a decision that not only upsets Ruth's parents but also Seretse's kinfolk, who bristle at the thought of a white woman becoming queen of their country. The proposed union also faces the wrath of the British government, whose members are outright antagonistic since they're playing nice with a South Africa that recently adopted a policy of apartheid. The film's first sections are the strongest, since the personal problems faced by the couple are more delineated than the political factors that tend to blur during the latter segments. And, as is often the case with historical sagas, this relegates lots of fascinating material into a few blocks of text at the end, giving short shrift to the subsequent accomplishments of two people who refused to be defined merely by their appearances. Overall, though, director Amma Asante and scripter Guy Hibbert (working from Susan Williams' book Colour Bar) have presented a compelling piece that serves as a reminder that, even in the direst of situations and in the most impossible of times, love can trump hate.
Blu-ray extras include a making-of featurette and footage from the movie's opening night premiere at the London Film Festival.
Movie: ***
==============================
FROM SCREEN TO STREAM
(Recommended films currently available on streaming services)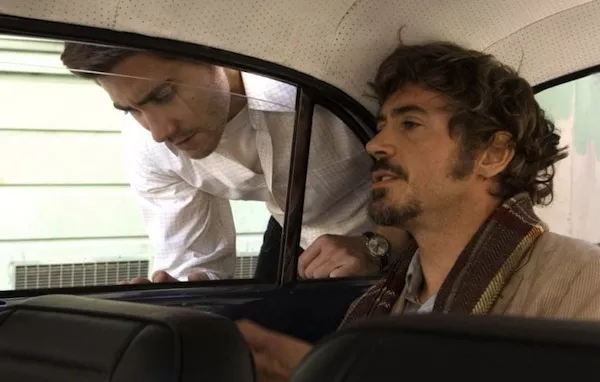 Jake Gyllenhaal and Robert Downey Jr. in Zodiac (Photo: Paramount)
ZODIAC (2007). David Fincher's Zodiac opened on the first weekend of March 2007, and given the spectacular reviews as well as Fincher's own popularity as the director of Seven and Fight Club, it should reasonably have made some noise at the box office. Instead, it opened with a shrug-inducing $13 million, with filmgoers electing instead to spend a whopping $39 million on the weekend's other new release, the imbecilic Tim Allen flick Wild Hogs. Good job, America. A satisfying hybrid of a journalism yarn, a police procedural and a serial killer flick, Zodiac (based on a true story) stars Jake Gyllenhaal as a San Francisco Chronicle cartoonist who becomes obsessed with uncovering the truth behind the series of grisly slayings plaguing the Bay Area. Yet he isn't alone in his fanatical devotion to the case: The mystery also haunts the dreams of a Chronicle reporter (Robert Downey Jr.) and a local detective (Mark Ruffalo), and as the years march on, the trio's pursuit of justice (or is it merely ego gratification?) begins to take its toll on health, marriage and career. Methodical in its storytelling yet purposely ambiguous in its intentions, Zodiac is a welcome change from the witless murder-mysteries that often clog our airwaves. (Netflix Streaming)