(View From The Couch is a weekly column that reviews what's new on Blu-ray, DVD and Streaming. Ratings are on a four-star scale.)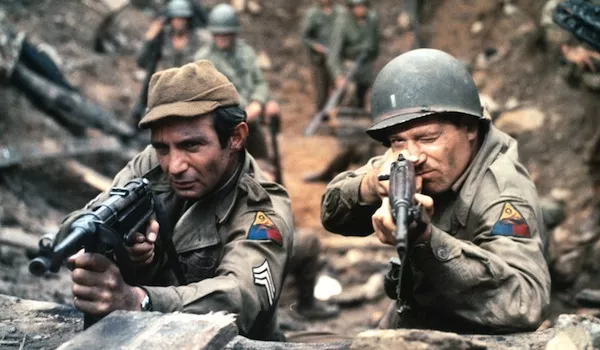 Ben Gazzara and George Segal in The Bridge at Remagen (Photo: Twilight Time)
THE BRIDGE AT REMAGEN (1969). Not to be confused with The Bridge on the River Kwai or A Bridge Too Far, The Bridge at Remagen is similarly an action-packed yarn about a valuable piece of real estate during World War II. In this case, it's the Ludendorff Bridge, which was not only one of the very few bridges into Germany that was still standing in the waning months of the war but also one that would immensely help Allied troops as they planned to invade Hitler's home turf. Realizing the importance of the bridge but also aware that its destruction would strand thousands of soldiers on the wrong side, Nazi officer Paul Kreuger (Robert Vaughn) takes his time in carrying out his orders to blow it up. Meanwhile, equally aware of the construct's strategic value, Brigadier General Shinner (E.G. Marshall) orders an American platoon led by Lieutenant Hartman (George Segal) to capture the bridge before it's leveled — an assignment Hartman abhors, since it means placing his fatigued men in danger yet again. Segal, gruffer than usual, delivers a strong performance, and ace cinematographer Stanley Cortez (The Night of the Hunter, Shock Corridor) offers some striking visuals (particularly a smoke-choked encounter on the bridge). Unfortunately, the war-is-hell theme is often handled clumsily by director John Guillermin and his trio of scripters, and the characters, from a zealous officer (Bradford Dillman) seeking to advance his career to a cynical soldier (Ben Gazzara) who finally locates his buried humanity, are a pat, predictable bunch. Incidentally, the film's stunt supervisor is the legendary Hal Needham, who made his mark as a renowned stuntman before directing Burt Reynolds in several of his films, including the box office blockbuster Smokey and the Bandit.
Blu-ray extras consist of the theatrical trailer and an isolated track of Elmer Bernstein's score.
Movie: **1/2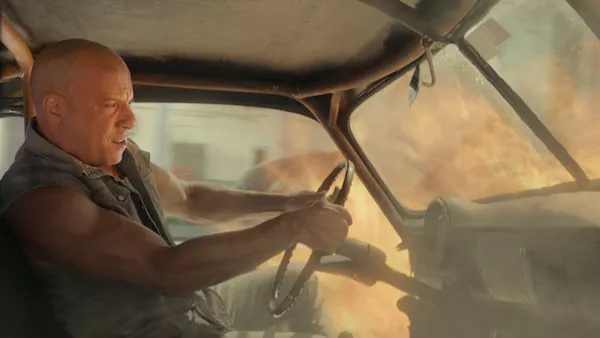 Vin Diesel in The Fate of the Furious (Photo: Universal)
THE FATE OF THE FURIOUS (2017). The eighth installment in the deathless series (hence F + 8 in the title; get it?) again finds Dom Toretto (Vin Diesel) yammering about "family" with even more frequency than any given Walton, Ingalls or Ewing. Thus, it's supposedly shocking when Dom betrays his girlfriend Letty (Michelle Rodriguez) and the other members of his tightknit group by joining forces with Cipher (Charlize Theron), a thoroughly despicable villain who's collecting nuclear devices to achieve her endgame of total global domination. For a series that has largely been about men comparing the sizes of their crankshafts with each other, the homoeroticism is generally kept under wraps, though there's some amusement in watching Hobbs (Dwayne Johnson) and Deckard (Jason Statham) try to one-up each other with boastful threats involving what they would like to do to each other. Naturally, though, it's the autoeroticism that takes center stage, even as the franchise continues to expand beyond its more humble roots by swiping a page or 10 from the James Bond playbook. The Fate of the Furious wallows in inanities with about the same frequency as it delivers excitement, and, like the other two films that followed the series-best Fast Five, it largely succeeds as a breezy and engaging lark (even if the death of one likable character proves to be too ugly for this generally lightweight series). As expected, the film ends with at least one unresolved plotline dancing in the wind, so look for the ninth entry — So Nine, So Fine, So Furious? — to hit multiplexes in 2019.
Blu-ray extras include audio commentary by director F. Gary Gray; behind-the-scenes pieces on the characters and the cars; and a look at the location shooting in Cuba. There's also an extended version of the film — annoyingly, it's only available on Digital.
Movie: **1/2
Richard Gere and Lior Ashkenazi in Norman: The Moderate Rise and Tragic Fall of a New York Fixer (Photo: Sony Pictures Classics)
NORMAN: THE MODERATE RISE AND TRAGIC FALL OF A NEW YORK FIXER (2017). Richard Gere delivers one of the finest performances of his lengthy career as Norman Oppenheimer, a self-professed businessman. And if you're wondering what "businessman" exactly entails in his case, you're not alone – another character asks that same question, hoping for clarity. Norman is a wheeler-dealer, a con man, an opportunist, a strategist, an advisor – take your pick. He's a small fish in a big pond, always trying to score important connections with politicos, financiers and other influential people. He finally strikes gold when he does a favor for rising Jewish politician Micha Eschel (Lior Ashkenazi, excellent), who three years later becomes the Israeli Prime Minister and doesn't forget his friend Norman. Written and directed by Joseph Cedar, Norman centers on a man who, by all logic, should be too insufferable and impossible to follow. Yet thanks to Cedar's writing and Gere's emoting, Norman Oppenheimer is instead a figure worthy of attention and sympathy. True, he makes his own bed and then has to sleep in the soiled sheets – after all, it's his insistence on exaggerating his power and his relationships that leads to his downfall. But who doesn't want to feel important, or feel as if they've made some positive contribution to society? One of Norman's problems is that he cares too much, and it's difficult to dislike and dismiss someone like that. If only the final act were as strong as the rest of this unique picture. Instead, in an ill-advised effort to not only neatly tie together all the plot threads but also lend the piece an air of tragic destiny, Norman abandons credibility for convenience. It's an unfortunate denouement, though it's hardly a debilitating one.
DVD extras consist of a Q&A with Gere and Cedar, and footage from the film's red carpet premiere.
Movie: ***
Yuen Siu-tien and Jackie Chan in Snake in the Eagle's Shadow (Photo: Twilight Time)
SNAKE IN THE EAGLE'S SHADOW (1978) / DRUNKEN MASTER (1978). It's hardly surprising to learn that the greatest influences on Jackie Chan weren't other martial arts experts but rather the shining stars of silent cinema. Charlie Chaplin, Harold Lloyd and especially Buster Keaton were Chan's heroes as he matured, and it's fitting that he became a star once his movies started embracing the lessons he learned from his idols. Chan had appeared in dozens of films before 1978, to little success. But by adding comedy to the established kung fu template, he emerged a box office champ in his Hong Kong homeland with the one-two punch of Snake in the Eagle's Shadow and Drunken Master. Sharing not only the same director (Yuen Wo Ping) but also the same set of performers (watching the films back-to-back, they feel like the Asian equivalent of those classic John Ford Westerns that always employed the same stable of actors), the two films cast Chan — billed as Lung Cheng in Eagle's Shadow and Jacky Chan in Drunken Master — as a promising but unpolished youth who receives much-needed guidance from a wizened master (Yuen Siu-tien) in the disciplines of patience, virtue, and kick-ass fighting. While Drunken Master was the larger of the two hits, I slightly prefer Eagle's Shadow (mainly because Chan's character is much more endearing), but audiences can't go wrong with either film. They're both fast and furious and frequently funny.
Both movies are offered by Twilight Time as a Blu-ray double feature on one disc. Extras consist of audio commentary on Drunken Master by film historians Ric Meyers and Jeff Yang, and isolated music tracks for both films.
Both Movies: ***
Whip Hubley in Species (Photo: Shout! Factory & MGM)
SPECIES (1995). A sleeper hit during the summer of '95, Species is an imaginatively cast and tautly directed sci-fi/horror hybrid that doesn't quite escape the timeworn dictates of its plotline. A group of scientists foolishly combine human and alien DNA, and the resultant growth, named Sil, turns out to be a beautiful woman (Natasha Henstridge) with a nasty habit of turning into a grotesque creature and ripping spines out of people's backs. The head scientist (Ben Kingsley) responsible for Sil's creation is hot on its (her?) trail, aided in his efforts by a gruff assassin-for-hire (Michael Madsen), a tortured empath (Forest Whitaker), a lonely professor (Alfred Molina) and a bright biologist (Marg Helgenberger). With the help of effects experts Richard Edlund and Steve Johnson, Oscar-winning artist H.R. Giger (Alien) created a memorable movie monster in Sil, although Dennis Feldman's script is frequently more perfunctory (to say nothing of ludicrous) than inspired. Still, the film is better than its mangy reputation, although it's best to skip its three sequels (the first two featuring Henstridge). Incidentally, the younger Sil is played by a 14-year-old Michelle Williams, a full decade before Brokeback Mountain kicked off her still-going-strong run as a critical darling and Oscar bridesmaid.
Blu-ray extras include audio commentary by Henstridge, Madsen and director Roger Donaldson; separate audio commentary by Donaldson, Edlund, Johnson and producer Frank Mancuso Jr.; a making-of featurette; new interviews with Donaldson, Johnson and various other crew members; a piece on Giger; a look at the visual effects; and an alternate ending.
Movie: **1/2
==============================
FROM SCREEN TO STREAM
(Recommended films currently available on streaming services)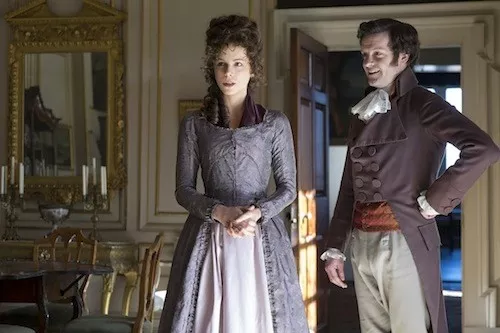 Kate Beckinsale and Tom Bennett in Love & Friendship (Photo: Roadside Attractions)
LOVE & FRIENDSHIP (2016). Whit Stillman's previous four directorial at-bats all found him working from his own original scripts (earning a Best Original Screenplay Oscar nod for his first, 1990's Metropolitan), but here he takes a stab at adapting Jane Austen's obscure novel Lady Susan. The result is more of a piece with Stillman's other films than with such Austen adaptations as Sense and Sensibility and Emma — it often ignores the lush splendor and heart-on-the-sleeve emotions of those efforts in order to focus more squarely on witty folks bantering back and forth. Lady Susan Vernon, seeking matches for both herself and her daughter (Morfydd Clark), is more duplicitous and less squeaky-clean than other Austen heroines, and Kate Beckinsale plays her with the right measure of suavity and self-satisfaction. There's also an amusing turn by Tom Bennett as James Martin, a not particularly bright suitor who marvels at another character's proficiency in both "verse and poetry." (Amazon Prime)