(View From The Couch is a weekly column that reviews what's new on Blu-ray, DVD and Streaming. Ratings are on a four-star scale.)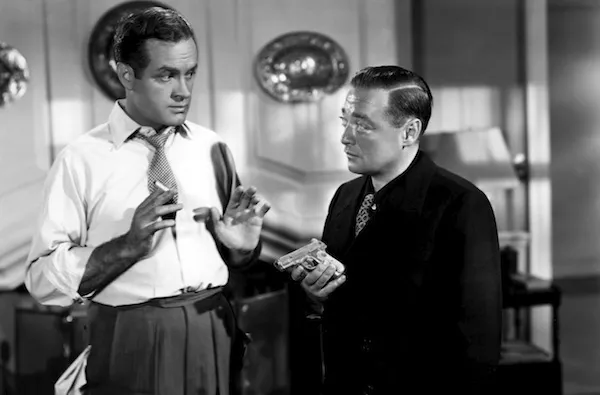 Bob Hope and Peter Lorre in My Favorite Brunette (Photo: Kino)
BOB HOPE COMEDIES (1947-1952). Regarded in many camps as the greatest all-around entertainer of the 20th century (and he has the record-setting number of awards to back that claim), Bob Hope found success in virtually every field, including radio, television and, of course, motion pictures. These four titles, available individually from the Kino label, ably showcase his cinematic prowess.
An in-name-only follow-up to 1942's My Favorite Blonde, My Favorite Brunette (1947) finds the comedian cast as a baby photographer who's mistaken for a private eye by a mysterious beauty (Dorothy Lamour) as well as by the various crooks trying to keep her from blowing the lid off their nefarious scheme. Before long, the bumbling would-be snoop finds himself mixing it up with a menacing henchman (a wonderful Peter Lorre), trying to outsmart a dim-witted orderly (Lon Chaney Jr.), and facing execution after a wrongful murder charge. One of Bob's best, My Favorite Brunette never slows down, offering plenty of choice one-liners, inspired set pieces, and a pair of ace cameo appearances.
The fifth of seven "Road" movies, Road to Rio (1947) is one of the better entries in the Hope-Bing Crosby franchise, with the duo playing musicians who both have their eyes on a young woman (Lamour) under the control of her scheming aunt (Gale Sondergaard). The grade-A comedy quotient more than makes up for the routine musical numbers (although the score did earn an Oscar nomination).
Marilyn Maxwell and Bob Hope in The Lemon Drop Kid (Photo: Kino)
A Damon Runyon story is the basis for The Lemon Drop Kid (1951), with Hope in fine form as racetrack gambler Sidney Melbourne. After an ill-advised swindle leaves him owing a ruthless mobster (Fred Clark) a substantial amount of dough, Sidney concocts a scheme that will help him pay off his debt by employing unsuspecting elderly women. But will his conscience ultimately get the better of him? Trivia note: The Yuletide standard "Silver Bells" was introduced in this film.
Road to Bali (1952), the penultimate picture in the "Road" series, offers enough nyuks to maintain interest, with Hope and Crosby as entertainers who end up on a lush island paradise. There, they woo a princess (Lamour) and run afoul of villagers searching for sunken treasure. The gags involving such stars as Humphrey Bogart, Jerry Lewis and Dean Martin are priceless.
Aside from cross-promotional excerpts from all the Hope films being offered by Kino, the only Blu-ray extra is audio commentary by film historians Michael Schlesinger and Mark Evanier on Road to Bali.
My Favorite Brunette: ***1/2
Road to Rio: ***
The Lemon Drop Kid: ***
Road to Bali: **1/2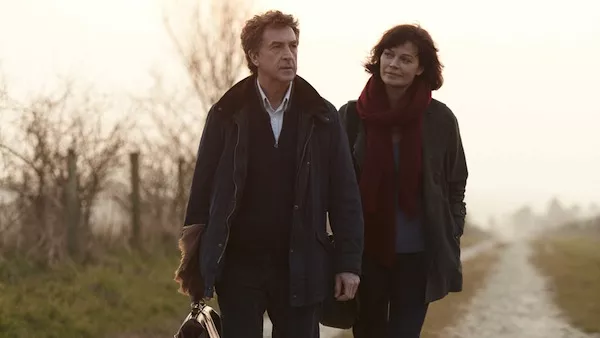 François Cluzet and Marianne Denicourt in The Country Doctor (Photo: Icarus Films)
THE COUNTRY DOCTOR (2017). In its theatrical run, the French release Médecin de Campagne made the English-language rounds under two different titles, although, truth be told, either works equally well. The Country Doctor (its moniker on the festival circuit and, now, on DVD from Icarus Films Home Video) and Irreplaceable (its name on IMDb and Rotten Tomatoes) both fit this low-key effort about Jean-Pierre Werner (François Cluzet), a provincial doctor who provides that personal touch when treating all of his patients. But after Jean-Pierre learns he has cancer, he's forced to groom a potential replacement in Nathalie Delezia (Marianne Denicourt), a less seasoned doctor who hails from the city. Jean-Pierre imparts his wisdom on Nathalie, who, of course, has a lot to learn but who also proves to be a quick study and in some instances even improves upon her mentor's bedside manner. Cluzet, star of the international art-house hits The Intouchables and Tell No One, and Denicourt find the proper measure of gentle tension in their characters' relationship, with many of the best scenes simply focusing on their various conversations. While it's true that there's absolutely nothing in The Country Doctor that can be described as surprising, it's still an engaging watch that goes down easily.
There are no extras on the DVD.
Movie: ***
Scarlett Johansson in Ghost in the Shell (Photo: Paramount)
GHOST IN THE SHELL (2017). It's reached a point where CGI is so been-there-done-that, it's hard to ever locate anything new in Hollywood's oversized slate of fantasy flicks. But then here comes Ghost in the Shell, with its stream of images that manage to be at once familiar and revolutionary. While the general aesthetic recalls Blade Runner, the particulars bring to mind The Matrix – specifically the manner in which something old, like a gun battle or a mad dash around a room, becomes something new. Simply stated, the visual effects are superb – sometimes chilly, sometimes creepy, but always fascinating to behold. If visual vibrancy turned out to be the sole positive attribute, that would only be a partial victory. Instead, this adaptation of the popular manga is effective as both an action flick and, more impressively, a sociopolitical piece that casts a wary eye toward the future. The global theme ties directly into the casting of Scarlett Johansson as The Major, a cyber-enhanced agent for an organization devoted to fighting global terrorism. While the makers of the original 1989 franchise endorsed the selection of the actress, many in this country denounced the choice as yet another example of Hollywood whitewashing. Certainly, this remains a dire problem, yet that's not necessarily what's going on with this picture. Without unleashing any spoilers, let's just say that the selection of Johansson to play what's essentially a fabricated being makes sense within the context of the story, and the Japanese roots ultimately are not discarded. Ghost in the Shell flopped in theaters this past spring — audiences preferred the more conventional action in Logan and John Wick: Chapter Two — but for those willing to make the effort to look beneath its surface dazzle, this proves to be an unexpectedly intricate and surprisingly humanistic endeavor.
Blu-ray extras include a making-of featurette and a piece examining the story's philosophical bent.
Movie: ***
Elizabeth Banks in Slither (Photo: Shout! Factory)
SLITHER (2006). While this horror yarn offers gore by the bucketful, it's also in the spirit of those enjoyable, us-against-them monster yarns that ran rampant from the 1950s straight through to the mid-1980s. Starting out as an "invader from outer space" opus (think The Blob) before switching gears to become a quasi-zombie flick (think Night of the Living Dead), the film involves a gelatinous E.T. that turns hicksville businessman Grant Grant (Michael Rooker) into its agent of evil on earth. The master plan eventually involves a mass assault by hundreds of slugs that take over humans' bodies by entering through the mouths; naturally, the entire planet is doomed unless double-Grant's wife (Elizabeth Banks) and an amiable sheriff (Nathan Fillion) can figure out a way to shut the otherworldly operation down. Slither takes its time getting started, but once it does, it never lets up, throwing blood, slime and one-liners (some woeful, most of them witty) at viewers with feverish abandon. Banks is particularly touching as the wife who doesn't comprehend why her husband has morphed into a human squid. The worst part of the picture is the unnecessary coda tacked on after the closing credits have run their course, so be sure to turn off your Blu-ray player before then.
Blu-ray extras include audio commentary by writer-director James Gunn, Fillion and Rooker; separate audio commentary by Gunn and Fillion; new interviews with Gunn and co-star Gregg Henry; a making-of featurette; deleted scenes; a piece on the visual effects; and a gag reel.
Movie: ***
Ann-Margret in State Fair (Photo: Twilight Time)
STATE FAIR (1962). While Richard Rodgers and Oscar Hammerstein II wrote most of their landmark musicals for the stage, 1945's State Fair was created specifically for the screen. Based on a novel by Philip Stong (and previously filmed in 1933 as a non-musical starring Will Rogers), it centered on the members of an Iowa family finding love and success at the title event. With its appealing cast and homespun humor (love that mincemeat contest!), the film was a hit and even nabbed the Best Original Song Oscar for the ballad "It Might As Well Be Spring." With such a valuable property, it's not surprising 20th Century Fox elected to mount a remake for the next generation — unfortunately, the 1962 version is a lackluster affair hampered by flat performances and negligible new tunes penned by Rodgers (Hammerstein had passed away in 1960). The Iowa setting has been scratched for Texas, but the fundamentals remain the same. The Frake family heads to the state fair, where dad Abel (Tom Ewell) hopes his pig will win first prize while mom Melissa (Alice Faye) prays her mincemeat pie will win first place. Meanwhile, son Wayne (Pat Boone) finds himself smitten with sultry dancer Emily Porter (Ann-Margret) and daughter Margy (Pamela Tiffin) falls for slick TV reporter Jerry Dundee (Bobby Darin). Ewell isn't folksy enough for his role, while the puritanical smugness of Faye's Melissa leaves a bad taste (she's aces as a mom but horrible as a person). Still, it's the blandness of the youngsters that largely sabotages this rendering, with Boone, Darin and Tiffin all acceptable but nothing more; only Ann-Margret, armed with a more complicated role and some potent musical numbers, provides any spark.
Blu-ray extras include audio commentary by Boone; a look at the property's various stage and screen versions; and the 1976 pilot for a State Fair TV series that failed to materialize.
Movie: **
Johnny Whitaker and Jodie Foster in Tom Sawyer (Photo: Twilight Time)
TOM SAWYER (1973) / HUCKLEBERRY FINN (1974). It's not likely anyone will ever confuse Reader's Digest with, say, Warner Bros. or Paramount Pictures or any other major Hollywood studio, but the popular periodical did try its hand at motion picture production by presenting musical adaptations of Mark Twain's literary classics The Adventures of Tom Sawyer and The Adventures of Huckleberry Finn. The Twilight Time label has seen fit to offer both movies as a Blu-ray double feature.
Both of Twain's classics (particularly The Adventures of Huckleberry Finn) may have been banned on countless occasions over the years, but all elements that led to such censorship have been excised from these G-rated excursions that were produced with family audiences in mind. The Mary Poppins songwriting team of Richard M. Sherman and Robert M. Sherman was the guiding force behind these pictures, as the songwriting siblings not only created the tunes for both movies but also wrote their screenplays.
Tom Sawyer is the better of the pair, with Johnny Whitaker (a recognizable child star of the period thanks to TV's Family Affair) agreeably playing Tom, Jeff East taking on Huck Finn, and a 10-year-old Jodie Foster tackling Becky Thatcher. Fine actors like Celeste Holm (as Aunt Polly) and Warren Oates (Muff Potter) make strong impressions with familiar characters, and the dramatic interludes with Injun Joe (Kunu Hank) are filmed for maximum impact (I hadn't seen this movie since I was a wee lad in the 70s, yet I've never forgotten that Injun Joe's hurled knife came this close to poor Tom's head). Tom Sawyer earned a trio of Oscar nominations for Best Original Song Score and/or Adaptation (the Shermans and John Williams), Best Art Direction-Set Decoration, and Best Costume Design.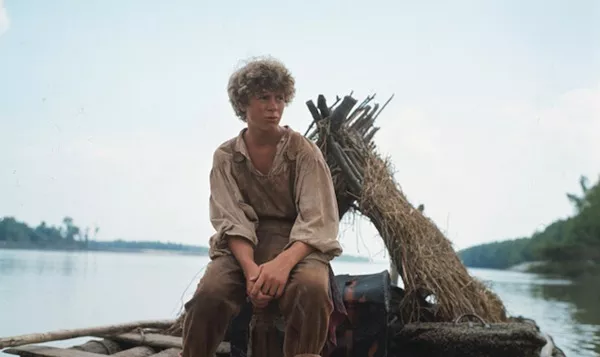 Jeff East in Huckleberry Finn (Photo: Twilight Time)
Stripped of its source's thorny — and highly controversial — themes, Huckleberry Finn opts instead to play up the slapstick, with decidedly mixed results. East returns to again essay the role of Huck, with Paul Winfield cast as runaway slave Jim — the scenes that center primarily on their shared trials and tribulations linger more strongly than the darkly comic sequence at the estate of Colonel Grangeford (Arthur O'Connell) or the buffoonish antics of those consummate con artists The King and The Duke (Harvey Korman and David Wayne are aptly cast, but they dominate the proceedings to a distracting degree).
Blu-ray extras on Tom Sawyer include audio commentary by director Don Taylor and the Shermans; separate audio commentary by Richard M. Sherman and music historian Bruce Kimmel; and rehearsal footage of Williams and the Shermans. Extras on both titles consist of theatrical trailers and isolated music tracks.
Tom Sawyer: ***
Huckleberry Finn: **1/2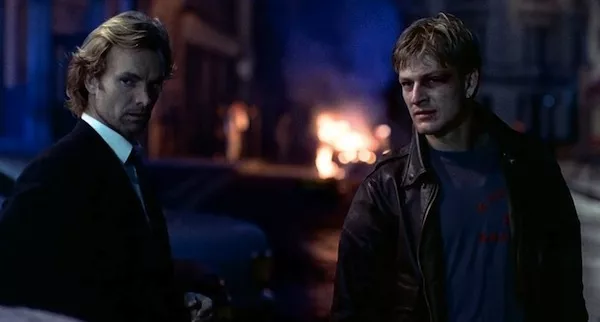 Sting and Sean Bean in Stormy Monday (Photo: Arrow)
Short And Sweet:
STORMY MONDAY (1988). Mike Figgis (Leaving Las Vegas) made his feature writing and directing debuts with this smoky, jazzy mood-ring of a movie. Set in the downtrodden English town of Newcastle, the film centers on the intersecting lives of four disparate characters: Cosmo (Tommy Lee Jones), the ugly American hoping to acquire local real estate by any means necessary; Finney (Sting), a club owner who refuses to be intimidated into selling his property; Brendan (Sean Bean), an agreeable young man hired by Finney; and Kate (Melanie Griffith), who unhappily works for Cosmo as arm candy but finds real romance with Brendan. Backed by evocative camerawork courtesy of the great Roger Deakins, Stormy Monday has more style than substance, but in this case, that's enough.
Blu-ray extras include audio commentary by Figgis and a "then and now" look at the film's Newcastle locations.
Movie: ***
Katherine Heigl and Rosario Dawson in Unforgettable (Photo: Warner Bros.)
UNFORGETTABLE (2017). As a producer, Denise Di Novi has some superb credits under her belt (Heathers, Ed Wood, Little Women). She also has some disasters (Catwoman, Cabin Boy), and it's a shame that her directorial debut lands on that side of the equation. Even worse than the previous movie with this title — 1996's Unforgettable, starring Ray Liotta and reviewed here — this one finds Katherine Heigl delivering a one-note performance as a tightly wound divorcee who turns psychotic once her ex-husband (Geoff Stults) gives his heart to another woman (Rosario Dawson). Unforgettable is both daft and derivative, and the imbecilic nature of all the characters (particularly Dawson's) makes it ultimately impossible to care who does what to whom.
Blu-ray extras consist of audio commentary by Di Novi; a making-of featurette; and a deleted scene.
Movie: *
==============================
FROM SCREEN TO STREAM
(Recommended films currently available on streaming services)
Tika Sumpter and Parker Sawyers in Southside With You (Photo: Miramax & Lionsgate)
SOUTHSIDE WITH YOU (2016). Written and directed by Richard Tanne, Southside With You takes a look at the first date between Barack Obama and Michelle Robinson, an outing that (according to the film) set into motion the joint history that eventually found the pair getting married and, later, occupying the White House. Parker Sawyers and Tika Sumpter are perfectly cast as the young Barack and Michelle, who spend a day in 1989 checking out an art exhibit, seeing Spike Lee's Do the Right Thing, discussing the TV sitcom Good Times (Michelle amusingly notes that her family was more into The Brady Bunch), and engaging in a few slightly heated conversations. Southside With You is a sweet film, but recent events have also turned it into a bittersweet one. Watching these two classy, compassionate and intelligent people, we can't help but wonder if, in four or so years, someone will make a similar movie about the utterly repulsive Donald Trump, showing him taking his first dates to wrestling matches instead of art galleries and ending the nights by grabbing 'em by the — well, you know. (Netflix Streaming)