(View From The Couch is a weekly column that reviews what's new on Blu-ray, DVD and Streaming. Ratings are on a four-star scale.)
Queen Latifah, Jada Pinkett Smith, Tiffany Haddish and Regina Hall in Girls Trip (Photo: Universal)
GIRLS TRIP (2017). With a $115 million gross, Girls Trip proved to be one of the few summer hits that wasn't a sequel and/or didn't involve superheroes. Preferable to the rough Rough Night, this one's another comedy about four college friends who reunite years later for a raucous, no-holds-barred weekend. Ryan Pierce (Regina Hall) is a bestselling author, Sasha Franklin (Queen Latifah) runs her own TMZ-style website, Lisa Cooper (Jada Pinkett Smith) is a divorcee with two kids, and Dina (Tiffany Haddish) — well, Dina defies description. The four reunite in New Orleans during the Essence Festival, where they hobnob with celebrities, hook up with an old college pal (Larenz Tate), and learn that Ryan's husband (Mike Colter) is having an affair. Friendships are tested, romances are ignited, copious alcohol is consumed, and grapefruits are employed in an interesting way. Like most modern comedies, Girls Trip occasionally goes overboard with the raunch (the zipline incident is funny the first time, merely unpleasant the second), and all problems are neatly resolved with predictable precision. Yet the movie dishes out a generous portion of huge laughs, and all four actresses are aptly cast and enjoy an easy rapport. Best of all is Haddish, whose breakout performance is not unlike that of Melissa McCarthy in Bridesmaids or Kate McKinnon in Ghostbusters. Best known for her TV roles, she proves to be utterly fearless in this film, diving into her part with both confidence and ferocity. It's an invigorating performance, but, kids, don't try the grapefruit at home.
Blu-ray extras include a pair of behind-the-scenes featurettes; deleted scenes; and a gag reel.
Movie: ***
The lovebirds in Harold and Lillian: A Hollywood Love Story (Photo: Kino & Zeitgeist)
HAROLD AND LILLIAN: A HOLLYWOOD LOVE STORY (2017). As the unfolding Harvey Weinstein saga reminds us, Hollywood can be a cesspool of abhorrent and indecent behavior, a breeding ground for maggots whose only true love is power. And then there's this splendid motion picture to remind us of the other side of the equation. Harold and Lillian: A Hollywood Love Story is an enormously entertaining, enormously educational, and enormously moving documentary about storyboard artist Harold Michelson and film researcher Lillian Michelson, beloved behind-the-scenes experts who were married for 60 years until his death in 2007. Featuring interviews with Francis Coppola, Mel Brooks, Danny DeVito and other industry bigwigs, director Daniel Raim's film shows how these two people contributed so much to a number of classic films over the decades, usually without receiving any sort of on-screen credit. As but one example, it was Harold — not director Mike Nichols, not cinematographer Robert Surtees — who came up with the iconic image of Dustin Hoffman framed by Anne Bancroft's leg in 1967's The Graduate. (Harold at least moved up to art director and earned Oscar nominations for Star Trek: The Motion Picture and Terms of Endearment, but if IMDb is to be believed, Lillian only earned a screen credit on nine movies, despite having provided research for hundreds.) The wealth of insider information revealed in this picture is extraordinary, but, as the title indicates, it's the romance between Harold and Lillian that really propels this piece. If this one doesn't end up on my year-end "10 Best" list, it's gonna come awfully close.
Blu-ray extras include deleted scenes; three of Lillian's "life lessons"; and the short film Storyboarding The Graduate. This also includes a booklet featuring an interview with Raim.
Movie: ***1/2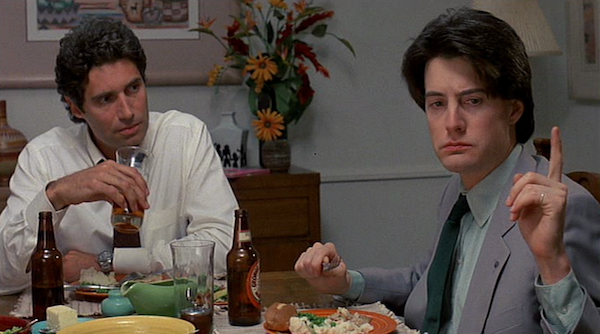 Michael Nouri and Kyle MacLachlan in The Hidden (Photo: Warner)
THE HIDDEN (1987). The story goes that, despite having already worked with John Wayne on countless occasions, director John Ford exited a screening of Howard Hawks' Red River (starring The Duke) and muttered, "I never knew the son of a bitch could act!" One wonders if David Lynch spoke a similar utterance after watching The Hidden. Lynch had discovered Kyle MacLachlan and cast him in both 1984's Dune and 1986's Blue Velvet, but the novice actor delivered performances that were admittedly on the stiff side. The Hidden, directed by Jack Sholder from a script by Jim Kouf, revealed a funkier, looser MacLachlan, and it's not hard to see the line connecting this picture with Lynch's next collaboration with the actor: 1990's Twin Peaks. MacLachlan reveals a sly, comedic side that would later serve him well – he plays Lloyd Gallagher, an FBI agent who teams up with LA detective Thomas Beck (Michael Nouri) in order to apprehend what Beck believes to be a number of psychopaths terrorizing the city. What Beck doesn't realize – but Gallagher knows only too well (for reasons not immediately made clear) – is that the perpetrator is actually an alien that's hopping from one human body to another. Groovy visual effects and an offbeat sense of humor are just two of the ingredients that make this one so engaging. Blink and you'll miss Danny Trejo as an inmate who takes one in the chest. (On a trivia side note, Sholder and I were two of the judges at the 2006 Asheville Film Festival and were paired up as award presenters. Last I heard, he's still a professor at Eastern Carolina University, where he's been teaching since leaving show business.)
Blu-ray extras consist of audio commentary by Sholder; production footage of the special effects work; and the theatrical trailer.
Movie: ***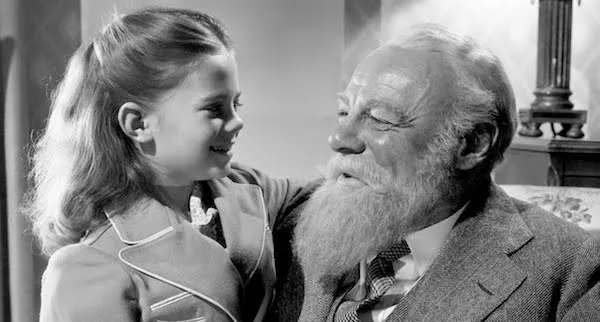 Natalie Wood and Edmund Gwenn in Miracle on 34th Street (Photo: Fox)
MIRACLE ON 34TH STREET (1947). One of the Holy Trinity of Yuletide films — the others being, of course, It's a Wonderful Life and A Christmas Story — Miracle on 34th Street is one of those timeless classics that never wears out its welcome, not matter how many holiday seasons one has spent watching it. Edmund Gwenn deservedly earned an Oscar for his portrayal of a kindly gentleman who calls himself Kris Kringle and lands a job as the Macy's department store Santa Claus. Kringle's biggest challenge, not surprisingly, is proving that he's the real Santa, first to the disbelieving daughter (an 8-year-old Natalie Wood) of the Macy's executive (Maureen O'Hara) who hired him, and then to an entire courtroom during a sensational trial. An Academy Award nominee for Best Picture, this earned prizes in the other three categories in which it competed: Best Original Story (Valentine Davies), Best Screenplay (George Seaton), and, of course, Best Supporting Actor for the perfectly cast Gwenn. Miracle on 34th Street was remade thrice for television, and a dismal theatrical update (written by John Hughes and starring Richard Attenborough as Kris Kringle) appeared in 1994.
Proving that there is a Santa Claus, this 70th Anniversary Blu-ray edition of Miracle on 34th Street only contains the original black-and-white film and does not include that ghastly colorized version that was released on DVD and VHS and made all the characters look jaundiced. Extras include audio commentary by O'Hara; the 2001 AMC Backstory episode on the picture; and vintage Fox Movietone newsreel footage of the film's Oscar success.
Movie: ****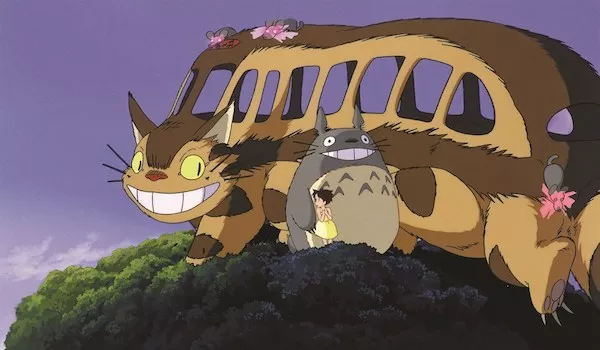 My Neighbor Totoro (Photo: Studio Ghibli, GKIDS & Shout! Factory)
MY NEIGHBOR TOTORO (1988) / SPIRITED AWAY (2001). Few filmmakers of modern times bother to push the envelope; even fewer attempt to shred it altogether. Japan's Hayao Miyazaki is one rare maverick. A venerated figure in the field of animation, Miyazaki makes movies the way other people hallucinate during fever dreams. No sight is too outlandish, no concept too radical, no idea too extreme. In the world of this elder statesman of animation, everything is fair game. Most of the films Miyazaki made for Studio Ghibli are already available on Blu-ray, yet new editions are being released through a partnership between the studio, GKIDS, and Shout! Factory.
For the novice, My Neighbor Totoro is a good place to start. For one thing, it's the movie that introduced American audiences to Miyazaki when it first played in limited release in 1993 (the late Roger Ebert, who adored this film, deserves most of the credit for making audiences aware of the picture stateside). The protagonists are Satsuki and Mei, sisters who move into a dilapidated country home with their father while their sick mother recuperates in a hospital. The girls note the presence of magical dust bunnies in the home — benign creatures that will seek shelter elsewhere once they hear the sound of laughter in the house — but they're nothing compared to the oversized forest spirit (the titular Totoro) who becomes the children's silent friend and ally. As with all Miyazaki efforts, there is an enormous appreciation for nature woven throughout the tale, and some of the moments in this film are simply enchanting: the wind swirling around Satsuki as she collects firewood; the evacuation of hundreds of dust bunnies after Mei sticks her finger in their hideout; the silent wait at the bus stop, complete with pouring rain and comical behavior by Totoro; and more. And check out that crazy Cat Bus!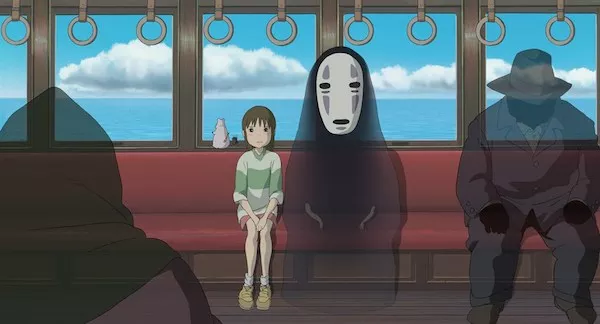 Spirited Away (Photo: Studio Ghibli, GKIDS & Shout! Factory)
A deserving winner of the Best Animated Feature Academy Award and still the all-time top-grossing film in Japan, Spirited Away is a phenomenal achievement, a gorgeous-looking piece of cinema that stirs memories of everything from Alice In Wonderland and The Wizard of Oz to Where the Wild Things Are and Yellow Submarine. Featuring visions more suited to a hallucinatory dream than a screen, this masterpiece, about a young girl who's forced to work in a bathhouse that caters to spirits, takes particular delight in confounding our expectations every step of the way. And perhaps only the Cantina in Star Wars can match this film's bathhouse as a sight for soaring eyes unable to believe the sheer number of unusual creatures sauntering through the place. Yet while Spirited Away would be worthwhile simply as an ocular treat, the story's also solid, concerning itself with timeless issues like honor, sacrifice, responsibility and respect.
As for the other titles being released this month, Nausicaä of the Valley of the Wind (1984) is an environmental tale (with ideas better realized in the later Princess Mononoke) about a princess who tries to prevent warring neighbors from stirring up the fearsome jungle insects that could decimate her village within minutes; Castle in the Sky (1986) is a terrific adventure yarn about two kids who get involved in hair-raising escapades as they search for the title edifice; Kiki's Delivery Service (1989) is an enjoyable tale of a young girl training to become a witch; Princess Mononoke (1997) offers an epic tale of a young girl who was raised by wolves; Howl's Moving Castle (2004) centers on a teenage girl who joins forces with a young wizard who lives inside a mobile castle; and Ponyo (2008) focuses on a goldfish who longs to be human.
Princess Mononoke (Photo: Studio Ghibli, GKIDS & Shout! Factory)
Six of the eight titles were released this week, with Castle in the Sky and Nausicaä out October 31. All films are presented in Blu-ray/DVD combo sets with both the original Japanese soundtracks as well as the English-language versions (Christian Bale, Lauren Bacall, Cate Blanchett, Matt Damon, Mark Hamill and Patrick Stewart are among the many name actors lending their vocal chords to the various causes). Extras are plentiful, including behind-the-scenes featurettes; interviews; storyboards; and theatrical trailers. Each movie also comes with a booklet.
My Neighbor Totoro: ***1/2
Spirited Away: ****
Nausicaä of the Valley of the Wind: **1/2
Castle in the Sky: ***1/2
Kiki's Delivery Service: ***
Princess Mononoke: ***
Howl's Moving Castle: ***
Ponyo: ***
Jennifer Connelly in Phenomena (Photo: Synapse Films)
PHENOMENA (1985). Even folks who don't generally like movies that can broadly be categorized as "gore" or "slasher" flicks should be able to get a kick out of the works of Dario Argento, the Italian filmmaker whose oeuvre has inspired countless budding filmmakers and thrilled audiences held captive by his mastery behind the lens. Phenomena represents as good a starting point as any. In between her film debut in 1984's Once Upon a Time in America and her breakthrough role in 1986's Labyrinth (and long before her Oscar-winning turn in 2001's A Beautiful Mind), 14-year-old Jennifer Connelly toplined this absolutely loopy yarn in which a lonely American student at a Swiss boarding school is revealed to possess a strange hold over all insects. Can she use her powers to catch the serial killer who's been bloodily offing the school's nubile young girls? Initially making the stateside rounds in a heavily edited cut that was given the moniker Creepers, this engaging oddity — Argento's favorite of all his own films — also finds room for a heroic, razor-wielding chimpanzee, a deformed kid who bears an eerie resemblance to Chucky, and veteran actor Donald Pleasence as a kindly entomologist prone to making grandiloquent declarations about bugs.
Synapse Films' excellent Blu-ray edition contains three separate cuts of the film: the 110-minute international version, a 116-minute version that's making its North American debut (this edit has options for both English- and Italian-language tracks, although the additional six minutes are in Italian only and are accompanied by subtitles); and the aforementioned, 83-minute U.S. version Creepers. Extras include audio commentary by Argento scholar Derek Botelho and film historian David Del Valle; the 1985 documentary Dario Argento's World of Horror; and theatrical trailers.
Movie: ***
The Lethal Ladies in Step (Photo: Fox)
STEP (2017). The documentary Step focuses on the members of an inner-city Baltimore high school step team (Lethal Ladies), but what's most surprising about the film is how comparatively little time is spent on the dancing. To be sure, there are numerous sequences in which we watch the girls practice, and of course there's a big dance competition at the end. But the majority of the picture examines the lives of these young women away from the hoofing, centering instead on their family lives and their efforts to graduate and be accepted into college. It's not unreasonable, then, to assume that the title doesn't refer to their chosen form of dancing as much as it refers to the steps each girl must take if she wants to break free from her surroundings and escape into the world at large. The picture primarily focuses on three seniors at the Baltimore Leadership School for Young Women. Cori Grainger is presented as the brainy one while Tayla Solomon is posited as the sardonic one. As for Blessin Giraldo, she's the founder of the step team but has trouble applying herself in other areas. More straightforward than many other documentaries about kids in competition, Step isn't as richly detailed or narratively mutable as something like Hoop Dreams or Spellbound. But by focusing on the hopes and aspirations of three distinct individuals – and by raising the stakes via opening the film with the 2015 police-sanctioned-and-court-approved slaying of Baltimore resident Freddie Gray – the movie posits that, while artistic expression may be a way of life, the environment in which it's often practiced may be more subject to matters of life and death.
DVD extras include audio commentary by director Amanda Lipitz; deleted scenes; and a Lethal Ladies music video.
Movie: ***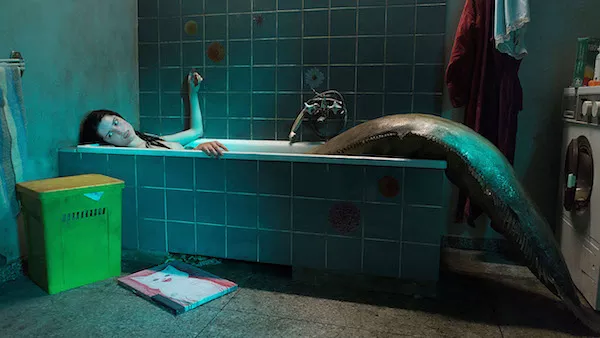 Michalina Olszanska in The Lure (Photo: Criterion)
Short And Sweet:
THE LURE (2015). For those seeking something different in their cinematic diet, look no further than this one-of-a-kind oddity from Poland. Director Agnieszka Smoczynska and writer Robert Bolesto take Hans Christian Andersen's classic fairy tale The Little Mermaid and reconfigure it as a horror movie-musical hybrid about two mermaid siblings (Marta Mazurek and Michalina Olszanska) who perform in a nightclub and attempt to keep their monstrous appetites at bay. The visual style (which occasionally brings to mind David Lynch) counts for more than the narrative, which occasionally gets sidelined by the musical bits.
Blu-ray extras consist of a retrospective making-of featurette; deleted scenes; the short films Smoczynska made as a student, both of which were opera-based (2007's Aria Diva and 2010's Viva Maria!); and the theatrical trailer.
Movie: ***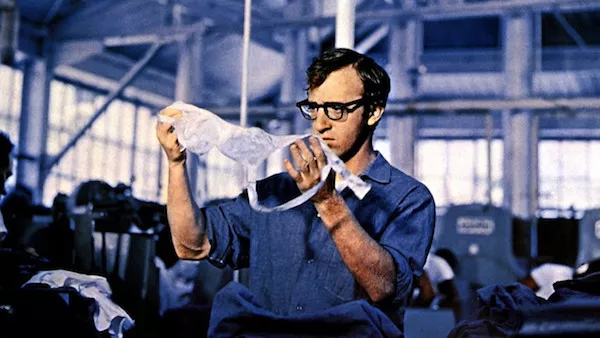 Woody Allen in Take the Money and Run (Photo: Kino)
TAKE THE MONEY AND RUN (1969). This is it, the first "official" Woody Allen movie. Allen had already written and co-starred in What's New Pussycat and turned a Japanese spy flick into the dubbed What's Up, Tiger Lily?, but this was the first feature on which he served as writer, director and star. Co-scripting with Mickey Rose, Woody serves up an amusing yarn filmed in a semi-documentary style. Voice-over narrator Jackson Beck presents the story of Virgil Starkwell (Allen), who spends his life trying to become a successful career criminal and failing miserably at every turn. The gags are far more "hit" than "miss," and Allen was on his way to becoming one of the greatest film writers of the next two decades.
The only extras on the Blu-ray are trailers for other comedies being offered by Kino Lorber.
Movie: ***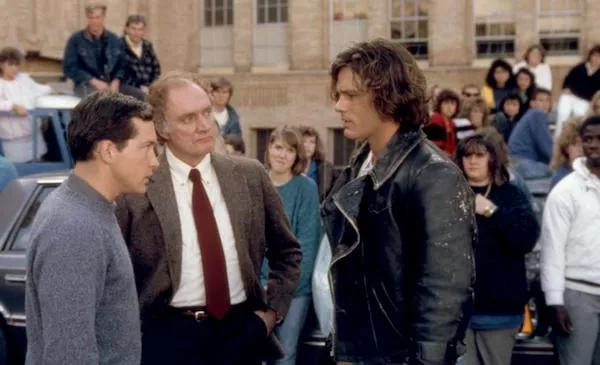 Casey Siemaszko, John P. Ryan and Richard Tyson in Three O'Clock High (Photo: Shout! Factory)
THREE O'CLOCK HIGH (1987). Until the awful last act, this high school-set picture – a notable teen flop in the Age of John Hughes – benefits from some mild black-comedy shadings as well as Phil Joanou's stylish direction. Casey Siemaszko (only so-so) plays Jerry, a wimp who's set to be pounded after school by a new student (Richard Tyson) whose reputation as a vicious bully had already preceded him. If nothing else, this is at least superior to the recent Fist Fight, a similar yarn that's heading toward my year-end "10 Worst" list at supersonic speed.
Blu-ray extras include audio commentary by Joanou; interviews with Joanou, scripters Richard Christian Matheson and Tom Szollosi, and costume designer Jane Ruhm; a still gallery; and the theatrical trailer.
Movie: **
==============================
FROM SCREEN TO STREAM
(Recommended films currently available on streaming services)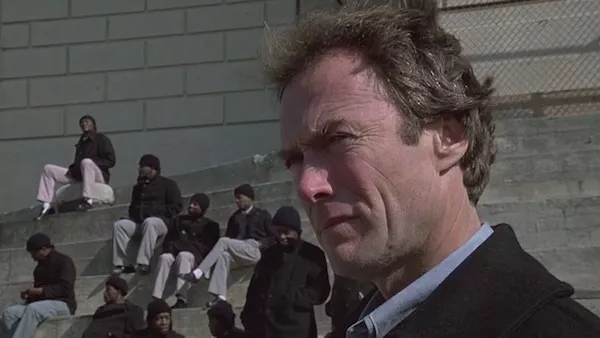 Clint Eastwood in Escape from Alcatraz (Photo: Paramount)
ESCAPE FROM ALCATRAZ (1979). During its 29 years in operation (1934-1963), the Alcatraz Federal Penitentiary in San Francisco Bay only allowed one successful escape, and that 1962 breakout is brought to dramatic life in Escape from Alcatraz. Clint Eastwood stars as convict Frank Morris, who teams up with a handful of other men (including one played by Fred Ward in his first significant role) as they plot how to pull off their great escape. This was Eastwood's fifth and final collaboration with director and mentor Don Siegel — their previous pictures were Coogan's Bluff, Two Mules for Sister Sara, The Beguiled, and, of course, Dirty Harry. (Hulu)