(View From The Couch is a weekly column that reviews what's new on Blu-ray, DVD and Streaming. Ratings are on a four-star scale.)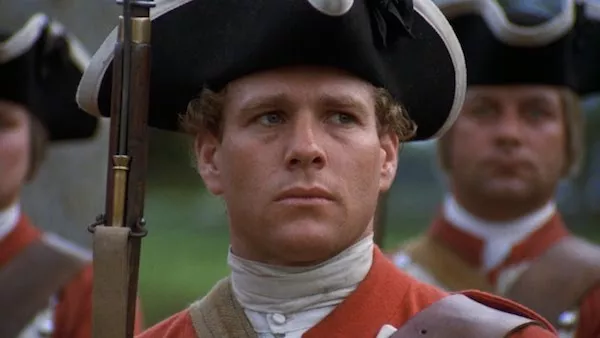 Ryan O'Neal in Barry Lyndon (Photo: Criterion)
BARRY LYNDON (1975). Stanley Kubrick made his fair share of controversial conversation starters – everything from Lolita and 2001: A Space Oddity to A Clockwork Orange and Eyes Wide Shut – but his three-hour adaptation of William Makepeace Thackeray's The Luck of Barry Lyndon fosters heated debate not so much for its narrative content but rather for what many perceive as its lack thereof. Indifferently received in many quarters upon its initial release, this exquisitely designed film has seen its stature climb in ensuing decades. Yet while many consider it brilliant (including Martin Scorsese, whose own excellent period drama The Age of Innocence was obviously inspired by it), others still find it about as exciting as folding socks. Ryan O'Neal stars as the title character, an 18th century social climber whose life takes a series of unexpected turns. Over the years, circumstances cast him as a callow youth, a soldier, a gambler, a spy, an aristocrat, a family man, and, finally and irrevocably, an utter failure. O'Neal's performance has been faulted as bland, yet he's the perfect receptacle for the character's many facades (not unlike Woody Allen's Zelig, he's able to adapt to any situation), and his character furthermore fits snugly into Kubrick's repeated theme of the corruptibility of man. Nominated for seven Academy Awards (including Best Picture, Best Director and Best Adapted Screenplay), Barry Lyndon earned four: Best Cinematography, Art Direction-Set Decoration, Costume Design, and Music Adaptation.
Blu-ray extras include a making-of featurette; a look at the great production designer Ken Adam; an interview with Leon Vitali (who not only played Barry Lyndon's hate-filled stepson but also became Kubrick's personal assistant on all his subsequent films); and a pair of pieces on the film's visual opulence.
Movie: ***1/2
Nicole Kidman and Colin Farrell in The Beguiled (Photo: Universal & Focus)
THE BEGUILED (2017). Based on Thomas Cullinan's novel, Don Siegel's 1971 drama The Beguiled cast Clint Eastwood as John McBurney, a wounded Union soldier who gets nursed back to health at a remote all-girls school in the South during the Civil War. All of the women are drawn to the male in their midst, leading to jealousy, mistrust and violence. The Beguiled was a box office flop, yet its status as a complicated and intriguing work remains undisturbed. Writer-director Sofia Coppola has chosen to offer her own interpretation of the material, but what's baffling is her decision to strip the piece of all nuance and complexity. Colin Farrell is fine as McBurney, but whereas the '71 model fascinatingly presented the character as fundamentally rotten but blessed with the ability to compliment, cajole and con at will, this version offers basically a nice guy who eventually snaps and turns into a psychopath. As the head of the institute, Nicole Kidman delivers a strong performance, but all touches of madness have been removed, leaving only a character whose actions don't always make sense. As two women who become involved with McBurney, both Kirsten Dunst and Elle Fanning are crucially miscast. Missing completely — to the project's great shame — is the character of the slave who works at the school; she alone sees McBurney in his true light and offers key revelations exposed late in the story. For her part, Coppola simply drops the character altogether, marking this as a particularly unpleasant example of whitewashing. Then again, such an excision isn't exactly shocking. Since her out-and-out masterpiece, 2003's Lost in Translation, Coppola has only written and directed middling movies about the inconveniences faced by privileged white women. The old axiom states that one should "write what you know," but in Coppola's case, that's proving to be unfortunate career advice.
Blu-ray extras include a making-of featurette.
Movie: **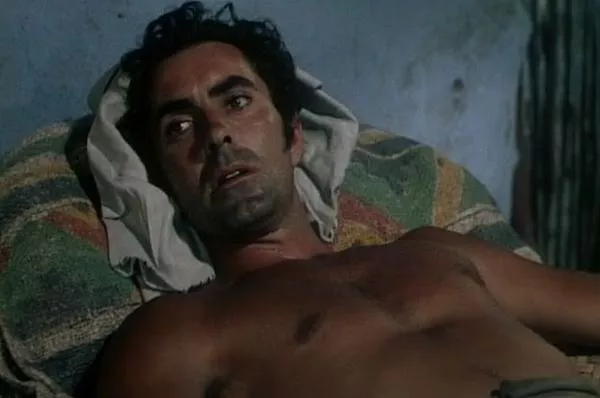 Tyrone Power in Captain from Castile (Photo: Twilight Time)
CAPTAIN FROM CASTILE (1947). Before Robert Redford came along later in her life, my mom's go-to Hollywood hunk was Tyrone Power, and she wasn't alone in her swooning (although she one-upped many of her fellow fans by actually getting to meet him and obtaining his autograph ... and then meekly having to ask him to please return her pen, which he had absentmindedly pocketed). A dashing matinee idol and sex symbol, Power was a popular draw in various swashbucklers during the 1940s, particularly as Don Diego Vega in the grand 1940 adventure yarn The Mark of Zorro (reviewed here). He's also seen to good advantage in Captain from Castile, a large-scale epic that follows the adventures of Spanish nobleman Pedro de Vargas as he becomes involved with both the Inquisition in Spain and the conquest of Mexico. The first half of the picture is the stronger portion, as Pedro and his family are falsely accused of being heretics by the venal Inquisitor Diego de Silva (John Sutton). Escaping the Inquisition with the aid of peasant girl Catana (Jean Peters in her film debut) and passing soldier Juan Garcia (Lee J. Cobb, amusing if unconvincing), Vargas ends up serving Conquistador Hernan Cortes (Cesar Romero) as the latter begins his siege on the Aztec Empire. This second half isn't quite as compelling but still maintains interest, and Romero (years before nyukking it up as The Joker on TV's Batman) is aptly cast as Cortes. The now-classic score by Alfred Newman nabbed an Academy Award nomination.
Blu-ray extras consist of audio commentary by film historians Rudy Behlmer, Jon Burlingame and Nick Redman; the 1996 A&E Biography episode "Tyrone Power: The Last Idol"; a 2007 short in which Power is discussed by a few of his former leading ladies; the theatrical trailer; and an isolated track of Newman's score.
Movie: ***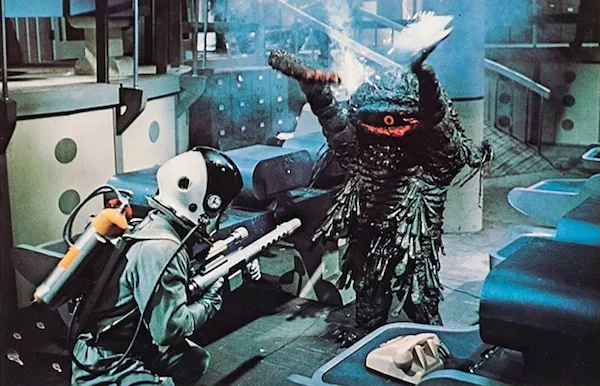 The Green Slime (Photo: Warner Bros.)
THE GREEN SLIME (1969). These days, the greatest claim to fame of The Green Slime is that it was the unaired pilot for Mystery Science Theater 3000, cobbled together to present to the suits at Minneapolis' KTMA television station and ultimately propelling the series to infinity and beyond. The Satellite of Love crew never revisited the film (as they did with select other titles from that regional first season), but no matter: Warner Bros. is now offering the film on Blu-ray through its Archive Collection label, and viewers can provide their own riffs at will. Astronauts aboard the space station Gamma III are tasked with destroying an asteroid that's heading straight to Earth; they succeed by placing explosives on the rock, but they unwittingly carry some green goo back with them. Soon, the glop grows into one-eyed, tentacle monsters, and the space station inhabitants must figure out how to defeat a menace that thrives on energy and has the ability to reproduce through spilled blood. The reputation of this American-Japanese co-production has always remained at a low ebb, yet the film provides plenty of entertainment value for those seeking disreputable fun. The aliens are eye-popping (if admittedly comical in their rubbery gyrations), the color schemes are vibrant, and the movie even includes a space battle even more ridiculous than the one that concludes the 007 entry Moonraker. The title song, blaring over the opening credits, sets the proper mood with such lyrics as, "Is it something in your head? Will you believe it when you're dead? Green Slime! Green Slime! Green Slime!"
The only Blu-ray extra is the theatrical trailer.
Movie: **1/2
Tony Roberts in Popcorn (Photo: Synapse Films)
POPCORN (1991). In an effort to raise some much-needed dough, the students of a college film class present a fundraiser in the form of an all-night movie marathon featuring vintage horror flicks. Unfortunately, one of the kids (Jill Schoelen) is being stalked by a horribly disfigured cult leader, and to get to her, he has to slice his way through her classmates. The central storyline begins promisingly but grows stagnant by the end, with the offbeat cult angle eventually giving way to standard slasher-film tropes. Fortunately, the movies-within-the-movie are imaginatively realized and pay loving homage to beloved showman-filmmaker William Castle: Mosquito, filmed in 3-D (and with a giant prop insect hovering over the auditorium); The Attack of the Amazing Electrified Man, presented with select seats wired to provide well-timed jolts; and The Stench, with foul odors pumped into the theater and audience members helpfully given clothespins for their noses. Filmed entirely in Jamaica, Popcorn was scripted by Tod Hackett – that's actually a pseudonym for Alan Ormsby, better known as the writer-star of the 1972 oddity Children Shouldn't Play with Dead Things (reviewed here).
Blu-ray extras include audio commentary by director Mark Herrier, Schoelen, co-star Malcolm Danare, and special makeup effects artist Mat Falls; an hour-long retrospective making-of piece, featuring interviews with Herrier, Schoelen, co-star Dee Wallace Stone, and others; an interview with Bruce Glover, who plays the star of the film-within-the-film The Attack of the Amazing Electrified Man; and trailers.
Movie: **1/2
Jennifer Jones and Joseph Cotten in Portrait of Jennie (Photo: Kino)
PORTRAIT OF JENNIE (1948). Although David O. Selznick didn't marry Jennifer Jones until 1949 (after stealing her away from her heartbroken husband, Robert Walker), the movie mogul had already groomed her for stardom by casting her in a string of high-profile hits. While Portrait of Jennie was a rare commercial flop for the pair, it remains one of the more unusual pictures from this period – a haunting fantasy that's both arty and intoxicating. Kicking off without the benefit of opening credits – often the norm now, but quite the rarity back then – the film follows struggling artist Eben Adams (Joseph Cotten) and his relationship with the mysterious Jennie Appleton (Jones). Eben is instantly taken with the young girl but wonders why she describes long-ago events as if they occurred recently – even more perplexing, each encounter finds her having aged years in the span of just several months or even weeks. Ethel Barrymore offers solid support as an art dealer who counsels and even consoles Eben, while the legendary Lillian Gish appears as a mother superior who helps Eben fill in some missing pieces regarding his seemingly ethereal amour. Joseph H. August's black-and-white cinematography is superb, with many moments shot through canvas and other sequences energized by unexpected splashes of color. August deservedly landed an Oscar nomination, while the visual effects team won the award for their efforts.
Blu-ray extras consist of audio commentary by film historian Troy Howarth and a trailer gallery of five Selznick productions, including three that co-starred Jones and Cotton (Portrait of Jennie, Since You Went Away, and Duel in the Sun).
Movie: ***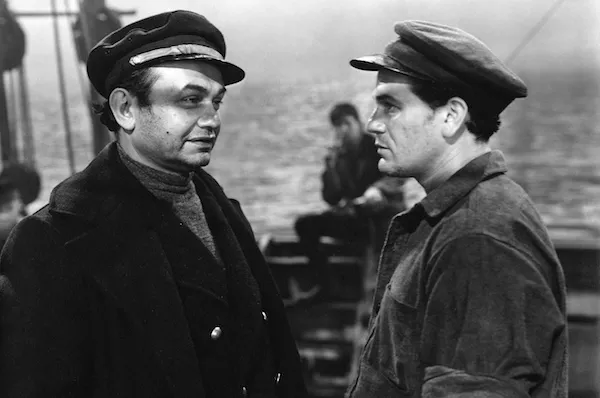 Edward G. Robinson and John Garfield in The Sea Wolf (Photo: Warner Bros.)
THE SEA WOLF (1941). Perhaps the finest of all Jack London adaptations, The Sea Wolf finds the author's excellent novel reconfigured as a sturdy vehicle for one of Warner's greatest stars. That would be Edward G. Robinson, delivering a dynamic performance as Wolf Larsen, the vicious captain of a dreary ship appropriately called the Ghost. A highly intelligent man, Larsen rules his vessel like a tyrant, finally meeting his mental match in a sophisticated writer (Alexander Knox) rescued from the sea and his physical match in a sailor (John Garfield) hiding out from the law. Ida Lupino co-stars as a hard-luck woman stranded on the ship, Gene Lockhart earns sympathy as a once-great surgeon now serving as the Ghost's drunken doctor, and Barry Fitzgerald, usually cast as lovable rascals, cuts a menacing figure as a treacherous crew member. Michael Curtiz (Casablanca) directs with his usual aplomb, while the intriguing script marked an early triumph for future writer-director-producer Robert Rossen (The Hustler). The visual effects earned an Oscar nomination, but no less memorable are the efforts of composer Erich Wolfgang Korngold and especially cinematographer Sol Polito (whose shots emphasize the setting's claustrophobic grip).
The big news regarding this Blu-ray release of The Sea Wolf — arriving courtesy of the Warner Archive Collection — is that it contains the complete 100-minute version of the film, which hadn't been seen since approximately 14 minutes were trimmed for a 1947 re-release (all subsequent cuts presented on TV or on video have been of this 86-minute edition). Extras consist of a 1950 radio broadcast of The Sea Wolf (with Robinson reprising his role) and the theatrical trailer.
Movie: ***1/2
==============================
FROM SCREEN TO STREAM
(Recommended films currently available on streaming services)
Ryan Gosling in The Place Beyond the Pines (Photo: Focus Features)
THE PLACE BEYOND THE PINES (2013). The Place Beyond the Pines finds Ryan Gosling reteaming with Blue Valentine director Derek Cianfrance, and the film's narrative is so uniquely structured that it's difficult to describe without drowning in spoilers. Suffice it to say that the plot centers around the separate yet interconnected lives of two men: Luke (Gosling), an ace motorcyclist who turns to robbing banks to support his son, and Avery (Bradley Cooper), a greenhorn cop whose heroic deeds are at odds with the fear and hesitancy he feels inside. The movie is constructed like a three-act saga, with only the third part failing to satisfy. (Netflix Streaming)