(View From The Couch is a weekly column that reviews what's new on Blu-ray, DVD and Streaming. Ratings are on a four-star scale.)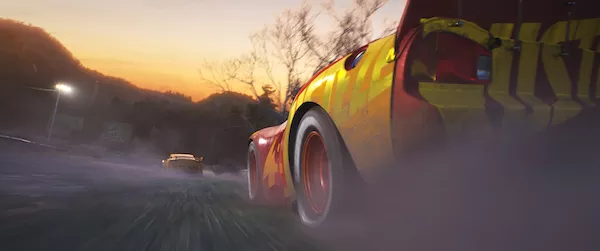 Cars 3 (Photo: Disney-Pixar)
CARS 3 (2017). The previous pictures in Pixar's NASCAR-approved franchise are perhaps the studio's most underrated offerings — 2006's Cars provided a lovely look at Route 66 mythology while 2011's Cars 2 was an engaging espionage caper — but this one was rated about right. Resolutely sweet-natured and marked by some compelling visuals, this entry — basically an animated Rocky III — is nevertheless the weakest of the trio, with Lightning McQueen (again voiced by Owen Wilson) and other old-school race cars finding themselves becoming obsolete with the emergence of newer and sleeker models. Chief among the upstarts is Jackson Storm (Armie Hammer), who usurps Lightning's position as the sport's reigning champion. Combating both injury and depression, Lightning falls into a funk during the off-season, requiring his friends (including Bonnie Hunt's Sally and Larry the Cable Guy's Mater) to talk him off the mental and emotional cliff. With his optimism and enthusiasm restored, he undergoes a vigorous training regime, aided by his new coach Cruz Ramirez (Cristela Alonzo). Cars 3 spends too much of the early going in idle, repeating familiar beats about how it sucks to get old while fetishizing shiny new cars and accessories that look great on Target shelves. Still, the movie is always agreeable if rarely exciting, and it does kick into high gear for the final stretch, which offers a pleasing plot pirouette that's right in line with the usual Pixar philosophies of solidarity and self-worth.
Blu-ray extras include audio commentary by director Brian Fee; a making-of featurette; deleted scenes; the theatrical short Lou; the short film Miss Fritter's Racing Skoool; and a look at the background ads created for the film.
Movie: **1/2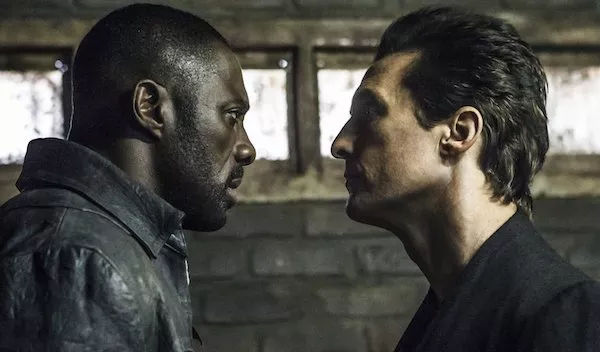 Idris Elba and Matthew McConaughey in The Dark Tower (Photo: Sony)
THE DARK TOWER (2017). The Dark Tower runs 95 minutes yet is based on the Stephen King book series that ran over the course of eight novels. Such a condensation may not be quite as vexing as attempting to place all of Shakespeare's texts onto a single Post-it note, but it nevertheless ranks as an exercise in futility. Despite the material's links to other King staples, the movie has less in common with the prolific author's output and more in common with such Young Adult adaptations as the Divergent and Percy Jackson series. Certainly, there are nods here and there to the King oeuvre, but stripped of dramatic heft, the film mainly plays like the YA-sanctioned adventures of a young boy who gets to hang out with a gunslinger and fight a wicked sorcerer. The boy is Jake Chambers (Tom Taylor), who suffers from recurring dreams involving an imposing tower. The gunslinger is Roland Deschain (Idris Elba), the last in a long line of peacekeepers sworn to protect the title edifice. And the sorcerer is the Man in Black, a vile being seeking to destroy the Tower and thereby unleash all manner of otherworldly evildoers. The Man in Black is played by Matthew McConaughey, who seems to have based his performance on the most obnoxious car salesman he's ever met (the character isn't frightening in the least, but he could probably get you a sweet deal on a Lincoln Continental). By barreling through the story at Mach speed, nothing is allowed to marinate and deepen — what's left, then, is a shallow fantasy in which most of the unimaginative action sequences consist of little more than Roland shooting his pistols at various villains. It may be High Noon in the land of The Dark Tower, but it's a low ebb for viewers expecting anything of substance.
Blu-ray extras include deleted scenes and a blooper reel.
Movie: *1/2
Ernest Borgnine in The Devil's Rain (Photo: Severin)
THE DEVIL'S RAIN (1975). Let's make something clear: Despite the ad-campaign promise that it features "absolutely the most incredible ending of any motion picture ever," there's simply no mistaking The Devil's Rain for a good film. At the same time, if ever a so-so flick qualified as a must-see movie event, it's this one. After all, in the annals of cinema, has any other motion picture boasted a cast eclectic enough to hold Ernest Borgnine, William Shatner, Eddie Albert, Ida Lupino, Tom Skerritt and John Travolta? I think not. Borgnine manages to deliver three bad performances: as a 17th century Satanist, as his modern-day cowpoke reincarnation, and in heavy goat makeup as Satan himself. Shatner (whose emoting here always seems on the verge of causing him a hernia) and Skerritt play siblings who attempt to defeat the demonic cult hanging out in their corner of the American West, while Travolta, making his film debut as one of Borgnine's followers, delivers only one word of dialogue ("Blasphemer!") before melting into a puddle of glop during a protracted finale. Anton LaVey, the notorious founder of the Church of Satan, served as the film's technical advisor and appears in a small role as the cult's High Priest.
Blu-ray extras include audio commentary by director Robert Fuest; separate interviews with Skerritt, special effects artist Tom Burman, script supervisor Ana Maria Quintana, and Anton LaVey biographer Blanche Barton; a 1975 archival interview with Shatner; an image gallery; and the theatrical trailer.
Movie: **1/2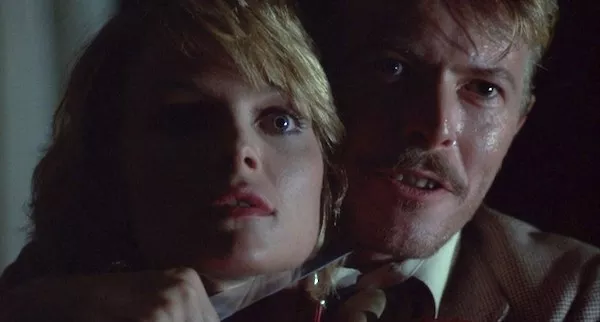 Michelle Pfeiffer and David Bowie in Into the Night (Photo: Shout! Factory)
INTO THE NIGHT (1985). Upon its original release, director John Landis' Into the Night was generally dismissed by critics and completely ignored by audiences. While the film may not exactly have seen its stock rise in the ensuing decades, those of us who enjoyed it back in the day still champion it as a sleeper pick worthy of a watch. Jeff Goldblum stars as Ed Okin, an insomniac whose late-night cruising puts him in the path of Diana (Michelle Pfeiffer), a mysterious beauty on the run from a quartet of Iranian assassins (the silent one played by Landis himself). Many of the film's characters are searching for some priceless emeralds, but these baubles only function as a MacGuffin, with everything else about the picture (including the Los Angeles location shooting) proving to be more interesting. Many reviewers groused about the cameo appearances by over a dozen behind-the-scenes filmmakers (David Cronenberg, Rick Baker, Jim Henson, Amy Heckerling, etc.), but they never detract from the proceedings and in fact prove to be an added treat for movie buffs. As for the larger roles, Goldblum and Pfeiffer are both suitably cast, Bruce McGill is amusing as an angry Elvis impersonator, and David Bowie appears far too briefly as a dapper assassin. There are a couple of jarring sequences that feel tonally wrong (the ugly execution of a sympathetic character, the comical slaying of a dog), but overall, Landis and scripter Ron Koslow keep the picture sure-footed and fleet-footed.
Blu-ray extras consist of new interviews with Landis and Goldblum; the 1985 half-hour documentary B.B. King: Into the Night, which features a Landis interview with King interspersed with great footage of the blues legend jamming with Goldblum, Pfeiffer, Dan Aykroyd, Steve Martin and Eddie Murphy; and the theatrical trailer.
Movie: ***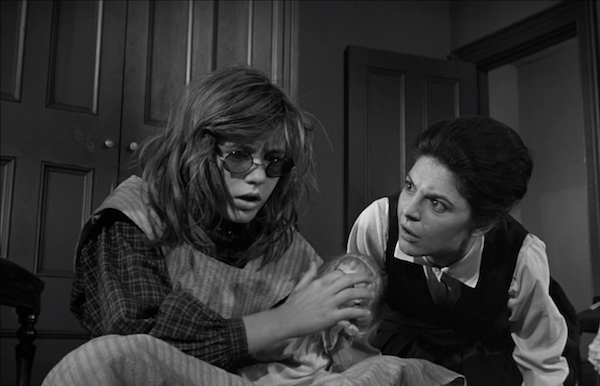 Patty Duke and Anne Bancroft in The Miracle Worker (Photo: Olive Films & MGM)
THE MIRACLE WORKER (1962). Two extraordinary performances can be found at the center of The Miracle Worker, a powerfully directed drama that examines the relationship between Anne Sullivan and Helen Keller. Blind and deaf since an early age, Helen (Patty Duke) is treated as an object of pity by her father (Victory Jory), mother (Inga Swenson, excellent) and brother (Andrew Prine), all of whom indulge her every whim. Enter Anne Sullivan (Anne Bancroft), an astute teacher who herself has problems with her eyesight. Refusing to yield even a centimeter to the spoiled child, Anne begins disciplining and educating Helen in a manner that shocks the other members of the Keller clan. The Miracle Worker was based on the Tony Award-winning hit, with Bancroft, Duke, director Arthur Penn and writer William Gibson all imported for the film version. Yet despite the limited setting, the film never feels stagey, and Penn isn't afraid to strip the movie of almost all sentiment. This is a work that's raw, uncomfortable and in-your-face, and it's a daring approach that ultimately amplifies the emotions felt during the famous "water pump" scene. A deserving Oscar winner for Best Actress (Bancroft) and Best Supporting Actress (Duke), this also earned nominations for Penn, Gibson, and costumer designer Ruth Morley.
There are no extras on the Blu-ray.
Movie: ***1/2
Ruth Hussey, James Stewart, Cary Grant and Katharine Hepburn in The Philadelphia Story (Photo: Criterion)
THE PHILADELPHIA STORY (1940). Having just been labeled "box office poison," Katharine Hepburn set about searching for the perfect project — and found it in The Philadelphia Story. After wowing them on Broadway in the role of wealthy Tracy Lord, Hepburn brought the project to Hollywood and ended up with a gargantuan hit on her hands. Relying less on physical comedy and more on immaculately delivered zingers (including the immortal quip "The prettiest sight in this fine, pretty world is the privileged class enjoying its privileges"), this irresistible classic, guided by director George Cukor's steady hand, finds Hepburn's frosty socialite set to marry bland businessman George Kittredge (John Howard) while ex-husband C.K. Dexter Haven (Cary Grant) and tabloid reporter Macauley Connor (James Stewart) hover around the edges. The fact that all three men have feelings for the bride-to-be is only one of the many complications that work their way into this witty, wordy masterpiece. James Stewart earned the Best Actor Academy Award for his sharp portrayal of the jaded newspaperman (Donald Ogden Stewart's adapted screenplay also landed an Oscar), but really, this is a prime example of three major stars working beautifully in tandem. In addition to the victories by the two Stewarts, this earned four additional nominations in the categories of Best Picture, Best Actress, Best Supporting Actress (Ruth Hussey), and Best Director — as usual, the Academy took Grant for granted and denied him a much-deserved nod.
Blu-ray extras include audio commentary (from 2005) by film historian Jeanine Basinger; a piece on Hepburn; two 1973 episodes of The Dick Cavett Show featuring Hepburn; and a restoration demonstration.
Movie: ****
John Abbott (far left) in The Vampire's Ghost (Photo: Olive Films & Paramount)
THE VAMPIRE'S GHOST (1945). While the United States had the Hays Code to protect moviegoers from being unduly influenced by (gasp!) sinful behavior, the United Kingdom had its own methods with dealing with various cinematic unpleasantries. For horror flicks, the country adopted the "H" Certificate, ultimately given to 37 films between 1937 and 1950 that the censors deemed "horrific" and thus unsuitable to anyone under 16. While a sizable number of H grades were given to the classic Universal flicks (including Frankenstein Meets the Wolf Man and House of Dracula), the "B" outfit Republic Pictures saw two of its offerings similarly branded. One was 1944's The Lady and the Monster; the other was 1945's The Vampire's Ghost, newly released on Blu-ray by Olive Films. While The Vampire's Ghost is of course tame by today's standards, it retains its unusual atmosphere, thanks to the novelty of setting a vampire flick largely in a jungle setting. Running one tick shy of an hour, this finds an African port city being terrorized by a fiend who's been draining victims of their blood. The culprit is Webb Fallon (John Abbott), a centuries-old vampire whose cover is that of a gaunt Englishman running a local bar. Initially, only the servant Simon Peter (Martin Wilkins) realizes that this man represents pure evil, yet once Fallon sets his sights on the kindly Julie (Peggy Stewart), her fiancé Roy (Charles Gordon) grasps his true nature but is powerless to do anything to stop him. The performances are mostly on the stiff side, but the story by the great Leigh Brackett (Rio Bravo, The Empire Strikes Back) contains some interesting deviations from the usual vampiric folklore.
There are no extras on the Blu-ray.
Movie: **1/2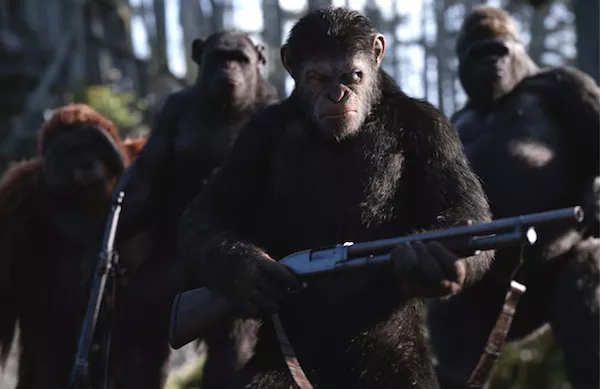 War for the Planet of the Apes (Photo: Fox)
WAR FOR THE PLANET OF THE APES (2017). Although it doesn't quite match its immediate predecessor, 2014's masterful Dawn of the Planet of the Apes, this third chapter in the latest incarnation of the venerable monkey-movie series opts to forge its own path rather than slavishly cut and paste past formulas. While the series opener, 2011's Rise of the Planet of the Apes, spent slightly more time on the humans and Dawn divided its focus equally between humans and apes, War almost completely adopts the point of view of the simians. At its center, of course, is Caesar (a motion-captured Andy Serkis), who doesn't actively seek conflict but instead wants apes to be left alone. Alas, the members of a nearby military outfit don't share Caesar's separatist policy – led by an imposing figure known only as The Colonel (Woody Harrelson), they seek to obliterate all apes. Harrelson is generally employed in roles that provide plenty of opportunities for sarcastic asides (The Hunger Games, The Edge of Seventeen, etc.), so it's startling to see him tackling a character as savage and single-minded as the one he essays here. The Colonel may be utterly venal, but there's a method to his madness, and while it never really makes him sympathetic, it does add some interesting shadings to the part. Serkis again excels in the role that just might surpass Gollum as his most iconic, and while I could have used a bit less of Bad Ape (Steve Zahn), a lonely and simple-minded simian, writer-director Matt Reeves and co-scripter Mark Bomback are nevertheless careful to avoid turning him into merely a one-note figure who pops up at regular intervals to offer strained comic relief. On the contrary, War for the Planet of the Apes admirably remains dank and dour at every turn.
Blu-ray extras include audio commentary by Reeves; a making-of featurette; deleted scenes; and a piece on the visual effects.
Movie: ***
==============================
FROM SCREEN TO STREAM
(Recommended films currently available on streaming services)
Ralph Fiennes and Keira Knightley in The Duchess (Photo: Paramount)
THE DUCHESS (2008). A substantial number of British costume dramas focus on the efforts of a corseted beauty to land a husband to call her own. These tales generally end on a "Happily Ever After" note, but The Duchess, based on a true story, begins where the others end and takes matters down a darker route: What if the man you snag turns out to be a complete lout? Keira Knightley is aptly cast as Georgiana, who, as a teenage girl in 1774, is entered into a marriage with the Duke of Devonshire (Ralph Fiennes). She soon discovers that the Duke's only interest in her is that she produce a male heir, so after she gives birth to a couple of girls, he loses complete interest and embarks on an affair with her best friend, Lady Elizabeth (Hayley Atwell). For her part, Georgiana keeps busy in her role as a society trendsetter, but she eventually finds herself contemplating an illicit romance with rising politician Charles Grey (Dominic Cooper). The Duke commits some monstrous acts during the course of the film, but it's a credit to the excellent performance by Fiennes that the character never emerges as a dull, one-note villain but rather an emotionally stifled man whose Neanderthal brain can't quite grasp certain aspects of civility and respect. Likewise, Lady Elizabeth is revealed as far more than merely a spouse-stealer, and Atwell does an exemplary job of insuring her character remains the tenuous connective tissue between the Duke and the Duchess. (Amazon Prime)