(View From The Couch is a weekly column that reviews what's new on Blu-ray, DVD and Streaming. Ratings are on a four-star scale.)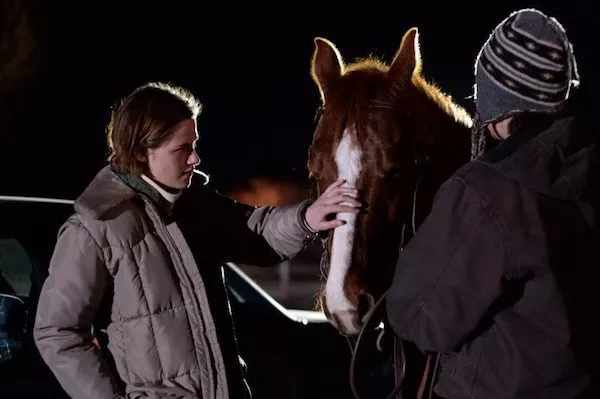 Kristen Stewart and Lily Gladstone in Certain Women (Photo: Criterion)
CERTAIN WOMEN (2016). A modest and contemplative film, Certain Women finds writer-director Kelly Reichardt adapting three stories by author Maile Meloy and melding them into a Montana-set meditation that brings to mind Thoreau's "lives of quiet desperation." The first tale finds lawyer Laura Wells (Laura Dern), initially seen engaging in an unsatisfying tryst with a married man named Ryan (James Le Gros), forced to contend with a client (Jared Harris) whose rotten luck leads him to take drastic measures. The second vignette centers on the efforts of Gina Lewis (Michelle Williams), otherwise perpetually bickering with her husband Ryan and their teenage daughter Guthrie (Sara Rodier), to obtain some sandstone blocks from an elderly man (Rene Auberjonois) who might be reluctant to part with them. And the third story follows a rancher named Jamie (Lily Gladstone) as she develops feelings for novice law instructor Beth Travis (Kristen Stewart). The first chapter is interesting while the second is largely inert, but it's the third episode that primarily sells the film – it's strong enough, in fact, to make one wish it had been stretched out into a feature film on its own. A pervading sense of profound loneliness is one of the primary themes snaking throughout the stories, with Dern and Gladstone particularly nailing this dimension of the film.
Blu-ray extras consist of separate interviews with Reichardt, Meloy and executive producer Todd Haynes, and the theatrical trailer.
Movie: ***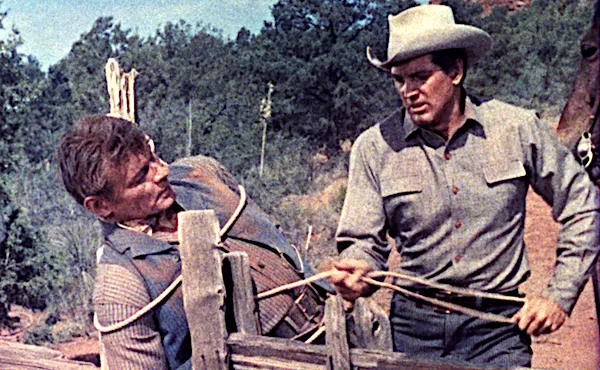 Leo Gordon and Rock Hudson in Gun Fury (Photo: Twilight Time)
GUN FURY (1953) / HOUR OF THE GUN (1967) / LAWMAN (1971). It's high noon around the Twilight Time office, as the Blu-ray/DVD label rides tall in the saddle with three new Western releases.
Gun Fury is the most traditional of the trio, with Rock Hudson cast as Ben Warren, a rancher who's shot and left for dead by outlaw Frank Slayton (Philip Carey) and his gang. Particularly fueling Ben's rage is that fact that Slayton has kidnapped his fiancée (Donna Reed); the rancher sets out to rescue her, receiving unexpected assistance from Slayton's former second-in-command (a fine turn by Leo Gordon). Look for movie tough guys Lee Marvin and Neville Brand as two members of Slayton's outfit.
Sam Melville, Frank Converse, Jason Robards and James Garner in Hour of the Gun (Photo: Twilight Time)
Although director John Sturges' Hour of the Gun tries to muddy the moral waters by questioning whether Western icon Wyatt Earp was (to quote the ad copy) a "hero with a badge" or a "cold-blooded killer," the truth is that the film allows its protagonist to always bend — but never quite break — the law (in that regard, he has much in common with the upcoming Dirty Harry Callahan). That's not to say the movie doesn't come with psychological trimmings attached, particularly when compared to Sturges' earlier Earp saga, 1957's Gunfight at the O.K. Corral. Where that picture ended with the O.K. shootout, this one illustrates what occurs afterward, with Earp (James Garner) and Ike Clanton (Robert Ryan) locked in a power struggle that leaves many dead on both sides. Garner suppresses his natural charm to present a grouchy Wyatt; meanwhile, Jason Robards tackles Doc Holliday and, like practically every other actor who's essayed the role (Victor Mature, Kirk Douglas, Val Kilmer, Dennis Quaid), has a grand old time cutting up.
Burt Lancaster in Lawman (Photo: Twilight Time)
Robert Ryan is typically solid as Ike Clanton in Hour of the Gun, but he's nothing short of sensational in Lawman, a fascinating Western written by Gerald Wilson and directed by Michael Winner (the duo behind several Charles Bronson hits, including Death Wish). Burt Lancaster stars as Jared Maddox, a humorless, by-the-book marshal who journeys to the neighboring town of Sabbath to apprehend the cowboys who accidentally killed an old man during a night of drunken carousing. The accused, cattle baron Vincent Bronson (Lee J. Cobb) and the men in his charge (including one played by Robert Duvall), debate whether to go with Maddox peaceably or resist him with guns drawn; meanwhile, the townspeople, all appreciative of Bronson's service to the community, weigh whether to form their own vigilante squad to chase off the determined marshal. All of the central characters are refreshingly complex — few can be strictly defined as "good" or "bad" – and none more so than Ryan Cotton (Ryan), the over-the-hill Sabbath marshal who may be in Bronson's pocket but who still can exhibit moments of integrity and courage.
The Blu-ray for Gun Fury offers the film in both 2-D and 3-D; extras consist of the theatrical trailer and a partial isolated music track. Blu-ray extras on Hour of the Gun consist of the theatrical trailer and an isolated track of Jerry Goldsmith's score. Blu-ray extras on Lawman consist of the theatrical trailer and an isolated track of Jerry Fielding's score.
Gun Fury: ***
Hour of the Gun: ***
Lawman: ***1/2
Anne Parillaud in Innocent Blood (Photo: Warner Archive Collection)
INNOCENT BLOOD (1992). Eleven years after enjoying great success with An American Werewolf in London, director John Landis gave the vampire flick a shot with Innocent Blood, an anemic effort that fails to make the most of a great hook. This vampire, a looker named Marie (Anne Parillaud), only goes after the wicked – in this case, that translates to the members of a powerful mob gang in Pittsburgh. But Marie doesn't get to finish the job after snacking on the ruthless kingpin Sallie the Shark (Robert Loggia), meaning that this Mafioso returns to commence a new reign of terror. Parillaud, the original La Femme Nikita in Luc Besson's 1990 hit, is well-cast as the discriminating bloodsucker, and she establishes a good rapport with Anthony LaPaglia, playing the sensitive cop who becomes her boyfriend. But after a promising start, the picture never goes anywhere interesting with its premise, as writer Michael Wolk opts for limp humor and standard vehicular mayhem over atmospheric horror. Also kneecapping the film are the visual and aural cues that signal whenever Marie lets the vamp out — those blazing eyes and that Exorcist-inspired voice are more risible than riveting. As usual, Landis packs the film with cameos – look for (among others) directors Sam Raimi and Dario Argento and Famous Monsters of Filmland editor Forrest J Ackerman.
The only Blu-ray extra is the theatrical trailer.
Movie: **
The Long Riders (Photo: Kino & MGM)
THE LONG RIDERS (1980). The Long Riders sounds like merely a gimmick: Cast real-life brothers as real-life outlaw siblings. But with director Walter Hill (back in his glory years) in charge, it turned out to be one of the last decent Westerns to hit the big screen until the early 1990s brought us Dances with Wolves and Unforgiven. The Keaches (Stacy, James), the Carradines (David, Keith, Robert), the Quaids (Dennis, Randy) and the Guests (Christopher, Nicholas) respectively portray the James, Younger, Miller and Ford brothers, and the picture episodically follows them as they rob banks, bicker among themselves, and attempt to forge some semblance of personal lives. In addition to playing Frank and Jesse James, Stacy and James Keach also co-wrote the script and served as executive producers, but they were generous enough not to make themselves rise above the ensemble. All of the characterizations are interesting and all of the performances memorable, although it's amusing to note that, in this picture dominated by men, the best work comes from Pamela Reed as the fiery Belle Starr.
Blu-ray extras include audio commentary by film historians Howard S. Berger, Steve Mitchell and Nathaniel Thompson; a making-of piece; and new interviews with Keith and Robert Carradine, Stacy and James Keach, Randy Quaid, Nicholas Guest, producer Tim Zinnemann, and composer Ry Cooder.
Movie: ***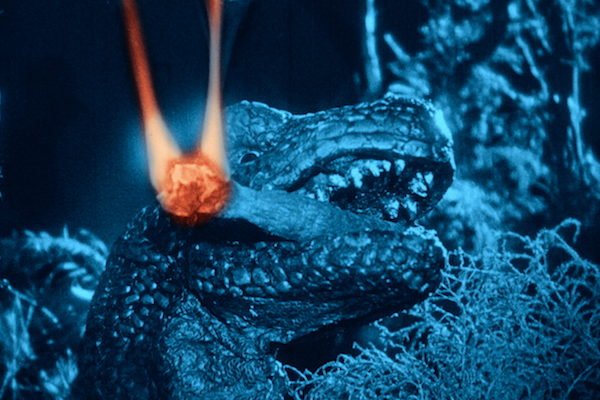 The Lost World (Photo: Flicker Alley)
THE LOST WORLD (1925). The new Blu-ray edition of the silent classic The Lost World, presented by Flicker Alley, Lobster Films and Blackhawk Films, will have no trouble retaining its standing as one of the best home-entertainment releases of the year. With the decision to destroy all prints of the film soon after its initial showings, this adaptation of the novel by Sir Arthur Conan Doyle has existed in many truncated forms over the decades — for starters, there were two different cuts that each ran about an hour, while I previously reviewed a 76-minute edition that was offered as a bonus feature on the 2007 DVD of the inferior 1960 remake. This new version, though, offers the most complete attempt yet, with a 2K restoration and newly discovered footage (including a startling splotch of red; see accompanying photo) that brings the running time up to 103 minutes, well within shouting distance of the original 106-minute length. A sizable success in 1925, the film remains a thrilling adventure yarn in which Professor Challenger (another great raging-bull performance by Wallace Beery) leads a group of assorted individuals (scientist, reporter, hunter, etc.) deep into the Amazon in an attempt to prove that dinosaurs still exist in the modern world. The visual effects work by Willis O'Brien and Marcel Delgado is exceptional – ditto the set design by Milton Menasco. In short, this is a must-see movie event for any true film fanatic.
Blu-ray extras consist of audio commentary by film historian Nicolas Ciccone; restored outtakes; O'Brien's short films R.F.D., 10,000 B.C. (1917) and The Ghost of Slumber Mountain (1918); footage from O'Brien's unfinished 1930 film Creation (abandoned so O'Brien could work on 1933's King Kong); and an image gallery.
Movie: ****
Peter Frampton (second from right) and The Bee Gees in Sgt. Pepper's Lonely Hearts Club Band (Photo: Shout! Factory)
SGT. PEPPER'S LONELY HEARTS CLUB BAND (1978). Producer and impresario Robert Stigwood was so confident in both of his 1978 movie musicals that he apparently saw no problem with releasing them within a month of each during the lucrative summer season. But while Grease turned out to be a gargantuan smash, Sgt. Pepper's Lonely Hearts Club Band achieved immortality of a different nature. This misguided interpretation of The Beatles' landmark 1967 album was obliterated by critics and ignored by audiences, and its standing as a turkey for the ages remains undiminished. Even in Creative Loafing's 2007 article on The Worst Rock Films Ever Made (found here), it landed in the #1 slot — and "by a wide margin," thanks to the ballots of the 10 panelists (myself included). Peter Frampton and The Bee Gees plays Billy Shears and his friends, all briefly selling out for capitalist gains before rediscovering all that is good and true in Heartland, USA. Classic Beatles songs are mangled left and right, literal interpretations of titles and lyrics prove tough to take, and Frampton and the Gibb brothers are awful in the central roles. The best moment? Aerosmith offering a chilling rendition of "Come Together." The most love-it-or-leave-it moment? Steve Martin doing his comic shtick while performing "Maxwell's Silver Hammer." The worst moment? A million-way tie between everything else, with a special mention given to any scene featuring mean Mr. Mustard (Frankie Howerd) and his perpetually annoying fembots.
Blu-ray extras include audio commentary by pop culture historian Russell Dyball; a photo gallery; and the theatrical trailer.
Movie: *
Tate Donovan, Lea Thompson and Kelly Preston in SpaceCamp (Photo: Kino)
SPACECAMP (1986). "This Summer's Greatest Adventure," blared the ads for SpaceCamp – a blatant case of false advertising, considering such popular hits as Aliens and Top Gun were also released during that particular hot-weather stretch. The failure of SpaceCamp at the box office was blamed on the tragic Challenger accident that occurred earlier that year, but truth be told, this teen adventure had very few bells and whistles to allow it to stand out from the competition. Kate Capshaw plays an astronaut and instructor teaching her young charges — four teenagers (Lea Thompson, Kelly Preston, Larry B. Scott and Tate Donovan) and a preteen (Joaquin Phoenix, still going by Leaf Phoenix) — about the final frontier at NASA's SpaceCamp in Florida. An insufferable robot named Jinx innocently arranges for a shuttle occupied by the team to blast off into space during a test run, leaving the gang to figure out how they're going to get back to Earth. Dopey even by the standards of '80s adolescent flicks, SpaceCamp doesn't make much effort in providing its youthful protagonists with interesting personalities – trapped in the most annoying role is little Leaf, playing a boy endlessly making witless Star Wars references.
Blu-ray extras consist of new interviews with Thompson and director Harry Winer; the theatrical trailer; and trailers for other fantasy flicks of the era (including 1986's abysmal Solarbabies).
Movie: **
Transformers: The Last Knight (Photo: Paramount)
TRANSFORMERS: THE LAST KNIGHT (2017). As a filmmaker, Michael Bay has never seemed particularly interested in coherency or linear thinking or anything that carries an idea from Point A to Point B. With that in mind, here's my own stream-of-consciousness look at Bay's latest bray. 1) If nothing else, this is the first movie in the franchise that could be described as educational. For starters, it's ascertained that not only did King Arthur and Camelot exist, but Arthur and his companions all had Transformer knights watching their backs. The Transformers were also responsible for the Allies winning World War II, for the mystery surrounding Stonehenge, and for Crash winning the Best Picture Oscar over Brokeback Mountain. 2) Mark Wahlberg returns for his second appearance as Cade Yeager, the Transformers' BFF. Here, Cade's the one who's picked to save all of humanity. Dirk Diggler as The Chosen One? The mind boggles. 3) The latest distinguished actor to slum in this series for the sake of a gargantuan payday is Anthony Hopkins. Unlike, say, past players Frances McDormand and John Malkovich, he does not seem embarrassed by his appearance. 4) One scene features a pair of bickering Transformers voiced by John Goodman and Steve Buscemi. With John Turturro also in the film, it's safe to say this is the reunion movie that The Big Lebowski devotees were eagerly awaiting. 5) Speaking of Turturro, he gets off one amusing quip wherein he states than an ancient book was made out of "goat scrotum or something." This made me realize that every major Hollywood movie should work the term "goat scrotum" into its script. 6) There's a Decepticon in this movie called Mohawk and he sports an actual metallic Mohawk. Nuff said.
Blu-ray extras include various making-of featurettes examining the mythology, the characters, and the location shooting in England.
Movie: *
Charles Peterson's iconic shot of a head-spinning Kurt Cobain, as seen in Hype! (Photo: Charles Peterson via Shout! Factory)
Short And Sweet:
HYPE! (1996). The Seattle music scene is the focus of this informative and entertaining documentary that details the origins of "grunge rock" and proceeds to chart how the so-called Seattle Sound became co-opted by media outlets and capitalist corporations to an absurd degree (as one example, an observer notes that it became unbearable once she saw Joan Rivers don an expensive faux-grunge outfit for a Vanity Fair shoot). Interviews and concert clips abound, although the pièce de résistance is the footage of Nirvana in a dingy bar, performing "Smells Like Teen Spirit" for the very first time.
Blu-ray extras include audio commentary by director Doug Pray; a new retrospective piece, Hype! 20 Years After; and Peter Bagge's animated short, Hate.
Movie: ***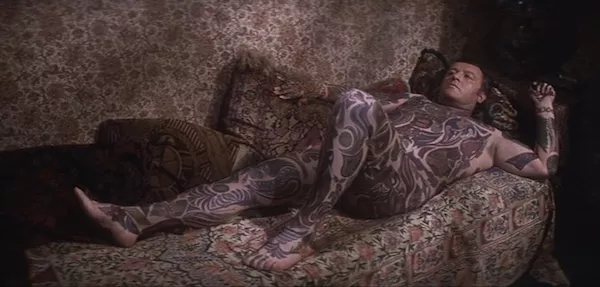 Rod Steiger as The Illustrated Man (Photo: Warner Archive Collection)
THE ILLUSTRATED MAN (1969). Three tales from Ray Bradbury's 18-story collection were plucked (along with the framing device) for this often heavy-handed yarn in which the title figure (Rod Steiger) relates to a young man (Robert Drivas) how he plans to find and murder the time-traveling woman (Claire Bloom) responsible for his tattooed appearance. In the meantime, he regales the wary youth with three futuristic yarns found lurking on his painted body. The makeup design is exceptional, and the wraparound sequences are sturdier than the three vignettes, all of which suffer from a lack of imagination on director Jack Smight's part.
Blu-ray extras consist of a vintage promotional short demonstrating the application of Steiger's makeup, and the theatrical trailer.
Movie: **1/2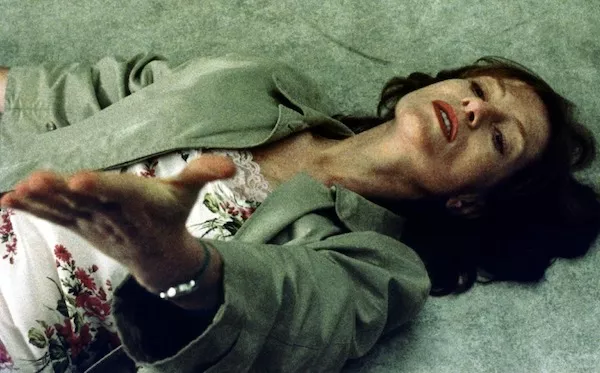 Isabelle Huppert in The Piano Teacher (Photo: Criterion)
THE PIANO TEACHER (2001). Scoring thrice at the 2001 Cannes Film Festival (Grand Jury Prize, Best Actress, Best Actor), this adaptation of Elfriede Jelinek's novel by writer-director Michael Haneke (Amour, Cache) is primarily bolstered by Isabelle Huppert's risk-taking performance in the title role. Huppert's no stranger to playing withdrawn characters, yet here she outdoes herself as a sexually repressed woman who enters into a potentially dangerous relationship with a young student (Benoit Magimel).
Blu-ray extras consist of select-scene audio commentary by Huppert; behind-the-scenes footage; new interviews with Haneke and Huppert; and the theatrical trailer.
Movie: ***
==============================
FROM SCREEN TO STREAM
(Recommended films currently available on streaming services)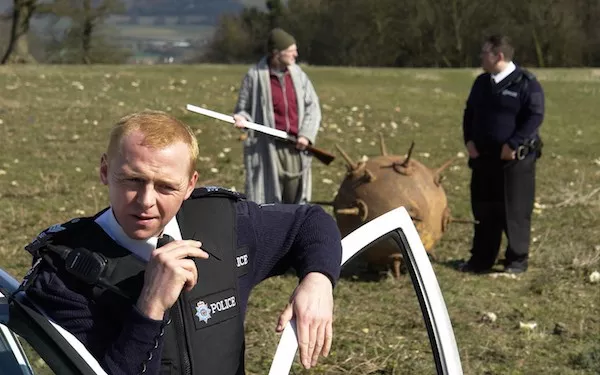 Simon Pegg in Hot Fuzz (Photo: Universal)
HOT FUZZ (2007). The team that brought us Shaun of the Dead — writer-director Edgar Wright, writer-star Simon Pegg and co-star Nick Frost — takes a shot or 12 at the police procedural with Hot Fuzz, an amusing comedy that also manages to evoke memories of The Wicker Man, Plague of the Zombies and other spooky yarns centering on eccentric villagers inhabiting the less-traveled paths of the British Isles. Pegg plays Nicholas Angel, a dynamic, by-the-book cop who's so efficient at nailing the bad guys that his three superiors (cameos by familiar English actors) ship him off to the remote hamlet of Sandford so he won't keep embarrassing the rest of the London force. Upon arriving in Sandford, he realizes that his commanding officer (Jim Broadbent) is a flake and his peers are morons, although he does strike up a friendship with Danny Butterman (Frost), a well-meaning cop who finds spiritual guidance in the movies Bad Boys II and Point Break. But a string of gruesome accidents convinces Angel that some dark secret exists in Sandford, and he enlists the bumbling Butterman to help him get to the bottom of the mystery. The satiric edge is appreciated, but did the film have to feature more faux-endings than even The Lord of the Rings: The Return of the King? (Netflix Streaming)