(View From The Couch is a weekly column that reviews what's new on Blu-ray, DVD and Streaming. Ratings are on a four-star scale.)
Robert Wagner in Beneath the 12-Mile Reef (Photo: Twilight Time)
BENEATH THE 12-MILE REEF (1953). Billed as "The Modern Miracle You See Without Glasses" — an acknowledgment of (and dig at) the 3-D pictures popular at the time — CinemaScope revolutionized the motion picture industry in 1953 by offering something that television could not: widescreen vistas instead of boxy images. Twentieth Century Fox was the studio behind this exciting innovation, and it kicked off its brainstorm with a trio of diverse movies released toward the end of '53: the Biblical epic The Robe, the glitzy comedy How to Marry a Millionaire, and the nautical adventure Beneath the 12-Mile Reef. The latter stars 23-year-old Robert Wagner as Tony Petrakis, proud member of a Greek-American family that makes its living through sponge-diving off the Florida coast. Complications arise when Tony falls for Gwyneth (Terry Moore), who hails from a rival clan. The script by A.I. Bezzerides offers some unlikely plot and character twists to allow this to reach the desired ending, but the leads are likable, the locations are lovely, and the future Jonathan Hart even gets to wrestle an octopus. Not surprisingly, Beneath the 12-Mile Reef and The Robe were Oscar-nominated for Best Color Cinematography – they both lost to Shane, which was a rival studio's attempt at a widescreen picture to match those coming from Fox. For the record, not everyone was enamored of Fox's CinemaScope efforts: The Harvard Lampoon's "Movie Worsts" awards included all three extravaganzas (Robe, Millionaire and Reef) on its list of the year's 10 Worst Films, with The Robe hilariously earning an additional citation as "Greatest Setback to Christianity Since Nero."
Blu-ray extras consist of the 1999 A&E Biography episode "Robert Wagner: Hollywood's Prince Charming" and an isolated track of Bernard Herrmann's score.
Movie: **1/2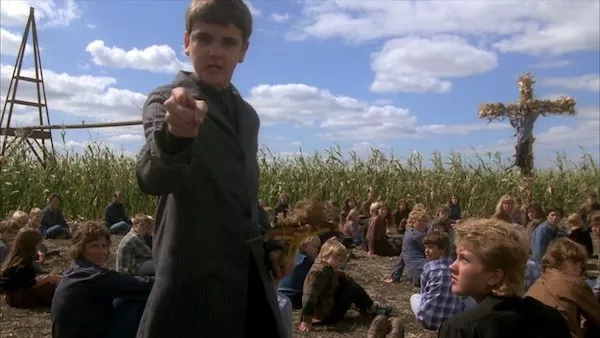 John Franklin in Children of the Corn (Photo: Arrow)
CHILDREN OF THE CORN (1984). Stephen King on screen may have gotten off to a slow start — after 1976's Carrie, it took four years before another of his properties (1980's The Shining) hit movie theaters — but that all changed during the mid-80s, when a five-year stretch saw the release of a whopping 13 movies attached to his bankable name. While some were distinguished efforts (The Dead Zone, Stand by Me), others proved to be cheesy rather than classy — Children of the Corn falls into that category, with a promising premise ultimately no match for slapdash visuals effects, dunderheaded protagonists, and amateurish performances from some of the younger actors. Peter Horton, still a few years away from thirtysomething, and Linda Hamilton, still a few months away from The Terminator, play young couple Burt and Vicky, who stumble across a small Nebraska town in which everyone over the age of 18 had been brutally slain three years earlier. The killers are the community's kids, led by a child prophet (John Franklin) who takes his orders from "He Who Walks Behind the Rows" and who now insists that these intruders need to be similarly sacrificed. Director Fritz Kiersch initially makes effective use of the desolate setting, but the story gets sloppier and sillier as it proceeds.
Blu-ray extras include audio commentary by Kiersch, Franklin, producer Terrence Kirby, and co-star Courtney Gains; separate audio commentary by horror journalist Justin Beahm and film fan John Sullivan; a retrospective making-of piece; an interview with Hamilton; and the 1983 short film Disciples of the Corn, an earlier adaptation of King's story and winner of a Student Academy Award.
Movie: **
John Cleese in A Fish Called Wanda (Photo: Arrow)
A FISH CALLED WANDA (1988). Director Charles Crichton was known for the Ealing Studios classic The Lavender Hill Mob while John Cleese was known for his work with Monty Python. The melding of these idiosyncratic English minds resulted in A Fish Called Wanda, one of the most unlikely critical and commercial hits during a savory summer season that also housed Who Framed Roger Rabbit, Bull Durham and Die Hard. Working from a script that he co-wrote with Crichton, Cleese handed himself the plum role of Archie Leach, a stiff-upper-lip barrister who unexpectedly gets involved with a gang of jewel thieves whose members include the smart and sexy Wanda (Jamie Lee Curtis), the macho but dimwitted Otto (Kevin Kline), and the sweet and stuttering Ken (fellow Python Michael Palin). The bright characterizations, vivid performances, and unexpectedly uproarious set-pieces (Mrs. Coady's poor dogs!) have lost little of their luster over the ensuing decades. Picking up Oscar nominations for Best Director and Best Original Screenplay, A Fish Called Wanda earned Kevin Kline the Best Supporting Actor statue for his hilarious turn as a guy so dumb that he thinks the London Underground is a political movement.
Blu-ray extras include audio commentary by Cleese; a pair of making-of pieces (one from 1988, the other from 2003); deleted and alternate scenes; a trivia track; an interview with production designer Roger Murray-Leach; a look at the film's locations; and an introduction by Cleese which was filmed at the time of the film's original release.
Movie: ***1/2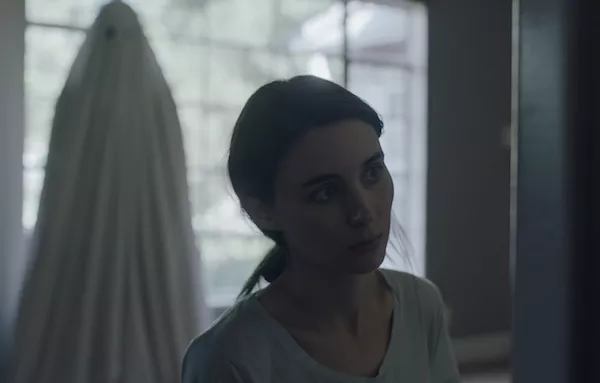 Casey Affleck and Rooney Mara in A Ghost Story (Photo: A24 & Lionsgate)
A GHOST STORY (2017). Moving at the speed of molasses trying to drip up a wall, writer-director David Lowery's A Ghost Story clocks in at just over 90 minutes, yet many fidgety viewers will swear it runs at least four hours. One five-minute scene consists of nothing more than Rooney Mara's character eating an entire chocolate pie, and if there's any sequence likely to leave a viewer shrieking in frustration and hurling the remote at the TV set, it's probably this one. Yet for those who can get attuned to its leisurely approach, this proves to be a fascinating watch. Lowery's decision to have his film move with the speed of a turtle with four broken legs is a deliberate one, tying into the piece's themes regarding love, loss, identity, and time. At its center is a young couple identified only as C (Casey Affleck) and M (Mara). One day, C is killed in a car accident just outside their home, but he soon returns as a ghost. Intriguingly, the ghost isn't some CGI specter or a Patrick Swayze hunk but rather a figure in a white sheet, the sort seen in Peanuts strips and in costume shops come Halloween. C's spectral form remains in the house, and just when it seems the movie can't possibly get any more existential, a leap is taken (both literally and figuratively) that spins it in a new direction. Aside from one interlude with a chatty hipster (Will Oldham), the dialogue is kept to a minimum, another tactic that makes the movie feel longer than its actual running time. Yet Lowery's approach is key in providing the melancholy mood, and he's backed by a score from Daniel Hart that only emphasizes the pervading wistfulness. A mournful rumination on not only what it means to be human but also what it means to be something else entirely, this is a haunting experience no matter how you slice it.
Blu-ray extras include audio commentary by Lowery and select crew members; a deleted scene; and a piece on Hart's score.
Movie: ***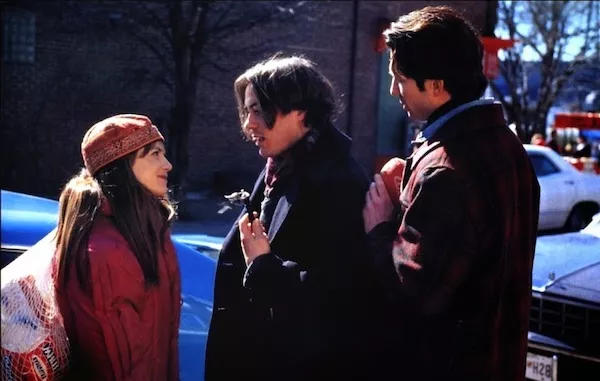 Holly Hunter, Robert Downey Jr. and Dylan McDermott in Home for the Holidays (Photo: Shout! Factory & MGM)
HOME FOR THE HOLIDAYS (1995). Harried Claudia Larson (Holly Hunter) heads home for Thanksgiving, armed with the bad news that she just lost her job. Needless to say, her rambunctious family members — her overbearing mother (Anne Bancroft), her sweet-natured father (Charles Durning), her live-wire brother (Robert Downey Jr.), and her humorless sister (Cynthia Stevenson), among others — only add to her stress level. Tackling the chaos of family gatherings may seem like an easy assignment, and director Jodie Foster and scripter W.D. Richter (adapting Chris Radant's Boston Phoenix story) occasionally succumb to the cheap shot. For the most part, though, they have crafted an engaging film that celebrates the family unit without ever getting sanctimonious about its merits. The characters played by Geraldine Chaplin (loony aunt) and Steve Guttenberg (uptight yuppie) are too formula-bound, and a romantic subplot between Claudia and her brother's friend (Dylan McDermott) often feels forced. Still, other characters prove to be unpredictable — Downey's Tommy Larson, while gay, isn't defined by his homosexuality as he would be in numerous sitcom-style films, and his playfulness occasionally reveals a sadistic streak that would have been sanded down in other scripts — and the picture offers several laughs and even a few poignant revelations. Hunter is typically excellent in the central role, Claire Danes appears as Claudia's college-age daughter, and David Strathairn scores in one brief scene as a lonely repairman.
Blu-ray extras consist of audio commentary by Foster; a photo gallery; and the theatrical trailer.
Movie: ***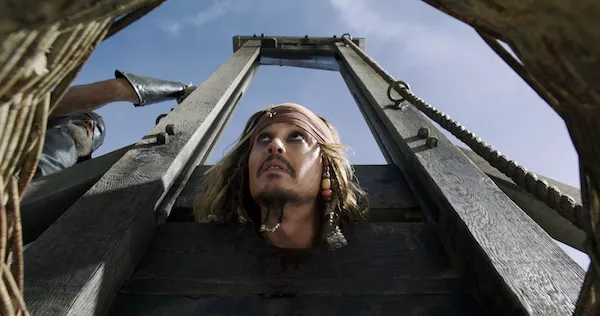 Johnny Depp in Pirates of the Caribbean: Dead Men Tell No Tales (Photo: Disney)
PIRATES OF THE CARIBBEAN: DEAD MEN TELL NO TALES (2017). The least sea-worthy – make that see-worthy – film in the deathless franchise, the latest Pirates flick is the sort of big-budget extravaganza that's exhausting in the worst possible way. Whereas the brightest blockbusters leave viewers happily drained thanks to a sense of adventure and plenty of adrenaline-pumping excitement, the poorest examples wear viewers out through a bullheaded combination of unnecessary bloat, tiresome developments, and – to paraphrase that Shakespeare guy – unrelenting sound and fury, signifying absolutely nothing at all. After sitting through a movie like Dead Men Tell No Tales, you don't want to rush out and tell your friends to rent it — you just want to take a nap. The convoluted plot involves various folks seeking the fabled Trident of Poseidon, including Jack Sparrow (Johnny Depp) and Captain Salazar (Javier Bardem), a murderous spirit who blames Jack for his present ethereal state. For a movie that never stops moving, this one is astoundingly dull, choked to death by expensive CGI, lumbering set-pieces, and a script seemingly cobbled together even after production was underway. There are a few clever moments strewn throughout — a bit involving a guillotine is brilliant, and, intentional or not, Jack's first appearance is a nice homage to Charlie Chaplin's intro in City Lights — but these bits are too few and too far between. While a couple of the earlier films featured Keith Richards as Jack's father, this one showcases a brief appearance by Paul McCartney as Jack's uncle. It's an apt inclusion, since a message to the makers of this past-its-prime franchise can be found right there in The Beatles discography: Let It Be.
Blu-ray extras include a making-of featurette; deleted scenes; and a blooper reel.
Movie: *1/2
Nicole Kidman and Robert Pattinson in Queen of the Desert (Photo: Shout! Factory)
QUEEN OF THE DESERT (2017). With so many classics to his name, the legendary German filmmaker Werner Herzog need not apologize for helming Queen of the Desert — it's just shocking that his name is attached to something as arid and uninspired as this stillborn drama. Gertrude Bell led an extraordinary life as an archaeologist, as a writer, as a traveler, as a political liaison, and as a lover of the Middle East during a period of great change and upheaval. All of this is touched upon in Queen of the Desert, yet Herzog (who both wrote and directed) seems more interested in tracking her comparatively commonplace affairs with men who hardly seem worthy of her. As her first lover, a low-level embassy employee stationed in Tehran, James Franco is simply terrible, remembering to add a British accent once every 400 words and looking downright constipated during his amorous clinches with Gertrude. As her second lover, a married Army officer, Damien Lewis is more adequately cast, even though he and Kidman strike few sparks. Her best rapport occurs in scenes opposite Robert Pattinson, who appears as adventurer T.E. Lawrence (of Arabia fame) – while it's impossible to accept him (or anybody) in the role after Peter O'Toole, he at least presents a reasonably compelling figure worthy of Gertrude's time. As for Kidman, she's suitably spirited in the role, though it takes plenty of gulping swallows to accept her as a 24-year-old in the early sequences.
The only Blu-ray extra is the theatrical trailer.
Movie: *1/2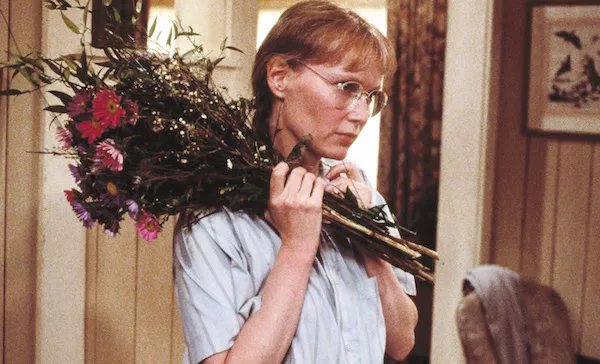 Mia Farrow in September (Photo: Twilight Time)
SEPTEMBER (1987). Howard loves Lane, Lane loves Peter, and Peter loves Stephanie. Throw in a larger-than-life maternal figure and her perpetually patient husband, and it sounds like a wacky prime-time sitcom that would rule the boob tube for four years minimum. Instead, it's the scenario fueling September, a dreary drama that, with a mere $486,000 haul, remains the lowest-grossing movie of Woody Allen's career. Allen's worship of Ingmar Bergman led to the writer-director creating 1978's accomplished Interiors, but it also led to 1988's middling Another Woman and this particularly moribund affair. Owing as much to Chekhov as Bergman, September finds Mia Farrow cast as Lane, who recently attempted suicide and is now trying to heal while staying at her Vermont home. But her precarious mental state is shaken by the arrival of her boorish mother Diane (Elaine Stritch), a former Hollywood actress whose favorite subject is herself. Lane is also distraught over the fact that the feelings she has developed for aspiring author Peter (Sam Waterston) are not being returned – little does Lane know that Peter has instead fallen for her best friend, the married Stephanie (Dianne Wiest). Also hovering around the edges are Howard (Denholm Elliott), an older neighbor who cares for Lane, and Diane's practical husband Lloyd (Jack Warden). Allen famously reshot the entire film after being dissatisfied with the original results (Sam Shepard, Charles Durning and Farrow's mom Maureen O'Sullivan were among those axed between versions), but it's hard to imagine that cut being any more problematic than this cinematic chamber piece that's ultimately more sterile than soulful.
Blu-ray extras consist of the theatrical trailer and an isolated music track.
Movie: **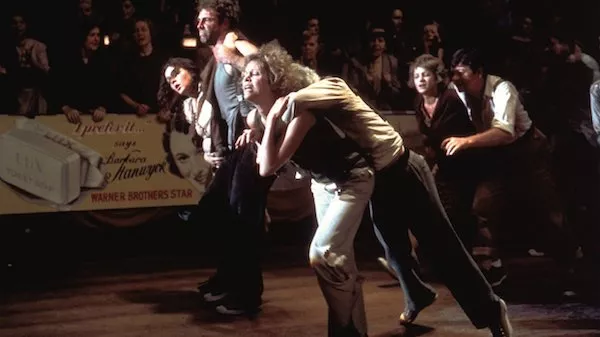 Bonnie Bedelia, Bruce Dern and Jane Fonda (center) in They Shoot Horses, Don't They? (Photo: Kino)
THEY SHOOT HORSES, DON'T THEY? (1969). During the Great Depression, a grueling dance marathon offers a glimmer of hope to the impoverished and unemployed folks who enter it with their eye on the $1,500 prize. What sounds like a potentially uplifting underdog tale is instead an utterly bleak drama that rightly paints America as a land in which the poor will always be exploited for the amusement of everyone higher on the economic ladder. Or, as the sleazy MC (an excellent Gig Young) notes, "[Audiences] just want to see a little misery so they can feel a little better about themselves." In the role that definitively allowed her to transfer from sex kitten to serious actress, Jane Fonda headlines as one of the most bitter of all the participants; co-stars include Michael Sarrazin as her soft-spoken dance partner, Susannah York as a British actress attempting to hold onto her glamor, Red Buttons as a middle-aged sailor, and Bonnie Bedelia and Bruce Dern as a pregnant participant and her husband. Director Sydney Pollack and scripters James Poe and Robert E. Thompson (adapting Horace McCoy's novel) emphasize not only the stifling grunginess of the locale but also the desperation of the contestants — the sweat practically drips off the screen. To this day, They Shoot Horses, Don't They? holds the record for the most Oscar nominations received by one film without Best Picture being among them. It earned nine nominations (including bids for Pollack, Fonda and York), with Young winning for Best Supporting Actor.
Blu-ray extras consist of audio commentary by Fonda, Sarrazin, Buttons, Bedelia, and others; separate audio commentary by Pollack; a vintage behind-the-scenes piece; and trailers for They Shoot Horses, Don't They? and Coming Home.
Movie: ***1/2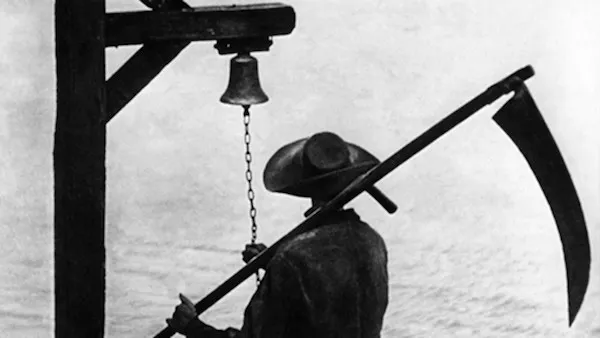 Vampyr (Photo: Criterion)
VAMPYR (1932). The notion of cinema as dreamscape has rarely been realized as exquisitely as in Danish writer-director Carl Theodor Dreyer's moody vampire tale. Loosely based on Sheridan Le Fanu's story "Carmilla," the movie carries all the logic of a restless sleep filled with surreal thoughts, many of which tip into pure nightmare. Baron Nicolas de Gunzburg, the film's financier, adopted the pseudonym Julian West to portray Allan Gray, a young man who shows up in a European village rumored to be housing a vampire. The bloodsucker turns out to be an elderly woman named Marguerite Chopin (Henriette Gerard), and she's aided in her dastardly deeds by the local doctor (Jan Hieronimko). Vampyr marked Dreyer's first sound film, yet not surprisingly, it plays like a silent feature, with the emphasis on visuals rather than dialogue. And what visuals! There are images here that are staggering in their artistry: the shadow of a one-legged servant separating from its owner and taking off on its own; a ferryman wielding a scythe next to a fog-encrusted lake; the ultimate fate of the doctor, undone by (spirit-assisted) machinery even more imposing than the wheels and cogs encountered by Charlie Chaplin in Modern Times; and the POV shots that find a prematurely boxed Gray witnessing the activities occurring just above the glass window on his coffin. For all its accomplishments, the movie can't match F.W. Murnau's 1922 Nosferatu (still the greatest of all vampire films), but its atmosphere of pervasive evil retains its power to grip discerning viewers.
Extras on the Criterion Blu-ray include audio commentary by film scholar Tony Rayns; a 1966 documentary about Dreyer; and a visual essay by Dreyer scholar Casper Tybjerg. The set also includes a book containing both the film's screenplay and Le Fanu's "Carmilla."
Movie: ***1/2
==============================
FROM SCREEN TO STREAM
(Recommended films currently available on streaming services)
Michael Keaton and Kelly Macdonald in The Merry Gentleman (Photo: Samuel Goldwyn Films)
THE MERRY GENTLEMAN (2009). Michael Keaton made his directorial debut with this low-simmer drama in which he also stars as a despondent hit man named Frank Logan. Yet the film belongs completely to Kelly Macdonald (No Country for Old Men, Trainspotting), who wields the largest role; she plays Kate Frazier, who escapes an abusive relationship and starts again in a place where nobody knows her. But the fragile, soft-spoken Kate is the sort of vulnerable woman who seems to draw the attention of all sorts of men, both good and bad. Among those she attracts are an overweight, alcoholic cop (Tom Bastounes) and the bullying ex (Bobby Cannavale) who's determined to bring her home. Yet her most unusual relationship is the one she shares with Logan, a stone-cold killer who nevertheless softens whenever he's in her presence. Working from a script by Ron Lazzeretti, Keaton has managed to fashion a nicely modulated film that overcomes any hesitancy one might have about yet another movie centering on low-life assassins. Crucially, the picture isn't really about Logan, whose screen time is even less than that of Bastounes' well-meaning cop; instead, its primary focus is on Kate and how she works hard to make her life an acceptable one. Macdonald's performance is one of understated beauty, and the film's lucky to have her on board. (Netflix Streaming)