(View From The Couch is a weekly column that reviews what's new on Blu-ray, DVD and Streaming. Ratings are on a four-star scale.)
Claudine Vinasithamby and Antonythasan Jesuthasan in Dheepan (Photo: Criterion)
DHEEPAN (2015). Writer-director Jacques Audiard's Dheepan earned the Palme d'Or at the 2015 Cannes Film Festival (beating out, among others, Sicario, Son of Saul, The Lobster and deserved winner Carol), but, as always, that matters not a whit when it comes to stateside success. Released in the U.S. by Sundance Selects, this French import peaked with distribution in 26 theaters and grossed just under a quarter-million dollars ($248,392, to be exact). That's a shame, since this frequently xenophobic nation can always benefit from more exposure to the grueling immigrant experience. Dheepan centers on three people who manage to flee Sri Lanka as the country's civil war winds down. The three strangers – Sivadhasan (Antonythasan Jesuthasan), Yalini (Kalieaswari Srinivasan) and 9-year-old Illayaal (Claudine Vinasithamby) — must pose as a family unit in order to qualify for political asylum (Dheepan is the name on the passport that Sivadhasan manages to secure). They attempt to make a new home in a rundown Parisian neighborhood, although the proliferation of thugs and drugs threatens to turn the area into a war zone not entirely unlike the one from which they just escaped. The final stretch, which owes as much to Chuck Norris as anything else, is thematically sound but narratively disappointing, and the coda seems to have dropped in from another film. But Audiard, whose past credits include the Marion Cotillard starrer Rust and Bone and the Best Foreign Language Film Oscar nominee A Prophet, has otherwise delivered an absorbing and realistic drama that shows enormous sympathy for its downtrodden protagonists. The Criterion box copy states that Audiard has "cemented his status as a titan of contemporary world cinema" – he may not quite be there yet, but he's certainly inching closer.
Speaking of world cinema, next week will find Criterion releasing Martin Scorsese's World Cinema Project No. 2, a box set featuring six films representing six different countries. The previous box set, released in 2013, offered a sextet spanning 45 years (1936-1981) – this one ventures out even further, tackling 69 years (1931-2000). The set also includes introductions by Scorsese and filmmaker interviews. Brazil's Limite (1931) is an experimental silent piece in which three people reflect on their lives while adrift at sea; Turkey's Law of the Border (1966) centers on a struggling villager who turns to smuggling to help provide for his son; the Philippines' Insiang (1976) finds the title character seeking revenge after she's raped by her mother's lover; Taiwan's Taipei Story (1985), from director Edward Yang (Yi Yi), focuses on the struggles of a young couple as she looks to the future while he's hopelessly stuck in the past; the Soviet Union's Revenge (1989) tells of a father who sires a son specifically so the latter can avenge the murder of his dad's firstborn; and Thailand's Mysterious Object at Noon (2000), from director Apichatpong Weerasethakul (Uncle Boonmee Who Can Recall His Past Lives), finds the filmmaker journeying across the country and asking locals to add to a simple storyline (as in the popular "exquisite corpse"/"consequences" game).
Blu-ray extras on Dheepan include audio commentary by Audiard and co-scripter Noé Debré; deleted scenes; and interviews with Audiard and Jesuthasan.
Movie: ***
Allison Williams and Daniel Kaluuya in Get Out (Photo: Universal)
GET OUT (2017). Overhyped horror movies are a dime-a-dozen (paging Split), but here's one that easily earns the effusive praise that has surrounded it since it exploded at the box office this past February. Written and directed by Jordan Peele (half of the Key & Peele comedy team), Get Out is perhaps the best terror tale since the mid-2000s served up The Descent and Pan's Labyrinth, two masterworks that, like this one, have much more on tap than just creeping out audiences. Daniel Kaluuya is perfect in the central role of Chris Washington, an African-American guy who joins his white girlfriend Rose (Allison Williams) for a weekend sojourn to her family's estate to meet her parents, Missy and Dean Armitage (Catherine Keener and Bradley Whitford), and her brother Jeremy (Caleb Landry Jones). Mom and Dad flout their liberal credentials and seemingly take a liking to Chris, but their often odd behavior – as well as that of their two black servants (Betty Gabriel and Marcus Henderson) – keeps the young man perpetually wary and on edge. As a thriller, Get Out is whip-smart and manages to avoid the types of myriad plotholes that tend to cripple pictures of this nature. It's equally effective as social commentary, with Peele's script examining such topical issues as miscegenation, cultural appropriation, police intimidation, racial profiling, and, of course, the notion that black lives matter. Lil Rel Howery offers some tension-breaking laughs as Chris' friend Rod, a dedicated TSA officer (and damn proud of it!).
Blu-ray extras consist of audio commentary by Peele; a making-of featurette; deleted scenes; an alternate ending; and a Q&A session with Peele and various cast members.
Movie: ***1/2
Matt Damon in The Great Wall (Photo: Universal)
THE GREAT WALL (2017). Perhaps not since Roman centurion John Wayne ambled up to Jesus on the cross in The Greatest Story Ever Told has an American actor looked so uncomfortably out of place as Matt Damon in The Great Wall. Set in 11th century China, the film posits that an army of warriors has been tasked with protecting the nation – indeed, the world – against the creatures that periodically rise up and destroy everything in their path. The Chinese forces are comprised of nothing but brave warriors and smart generals, but even they're helpless against these marauding monsters. But wait! Just when everything seems hopeless, along comes Matt Damon to save the day! Damon, cast as a mercenary who ends up helping the Chinese help themselves, is one of those actors too stubbornly modern to convince in any period before the 20th century, and in The Great Wall, he seems as organic to the era as would a MacBook Pro. Beyond the miscasting of Damon, The Great Wall proves to be a spectacularly stupid movie, and it's a shame to see the great Yimou Zhang attached to such shameless hucksterism. After all, the director's 1991 Raise the Red Lantern remains one of the great foreign-language imports of the past few decades, and other stellar credits include Ju Dou, Hero and To Live. This one might as well be called To Sell Out: It boasts little of the lyricism of his past efforts, and the visual effects employed to bring the creatures to life are embarrassingly gaudy and unconvincing. The movie may have been a box office hit overseas (it bombed stateside), but all in all, it's just another brick in the wall of cinematic stinkers.
Blu-ray extras include various making-of featurettes examining the visual effects, the sets, and more; deleted scenes; and a piece on Damon's experiences on the film.
Movie: *1/2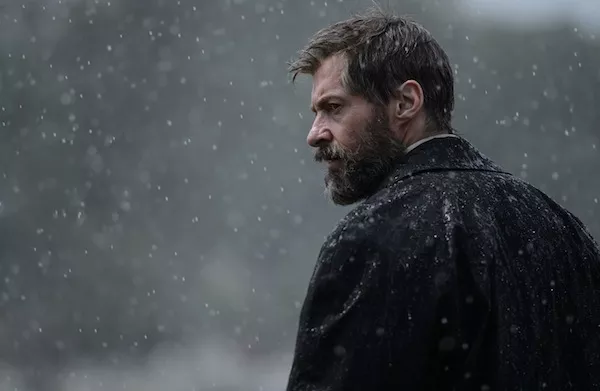 Hugh Jackman in Logan (Photo: Fox)
LOGAN (2017). Set in the year 2029, Logan explores a landscape in which the only mutants apparently still alive are Logan (Hugh Jackman), toiling away as a limo driver, Charles Xavier (Patrick Stewart), now suffering from dementia, and Caliban (Stephen Merchant), tasked with looking after the former Professor X. But when the gang comes into contact with Laura (Dafne Keen), a little girl who, like Logan, has the ability to sprout claws and shish-kabob the opposition, it's clear the mutant lifestyle isn't as extinct as presumed. Superhero sagas have occasionally opted to go deeper and darker (e.g. The Dark Knight), but Logan takes the full plunge into pitch-black nihilism. It's Stan Lee by way of Cormac McCarthy, but the end result – basically, No Country for Old X-Men – suffers from its own sense of self-importance. There's little joy to be had in the experience of watching the movie, with director James Mangold more interested in serving up groovy, R-rated kills for the gamers than anything more substantive. Since the first X-Men film in 2000, moviegoers have spent 17 years knowing that Logan/Wolverine has no problem with killing, yet Logan, with its newfound ratings freedom, treats it like a fresh fact. Naturally, fanboys who live and die by the hype loved the picture, but more discerning viewers will note that even the plotline isn't particularly fresh. The film is crucially missing a worthy villain of note, and when the scripters run out of ideas, they paraphrase Stephen Sondheim and elect to send in the clones. This latter decision renders the action sequences even more rote and less interesting. Still, the film is extremely well-made, and the performances by the leads are top-notch.
Aping Warner and its Mad Max: Fury Road: Black & Chrome Edition, Fox has similarly included a black-and-white version, Logan Noir, on its Blu-ray edition of Logan. Extras include audio commentary by Mangold; a making-of piece; and deleted scenes.
Movie: **1/2
Rod Steiger in The Loved One (Photo: Warner)
THE LOVED ONE (1965). Tony Richardson's first film following his success with 1963's Tom Jones (an Oscar winner for, among others, Best Picture and Best Director) was billed as "The Motion Picture With Something To Offend Everyone!" Certainly, angry executives who reportedly walked out of the studio screening were offended, but the film failed to do enough business at the box office to upset anyone else. Over time, though, this adaptation of Evelyn Waugh's novel (with a script by Terry Southern and Christopher Isherwood) became a cult favorite, doubtless due to its insistence on never playing by the rules of propriety and good taste. A spoof of both the Hollywood community and the funeral business, this finds Robert Morse cast as Dennis Barlow, a Brit newly arrived in California and taking up residence at the decrepit estate of his uncle (John Gielgud), an artist and longtime studio employee. After his uncle is fired and commits suicide, Dennis seeks the services of Whispering Glades, a tacky funeral home run by the slimy Reverend Wilbur Glenworthy (Jonathan Winters) and staffed by the likes of the sweet Aimee Thanatogenous (Anjanette Comer) and the eccentric Mr. Joyboy (a fearless Rod Steiger). Dennis also takes a job working at a different funeral home, this one run by the Reverend's brother Henry (also Winters) and catering exclusively to deceased pets. Time has worn much of the edge off the outrageous antics, though the scenes involving Mr. Joyboy's mother (Ayllene Gibbons) still have the power to (pick your poison) amuse/offend/anger/irritate/upset. Many familiar actors (billed as "Cameo Guest Stars") appear throughout, including Milton Berle, James Coburn, and Liberace.
Blu-ray extras consist of a retrospective making-of featurette and the theatrical trailer.
Movie: ***
Burt Lancaster and Kirk Douglas in Seven Days in May (Photo: Warner)
SEVEN DAYS IN MAY (1964). While the prospect of someone staging a coup d'etat against the dangerous and reckless Trump administration currently destroying the nation sounds wonderful, Seven Days in May expertly reveals the disastrous implications were the reverse scenario — a militaristic right-wing faction overthrowing a progressive government committed to peace — ever to happen. With an intelligent script by The Twilight Zone creator Rod Serling (adapting the novel by Fletcher Knebel and Charles W. Bailey II) and taut direction from The Manchurian Candidate helmer John Frankenheimer, this finds Fredric March cast as U.S. President Jordan Lyman, whose popularity has plummeted as he seeks to sign a nuclear disarmament treaty with the Soviet Union. General James Mattoon Scott (Burt Lancaster), the head of the Joint Chiefs of Staff, is disgusted by Lyman's plan and secretly sets into motion a plot to use the nation's military might to topple the government. One of his officers, Colonel Jiggs Casey (Kirk Douglas), agrees that the treaty is reckless but is horrified at the mounting evidence that his boss might be planning a coup e'tat – he reveals his suspicions to Lyman, and together they work toward finding concrete proof before it's too late. The film remains as topical as ever — Harold McPherson, a rabid right-wing personality played by Hugh Marlowe, is cut from the same chickenhawk cloth as Rush Limbaugh, Sean Hannity et al — and the stellar cast also includes Ava Gardner as Scott's former flame, Edmond O'Brien as a liberal Georgia Senator, and an unbilled John Houseman as a crafty naval officer. Seven Days in May earned Oscar nominations for Best Supporting Actor (O'Brien) and Best Black-and-White Art Direction-Set Decoration.
Blu-ray extras consist of audio commentary by Frankenheimer (who passed away in 2002) and the theatrical trailer.
Movie: ***1/2
==============================
FROM SCREEN TO STREAM
(Recommended films currently available on streaming services)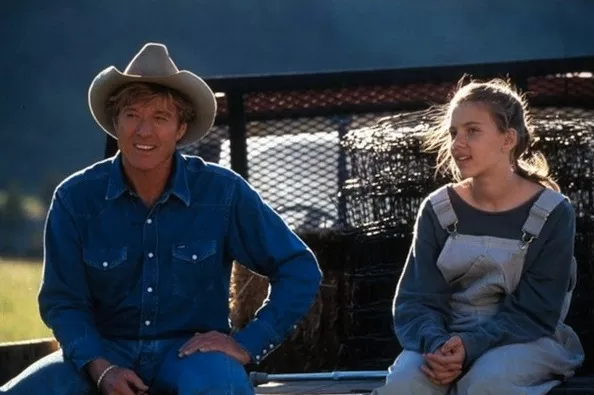 Robert Redford and Scarlett Johansson in The Horse Whisperer (Photo: Disney)
THE HORSE WHISPERER (1998). Like Jaws, Carrie and The Bridges of Madison County, director Robert Redford's screen version of Nicholas Evans' smash bestseller has largely been deemed one of those rarities: a movie that improves on its source material. The film opens with a horrifying sequence, as 14-year-old Grace MacLean (Scarlett Johansson) loses her best friend (Kate Bosworth in her film debut) and her own right leg in a ghastly accident involving the girls' horses, treacherous terrain and an imposing truck. Grace's horse is so badly damaged that almost everyone recommends putting him to sleep, but Grace's mother Annie (Kristin Scott Thomas), a magazine editor married to a sweet man (Sam Neill) she doesn't really love, says no. Unable to break through her daughter's wall of anger and self-pity, Annie packs up the kid and horse and heads to Montana to seek the help of Tom Booker (Redford), a cowboy known for his uncanny ability to cure physically and mentally scarred animals. With plenty of panoramic shots of the Montana landscape by cinematographer Robert Richardson, it'd be easy to overlook the smaller moments in this poignant and beautifully crafted film. But they're there, along with a suitably mythic role for Redford, a juicy part for Scott Thomas, and a breakout opportunity for an excellent Johansson. Incidentally, the Tom Booker character was inspired (both in print and film) by real-life horse whisperer Buck Brannaman, who served as "equine technical advisor" on this picture and later was the subject of the 2011 documentary Buck. (Hulu)
10 THINGS I HATE ABOUT YOU (1999). Using Shakespeare's The Taming of the Shrew as its starting point, this sprightly comedy centers on Kat Stratford (Julia Stiles), a smart and cynical high school senior who wants nothing to do with the dating game. Her cheery sister Bianca (Larisa Oleynik) is just the opposite, and when their strict father (Larry Miller) agrees to let Bianca date only when Kat does, Bianca's potential suitors – one sweet (Joseph Gordon-Levitt), one sleazy (Andrew Keegan) – bribe brooding student Patrick Verona (Heath Ledger) to woo the sarcastic and stand-offish sibling. As far as placing literary classics in contemporary high school settings, 10 Things doesn't quite match the Jane Austen Emma adaptation Clueless, though it's miles ahead of the dreary Othello update O. With an energy level that can only be described as infectious, it takes almost every dated teen-flick cliché (sensitive rebels, preening jocks, distracted adults, etc.) and makes them fresh and funny. Director Gil Junger and writers Karen McCullah Lutz and Kirsten Smith deserve a lot of the credit, but this wouldn't have been as disarming without the contributions of a game cast, several of whose members went on to illustrious careers. Ledger's wooing of Stiles by crooning "Can't Take My Eyes Off of You" is a particular treat, and this also gets extra points for featuring one of the best end-credit uses of a classic song (Cheap Trick's "I Want You to Want Me," performed here by Letters to Cleo). (Netflix Streaming)