(View From The Couch is a weekly column that reviews what's new on Blu-ray, DVD and Streaming. Ratings are on a four-star scale.)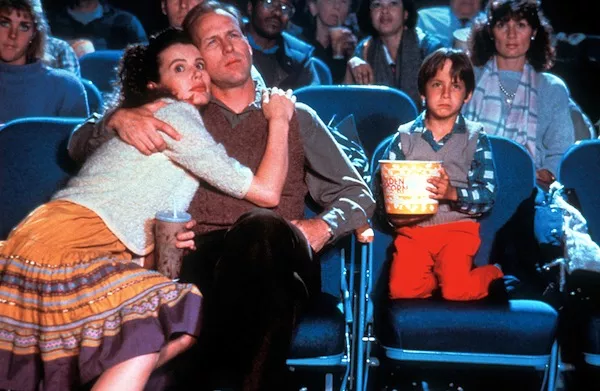 Geena Davis, William Hurt and Robert Gorman in The Accidental Tourist (Photo: Warner)
THE ACCIDENTAL TOURIST (1988). Quite simply one of the most emotionally satisfying movies I've ever had the pleasure to sit through, this adaptation of Anne Tyler's bestseller is perfect in every way — like Lost In Translation, The Piano and a few others, it's the sort of intimate movie that irrevocably touches certain viewers while leaving the rest shrugging their shoulders. Winding down his run as the premiere leading man of the 80s, William Hurt (in arguably his finest performance) plays Macon Leary, a travel guide writer who withdraws from the world after his son is fatally shot through the head during a robbery. Separated from his wife Sarah (Kathleen Turner), Macon ends up meeting quirky dog trainer Muriel Pritchett (Geena Davis), leading to a tentative relationship that forces him to reassess his carefully orchestrated existence. Sensitively co-written (with Frank Galati) and directed by Lawrence Kasdan, the movie is full of moments of great sorrow as well as exquisite humor (Edward the dog is a bona fide scene stealer), and the final sequence, charged by John Williams' excellent (and atypical) score, ranks as one of the all-time great fade-outs. Winner of the Best Film prize from the New York Film Critics Circle, this was nominated for four Academy Awards (including Best Picture, Best Adapted Screenplay, and Best Original Score), with Davis earning a well-deserved Best Supporting Actress statue.
Blu-ray extras include scene-specific commentary by Davis; an introduction by Kasdan; a making-of featurette; over 30 minutes of deleted scenes (most of them strong enough to have been included in the final cut); and the theatrical trailer.
Movie: ****
Gary Oldman in The Space Between Us (Photo: STX & Universal)
THE SPACE BETWEEN US (2017). A teen flick that registers less as "YA" and more as "why bother," The Space Between Us at least has its heart in the right place. That would be inside the body of 16-year-old Gardner Elliot (Asa Butterfield), who becomes the first human born on Mars after his astronaut mom (Janet Montgomery) pops him out and subsequently dies on the operating table. Raised on the Red Planet by sympathetic astronaut Kendra Wyndham (Carla Gugino), Gardner longs to visit Earth, even though the change in atmosphere would threaten to enlarge his heart and destroy his bones. Nevertheless, with the approval of Nathaniel Shepherd (Gary Oldman), the head of the space program, Gardner is allowed to briefly visit our planet — at which point he takes off to find the father he never knew. Along for the cross-country trek is Tulsa (Britt Robertson), a grouchy high school girl who doesn't believe he's from Mars but elects to help him anyway. The opening act on Mars is stridently lackluster — the presence of Matt Damon is sorely needed — and the picture only picks up slightly once it crash-lands on Earth. There's some modest amusement in watching Gardner approach each new discovery like some intergalactic Chauncey Gardiner, and Butterfield sells these moments perfectly. But any sense of wonder quickly gives way to a tired and tepid romance between a dying boy and the girl he thaws, and the central mystery — the identity of Gardner's father — is not only apparent from the start but also introduces some sleazy undercurrents into the tale. Viewers who really want to learn about life on Mars are best advised to stick with David Bowie.
Blu-ray extras consist of audio commentary by director Peter Chelsom; a making-of featurette; deleted scenes; and an alternate ending.
Movie: *1/2
Diane Lane in Streets of Fire (Photo: Shout! Factory)
STREETS OF FIRE (1984). As someone amusingly relates in one of the excellent making-of documentaries included on Shout! Factory's impressive new Blu-ray edition of Streets of Fire, a lot of folks around the Universal lot were worried about the anemic script for the film, only to be constantly reassured not to worry about it since it was the visuals that would ensure a box office bonanza. Yet even those in the studio screening room weren't impressed enough by the aesthetic design to disregard everything else – after 15 minutes, one executive turned around and rhetorically asked, "It's not going to get any better, is it?" Still, yesterday's box office flop is today's cult film, although even as someone who came of age in the '80s and caught this in the year of its release, it never struck me as being particularly good – certainly, it's not in the same league as select other films from underrated auteur Walter Hill (The Warriors, The Long Riders, 48 Hrs.). Michael Paré stars as Tom Cody, a tough guy who agrees to rescue his former girlfriend, rock star Ellen Aim (Diane Lane), from the clutches of snarling biker Raven (Willem Dafoe) in exchange for a handsome payoff from Billy Fish (Rock Moranis), Ellen's manager and current boyfriend. The fact that the dialogue is deliberately over-the-top doesn't make it any easier to digest, and Paré proves to be a weak center. On the other hand, the visuals are pretty groovy, and the supporting cast includes plenty of '80s fixtures (Bill Paxton, Rick Rossovich, Elizabeth Daily). While the movie was a bomb, it did produce a hit single in "I Can Dream About You."
Blu-ray extras include a making-of retrospective documentary that's about 10 minutes longer than the actual movie; a second making-of retrospective documentary that's about 10 minutes shorter than the actual movie; five vintage behind-the-scenes featurettes; music videos; and a still gallery.
Movie: **1/2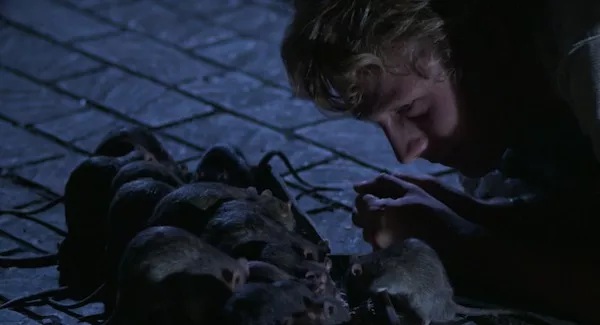 Bruce Davison in Willard (Photo: Shout! Factory)
WILLARD (1971) / BEN (1972). A massive sleeper hit upon its initial release, Willard stars Bruce Davison as Willard Stiles, a shy and socially maladjusted young man who lives with his clingy mother (Elsa Lanchester) and works for the man (Ernest Borgnine) who stole his late father's business. Willard is befriended by the new temp (Sondra Locke) at the office, but he's more comfortable with his other new friends: the rats that live all over his property. Teaching the rodents to obey his commands, he particularly bonds with the white rat Socrates, but it's Ben who's clearly the smartest – and most dangerous – of the bunch. Davison, later an Oscar nominee for 1990's Longtime Companion and Senator Kelly in the X-Men films, delivers a fine performance as the title character, earning our sympathy as he deals with a bullying boss (let's face it, any movie in which Borgnine gets threatened by ravenous rats can't be all bad). Willard was remade in 2003 with Crispin Glover; although equal to (and perhaps surpassing) the original in quality, it failed to match its success at the box office and ended up a sizable bomb.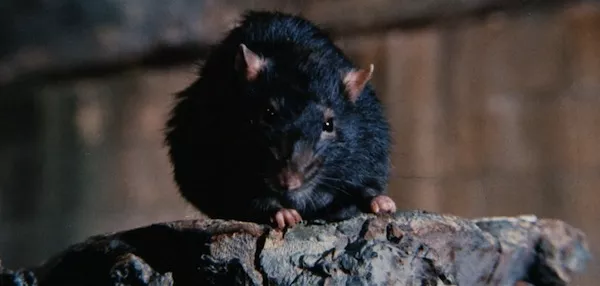 Ben (Photo: Shout! Factory)
The popularity of Willard led to an immediate sequel, but Ben is only notable for earning a Best Original Song Oscar nomination for "Ben's Song" (alternately called simply "Ben"), which became a #1 hit for 13-year-old Michael Jackson. In this terrible follow-up, Ben attaches himself to a sickly little boy named Danny (Lee Harcourt Montgomery), finally leaving the kid's side to mount a full-scale war between rat and man. An insufferable protagonist (you'll be fast-forwarding through scenes of Danny alternately putting on his puppet shows and singing "Ben's Song") and shoddy special effects help sink this one.
Blu-ray extras on both titles (sold separately) include the theatrical trailer; TV and radio spots; and a still gallery. Willard also includes audio commentary by Davison while Ben features audio commentary by Montgomery.
Willard: **1/2
Ben: *1/2
Vin Diesel in xXx: Return of Xander Cage (Photo: xx)
XXX: RETURN OF XANDER CAGE (2017). Hardcore porn for action junkies, xXx: Return of Xander Cage should also get a rise out of more casual viewers looking for a mindless good time on the couch. It's as ridiculous and over-the-top as the 2002 original that built on star Vin Diesel's blip of short-lived superstardom, but it improves slightly on its predecessor thanks to a more interesting roster of supporting characters. Samuel L. Jackson is back as the federal agent who first introduced extreme-sports enthusiast Xander Cage (Diesel) to the world of international espionage, although this time, it's another hard-nosed government operative (Toni Collette) who's giving Cage his marching orders. The plot involves the attempts to retrieve a deadly object known as Pandora's Box — a device that turns satellites into bombs — but never mind all that. This film is basically an excuse to show cool people doing cool stunts, and on that level, it largely works. It's also an excuse to show that the laws of science and logic don't really matter, particularly in the sequence set inside a damaged airplane (given the absence of gravity inside the vessel, did the plane somehow end up in outer space?) or the bit in which a couple of characters surf the waves atop ski-equipped motorcycles. Donnie Yen provides the martial arts mastery, Ruby Rose contributes the smirks, and The Vampire Diaries' Nina Dobrev donates some nerdy humor. As for Vin Diesel, he's mainly there to support his own flailing career, which, the Fast & Furious flicks aside, has largely been on life support. Acting like it's still 2002, Diesel's Xander Cage allows countless hotties to hang all over his body and partakes in outlandish stunts that would give even James Bond pause. He's no Daniel Craig, but he gets the job done.
Blu-ray extras include a making-of featurette; a look at the cast members; a piece on the stunts; and a gag reel.
Movie: **1/2
==============================
FROM SCREEN TO STREAM
(Recommended films currently available on streaming services)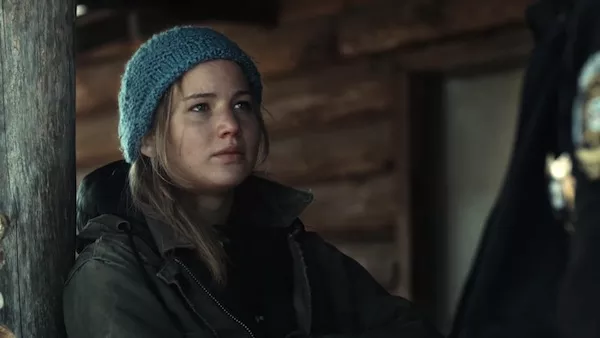 Jennifer Lawrence in Winter's Bone (Photo: Roadside Attractions)
THE DEBT (2011). In 1966, Mossad agents Stephan (Marton Csokas), Rachel (Jessica Chastain) and David (Sam Worthington) are tasked with locating and bringing to justice Dieter Vogel (a chilling Jesper Christensen), a Nazi madman who, like Josef Mengele, conducted gruesome experiments on Jews during the war. Thirty years later, the Israeli agents (now played by, respectively, Tom Wilkinson, Helen Mirren and Ciaran Hinds) are still celebrated for their heroic achievements in East Berlin back in the day. But something is clearly troubling two members of the team, and as the film smoothly moves back and forth between eras, it becomes clear that there's more to the saga than what the world knows. For the first hour, The Debt delivers on its growing mystery and its punchy suspense, with director John Madden further wringing a real sense of stifling confinement as the young agents are forced to shack up in a grubby apartment with their bound captive. Once all questions have been addressed, the story's third-act shenanigans become increasingly fanciful and aren't as gripping as what preceded them, although they still bring the story to a reasonably acceptable conclusion. The entire cast is excellent, although the MVP is clearly Chastain. Not just anybody can convincingly play the great Helen Mirren as a young woman, but Jessica Chastain pulls it off without breaking stride. (Netflix Streaming)
WINTER'S BONE (2010). Memorable movie characters often pop out at us from the most unlikely of places, and this understated indie effort surprises by serving up such a figure in Ree Dolly. Ree, played by Jennifer Lawrence in her breakthrough performance, is 17 years old, smarter than everyone around her, sports a lip that sometimes gets her into trouble, and takes a screen beating as impressively as anyone since Brando's Terry Malloy got clobbered in On the Waterfront. But Ree won't back down. Living in poverty somewhere in Missouri's Ozark terrain, she learns that her dad has skipped bail after putting up their house for collateral. Not thrilled by the prospect of being homeless, she sets out to locate her wayward pop, running into resistance from all manner of dangerous and ignorant people. Nominated for four Academy Awards (including Best Picture), Winter's Bone, adapted by writer-director Debra Granik and co-scripter Anne Rosellini from Daniel Woodrell's novel, is suffused with pungent backwoods flavor (the film was shot on location), which adds an unsettling authenticity to Ree's quest. An assured directorial effort from Granik, the picture offers a rare look at a region that will seem as foreign to most moviegoers as the forest moon of Endor. (Amazon Prime)