(View From The Couch is a weekly column that reviews what's new on Blu-ray, DVD and Streaming. Ratings are on a four-star scale.)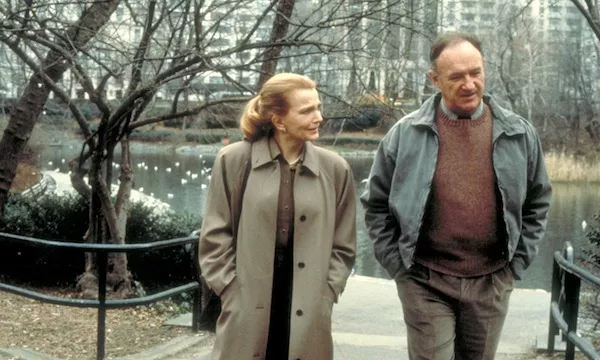 Gena Rowlands and Gene Hackman in Another Woman (Photo: Twilight Time)
ANOTHER WOMAN (1988). The 1978 drama Interiors (recently reviewed here) might have been Woody Allen's most celebrated attempt at crafting a work in the style of his cinematic hero, the great Swedish filmmaker Ingmar Bergman, but it's hardly been his only effort in this vein. After a terrific mid-80s run that included the magnificent likes of The Purple Rose of Cairo and the Oscar-winning box office hit Hannah and Her Sisters, Allen offered the back-to-back, Bergman-esque twofer of 1987's September and 1988's Another Woman – and thus found himself with two enormous commercial bombs on his hands. September, which didn't even crack the one-million-dollar mark at the box office, is the weaker of the pair; Another Woman is far more accomplished, even if it's ultimately too airless and arid to fully succeed. Giving a nod in the direction of Bergman's superb Wild Strawberries, this one stars Gena Rowlands as Marion, a philosophy professor with a stuffy husband (Ian Holm), a supportive father (John Houseman), and an underachieving brother (Harris Yulin). Marion has no idea that her life is devoid of any true passion or even meaning until she overhears (through faulty building acoustics) an insecure woman (Mia Farrow) confessing her own fears and foibles to a psychiatrist. At 80 minutes, Another Woman is too short to lend full support to Marion's crisis of character and conscience, although another 15 or so minutes of Allen's unusually affected dialogue probably wouldn't have moved the needle much. Rowlands is excellent in a difficult role, while Gene Hackman, as the man Marion let get away, refuses to fall into the cadence adopted by most actors appearing in Woody's films and emerges all the more memorable because of it.
Blu-ray extras consist of the theatrical trailer and an isolated music track.
Movie: **1/2
Jamie Dornan and Dakota Johnson in Fifty Shades Darker (Photo: Universal)
FIFTY SHADES DARKER (2017). There are at least 50 reasons why Fifty Shades Darker is almost every bit as awful as Fifty Shades of Grey, the 2015 hit that centered on the relationship between BDSM-lovin' billionaire Christian Gray and mousy college student Anastasia Steele. Based on the second book in E.L. James' bestselling series, this one finds Ana (Dakota Johnson) now working at a Seattle publishing house and Christian (Jamie Dornan) attempting to woo her back into his life. The major liabilities of the first film have been carried over into this new endeavor, beginning with the fact that the general prudishness permeating throughout American society makes it impossible for Hollywood to produce an honest, provocative or explicit film about S-E-X and have it receive an R rating. Like its predecessor, this is a vanilla picture that fancies itself daring and erotic, but as is par for the course in stateside flicks, the penises are kept sheathed while the boobies bounce all over the frame. The casting of Johnson and Dornan also continues to hurt, as they have yet to muster any mutual chemistry — viewers will likely find more sexual currency in The LEGO Batman Movie than in this picture. Fifty Shades Darker attempts to add some narrative heft in the second half with an incident involving a wayward helicopter, but it's a purely melodramatic device that brings to mind a lesser episode of Dallas, the sort in which Miss Ellie, Pam, J.R. and the rest of the Ewing clan anxiously await news regarding the whereabouts of Bobby. On the show, it would probably make for a three-episode arc; here, it lasts all of 15 minutes, making its insertion especially pointless.
The Blu-ray contains both the R-rated theatrical cut as well as an unrated version that runs an additional 14 minutes. Extras include various behind-the-scenes pieces; deleted scenes; and a tease for the upcoming Fifty Shades Freed.
Movie: *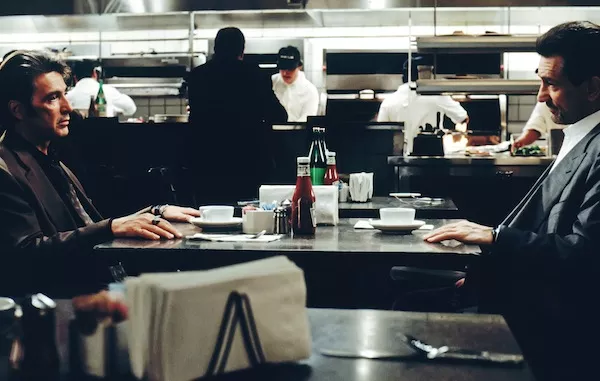 Al Pacino and Robert De Niro in Heat (Photo: Fox & Regency)
HEAT (1995). With Heat, writer-director Michael Mann offered a crackling revitalization of the old plotline about the hardened criminal and the cop who loves to chase him. A forceful Al Pacino plays a Los Angeles detective determined to bring down a seasoned thief (Robert De Niro, quietly effective) — it's a strenuous assignment, as the cop's obsession with the case threatens to finish off his third marriage and shut him off from humanity completely. Mann ups the ante on all of the formulaic elements by instilling them with a grandiloquence they may not even deserve: the symbiosis between cop and criminal, two workhorses whose schedules and lifestyles dictate that their true soulmates are not their lovers but each other; the women and children in their lives, whose attempts at normal existences invariably backfire right in their faces; the planned heists, so perfect on paper that it's inevitable the messy mandates of reality will blow them apart. Mann's script effortlessly moves back and forth between dialogue-heavy scenes of subdued intensity and some truly spectacular action set-pieces, and the two stars are supported by some exemplary acting turns in the secondary roles: Diane Venora as Pacino's frustrated wife, Val Kilmer as De Niro's right-hand man, Ashley Judd as Kilmer's savvy spouse, Kevin Gage as the most volatile member of De Niro's gang, and a 14-year-old Natalie Portman as Pacino's stepdaughter. (Others in the gargantuan cast include Danny Trejo, Jon Voight, Hank Azaria and Tone Loc.) Dante Spinotti's crisp camerawork further allows Mann to provide a sobering picture of what it's like to live and die in L.A.
Extras on the Director's Definitive Blu-ray Edition include audio commentary by Mann; a three-part making-of featurette; deleted scenes; and two new bonuses: a Q&A with Mann, and a discussion (moderated by Christopher Nolan) with Mann, Pacino and De Niro.
Movie: ***1/2
Peter O'Toole and Audrey Hepburn in How to Steal a Million (Photo: Twilight Time)
HOW TO STEAL A MILLION (1966). Under director William Wyler's tutelage, Audrey Hepburn won a well-deserved Best Actress Academy Award for 1953's Roman Holiday, so it's not surprising that the pair teamed up on two more occasions. The third of these joint projects (following 1961's The Children's Hour) was How to Steal a Million, an utterly charming romantic comedy-cum-caper yarn pairing Hepburn with Peter O'Toole. Hepburn plays Nicole Bonnet, a Parisian whose father, Charles Bonnet (Hugh Griffith), is a world-class forger of famous works of art. Nicole fears that her dad will one day be exposed and arrested, which makes her especially nervous when she catches a burglar named Simon Dermott (O'Toole) attempting to make off with a faux Van Gogh. Not wanting the police involved, she lets him go – but not before the inevitable sparks fly. Yet when it appears that Charles' illicit occupation might finally be discovered, Nicole has no choice but to turn to Simon to help her pull off an improbable heist. The various heists in the Mission: Impossible movies are easier to swallow than the one here, but no matter: It makes for a great set-piece, building to a comic crescendo that centers on the museum's hapless guards. Griffith delivers a zesty performance as the proud forger, and that's Eli Wallach as an American businessman interested in both Audrey and art.
Blu-ray extras consist of audio commentary by the late Wallach and Catherine Wyler, William Wyler's daughter; the Biography episode Audrey Hepburn: The Fairest Lady; the theatrical trailer; and an isolated track of the score by John Williams (or, as he's billed here, "Johnny Williams").
Movie: ***
Kathleen Turner in Serial Mom (Photo: Shout! Factory)
SERIAL MOM (1994). Even after John Waters mellowed out – i.e. he went from making movies like Pink Flamingos and Multiple Maniacs (recently reviewed here) to movies like Hairspray and Cry-Baby – he remained an enfant terrible, turning his nose (and middle finger) up to what is deemed "polite society" by continuing to expose the hypocrisies and moral decay that exist beneath the surface. Serial Mom functions in this capacity, focusing on chipper housewife Beverly Sutphin (Kathleen Turner) and how she flies into a homicidal rage when her way of life is threatened. Take her parking space at the mall? Expect to receive obscene phone calls. Suggest that her son (Matthew Lillard) needs psychiatric help? Prepare to get run over (twice) by her station wagon. Stand up her sensitive daughter (Ricki Lake) on a date? Brace yourself for death by fireplace poker. In other words, we're talking June Cleaver with a meat cleaver. The first hour of Serial Mom is a hoot, thanks to Turner's robust performance and Waters' ability to illustrate how even the most mundane and commonplace of everyday situations can be disgusting and offensive. But once the narrative has Beverly become a populist heroine, the film goes astray, as Waters' attempts to satirize this nation's tendency to turn our ghouls into media celebrities are embarrassingly obvious and ultimately tame (Oliver Stone's Natural Born Killers, released four months later, tackles this same subject in a far more challenging and inflammatory manner). Still, there are plenty of naughty laughs along the way – for instance, a video-store patron gets offed for insulting Beverly's son, but we know she's really being punished for her adoration of both Bill Cosby's abysmal Ghost Dad and John Huston's atrocious 1982 adaptation of Annie.
Blu-ray extras include audio commentary by Waters and Turner; a making-of featurette; and the theatrical trailer.
Movie: **1/2
Tampopo (Photo: Criterion)
TAMPOPO (1985). What is it about food that brings out the best in filmmakers all across the globe? Denmark's Babette's Feast, Taiwan's Eat Drink Man Woman, Mexico's Like Water for Chocolate and the United States' Big Night are just some of the savory works that mix culinary and cinematic pleasures, and Japan's Tampopo easily earns a spot alongside them. Writer-director Juzo Itami's so-called "Ramen Western" is an absolute delight, with Tsutomu Yamazaki as Goro, a trucker who saunters into a struggling noodle shop and proceeds to help the owner, Tampopo (Nobuko Miyamoto, Itami's real-life wife), turn her establishment into a raging success. To achieve this goal, Tampopo undergoes physical training that wouldn't be out of place in Full Metal Jacket while Goro taps the services of various associates who are all interested in helping out. Tampopo's noodle shop is at the center of the narrative, but what's especially fascinating about the film is how Itami will wander away from the main saga to focus briefly on other characters and their own experiences with food – whether it's a gangster and his moll integrating edibles into their sexual foreplay or a company yes man ignoring his lockstep superiors and ordering what he likes at a fancy restaurant. Tragically, Itami died in 1997 under odd circumstances, and to this day it remains unknown whether he committed suicide or was murdered (most likely by the Yakuza).
Blu-ray extras include a 1986 making-of documentary; an interview with Miyamoto; interviews with a food stylist, a ramen scholar and various chefs; Itami's 1962 debut short, Rubber Band Pistol; and the theatrical trailer.
Movie: ***1/2
==============================
FROM SCREEN TO STREAM
(Recommended films currently available on streaming services)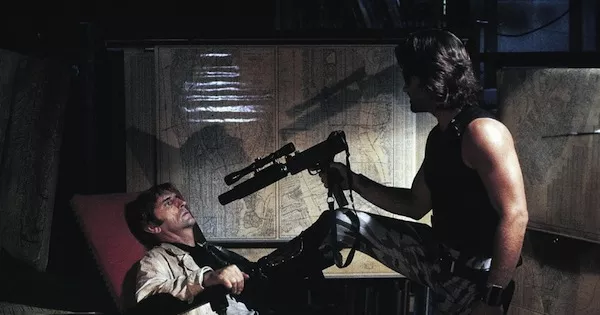 Harry Dean Stanton and Kurt Russell in Escape from New York (Photo: Embassy)
ESCAPE FROM NEW YORK (1981). One of John Carpenter's most popular films remains this futuristic yarn featuring an irresistible hook and an iconic anti-hero. The story is set in 1997, nine years after the island of Manhattan has been transformed into one massive prison for the nation's entire criminal contingent. After Air Force One goes down behind its heavily fortified walls, the nation's security head (Lee Van Cleef) turns to Snake Plissken (Kurt Russell), a former war hero turned bank robber, and all but forces him to locate the US President (Donald Pleasence) and bring him back alive. It turns out the Prez is in the clutches of The Duke of New York (Isaac Hayes), and while attempting to save him, Snake receives some unlikely assistance from three other inmates: a talkative cab driver named (of course) Cabbie (Ernest Borgnine), a mumbling mastermind nicknamed Brain (Harry Dean Stanton) and Brain's no-nonsense girlfriend and right-hand woman Maggie (Adrienne Barbeau). Writer-director Carpenter and co-scripter Nick Castle never really take their great premise as far as it could go (hampered, no doubt, by a moderate budget), but in spite (or because) of some cornball elements — the macho dialogue, for instance, is cranked up to 11 — this is satisfying entertainment, with some impressive model work, a unique visual landscape, and a great score provided (as was often the case) by Carpenter himself. And while Russell might be a Libertarian dipshit in real life, there's no denying his enduring screen charisma; here, he's especially enjoyable as he oozes — make that snarls — bad-boy magnetism. (Netflix Streaming)