(View From The Couch is a weekly column that reviews what's new on Blu-ray, DVD and Streaming. Ratings are on a four-star scale.)
Emma Roberts in The Blackcoat's Daughter (Photo: Lionsgate & A24)
THE BLACKCOAT'S DAUGHTER (2017). Another month, another overhyped horror flick that ultimately represents much ado about nothing. Oz Perkins, the son of Psycho star Anthony Perkins and a supporting actor in such films as Legally Blonde and Secretary, here makes his directing debut with The Blackcoat's Daughter. (FYI: Perkins' other directorial effort, 2016's I Am the Pretty Thing That Lives in the House, was released before — but actually made after — The Blackcoat's Daughter, which was completed in 2015 but only hit theaters this past spring.) Emma Roberts plays Joan, a possibly disturbed young woman who accepts a ride from a couple (James Remar and Lauren Holly) still grieving over the death of their daughter. Meanwhile, in another part of the screenplay, two girls at a boarding school are stranded on the grounds after their respective parents fail to pick them up. Rose (Lucy Boynton) is fine with the delay, since it gives her more time to cope with the unexpected discovery that she's pregnant, but the younger Kat (Kiernan Shipka) grows more nervous, since she had a dream in which her parents were killed in a car accident. Perkins tries for an unsettling atmosphere of foreboding and dread, but the closest he gets is an air of stifling stagnation. The real culprit, though, is his twisty script, which can be cracked before long by any half-alert viewer.
Blu-ray extras consist of audio commentary by Perkins; a making-of featurette; and trailers.
Movie: **
Joe De Sue in Blackenstein (Photo: Severin)
BLACKENSTEIN (1973) / THE STONE KILLER (1973). When I recently sat down for a late-night double feature of the blaxploitation horror flick Blankenstein and the Charles Bronson police drama The Stone Killer, little did I realize these two films would have more in common than just the year of release. Interestingly, both involve men who come back damaged from the Vietnam War and are then transformed by unscrupulous sorts into killing machines.
In the case of Blackenstein, the vet is Eddie Turner (Joe De Sue), who returns from the conflict missing his arms and legs. Treated shabbily at the VA hospital, he's released into the care of his girlfriend Winifred (Ivory Stone), who's serving as assistant to the kindly Dr. Stein (John Hart). Dr. Stein's radical experiments with DNA allow him to make Eddie whole again, but his servant Malcomb (Roosevelt Jackson), jealous of Winifred's love for Eddie, tampers with the formula – this results in Eddie emerging as a lumbering giant prone to murdering people and ripping out their innards. Blackenstein is mainly known for being the sole film credit for its writer-producer Frank R. Saletri, an entertainment lawyer whose shocking murder in 1982 still remains unsolved. Aside from this bit of trivial pursuit, there's nothing notable about the movie, an atrocious effort which forgoes such niceties as competent acting, smooth editing, and efficient direction.
Charles Bronson in The Stone Killer (Photo: Twilight Time)
Far better – though still a stone's throw from complete success – is The Stone Killer, a middling Bronson effort in which the tough guy plays Lou Torrey, a cop who learns that a Mafioso (Martin Balsam) is employing a network of trigger-happy Vietnam vets in his elaborate scheme to bump off all his rivals. The similarities to the 1971 smash Dirty Harry are obvious, though this one lacks that picture's propulsive energy and gallery of interesting characters. Still, Bronson is in his element as a hardnosed officer with a soft side, and it's interesting to see John Ritter and Norman Fell in the same movie three years before respectively playing Jack Tripper and Stanley Roper on TV's Three's Company.
The Blu-ray of Blackenstein contains both the 78-minute theatrical cut as well as an 87-minute video release version. Extras consist of discussions of Saletri by his sister, June Kirk, and filmmakers Ken Osborne and Robert Dix; an interview with creature designer Bill Munns; an archival news broadcast about Saletri's murder; and the theatrical trailer. Blu-ray extras on The Stone Killer consist of audio commentary by Bronson biographer Paul Talbot; the theatrical trailer; and an isolated track of Roy Budd's score.
Blackenstein: *
The Stone Killer: **1/2
Ice Cube and Charlie Day in Fist Fight (Photo: Warner)
FIST FIGHT (2017). The appointment of the monstrous Betsy DeVos as Secretary of Education was the worst thing that could have happened to the U.S. school system in 2017, but placing a very distant second would probably be the release of Fist Fight. Aggressive in its insistence on being as awful as possible, this flagrantly unfunny film centers on the conflict brewing between two teachers at a high school where the students spend more time masturbating in the bathroom stalls and drawing penises on the blackboards than in cracking open textbooks. Mr. Strickland (Ice Cube) is the scariest teacher on the premises, while Andy Campbell (Charlie Day) is the wimpiest. After Andy snitches on Strickland in regards to an altercation with a student (an ax was involved), the latter educator finds himself without a job. Angered, he challenges Andy to fisticuffs immediately after the school day ends. The remainder of Fist Fight involves Andy doing everything in his power to get out of the fight, including bribing a student to lie about the ax blow incident and planting drugs in Strickland's satchel. Along the way, he receives poor advice from a fellow teacher (tedious Jillian Bell) who's obsessed with sleeping with students and a coach (Tracy Morgan) who's obsessed with sleeping with the students' moms. Ice Cube is a reliable screen presence, but he can do nothing with a film as utterly devoid of entertainment value as this one. Day, generally an acquired taste anyway, is insufferable as the whining teacher, and it's hard not to root for Strickland to beat the living hell out of Andy. And when he's through, maybe he can go after this rancid film's creators as well.
Blu-ray extras include deleted scenes.
Movie: *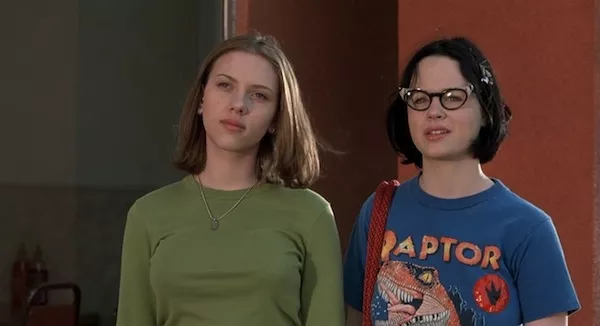 Scarlett Johansson and Thora Birch in Ghost World (Photo: Criterion)
GHOST WORLD (2001). Terry Zwigoff, whose 1994 Crumb stands as one of the best documentaries of modern times and whose 2003 Bad Santa remains a naughty Christmas favorite, was also responsible for this celebrated adaptation of Daniel Clowes' underground comic book. The character that Zwigoff and Clowes (who jointly earned a Best Adapted Screenplay Oscar nomination) place at the center of this razor-sharp satire is a familiar one to anyone who's ever set foot in a high school hallway. Enid (Thora Birch), an outsider and damn proud of it, wears her disdain for the civilized world on her sleeve, and she and her best friend Rebecca (Scarlett Johansson) spend most of their time not experiencing their own lives as much as wryly commenting on everyone else's. Whether one loves or loathes this type of person in real life doesn't really matter, since it's Enid's universal vulnerability that ultimately wins viewers to her cause. In many respects, she's no different than James Dean's Jim Stark in Rebel Without a Cause or Dustin Hoffman's Benjamin Braddock in The Graduate — good kids who want to move forward but whose failure to communicate perpetually keeps their lives in idle. Ghost World is very funny but also very perceptive, and it offers Steve Buscemi one of the defining roles of his career as Seymour, a lonely guy whose very cluelessness makes him cool in Enid's eyes.
Blu-ray extras include audio commentary by Zwigoff, Clowes and producer Lianna Halfon; interviews with Birch, Johansson and co-star Illeana Douglas; deleted scenes; and the theatrical trailer.
Movie: ***1/2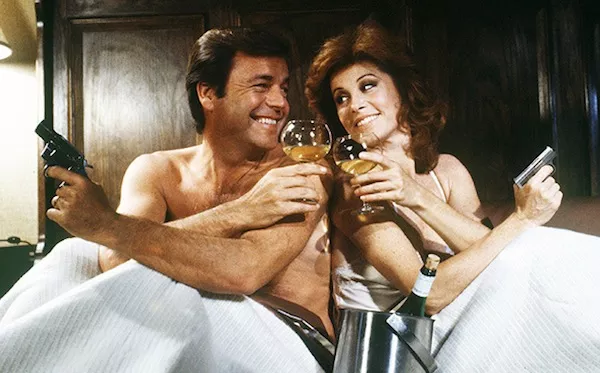 Robert Wagner and Stefanie Powers in Hart to Hart (Photo: Shout! Factory)
HART TO HART: THE COMPLETE SERIES (1979-1984). Sidney Sheldon might have been most recognizable as the author of such bestselling novels as Master of the Game and The Other Side of Midnight, but he had also kept busy in Hollywood, writing such hit films as Easter Parade and The Bachelor and the Bobby-Soxer (for which he won an Academy Award) and creating the popular TV sitcoms The Patty Duke Show and I Dream of Jeannie. Hart to Hart also sprung from his fertile mind, although it was somewhat altered by writer-director Tom Mankiewicz and producer Aaron Spelling into the version that proved to be a hit for ABC in the early 1980s. Robert Wagner and Stefanie Powers star as Jonathan and Jennifer Hart, fabulously wealthy Los Angelenos who spend most of their time solving murders, kidnappings and other assorted crimes. Aiding them is the loyal Max (Lionel Stander), who serves as their butler, chauffeur, secretary and confidante. (There's also a family pet, a small dog with the great name of Freeway.) The series was airy beyond compare and the plots were generally threadbare as mysteries, but what distinguished the show was the trio of stars, with Wagner and Powers striking sparks as the impossibly glamorous (and eternally in love) couple and Stander a welcome presence as the gravel-voiced (and perpetually cheerful) Max. Wagner's real-life wife, Natalie Wood, appeared in the pilot episode; other notable performers to guest-star on the series included Ed Harris, Adam West, Robert Englund and Mad Monster Party mainstay Sid Haig. Hart to Hart landed in the Nielsen Top 25 for the middle three of its five seasons, when it was part of a powerhouse primetime slate that also included Happy Days and Three's Company.
DVD extras include audio commentary on the pilot by Wagner, Powers and Mankiewicz, and a behind-the-scenes featurette.
Series: ***
Robert Ryan in Inferno (Photo: Twilight Time)
INFERNO (1953). Hollywood's initial 3-D craze lasted from 1952 through 1955, with a whopping 31 of the 49 showcase features released in 1953 alone. House of Wax, Hondo and It Came from Outer Space are among the more celebrated three-dimensional efforts from that banner year, but refusing to be forgotten is Inferno, which has just been released by the Twilight Time label on Blu-ray in a 3-D edition (the film can also be watched in 2-D by those whose home theater setups don't accommodate the extra dimension). The title can refer either to the sweltering heat of the Mojave Desert or to the churning emotions inside Donald Carson III (Robert Ryan) after he's abandoned in said desert by his wife Geraldine (Rhonda Fleming) and her lover Joe (William Lundigan). Downed by a broken leg, Carson waits for the pair to return with help – instead, they leave him to die, providing the authorities with false intel so that he won't be found in time. But once Carson figures out that he's been double-crossed, he allows his thirst for vengeance to be his guide out of an impossible situation, hobbling across rocky terrain, encountering unfriendly animal-kingdom denizens, and coming up with creative ways to obtain enough nourishment to stay alive. The setting may be the great outdoors and the visuals might be punched across in splashy Technicolor, but the three central characters are ripped from the film noir primer – especially fascinating is the guy played by Ryan, a unlikable and pampered millionaire whose dire predicament unexpectedly brings out his best qualities.
Blu-ray extras consist of audio commentary by film historian Alan K. Rode and Ryan's daughter, Lisa Ryan; a retrospective behind-the-scenes piece featuring interviews with the late Robert Osborne and other film scholars; the theatrical trailer; and an isolated track of Paul Sawtell's score.
Movie: ***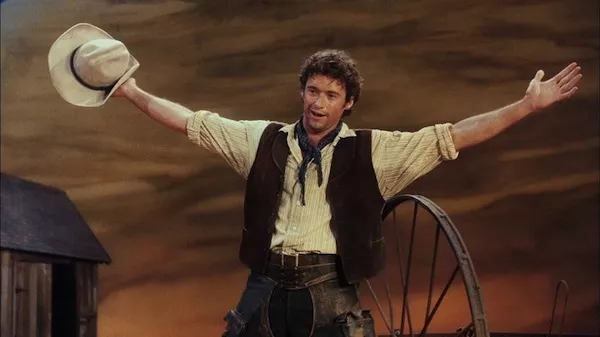 Hugh Jackman in Oklahoma! (Shout! Factory)
OKLAHOMA! (1999). Shout! Factory's Shout Broadway line, which debuted last November with three titles, returns with another trio of musically minded efforts: the 1972 screen version of Man of La Mancha (which will be reviewed next week); a filmed stage production of the 1999 London revival of Kiss Me, Kate; and a filmed stage production of the 1999 London revival of Oklahoma! Hollywood's lovely 1955 adaptation remains the Oklahoma! of choice, but it's nevertheless easy to succumb to the charms of this inspired version from legendary stage director Trevor Nunn. Foremost among its attributes is the excellent performance by Hugh Jackman, soon to become an overnight movie star thanks to 2000's X-Men. Here, he's irresistible as Curly, the amiable cowboy who woos farm girl Laurey (Josefina Gabrielle) while remaining leery of menacing farm hand Jud Fry (Shuler Hensley). Meanwhile, Ado Annie (Vicki Simon), who just "cain't say no," finds herself having to choose between local lad Will Parker (Jimmy Johnston) and traveling peddler Ali Hakim (Peter Polycarpou). Running three hours, this naturally includes the classic tunes "Oh, What a Beautiful Mornin'," "The Surrey with the Fringe on Top" and "Oklahoma!" but also retains songs cut from the 1955 version ("It's a Scandal! It's an Outrage!" and "Lonely Room"). Incidentally, Nunn had hoped to bring this version of the show to the US with the same performers, but equity rules required that American actors be cast. Since the Atlanta-born Hensley was the lone American in the London cast, he was allowed to also star in the Broadway version — he ended up winning Best Supporting Actor honors on both sides of the Atlantic (the Olivier Award in the UK, the Tony Award and the Drama Desk Award in the US).
The only extra on the Blu-ray is a behind-the-scenes featurette.
Movie: ***
Ann Todd and Gregory Peck in The Paradine Case (Photo: Kino)
THE PARADINE CASE (1947). The 1940 masterpiece Rebecca, the first collaboration between director Alfred Hitchcock and producer David O. Selznick, led to a Best Picture Oscar; The Paradine Case, their final film together, led to a rare failure for Hitchcock and a draining of the studio coffers for Selznick. For the most part, the latter had no one to blame but himself, as his constant interference with the production – he even threw out all drafts of the script and clumsily penned the final screenplay himself – led to an extended shooting schedule that helped the budget balloon to gargantuan proportions. Gregory Peck, who had earlier starred in Hitchcock's 1945 classic Spellbound, plays Tony Keane, an English barrister who agrees to defend the wealthy Maddalena Anna Paradine (Alida Valli) against the charge of murdering her blind, elderly husband. The hotshot lawyer ends up falling for his client, much to the dismay of his saintly wife (Ann Todd). Peck tries hard, but he's simply miscast in the leading role; in the interviews found among the Blu-ray's bonus features, Hitchcock correctly notes that the actor was too earthy (to say nothing of too American) for a role that was better suited to someone like Laurence Olivier – although the director felt the casting that truly crippled the picture was that of Selznick discovery Louis Jourdan as the Paradines' manservant, Andre Latour. Charles Laughton is typically excellent as a lecherous judge, although it was Ethel Barrymore, as his long-suffering wife, who earned the movie's sole Oscar nomination (for Best Supporting Actress).
Blu-ray extras include audio commentary by Hitchcock scholars Stephen Rebello and Bill Krohn; separate audio interviews with Hitchcock by filmmakers Francois Truffaut and Peter Bogdanovich; the 1949 radio play starring Joseph Cotten, Valli and Jourdan; a restoration comparison; and the theatrical trailer.
Movie: **1/2
==============================
FROM SCREEN TO STREAM
(Recommended films currently available on streaming services)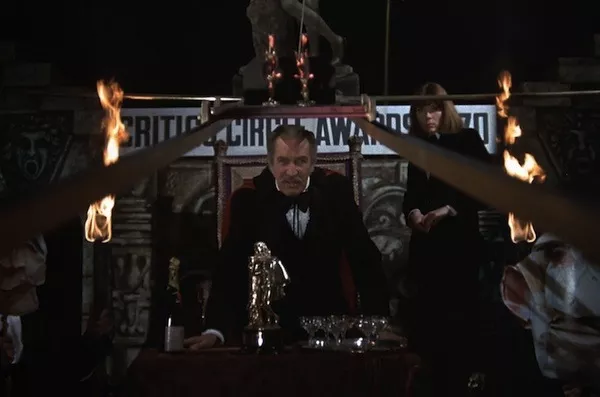 Vincent Price and Diana Rigg in Theatre of Blood (Photo: UA)
THEATRE OF BLOOD (1973). Many actors would kill for the opportunity to perform Shakespeare on screen — here, Vincent Price gets to have his soliloquy and devour it, too. As Edward Lionheart, a hammy thespian who has devoted his life to all things Bard, Price gets to recite select scenes from Hamlet, Othello, The Merchant of Venice and more — usually during the act of murdering London's most distinguished critics. Because while Lionheart may have considered himself the world's greatest living actor, nine British scribes thought otherwise, with their harsh words and refusal to award him their illustrious annual prize leading to his suicide. Of course, Lionheart's not really dead — instead, with the help of his devoted daughter Edwina (Diana Rigg), he steps out of the shadows to off the reviewers in bloody fashion, with famous set-pieces from Shakespeare's plays serving as inspiration (one critic drowns in a vat of wine a la Richard III, another gets stabbed by a mob straight out of Julius Caesar, etc.). The screenplay by Anthony Greville Bell is wickedly clever (the "faggots" in Henry VI, Part 1 here take on a double meaning, while the sequence lifted from Titus Andronicus is as humorous as it is horrific), and Price delivers a performance that alternates between towering and touching. The blood-red cherry on top, of course, is the casting of the English acting elite in the roles of the stuffy critics, among them Jack Hawkins, Coral Browne (later Price's real-life wife), Robert Morley and (atypically cast as a stud!) Harry Andrews. (Hulu)