(View From The Couch is a weekly column that reviews what's new on Blu-ray, DVD and Streaming. Ratings are on a four-star scale.)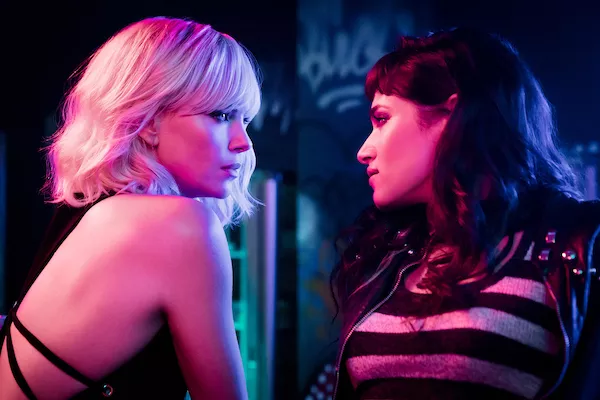 Charlize Theron and Sofia Boutella in Atomic Blonde (Photo: Universal & Focus)
ATOMIC BLONDE (2017). An action romp further defined by its cool-as-ice characters and its awesome mix tape of classic tunes readily available for iTunes download, Atomic Blonde stars Charlize Theron as Lorraine Broughton, an MI6 agent operating in Berlin at the tail end of the Cold War. Landing in the divided city just as the Berlin Wall is about to collapse, Lorraine must find out who killed a fellow operative while also locating an explosive list that contains the names of double agents. She's ordered by her MI6 superiors (Toby Jones and James Faulkner) to hook up with the department's agent in Berlin, a live wire named David Percival (James McAvoy), but she also comes into contact with a gruff CIA agent (John Goodman), a mysterious woman (Sofia Boutella) who's been following her, and assorted other players in the spy game. Atomic Blonde is the sort of movie in which nothing is as it seems, as scripter Kurt Johnstad serves up a full menu of double-crosses, triple-crosses, false identities, and startling character revelations. Some of it doesn't work (the film reveals its hand regarding McAvoy's Percival far too soon), but the flurry of activity at least is consistent with the rest of the movie's kinetic approach. There's a lengthy fight sequence in this picture that's among the best of recent times – filmed in one uninterrupted take by director David Leitch, it's less fanciful and more realistically sloppy than many such filmic fisticuffs, as characters can barely stand even as they continue to wallop each other.
Blu-ray extras include audio commentary by Leitch and editor Elízabet Ronaldsdóttir; behind-the-scenes pieces examining Theron's character, the action sequences, and the location shooting; and deleted scenes.
Movie: ***
Lily Tomlin and Rick Baker in The Incredible Shrinking Woman (Photo: Shout! Factory)
THE INCREDIBLE SHRINKING WOMAN (1981). Rightly hailed as one of the best science fiction films of its era, 1957's The Incredible Shrinking Man took a startlingly mature and philosophical approach to its subject of a man who grows exponentially smaller with each passing day. All such existential explorations were jettisoned for The Incredible Shrinking Woman, which was conceived as a straightforward comedy with mirthful mayhem replacing the metaphysics. Certainly, this second adaptation of Richard Matheson's novel The Shrinking Man attempts to make some salient points about American consumerism, but they're generally buried in an approach that's best described as overbearing. Lily Tomlin plays three roles (four, if one includes the deleted scene appearing as a bonus feature in this Blu-ray edition), the primary one being a housewife who starts to shrink after she's exposed to a noxious mix of household chemicals. Rapidly becoming a media darling, she's eventually forced to contend with evil scientists who want to discover her secret so they can miniaturize everyone and take over the world. Charles Grodin co-stars as her patient husband, and that's seven-time Oscar-winning makeup artist Rick Baker playing Sidney the gorilla. Director Joel Schumacher (The Lost Boys, Batman & Robin) made his directorial debut with this project, and his design background doubtless informed the vibrant color schemes seen throughout the picture. But aside from the film's look and a committed performance by Tomlin, there's little to recommend this aggressively annoying comedy.
Blu-ray extras include a conversation with Tomlin and writer Jane Wagner; a deleted scene; separate interviews with Schumacher, cinematographer and visual effects supervisor Bruce Logan, and composer Suzanne Ciani; and the theatrical trailer.
Movie: *1/2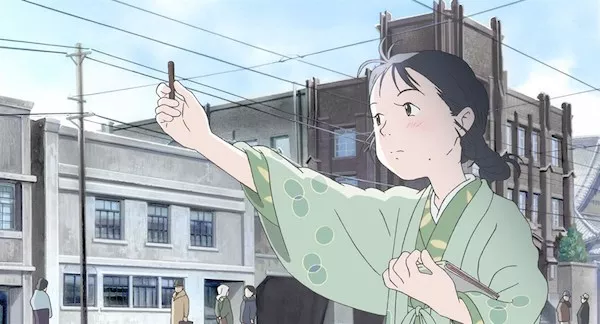 In This Corner of the World (Photo: Shout! Factory)
IN THIS CORNER OF THE WORLD (2017). Sparse in its visual style yet weighty with its themes, In This Corner of the World is a Japanese animated feature that largely concerns itself with the bombing of Hiroshima toward the end of World War II. Like many other anime features, this one isn't exactly for the kids, with a PG-13 rating to allow parents to debate whether it's a proper viewing option for their offspring. Then again, it can't be any more detrimental to young minds than something like The Emoji Movie, in which characters named Poop and Poop Jr. run around chanting, "We're number two!" There is a split-second shot of an anthropomorphic alligator, but that's about it for flights of fancy in In This Corner of the World. The story centers on Suzu (voiced by Rena Nounen), an artist and self-described daydreamer who, at the age of 18, marries a young man named Shusaku (Yoshimasa Hosoya) and moves from her home in Hiroshima to his family's residence in nearby Kure. She more than pulls her weight with the other members of the household, and she particularly bonds with her niece Harumi (Natsuki Inaba). But the war, which initially seems so far away, soon takes its toll in the form of limited food rations and strafing American airplanes. All the while, dates occasionally pop up on the screen to show that we're inexorably moving closer and closer to August 6, 1945. The first portion of the film, focusing more on domestic issues, doesn't completely hint at the grimness that will take over during the second half. But it's nevertheless a constant in the story, hiding in the margins before making its presence known as strikingly as a mushroom cloud in the sky.
Blu-ray extras include interviews with director Sunao Katabuchi and producer Masao Maruyama, and the theatrical trailer.
Movie: ***
Jaclyn Smith in Nightkill (Photo: Kino & MGM)
NIGHTKILL (1980). The only actress to star in all five seasons of Charlie's Angels, Jaclyn Smith followed that network smash with a sustained career in made-for-TV movies and miniseries. One of her rare attempts at headlining a theatrical feature was supposed to be released midway through Charlie's final season, perhaps in an effort to help lay the groundwork for future movie stardom. Instead, there's no concrete evidence that Nightkill even played U.S. theaters, since it turned up on television almost immediately. Then again, that's probably the best home for this lackluster thriller that begins promisingly before repeatedly hitting the "snooze" button. Smith plays Katherine Atwell, a philanthropist married to thoroughly despicable businessman Wendell Atwell (Mike Connors, having fun) but engaged in an affair with Wendell's harried assistant Steve Fulton (James Franciscus). One of these men soon turns up dead, and Katherine finds herself a reluctant accomplice; matters become even more complicated following the disappearance of the corpse, the unexpected appearance of a second corpse, and the arrival of a private detective (Robert Mitchum, atypically dull) who seems to know more than he reveals. Nightkill is enjoyable as long as it's keeping viewers off guard with its winding plot, but once the identity of the villain becomes glaringly obvious, the film falls into a wearying pattern. One final twist might have helped immeasurably, but instead, the movie merely plays out in a predictable and perfunctory manner.
Blu-ray extras consist of audio commentary by film historians Howard S. Berger and Nathaniel Thompson; an interview with Smith; and theatrical trailers.
Movie: **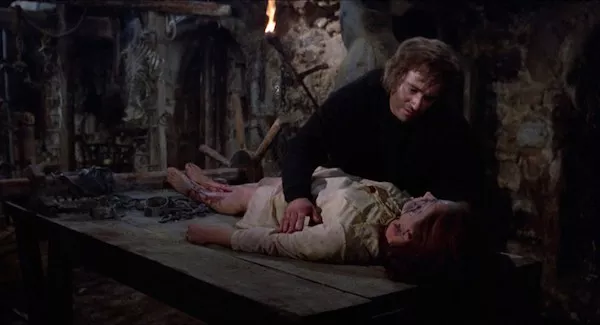 Paul Naschy in Hunchback of the Morgue (Photo: Shout! Factory)
THE PAUL NASCHY COLLECTION II (1973-1975). The set of Paul Naschy films released this past June by Shout! Factory offered a better representation of the output of Spain's leading horror star, with the quality of the films incorporating the good, the bad and the ugly (go here for a review). Opinions will vary greatly, but for my money, this second collection is more uniform in its selections, with all of the pictures certainly watchable but rarely distinguished.
Hunchback of the Morgue (1973) initially appears to be just an updating of Victor Hugo, with Naschy's lonely hunchback Gotho in love with a beautiful woman. Eventually, though, Naschy's character is more Igor than Quasimodo, as Gotho helps a Frankenstein-like scientist acquire bodies for his deranged experiments. The Devil's Possessed (1974) is basically a Robin Hood adventure yarn with a dab of Satanism tossed into the mix, as a Robin proxy and his band of forest-dwelling do-gooders battle a tyrannical ruler (Naschy) involved with witchcraft.
Paul Naschy in The Werewolf and the Yeti (Photo: Shout! Factory)
Exorcism (1975) is one of the umpteen rip-offs that appeared in the wake of 1973's The Exorcist, although Naschy (who stars as a priest) swore in interviews that he wrote his script years before William Peter Blatty had the idea. A Dragonfly for Each Corpse (1975) is Naschy's attempt at an Argento-styled giallo, with the actor-writer playing a detective investigating a string of gory slayings. Finally, The Werewolf and the Yeti (1975), which originally played the U.S. under the moniker Night of the Howling Beast, finds Naschy returning to his most popular role: Waldemar Daninsky, who over the course of the film has a threesome with two cannibalistic sisters, squares off against an evil overlord and his minions, turns into a wolfman at frequent intervals, and battles an Abominable Snowman who appears in the film for five minutes, tops.
Blu-ray extras on the various titles include audio commentaries; still galleries; and theatrical trailers. The set also includes a 24-page booklet with photos and an essay by author Mirek Lipinski.
Collection: **
Elizabeth Olsen and Jeremy Renner in Wind River (Photo: Lionsgate)
WIND RIVER (2017). Taylor Sheridan, responsible for the excellent scripts for 2015's Sicario and 2016's Hell or High Water (earning an Oscar nomination for the latter), goes 3-for-3 with Wind River, another dense and disturbing drama worthy of year-end 10 Best consideration. While Sicario and Hell or High Water were helmed by others (respectively, Denis Villeneuve and David Mackenzie), Sheridan opted to direct this one himself – he proves himself a natural, with his ability to manufacture and maintain an unsettling aura of dread working perfectly in tandem with his sober-minded script. In snowstorm-battered Wyoming, on the edge of the Wind River Indian Reservation, the corpse of a young Native American woman is discovered by Fish and Wildlife Service hunter Cory Lambert (Jeremy Renner). Clearly a victim of foul play, her death leads to the arrival of Jane Banner (Elizabeth Olsen), a greenhorn FBI agent who ends up working closely with both Cory and the local sheriff (Dances with Wolves Oscar nominee Graham Greene, always a welcome and reassuring presence). What on the surface can pass as a standard murder-mystery instead becomes a remarkably complex exploration of various malaises, including the agony of familial loss, the systematic disenfranchisement of Native Americans, and the ever-present evil of toxic masculinity. Wind River's storyline can be ugly and uncomfortable, but its perspective is clear-eyed, compassionate and even a bit cathartic.
Blu-ray extras consist of two deleted scenes — one worthy enough to have remained in the finished film (a conversation between Jane and an unpleasant motel owner played by Tara Karsian) — and interviews with Sheridan, Renner, Olsen and others.
Movie: ***1/2
==============================
FROM SCREEN TO STREAM
(Recommended films currently available on streaming services)
Amy Adams in Big Eyes (Photo: The Weinstein Company)
BIG EYES (2014). Tim Burton's Big Eyes relates the bizarre and fascinating story of real-life artist Margaret Keane (Amy Adams), a single mom who drew paintings of children with exceptionally large eyes, and her second husband Walter (Christoph Waltz), a smooth-talking con man who took credit for all her work and then parlayed it into an empire. The film primarily seems to exist as a showcase for two fine performances — Adams' heartfelt emoting in one corner, Waltz's bombastic showboating in the other — but it also takes time to touch upon the difficulties faced by women (particularly single ones) in the 1960s. More pointedly, it looks at how one woman's decision to remain silent about a cruel deception ("Lady art doesn't sell," Walter tells her) enforces the notion that spousal abuse doesn't always have to take the form of physical violence. Like Margaret Keane's artwork, Big Eyes catches viewers with its surface quirks, but there's also something taking place underneath the surface. (Netflix Streaming)