(View From The Couch is a weekly column that reviews what's new on Blu-ray, DVD and Streaming. Ratings are on a four-star scale.)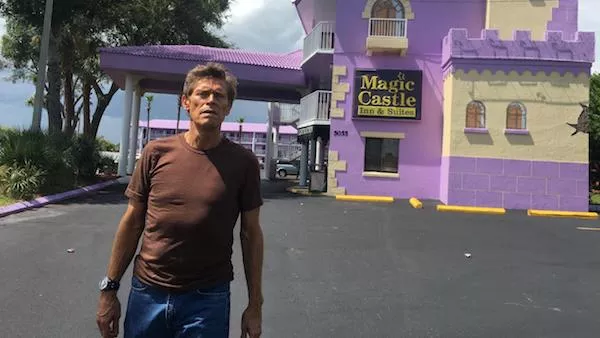 Willem Dafoe in The Florida Project (Photo: A24 & Lionsgate)
THE FLORIDA PROJECT (2017). This superb effort from Tangerine writer-director Sean Baker was one of last year's most acclaimed films – according to the comprehensive compilation site CriticsTop10, only Get Out, Ladybird and Dunkirk appeared on more 10 Best lists – as well as a major player with all the major critics' groups, which makes this year's Oscar race ring a bit hollow. Too raw to be embraced by an Academy that mostly gorges on glamor and hype, the movie only received a solitary nomination for Willem Dafoe's formidable supporting performance (in Trump's America, it seems that even liberal Oscar voters don't want to watch a film about impoverished Americans living on the fringes). Yet make no mistake: The Florida Project was the best picture of 2017. Originally the name given to Disney World while it was still in development, the moniker has now been co-opted by a magnificent motion picture that's set in the shadow of the iconic theme park. That would be the poverty-level Magic Castle motel, where single mom Halley (Bria Vinaite) lives with her mischievous 6-year-old daughter Moonee (Brooklynn Prince). Episodic in structure and damning in content, this masterful motion picture offers a searing look at the America that's all too often swept under the carpet and hidden from sight. Alternately humorous and heartbreaking, it finds Dafoe delivering the performance of the year as Bobby, the stern but decent motel manager – and the closest thing to a Prince Charming that can be found in a setting tragically short on happily-ever-afters.
Blu-ray extras consist of a behind-the-scenes featurette; cast and crew interviews; and bloopers and outtakes.
Movie: ****
Will Tilston and Margot Robbie in Goodbye Christopher Robin (Photo: Fox)
GOODBYE CHRISTOPHER ROBIN (2017). Goodbye Christopher Robin is a film of several stories and many moods. It's a biopic of author A.A. Milne (Domhnall Gleeson), best known as the creator of Winnie the Pooh. It's a story of PTSD, as Milne suffers from flashbacks to the horrors he experienced while participating in World War I. It's a coming-of-age tale, with Milne's son, Christopher Robin (played by Will Tilston at age 8 and Alex Lawther at age 18), learning to cope with being a star in his own right (and against his will), as the kid whose childhood provided the template and inspiration for his father's most popular works. It's a piece about family dysfunction, as there are frequent fissures created between Milne, his wife Daphne (Margot Robbie), and their young boy. It's an inspirational study of how the creative process can be employed to soothe the soul and heal the psyche. It's a horror story about the cult of celebrity, with an innocent life being subjected to the sort of media frenzy that's still very much in effect today. And, for those who care to subscribe to this viewpoint, it's a film about child abuse. That's an awful lot of weight for one movie to carry, but the strain really only becomes apparent during the latter passages. For the most part, director Simon Curtis and scripters Frank Cottrell Boyce and Simon Vaughan smoothly integrate the disparate elements to fashion a bittersweet yarn about a co-opted childhood. The efforts to reclaim said adolescence would logically factor into any such narrative, yet it's during this final stretch that the picture becomes rushed, clipped and unsatisfying. The movie makes a valiant attempt at being more than just a traditional biopic, but its lofty ambitions are ultimately too much for the filmmakers to bear.
Blu-ray extras include audio commentary by Curtis and Boyce; making-of featurettes; and the theatrical trailer.
Movie: **1/2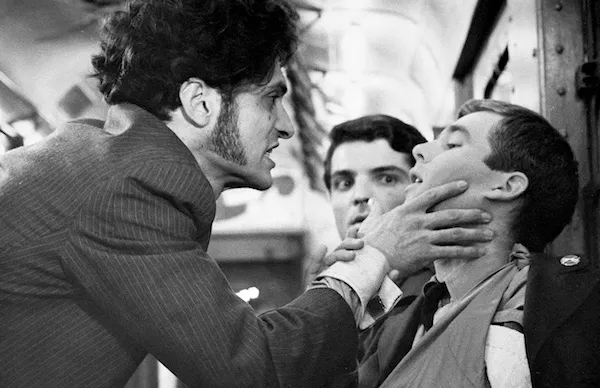 Tony Musante and Beau Bridges in The Incident (Photo: Twilight Time)
THE INCIDENT (1967). Fourteen passengers on a New York subway car – 15, if one includes the drunk who remains unconscious the entire time – are harassed by Joe (Tony Musante) and Artie (Martin Sheen), two street toughs with nary a decent bone between them. This simple scenario provides more than enough conflict and dramatic tension in The Incident, an unsettling drama directed by Larry Peerce and scripted by Nicholas E. Baehr (his only theatrical credit on a resume otherwise comprised of TV work). Set in the early hours of the morning, the film first introduces Joe and Artie as violent thugs before catching up with the various other characters as they make their way to the train station. Among the assortment are a bickering married couple (Ed McMahon and Diana Van der Vlis) with sleeping daughter in tow; a reformed alcoholic (Gary Merrill); an angry black man (Brock Peters) and his more compassionate wife (Ruby Dee); a lonesome homosexual (Robert Fields); and an easy-going army private (Beau Bridges) with a broken arm. The dynamics at play inside that train compartment are fascinating and even fatalistic, as all but a couple of characters are too frightened by the hoodlums to even think of defending themselves. The decision by cinematographer Gerald Hirschfeld to shoot in black-and-white was a sound one, making the story and the surroundings even more grungy and claustrophobic.
Blu-ray extras consist of audio commentary by Peerce and film historian Nick Redman; the theatrical trailer; and an isolated track of the score by Terry Knight and Charles Fox.
Movie: ***1/2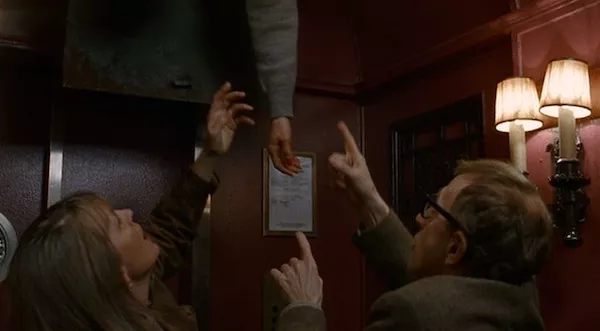 Diane Keaton and Woody Allen in Manhattan Murder Mystery (Photo: Twilight Time)
MANHATTAN MURDER MYSTERY (1993). With apologies to Mia Farrow, Louise Lasser, and numerous one-and-dones, Diane Keaton has always been Woody Allen's greatest leading lady. So after his unsavory real-life scandal also ended his screen partnership with Mia Farrow after 13 films (the final one, 1992's Husbands and Wives, was reviewed here a couple of weeks ago), Allen turned back to Keaton to co-star in this sprightly comedy. Keaton, who won her Oscar for Allen's 1977 masterpiece Annie Hall, is in top form as Carol Lipton, who lives in an NYC apartment alongside her husband Larry (Allen). The Liptons finally get around to meeting their neighbors Paul and Lillian House (Jerry Adler and Lynn Cohen), only to learn the very next day that Lillian has died of a heart attack. Suspecting that the poor woman was murdered by her husband, Carol turns into the Big Apple's version of Miss Marple: engaging in nocturnal eavesdropping, analyzing Paul's mannerisms and possible motives, and even sneaking into his apartment to search for incriminating clues. It isn't just the casting of Keaton that ties Manhattan Murder Mystery back to the 1970s – it also finds Allen co-scripting with Marshall Brickman for the first time since the trio of Sleeper, Annie Hall and Manhattan, and the philosophy-free plot, as lightweight as a lemon meringue pie, recalls (to paraphrase Stardust Memories) Allen's early, funny pictures. The movie is also rich in homages, with Allen paying tribute to the cinema of Orson Welles, Billy Wilder and Bob Hope – the mirroring (literally as well as figuratively) of Welles' The Lady from Shanghai during the climax is particularly inspired. Look for Zach Braff in his film debut as the Liptons' college-age son.
Blu-ray extras consist of the theatrical trailer and an isolated music track.
Movie: ***
The Star (Photo: Columbia)
THE STAR (2017). Relating the story of Jesus Christ from an alternative perspective is an intriguing prospect, and while adults were blessed with the likes of Martin Scorsese's superb The Last Temptation of Christ and Monty Python's hilarious Life of Brian, kids now have The Star to call their own. Certainly, the small fry will enjoy this animated effort far more than any attendant adults, most of whom will be alternately annoyed and bored with this slapstick yarn centered around The Greatest Story Ever Told. The protagonist is Bo (voiced by Steven Yeun), a millhouse donkey whose best friend is an excitable dove named Dave (Keegan Michael-Key). Tired of his lot in life, Bo escapes from his humdrum surroundings and immediately finds himself tagging along with a pregnant woman named Mary (Gina Rodriguez) and her husband Joseph (Zachary Levi). Aimed via both language (of the dude-bro variety) and humor (of the booty-fixated type) at modern audiences, The Star is nevertheless respectful when it comes to Christian tenets, but neither the humor nor the animation ever rises above humdrum. The voice cast is sizable – Oprah Winfrey, Kris Kristofferson, Kelly Clarkson, Ving Rhames, even that odious charlatan Joel Osteen – but nobody makes much of a lasting impression (although Christopher Plummer unleashes a few menacing growls as King Herod).
Blu-ray extras include a Star-aoke sing-along for a new tune; a dance-along to A Great Big World's "Life Is Good"; lyric sing-along videos for songs by Mariah Carey ("The Star"), Fifth Harmony ("Can You See") and more; a cookie recipe; and "Faith All Year Round," a children's sermon by motivational speaker DeVon Franklin.
Movie: **
==============================
FROM SCREEN TO STREAM
(Recommended films currently available on streaming services)
Patton Oswalt and Kevin Corrigan in Big Fan (Photo: First Independent)
BIG FAN (2009). Big Fan's protagonist is Paul Aufiero (Patton Oswalt), who considers himself nothing less than the New York Giants' most ardent supporter ... ever. Now in his mid-30s, Paul is perfectly OK with living at home with his exasperated mother (Marcia Jean Kurtz), staying away from members of the opposite sex, and working a dead-end job as a parking attendant. Aside from the occasional masturbatory session under the sheets, his only pastimes are watching Giants games with his friend Sal (Kevin Corrigan) and religiously calling into a nightly sports-radio station to offer opinions which he's scrupulously scripted ahead of time. All runs smoothly in Paul's insulated bubble until the night he spots his favorite Giant, linebacker Quantrell Bishop (Jonathan Hamm), and gets up the nerve to talk to him. The encounter lands Paul in the hospital and Quantrell on the NFL's suspension list, but Paul ultimately isn't too worried about his own well-being; more importantly, he wonders how this distracting incident will affect the rest of the Giants' season. The cult of organized sports often requires many sacrifices from diehard devotees – of time, money, even family. Big Fan takes it to the extreme, examining the outer reaches of this particular mode of hero worship and the psychological impact of sacrificing one's entire life to something that yields limited dividends. Big Fan stretches credulity in spots, but for the most part, it manages to keep its eye on the ball. (Amazon Prime)