(View From The Couch is a weekly column that reviews what's new on Blu-ray, DVD and Streaming. Ratings are on a four-star scale.)
Burt Lancaster in Birdman of Alcatraz (Photo: Olive & MGM)
BIRDMAN OF ALCATRAZ (1962). As real-life convict Robert Stroud, a man serving a life sentence for murder, Burt Lancaster goes from coiled tension in the first half of this exemplary motion picture to beatific acceptance during the second part. It's a remarkable performance, with Lancaster breaking down how Stroud's close encounters with birds led to him becoming a better man as he devoted his life to raising, studying and even writing books about our aviary friends, all from the confines of his cell. The delicate direction is from the normally hard-charging John Frankenheimer (The Manchurian Candidate, Seven Days in May), while screenwriter Guy Trosper effectively adapts the biographical novel by Thomas E. Gaddis (interestingly, Gaddis himself appears as a character in the film, played by Edmond O'Brien). Telly Savalas found his Hollywood stock rising significantly due to his turn as fellow inmate Feto Gomez, but the best supporting stint actually belongs to Neville Brand — he's excellent as Bull Ransom, the guard who develops an unorthodox friendship with Stroud over the years. Birdman of Alcatraz earned a quartet of Academy Award nominations: Best Actor (Lancaster), Best Supporting Actor (Savalas), Best Supporting Actress (Thelma Ritter as Stroud's mother) and Best Black-and-White Cinematography (Burnett Guffey's lensing is striking).
Blu-ray extras consist of audio commentary by author Kate Buford (Burt Lancaster: An American Life) and the theatrical trailer.
Movie: ***1/2
Coco (Photo: Disney-Pixar)
COCO (2017). Another top-shelf effort from the Pixar factory, Coco centers on Miguel (voiced by Anthony Gonzalez), a young Mexican boy who yearns to become a celebrated musician like his idol, the late singing star Ernesto de la Cruz (Benjamin Bratt). That's quite the challenge, though, since his entire family hates music and has prohibited anyone within its ranks from ever picking up a guitar or a microphone. (The disdain traces back generations, to when Miguel's great-great-grandmother was abandoned by her husband, who left to pursue his musical career.) Undeterred, Miguel goes against his family's wishes, a decision that, through supernatural means, catapults him into the Land of the Dead. There, he not only has to contend with a hard-luck layabout named Hector (Gael García Bernal) but also with his deceased ancestors, all of whom also forbid him from becoming a musician. Coco opens by following the traditional toon template of a person following their dreams against all odds, but once Miguel reaches the Land of the Dead, the movie deepens in satisfying and even unexpected ways. Interpersonal relationships take some surprising turns, and the story's metaphysical slant (particularly the notion that a person doesn't truly disappear until no one remembers they ever existed) lends the proceedings a haunting and ruminative air. All of this is played out with Pixar's usual attention to engaging characters as well as cutting-edge animation that is ofttimes jaw-dropping.
Olaf's Frozen Adventure, the interminable not-so-short that preceded Coco during its theatrical run, is thankfully not included in the Blu-ray edition. Extras include audio commentary by director Lee Unkrich, co-director Adrian Molina and producer Darla K. Anderson; deleted scenes; a piece on the music; a look at Dante the dog; and much more.
Movie: ***1/2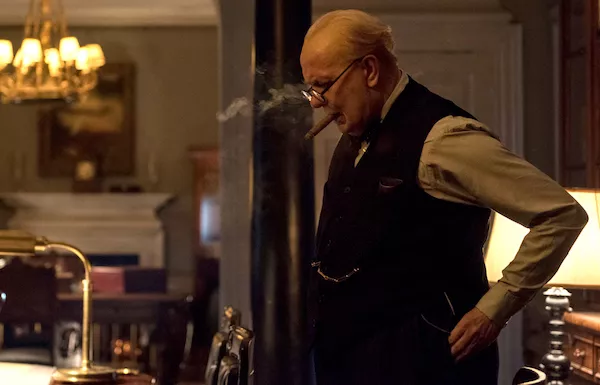 Gary Oldman in Darkest Hour (Photo: Universal/Focus)
DARKEST HOUR (2017). Casting famous actors as famous historical figures often puts the performer at an extreme disadvantage, since it means they have to work twice as hard to put over the same feat of duplicity as less recognizable thespians tackling similarly iconic figures. Then-unknown Ben Kingsley as Mahatma Gandhi? No problem. Anthony Hopkins as Alfred Hitchcock? Big problem. In that respect, casting Gary Oldman as Winston Churchill seemed like a risky gamble. But Oldman, an actor who has already portrayed such disparate personalities as Sid Vicious, Lee Harvey Oswald and Ludwig van Beethoven (to say nothing of such fictional mainstays as George Smiley and Count Dracula), proves to be up to the task in this satisfying dramatization of Churchill's fledgling days as the British Prime Minister. Even operating under pounds of makeup required to convert the actor into the roly-poly elocutionist, it's easy to initially spot Oldman peeking out. Yet as the movie progresses, Oldman effectively buries himself in the role, aided by the efforts of director Joe Wright and scripter Anthony McCarten to convey the urgency at hand — namely, that Adolf Hitler has already begun his march through Europe, and Churchill must decide whether to fight the bastard (his choice) or negotiate a treaty that will hopefully leave England untouched by Nazi destruction (the choice of many of his peers). The historical highlights are on display: the dislike of Churchill by even those in his own party, the "miracle at Dunkirk," and the famous speeches. The latter monologues truly allow Oldman to shine, delivering the words with such fervor and feeling that it quickly becomes clear that they elected the right man for the job.
Blu-ray extras consist of audio commentary by Wright; a making-of featurette; and a piece on Oldman's transformation into Churchill.
Movie: ***
Gate II (Photo: Shout! Factory)
GATE II (1990). Back in May 1987, the big entertainment story was how The Gate, a low-budget horror film, fell just $100,000 short of beating Elaine May's unjustly maligned Ishtar for the #1 spot at the weekend box office (clearly, Ishtar is no classic, but most critics idiotically and unfairly reviewed it for its exorbitant budget rather than its occasionally amusing content, thus leading to financial doom). Whereas Ishtar lost a fortune for Columbia, The Gate ended up making a nice little profit for New Century Entertainment, thus making a sequel unavoidable. But if The Gate is merely a mediocrity boasting a few nifty effects, Gate II (aka Gate 2: The Trespassers and Gate II: Return to the Nightmare) is decidedly less, and it's no surprise that, despite being completed in 1989, it wasn't released in the U.S. until 1992. Louis Tripp, who played the second lead (under Stephen Dorff) in the 1987 original, here finds his character of Terry Chandler elevated to leading-dork status. Terry uses his knowledge of sorcery to summon a Satanic emissary – a so-called minion (not to be confused with the yellow ones toiling for Gru) – but matters become complicated once a pair of high school numbskulls (James Villemaire and Simon Reynolds) get involved. Unrelenting tedium is the defining trait of this subpar sequel. Incidentally, although The Gate was rated PG-13, this one was saddled with a ridiculous R rating – it was reportedly for "scenes of drug use," but I dunno, maybe it was really because some of the characters listen to heavy metal music and the pearl-clutching MPAA members agreed with Tipper Gore at the time that this was inherently offensive.
Blu-ray extras include a retrospective piece featuring director Tibor Takacs, screenwriter Michael Nankin and special visual effects creator Randall William Cook; an interview with makeup effects artist Craig Reardon; a still gallery; and the theatrical trailer.
Movie: *1/2
Elliott Gould and James Caan in Harry and Walter Go to New York (Photo: Twilight Time)
HARRY AND WALTER GO TO NEW YORK (1976). And speaking of Ishtar... (See Gate II, above.) Like that notorious 1987 film starring Warren Beatty and Dustin Hoffman, Harry and Walter Go to New York also centers on two hopelessly untalented entertainers; also drove Columbia Pictures close to financial ruin; and also is better than its ghastly reputation. Harry and Walter are played by James Caan and Elliott Gould, and they're the least effective performers in the entire production. Cast as bumbling vaudeville players who decide to rob a bank, they always let you see them flop-sweat, working overtime to provide laughs that don't always materialize. And the scenes involving the actual bank robbery, interspersed with grueling sequenced centered around a musical stage show, prove endless and close the film with a thud. But there are several compensations, including immaculate production values (particularly Harry Horner's sets and Theoni V. Aldredge's costumes), some unexpected giggles in the early going, and a rich supporting cast that includes Diane Keaton (as a feisty newspaperwoman), Charles Durning, Burt Young and even Ted Cassidy, The Addams Family's Lurch. Mainly, though, there's Michael Caine – he's simply terrific as Adam Worth, a professional bank robber who's as accomplished as he is beloved. Caine is so wonderful, in fact, that one wishes Harry and Walter had been scrapped altogether so the filmmakers could have made Adam Worth Goes to New York instead.
Blu-ray extras consist of audio commentary by film historians Eddy Friedfeld, Lee Pfeiffer and Paul Scrabo; the theatrical trailer; and an isolated track of David Shire's score.
Movie: **1/2
Lady and the Tramp (Photo: Disney)
LADY AND THE TRAMP (1955). Ranking the Disney animated features is an exercise in futility along the lines of ranking David Bowie singles or ranking Edgar Allan Poe stories: Everyone has their own personal favorites, and woe be to the foolish mortal who tries to convince them otherwise. In the case of Disney, my vote goes to Lady and the Tramp, as it transcends being merely one of the greatest animated movies ever made — it's accomplished enough to rest alongside live-action features as one of the best love stories ever filmed. Taking the notion of "puppy love" to another level, this adds another variation to the "wrong side of the tracks" theme, as the incorrigible mutt Tramp woos the prim and proper (and hopelessly naïve) Lady. The candlelit dinner sequence, with "Bella Notte" playing in the background and our canine protagonists struggling with that long strand of spaghetti, is as romantic a movie scene as any since Rick said farewell to Ilsa at the Casablanca airport. That's not to say the crowd-pleasing comedic elements are MIA: Old dogs Jock and Trusty offer plenty of amusement, while the word-whistling beaver proves to be a potent scene-stealer.
Disney's new Signature Edition of Lady and the Tramp offers the picture in three versions: the original theatrical edition, the film in sing-along mode, and the movie backed by audio reenactments of Walt Disney's story sessions. Blu-ray extras include deleted scenes; archival recordings of Walt discussing his love of dogs; the never-recorded song "I'm Free as the Breeze"; and an interview with Walt's daughter, Diane Disney Miller. Unfortunately, many of the savory extra features from earlier Blu-ray editions (such as a making-of featurette and a PuppyPedia piece hosted by Fred Willard) have been removed from this edition and transferred to digital availability only (boooo).
Movie: ****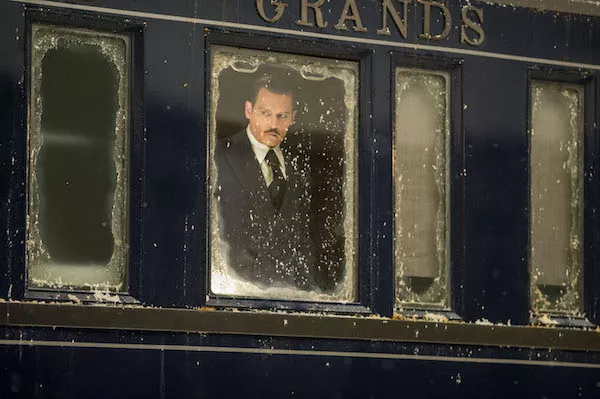 Johnny Depp in Murder on the Orient Express (Photo: Fox)
MURDER ON THE ORIENT EXPRESS (2017). Kenneth Branagh's interpretation of Agatha Christie's venerable novel registers as a disappointment, with the director-star puncturing the source material as often as someone ends up stabbing Edward Ratchett (Johnny Depp) aboard the titular train. The changes that Branagh (who stars as Belgian detective Hercule Poirot) and scripter Michael Green make to the novel and the faithful 1974 version are baffling, leading to a film that feels as if it's just skimming the surface of a compelling murder-mystery. With so much emphasis on Poirot (it's clear the director loves his star), expository scenes that should establish the other characters prove to be choppy and unsatisfying — thus, when the case starts to clear up in the final stretch, many of the players come across as little more than extras trying to crowd into the shot. The backstory to the whole mystery — the Daisy Armstrong affair (Christie's nod to the Lindbergh baby kidnapping) — also appears in truncated form, thereby reducing its impact on the final revelations. As director, Branagh makes some lamentable decisions, trying to frame a couple of moments as action set-pieces and elsewhere adopting strange camera angles that call awkward attention upon themselves. This is especially true of the murder sequence, which Branagh grotesquely stages as if he were auditioning to direct a remake of Carnival of Souls. If nothing else, production values look smashing, and while no single performer stands out, all tackle their roles with aplomb (the cast includes Michelle Pfeiffer, Judi Dench and Willem Dafoe). For the most part, though, Branagh has taken a beloved tale and committed (to borrow the title of another Christie adaptation) murder most foul.
Blu-ray extras include audio commentary by Branagh and Green; making-of featurettes; deleted scenes; and a piece on Christie.
Movie: **
Lea Kurka and Sidede Onyulo in Nowhere in Africa (Photo: Kino Lorber & Zeitgeist)
NOWHERE IN AFRICA (2002). An Academy Award winner for Best Foreign Language Film, Germany's Nowhere In Africa expertly blends two popular types of movies to create one seamless motion picture experience. Adapted by writer-director Caroline Link from Stefanie Zweig's autobiographical book, this is the kind of expansive epic popularized by such open-air extravaganzas as Legends of the Fall and Dances With Wolves — they revel in the grandiosity and the splendor of the great outdoors, thereby making it easy for viewers to understand how these surroundings are able to fill the characters with a newfound soulfulness and appreciation for the uncluttered lifestyle. But the movie also operates as a personal tale of the Jewish experience during World War II, as a German-Jewish lawyer named Walter Redlich (Merab Ninidze) has the foresight to get his immediate family out of his homeland before it's too late. Most of his relatives choose to stay put, but he's able to convince his wife Jettel (Juliane Kohler) and young daughter Regina (Lea Kurka) to join him on a farm in Kenya, where he has found employment overseeing the place. Walter accepts his new lot in life while the pampered Jettel is horrified by their sudden shift in status. As the years pass, Regina (played in her teen years by Karoline Eckertz) continues to bond with the land and its inhabitants (her friendship with the farm's cook, played by Sidede Onyulo, is a highlight), while the outlooks of her parents shift in startling ways. Particularly stirring is Jettel's arc – like Meryl Streep's Karen Blixen in Out of Africa, she undergoes an extraordinary transformation in this exquisite and absorbing movie.
DVD extras consist of a making-of featurette; interviews with Kohler and Ninidze; and the theatrical trailer.
Movie: ***1/2
Woody Harrelson and Frances McDormand in Three Billboards Outside Ebbing, Missouri (Photo: Fox)
THREE BILLBOARDS OUTSIDE EBBING, MISSOURI (2017). With its gripping storyline and a superlative lead performance, it's no surprise that writer-director Martin McDonagh's Three Billboards Outside Ebbing, Missouri has emerged as a critical favorite and Oscar co-frontrunner (alongside The Shape of Water). Yet with its kid-gloves treatment of a thorny character, it's also no surprise that justifiable controversy has dogged this film since it moved beyond the film-festival circuit. Frustrated that no arrests have been made in the rape and murder of her daughter, headstrong Mildred Hayes (Frances McDormand) confronts the local police in an unusual manner, by setting up billboards that call out highly respected police chief Bill Willoughby (Woody Harrelson). This move alienates the townspeople and draws the ire of Jason Dixon (Sam Rockwell), the racist, violent and seemingly dim-witted deputy who works under Willoughby. The first two-thirds of the film are excellent, and both McDormand and Harrelson deliver phenomenal performances. Unfortunately, the final stretch (starting with the fire bombing sequence) relies on too many head-smacking coincidences required to move the story forward, and Rockwell's character — a lovably goofy psychopath — remains problematic throughout. Rockwell, who's been getting better with each passing year, slightly backtracks with a look-Ma-I'm-acting! turn that will unfortunately win the Best Supporting Actor Oscar over The Florida Project's peerless Willem Dafoe (even Harrelson, also nominated, deserves the statue more than Rockwell). All told, the film is up for seven Oscars, including Best Picture and Best Actress.
Blu-ray extras include a making-of featurette; deleted scenes; and McDonagh's 2005 film Six Shooter, an Academy Award winner for Best Live-Action Short.
Movie: ***1/2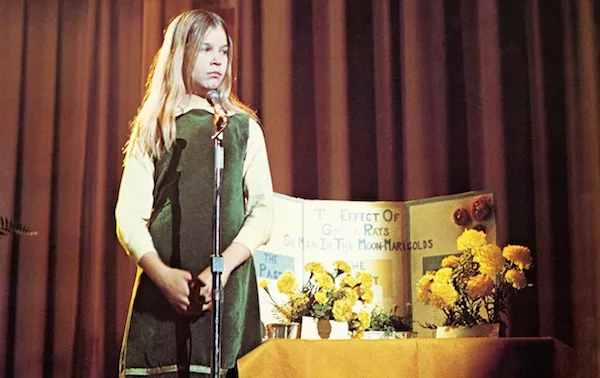 Nell Potts in The Effect of Gamma Rays on Man-in-the-Moon Marigolds (Photo: Twilight Time)
Short And Sweet:
THE EFFECT OF GAMMA RAYS ON MAN-IN-THE-MOON MARIGOLDS (1972). Heralded for his directorial debut on 1968's Rachel, Rachel, Paul Newman returned to the helmer's chair on five subsequent occasions. While none of these pictures came close to matching the acclaim accorded to Rachel, Rachel, most were greeted warmly — that would include this adaptation of Paul Zindel's Pulitzer Prize-winning play about the difficult relationships between a mother and her two daughters. Joanne Woodward and Nell Potts, Newman's wife and their daughter, portray the bitter and disillusioned Beatrice Hunsdorfer and her shy and sensitive daughter Matilda, while Roberta Wallach, the offspring of Eli Wallach and Anne Jackson, co-stars as Beatrice's older daughter Ruth, who's likely to follow in her mother's ill-advised footsteps. Newman's direction is as understated as Woodward's performance is magnified, providing a nice balance to this sobering drama.
Blu-ray extras consist of the theatrical trailer and an isolated track of Maurice Jarre's score.
Movie: ***
MIGHTY JOE YOUNG (1998). Disney's remake of the popular 1949 film is at its best when it — pardon the pun — apes its predecessor and falters when it attempts to strike out on its own. As before, the movie details the loving relationship between a young woman (Charlize Theron) growing up in Africa and the oversized gorilla she hopes to protect from civilization. Theron brings enormous warmth to her role, and effects guru Rick Baker uses animatronics and a dash of CGI to fashion a central creature that looks absolutely believable from first frame to last (the visual effects earned an Oscar nomination). But the film proves to be even more hokey than its forebear, thanks chiefly to the addition of one-dimensional villains (poachers and black marketeers) seeking to make life miserable for our hirsute hero. Still, it's hard to resist a movie in which Bill Paxton, as an affable conservationist, addresses Mighty Joe as "ya big palooka."
There are no Blu-ray extras.
Movie: **1/2
==============================
FROM SCREEN TO STREAM
(Recommended films currently available on streaming services)
Sam Rockwell in Moon (Photo: Sony Pictures Classics)
MOON (2009). With Ziggy Stardust for a father, Major Tom for an uncle and, presumably, the spiders from Mars for assorted in-laws, is it any wonder that Duncan Jones, the son of David Bowie, chose a science fiction project to mark his feature film debut? Serving as director and coming up with the original story (Nathan Parker wrote the actual screenplay), Jones has crafted a unique sci-fi yarn that pays tribute to such works as 2001: A Space Odyssey and Silent Running while also heading off in its own giddy direction. Sam Rockwell delivers an excellent performance as Sam Bell, an employee for the futuristic corporation Lunar Enterprises. It's long been discovered that the moon can provide Earth with its energy; Sam is the man on the moon, tasked with overseeing this operation. But he's mighty lonely up there, talking to himself as much as he talks to the base's mobile computer GERTY (voiced by Kevin Spacey). Fortunately, his three years in space are nearly up, but with only weeks left before his departure back to Earth, he begins to feel poorly, a condition that in turn leads him to have an accident. Upon awakening, he senses that something's not quite right, and GERTY, for one, isn't talking. The resultant twist is an intriguing one, and it solidifies the film's initial promise as a heady piece of sci-fi cinema. The prevalent theme is one of identity, and this extends beyond the character of Sam Bell to also involve GERTY, who proves to be one of the most fascinating robots in many a, uh, moon. (Netflix Streaming)