(View From The Couch is a weekly column that reviews what's new on Blu-ray, DVD and Streaming. Ratings are on a four-star scale.)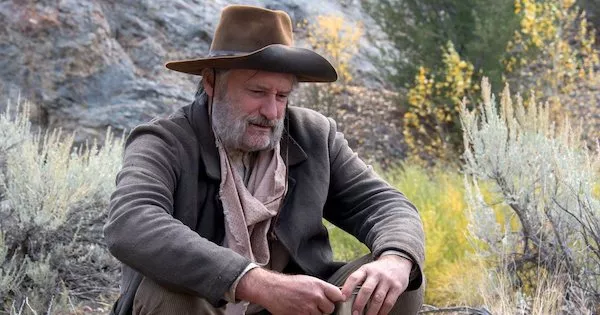 Bill Pullman in The Ballad of Lefty Brown (Photo: Lionsgate & A24)
THE BALLAD OF LEFTY BROWN (2017). Generally employed for comic relief, the simpering, simple-minded sidekick has long been a staple of Western cinema, with such character actors as Gabby Hayes and Jack Elam carving out long careers by essaying these roles in the shadows of the courageous heroes played by the likes of John Wayne and James Stewart. The Ballad of Lefty Brown, written and directed by Jared Moshé, completely upends the legends of the Old West by killing off the towering hero at an early point and thereafter placing all the focus on his right-hand man. For decades, Edward Johnson (Peter Fonda) has been a formidable Montana lawman, and now he's ready to represent the state as a senator. But Edward ends up getting fatally shot by a horse thief (Joe Anderson) and his cohorts, and it's up to his faithful sidekick and friend, Lefty Brown (Bill Pullman), to head out seeking revenge. Unfortunately, Lefty Brown's intelligence and intuition often leave much to be desired, and even the assistance of an old friend (Tommy Flanagan) and a young boy (Diego Josef) may not be enough to allow him to pull off his quest for vengeance. The scrappy first half eventually gives way to a second hour that grows increasingly routine with its newfound emphasis on personal betrayal and political corruption. But it's nice to see Pullman, generally relegated to supporting roles these days (he can be spotted in Battle of the Sexes and Walking Out, both also new to Blu), handed a plum leading role.
Blu-ray extras include audio commentary by Moshé and Pullman; a piece on the characters; and a look at the production design.
Movie: **1/2
Tony Musante in The Bird with the Crystal Plumage (Photo: Arrow)
THE BIRD WITH THE CRYSTAL PLUMAGE (1970). After working for several years as a scripter (including a co-writing gig on Sergio Leone's 1968 masterpiece Once Upon a Time in the West), Dario Argento made his directorial debut with The Bird with the Crystal Plumage – and quickly established himself as one of the premier practitioners of the giallo (Italian thrillers with a slasher film bent). A stylish murder-mystery that proved to be highly influential on other filmmakers (select Brian De Palma efforts owe almost as much to Argento as to Hitchcock), this stars Tony Musante as Sam Dalmas, an American writer residing in Rome with his girlfriend (Suzy Kendall). Late one night, Sam witnesses a savage attack in an art gallery; while the would-be victim (Eva Renzi) survives the attempted murder, Sam becomes obsessed with tracking down the assailant, who is most likely the person responsible for a number of slayings in the area. Argento's scripting isn't always fluid, but he nevertheless manages to create a mystery that's genuinely compelling, as well as concoct a memorable assortment of supporting characters that include a stuttering pimp (Gildo Di Marco) who ends each sentence with "so long" and an eccentric artist (Mario Adrof) whose preferred cuisine involves cats. The offbeat score is by the incomparable Ennio Morricone, while the dazzling cinematography comes courtesy of three-time Oscar winner Vittorio Storaro (Apocalypse Now).
Blu-ray extras include audio commentary by author Troy Howarth (So Deadly, So Perverse: 50 Years of Italian Giallo Films); a new interview with Argento; an archival interview with Renzi; a visual essay focusing on Argento's movies; and theatrical trailers.
Movie: ***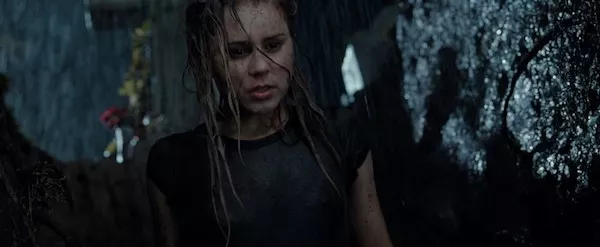 Alison Lohman in Drag Me to Hell (Photo: Shout! Factory)
DRAG ME TO HELL (2009). Torture porn was quite popular during the late 2000s, which made Drag Me to Hell such a welcome relief — it's a funhouse freak show more interested in delivering old-fashioned chills than in wallowing in misogyny, masochism and mutilation. The story is so thin that the screenplay could have been written on a bubble gum wrapper, yet the end result is so delirious in its desire to delight that viewers willing to be jerked around won't mind. Director Sam Raimi regains the playful prankster attitude he exhibited back in his Evil Dead days, crafting (with brother Ivan) this yarn about sweet-natured loan officer Christine Brown (Alison Lohman), who, in an ill-advised attempt to show her boss (David Paymer) that she's able to make the "tough decisions," denies Mrs. Ganush (Lorna Raver) a third extension on a loan, thus leaving the elderly woman homeless. Angered, the gypsy places a curse on Christine, a jinx that will expose her to three days of supernatural hauntings before she's ultimately ... well, check out that title. Drag Me to Hell isn't exactly scary — the gotcha! moments and incessant use of loud noises don't exactly build suspense — and the climactic twist, straight out of a vintage EC Comics horror publication, is telegraphed too early in the narrative. But Lohman is ideally cast as a basically decent person who must make some hard calls if she wants to survive, and the brothers Raimi get a lot of mileage out of Mrs. Ganush as a formidable adversary.
Shout! Factory's Blu-ray edition of Drag Me to Hell contains both the PG-13 theatrical version and an unrated cut. Extras include new interviews with Lohman and Raver; behind-the-scenes production video diaries; and the theatrical trailer.
Movie: ***
Night of the Living Dead (Photo: Criterion)
NIGHT OF THE LIVING DEAD (1968). George Romero's first film out of the gate not only redefined the zombie field but also served as the opening shot in a decade-long siege of gritty, low-budget horror flicks that often chose rural America as their setting (The Texas Chain Saw Massacre, The Hills Have Eyes, etc.). Here's one of those happy examples when limited resources actually enhance the final product, as the ultra-low-budget — evidenced by natural settings, black-and-white film stock, and a shooting style that frequently borrows from the documentary playbook — is largely responsible for turning this into one of the classic horror films of all time. This gripping yarn about a small band of humans protecting themselves from the zombie hordes has enjoyed quite the journey, going from drive-in fodder to cult classic to critical darling to an acknowledged landmark of American cinema. Intentional or not, the film's sociopolitical content remains as potent as ever, with the climax serving as a particularly profound statement (then and now) on racism in these United States.
A public domain title that has been brought to home video in various shoddy editions, this excellent film has finally received a heavenly Blu-ray release from Criterion. Extras include a pair of audio commentaries (both from 1994) by Romero, co-scripter John Russo, producer Karl Hardman, co-star Judith O'Dea, and others; a never-before-presented work-print edition of Night of the Living Dead, then called Night of Anubis; archival interviews with Romero and co-stars Duane Jones and Judith Ridley; a 16mm dailies reel from the production shoot; and a discussion of the film by directors Guillermo del Toro, Robert Rodriguez and Frank Darabont.
Movie: ****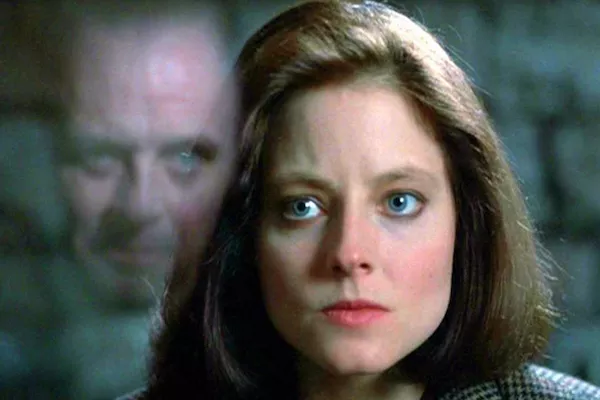 Anthony Hopkins and Jodie Foster in The Silence of the Lambs (Photo: Criterion)
THE SILENCE OF THE LAMBS (1991). This superb adaptation of the Thomas Harris novel, vividly brought to the screen by director Jonathan Demme and scripter Ted Tally, immediately made its claim as one of the all-time great thrillers. Jodie Foster (in a standout performance) stars as Clarice Starling, an FBI trainee who is assigned to track down a serial killer nicknamed Buffalo Bill (Ted Levine); "aiding" her is Dr. Hannibal "The Cannibal" Lecter (Anthony Hopkins), a brilliant psychopath kept under heavy lock and key. Demme directs this for maximum suspense, yet the film also works as a multilayered feminist tale, with Foster's resourceful agent emerging as a beautifully conceived character (indeed, 1991 was an especially robust year for women on screen, thanks also to the likes of Thelma & Louise and Terminator 2: Judgment Day). Howard Shore's menacing score enhances the mood; kudos also to Tak Fujimoto's exceptional cinematography and Craig McKay's razor-sharp editing. Nominated for seven Academy Awards, the film became only one of three in Oscar history (along with It Happened One Night and One Flew Over the Cuckoo's Nest) to win all five major Academy Awards: Best Picture, Best Director, Best Actor, Best Actress and one of the scripting awards (in this case, Best Adapted Screenplay).
Blu-ray extras include audio commentary (from 1994) by Demme, Foster, Hopkins, Tally, and former FBI agent John Douglas; a behind-the-scenes featurette; the 2001 documentary Inside the Labyrinth: The Making of The Silence of the Lambs; a 2005 interview with Demme and Foster; an interview with film critic Maitland McDonagh; storyboards; and the theatrical trailer.
Movie: ****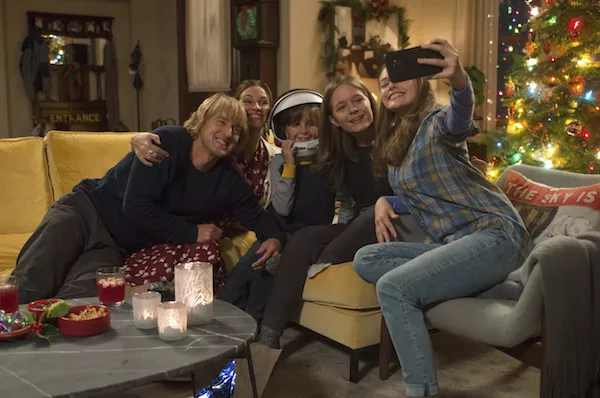 Owen Wilson, Julia Roberts, Jacob Tremblay, Izabela Vidovic and Danielle Rose Russell in Wonder (Photo: Lionsgate)
WONDER (2017). Based on R.J. Palacio's bestselling novel, Wonder focuses on the experiences of Auggie Pullman (Jacob Tremblay), a facially deformed boy (due to a genetic disorder known as Treacher Collins syndrome) whose home-schooling has limited his exposure to the outside world. Supported by his loving parents Isabel (Julia Roberts) and Nate (Owen Wilson) and older sister Via (Izabela Vidovic), Auggie enters public school to attend fifth grade; there, he immediately endures the cruel behavior of bullies but eventually acquires worthy friends. The wonder of Wonder is how it moves beyond Auggie to examine the mindsets and motivations of those around him, including his young schoolmate Jack (Noah Jupe), Via's former best friend Miranda (Danielle Rose Russell) and, most poignantly, Via herself. The generosity and goodwill of the Pullmans is reflected in the film itself, and for a picture that begs to be drowned in sentimental syrup, Wonder feels emotionally honest rather than willfully manipulative. Mandy Patinkin appears as Mr. Tushman, the school's teddy-bear principal, and that's Tony Award winner Daveed Diggs (Lafayette/Jefferson in Hamilton) as Auggie's homeroom teacher, Mr. Browne. This is currently up for an Oscar in the category of Best Makeup and Hairstyling.
Blu-ray extras include audio commentary by director and co-scripter Stephen Chbosky and Palacio; a multipart making-of featurette; the music video for Bea Miller's "Brand New Eyes"; and theatrical trailers.
Movie: ***
==============================
FROM SCREEN TO STREAM
(Recommended films currently available on streaming services)
Michael Caine in The Eagle Has Landed (Photo: Columbia)
THE EAGLE HAS LANDED (1976). This crackerjack adaptation of Jack Higgins' bestselling novel turned out to be the final film of John Sturges, the accomplished director of such all-star hits as The Great Escape and The Magnificent Seven. The fanciful plot (brought to the screen by screenwriter Tom Mankiewicz) finds the German High Command commissioning a report to determine whether it would be possible to kidnap Winston Churchill; the task falls to Colonel Radl (Robert Duvall), who decides it's doable once news reaches him that the PM is planning a trip to an isolated Norfolk village far away from the wartime hustle and bustle. To head the mission, Radl chooses Colonel Steiner (Michael Caine), a German who loves his country but not necessarily the Nazi bastards running it (he gets into trouble for helping out a Jewish woman on her way to a concentration camp). Sent incognito to aid Steiner and his men is Liam Devlin (Donald Sutherland), a folksy IRA member who cares nothing about helping Germany but cares deeply about bringing down England. Devlin is given a job as a marsh warden and ends up falling for a lovely local woman (Jenny Agutter); for their part, Steiner and his group arrive in the village disguised as Polish paratroopers. Crafted with meticulous precision and infinite patience — the Germans don't even land in England until the one-hour mark (total run time is 130 minutes) — the film unfolds like a good novel, with compelling exposition eventually giving way to thrilling action. The large cast also includes Donald Pleasence as Heinrich Himmler, Larry Hagman as an idiotic American officer, Treat Williams as his intelligent counterpart, and Jeff Conaway, Grease's Kenickie, in a small role as a G.I. (Amazon Prime)