(View From The Couch is a weekly column that reviews what's new on Blu-ray and DVD. Ratings are on a four-star scale.)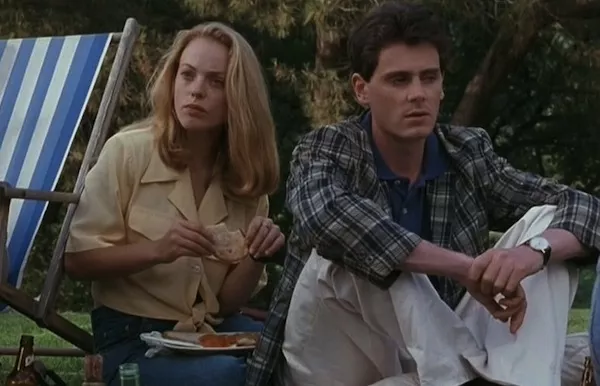 Tushka Bergen and Chris Eigeman in Barcelona (Photo: Criterion)
BARCELONA (1994). The middle film in writer-director Whit Stillman's self-described trilogy – it was preceded by 1990's Metropolitan (for which Stillman deservedly earned a Best Original Screenplay Academy Award nomination) and followed by 1998's The Last Days of Disco – Barcelona combines romance, comedy, philosophy and politics into one tantalizing package. Metropolitan actor Taylor Nichols here plays Ted, an American sales rep who lives in the titular Spanish city without ever really getting into its native rhythms. Enter his often arrogant cousin Fred (the hilarious Chris Eigeman, another Metropolitan alumnus), a naval officer who drops in for an extended — and uninvited — visit and proceeds to get them both socially active, mainly by meeting and subsequently dating two local women named Montserrat (Tushka Bergen) and Marta (Mira Sorvino). Stillman, whose only other big-screen credits consist of 2011's so-so Damsels in Distress and the upcoming Love & Friendship, has an exceptional ear for dialogue, and it's a pleasure to listen to these intelligent (though not always insightful) characters banter back and forth on such topics as dating techniques and anti-American sentiments abroad.
Blu-ray extras consist of audio commentary by Stillman, Nichols and Eigeman; a vintage making-of piece; deleted scenes; an alternate ending; a video essay by film critic Farran Smith Nehme about the Stillman trilogy; Stillman's appearances on The Dick Cavett Show in 1991 and Today and Charlie Rose in 1994; and the theatrical trailer.
Movie: ***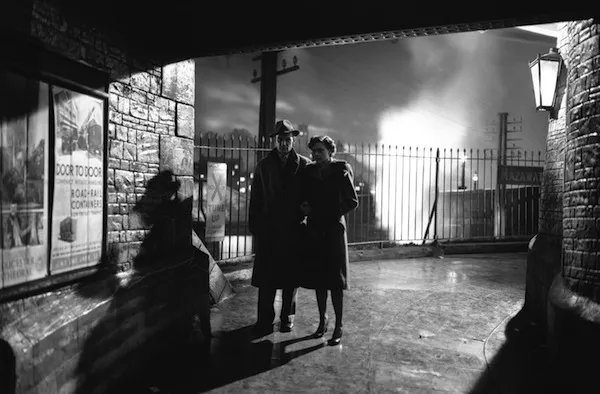 Trevor Howard and Celia Johnson in Brief Encounter (Photo: Criterion)
BRIEF ENCOUNTER (1945). David Lean's Brief Encounter stands as one of the greatest love stories ever made, as well as a perennial high point of UK cinema: The British Film Institute voted it the second best British film of all time (just below Carol Reed's The Third Man and right above Lean's Lawrence of Arabia), while a prominent poll of British filmmakers found it similarly landing in the place position (under Lawrence of Arabia). Adapted by Lean, Anthony Havelock-Allan and Ronald Neame from Noel Coward's play Still Life, this deceptively simple picture examines a doomed love affair in its entirety, in the process achieving the near-impossible by making audience members sympathetic to the plights of what in essence are two adulterers. It's entirely by accident that housewife Laura Jesson (Celia Johnson) meets Dr. Alec Harvey (Trevor Howard) inside the cafe at the train station, but they fast become friends. It's only when these happily married people start to acknowledge the growing attraction between them that matters become particularly sticky. Haunting in its evocative mood — one enhanced by Robert Krasker's cinematography and Lean's meticulous, muted direction — Brief Encounter primarily hinges on the extraordinary performance by Johnson, whose presence would also grace Lean's earlier films In Which We Serve and This Happy Breed. A Grand Prize winner at Cannes, this earned three major Oscar nominations, for Best Actress, Director and Screenplay.
Blu-ray extras include audio commentary by film historian Bruce Eder; a short making-of piece from 2000; the 1971 TV documentary David Lean: A Self Portrait; and a 2012 interview with Coward scholar Barry Day.
Movie: ****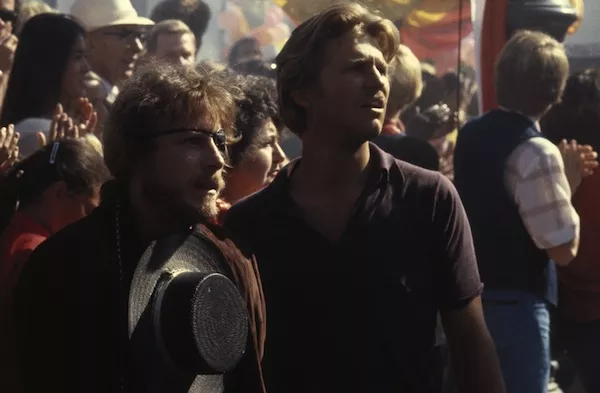 John Heard and Jeff Bridges in Cutter's Way (Photo: Twilight Time)
CUTTER'S WAY (1981). Based on Newton Thornburg's novel, Cutter and Bone opened to dismal reviews and nonexistent box office, but a second wave of critical evaluations – a positive batch this time – led to a title change, a theatrical re-release in the same calendar year and, if not financial riches, the start of a sustained standing as a cult flick. Cutter's Way is at once an American film of its time and for all ensuing times, an ugly-truth endeavor examining a nation in which the rich and powerful literally get away with murder while the poor and pitiful barely exist at all. Alex Cutter (John Heard), a Vietnam vet who's damaged both physically and emotionally, won't stand for it anymore, so when his best friend, slacker and sometime gigolo Richard Bone (Jeff Bridges), suspects that the filthy-rich industrialist J.J. Cord (Stephen Elliott) was the man he saw cramming a teenage cheerleader's corpse into a dumpster, he decides that justice will be served. Bone has major reservations about the scheme concocted by Cutter, while Cutter's wife, the long-suffering Mo (Lisa Eichhorn), is simply tired of his shenanigans. What follows isn't a standard thriller as much as a three-pronged character study about down-and-outers who are by turns cynical, moral, unlikable, tragic, philosophical, shallow and, ultimately, heroic. Heard is excellent in the showiest role, while Eichhorn matches him with a lived-in performance that's often painful to watch. As for the typically solid Bridges, he doubtless saw how much fun Heard had playing an eyepatch-wearing, raspy-voiced outsider sporting his own brand of justice – maybe that's why, decades later, he accepted the role of Rooster Cogburn in the Coens' True Grit remake?
Blu-ray extras consist of audio commentary by film historians Julie Kirgo and Nick Redman; the theatrical trailer; and an isolated track of Jack Nitzsche's score.
Movie: ***1/2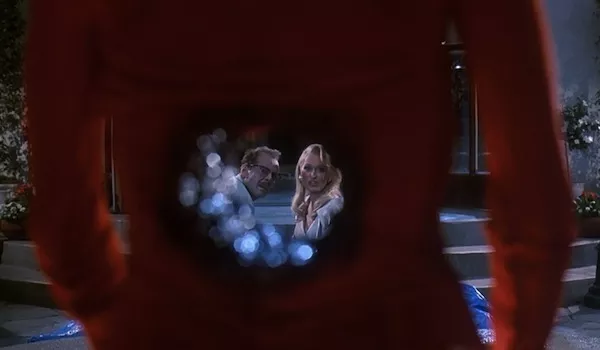 Bruce Willis and Meryl Streep in Death Becomes Her (Photo: Shout! Factory)
DEATH BECOMES HER (1992). Black humor takes center stage in this frenetic comedy directed by Robert Zemeckis and showcasing a pair of imaginatively cast stars. Meryl Streep plays Madeline Ashton, a vainglorious stage actress who over the decades has stolen every single man from her former childhood classmate, the drab Helen Sharp (Goldie Hawn). Her latest deed, swiping and eventually marrying Helen's fiancé, wimpy plastic surgeon Ernest Menville (Bruce Willis), sends Helen over the edge, as she becomes depressed and obese before reemerging years later as a successful (and slender) author. For her part, Madeline endures a loveless marriage to Ernest and worries about her fading youth and beauty. But a visit to a mysterious woman (Isabella Rossellini) allows her access to a youth serum, and from here, matters take a supernatural turn as a reunited Helen and Ernest realize that killing off Madeline is a rather impossible task. The script by Martin Donovan and David Koepp never lacks for cleverness, but it's ultimately more frantic than funny, with its digs at celebrity vanity and physical obsession never going much below the surface. Hawn is fine in her role, but a lively Streep and an atypically mousy Willis are even better; look also for a great bit by an uncredited Sydney Pollack. The excellent visual effects won an Oscar; also noteworthy are the set design by Rick Carter (Star Wars: The Force Awakens) and the makeup work by the legendary Dick Smith (The Exorcist).
Blu-ray extras consist of both a new and a vintage making-of featurette; a photo gallery; and the theatrical trailer. Unfortunately missing are deleted scenes – a shame, since many snipped bits (one featuring Tracey Ullman, MIA from the finished product) are shown in the trailer, and the film's original ending was booted after test audiences gave it the thumbs-down.
Movie: **1/2
Jane Fonda and Vanessa Redgrave in Julia (Photo: Twilight Time)
JULIA (1977). How curious that in a movie titled Julia, the least interesting character would be ... Julia. That's not the fault of Vanessa Redgrave, who plays the part – it's just that, as presented, her Julia is a symbol rather than a person, providing a hollow core to an otherwise rich and literate film. The leading figure is actually Lillian Hellman (Jane Fonda), who reminisces about her experiences with her longtime friend (the movie is based on a chapter from Hellman's book Pentimento, but although the author maintained that Julia was a real person, it's pretty much been established she was a fabrication). Besties since childhood, Hellman has grown up to become a writer, working to finish her play while shacked up with famed novelist Dashiell Hammett (Jason Robards). Julia, meanwhile, has been fighting fascism in Europe, and once the Nazis come to power, she enlists the now-successful playwright to carry out a dangerous mission on her behalf. The sequences between Lillian and Dashiell are among the film's best; same goes for the moments between Lillian and a soft-spoken member of Julia's underground outfit (Maximilian Schell). As for dramatic tension, director Fred Zinnemann offers little aside from a lengthy segment, set aboard and around a train, that's beautifully orchestrated. Look for Meryl Streep in a small role; this marked her film debut. Nominated for 11 Academy Awards (including Best Picture, Best Actress for Fonda and Best Supporting Actor for Schell), this won three: Best Supporting Actor (Robards, winning consecutive Oscars following the previous year's All the President's Men), Best Supporting Actress (Redgrave) and Best Adapted Screenplay (Alvin Sargent).
Blu-ray extras consist of audio commentary by Fonda and film historian Nick Redman; the theatrical trailer; and an isolated track of Georges Delerue's score.
Movie: ***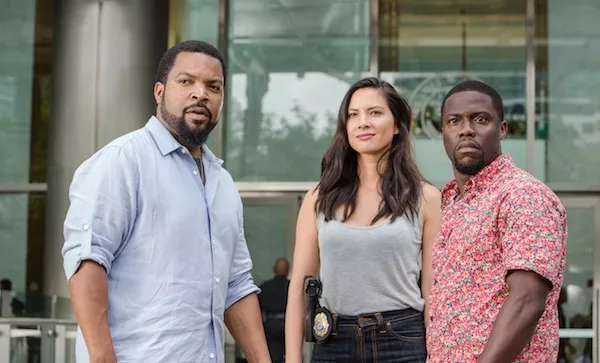 Ice Cube, Olivia Munn and Kevin Hart in Ride Along 2 (Photo: Universal)
RIDE ALONG 2 (2016). Gloria Estefan's "Conga" and KRS-ONE's "Sound of Da Police" are two of the tunes heard over the course of Ride Along 2, but if the picture had a theme song, then Simon and Garfunkel's "Keep the Customer Satisfied" would best fit the bill. Enjoyed the first Ride Along? Certainly, plenty of moviegoers did — to the tune of a sizable $135 million — and the Universal brain trust wasn't about to mess with a successful formula. Their strategy: Hire the same director (Tim Story), snag a couple of the same writers (Phil Hay and Matt Manfredi), offer the same standard-issue plotting and similar comic riffs, and then kick back and practice saying, "Show me the money" (audiences did, to the tune of $90 million). Grouchy Atlanta detective James Payton (Ice Cube) and his future brother-in-law, motormouth rookie cop Ben Barber (Kevin Hart), again prove to be an odd — and at-odds — couple even as they now set their sights on a Miami philanthropist (Benjamin Bratt) involved in planning assassinations, dealing drugs, selling arms, and seemingly every other heinous activity this side of running fingernails down a chalkboard. To bag this bigwig, the pair need the help of a detective (Olivia Munn) who Ben inexplicably keeps insulting as being too manly (Olivia Munn?) and a computer nerd (Ken Jeong) who was privy to Pope's incriminating files. As before, there are a few moments of genuine wit (a geek exchange in a van) as well as several stretches of tiresome shenanigans (an alligator makes an appearance). Cube and Hart again work well together, although this time there are limitations — while I've been praising Hart in various mediocre movies, this is the first time his shtick finally starts to wear thin. Maybe they'll give him better material in Ride Along 3.
Blu-ray extras include audio commentary by Story; a making-of featurette; deleted scenes; and a gag reel.
Movie: **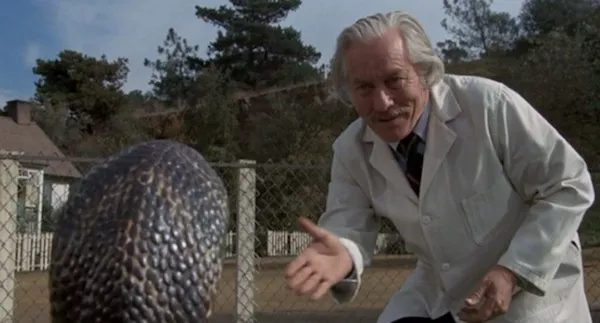 Strother Martin in Sssssss (Photo: Shout! Factory)
SSSSSSS (1973) / THE TEXAS CHAINSAW MASSACRE 2 (1986). Shout! Factory's Scream Factory division has released two more horror yarns to Blu-ray, but only one is worth sinking your teeth into.
From Richard D. Zanuck and David Brown, the same producing team that made 1975's Jaws, comes Sssssss, an earlier picture involving a toothy terror. Character actor Strother Martin (Cool Hand Luke's utterer of "What we've got here is failure to communicate") stars as Dr. Carl Stoner, a scientist obsessed with turning a man into a snake. His lab assistant David (Dirk Benedict, Battlestar Galactica's Starbuck) is the unlucky recipient of the injections that will lead to this transformation, but complication ensue when Stoner's daughter Kristina (Heather Menzies, shortly before she married Robert Urich and became Heather Menzies-Urich) falls for David. Martin offers an interesting variation on the usual mad scientist: He's a genuinely sweet, considerate and kind man, with his heinous blind spots due to an unhealthy dedication to science rather than any inherent evil. With rare exception, all of the snakes shown in the film are real and not created in the effects workshop, which lends an authenticity to the picture. The excellent makeup designs were created by John Chambers, best known for his work on Planet of the Apes and for being portrayed by John Goodman in the Oscar-winning Argo.
Dennis Hopper and Bill Johnson in The Texas Chainsaw Massacre 2 (Photo: Shout! Factory)
Director Tobe Hooper's 1974 The Texas Chain Saw Massacre remains a genuine classic of the horror genre, a punishing, unrelenting nightmare that never allows viewers a moment of sanity or security (read the full review here). That notorious schlockmeisters Mehahem Golan and Yoram Globus managed to secure the rights and produce The Texas Chainsaw Massacre 2 is annoying; that Hooper returned to direct this bastardization of his mesmerizing original is downright depressing. The opening quarter-hour is just fine, featuring a wild vehicular chase between Leatherface (Bill Johnson, replacing Gunnar Hansen) and a pair of obnoxious frat boys (for once, we're rooting for Leatherface) and the introduction of a memorable character in DJ "Stretch" Brock (Caroline Williams). But the rest of the picture is merely ham-fisted satire, bringing in a loony Texas Ranger (Dennis Hopper) and making the members of the cannibalistic clan about as menacing as The Three Stooges. This is especially unfortunate in the case of Leatherface: An entity of evil in the first film, he's transformed into a buffoon in this outing, to the point that Jerry Lewis should have been cast in the role. The set design by Cary White and Michael Peal is impressive, as are the makeup schemes by frequent Charlotte Mad Monster Party guest Tom Savini – everything else holds the appeal of rotted meat.
Blu-ray extras on Sssssss include separate interviews with Benedict and Menzies-Urich; a poster gallery; and the theatrical trailer. The Blu-ray of The Texas Chainsaw Massacre 2 contains both a new 2K scan of the film as well as the previously available HD master. Extras include audio commentary by Hooper; separate audio commentary by Williams, co-star Bill Moseley and Savini; separate audio commentary by White, director of photography Richard Kooris, script supervisor Laura Kooris and property master Michael Sullivan; an 85-minute making-of documentary; deleted scenes; an alternate opening credit sequence; and a photo gallery.
Sssssss: ***
The Texas Chainsaw Massacre 2: *1/2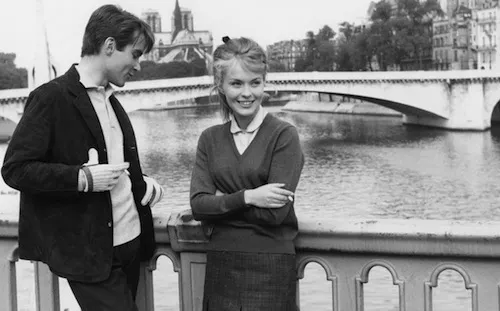 Philippe Forquet and Jean Seberg in In the French Style (Photo: Twilight Time)
Short And Sweet:
IN THE FRENCH STYLE (1963). Irwin Shaw welded together two of his short stories to create the screenplay for this interesting drama starring the lovely — and ultimately doomed — Jean Seberg. Seberg, the Breathless star who died at 40 after enduring a life I would wish on no one (loss of a baby, unhappy marriages, political persecution, suicide attempts), is radiant here at 24, playing a young American whose naiveté when it comes to social matters soon gives way to a new identity as a bon vivant who nearly matches Holly Golightly drink for drink, party for party, and man for man. The black-and-white location shooting by Michel Kelber is easy on the eyes, and there's a good performance by Addison Powell as Seberg's father, a loving if opinionated parent who doesn't mince words when speaking to his daughter.
Blu-ray extras consist of audio commentary by film historians Lem Dobbs, Julie Kirgo and Nick Redman; the theatrical trailer; and an isolated track of Joseph Kosma's score.
Movie: ***
Mary Mitchel, Jean Hagen, Frankie Avalon and Ray Milland in Panic in Year Zero! (Photo: Kino)
PANIC IN YEAR ZERO! (1962). Many filmmakers working under the American International Pictures banner didn't allow the studio's commitment to low budgets hamper their creative vision; one such individual was Ray Milland, who delivered one of the period's better end-of-the-world sagas with Panic in Year Zero! Milland both directs and stars in this picture about a family of four — dad Milland, mom Jean Hagen, son Frankie Avalon and daughter Mary Mitchel — and their efforts to survive following the decimation of Los Angeles by a nuclear bomb. The peppy score by Les Baxter is awful and completely at odds with what's transpiring on the screen; otherwise, this is a solid "B" flick, and its depiction of humanity post-apocalypse is startling in its harshness.
Blu-ray extras consist of audio commentary by film historian Richard Harland Smith; a discussion of the film by director Joe Dante (The Howling, Gremlins); and trailers for the Milland chillers X: The Man with the X-Ray Eyes, The Premature Burial and Panic in Year Zero!
Movie: ***
Nina Hoss in Phoenix (Photo: Criterion)
PHOENIX (2015). Hungary's Son of Saul may have won the Academy Award for Best Foreign Language Film, but another World War II drama, Germany's Phoenix, is actually the superior picture (alas, the German Oscar committee bypassed it and instead submitted Labyrinth of Lies, which failed to get nominated). Nina Hoss delivers an excellent performance as Nelly Lenz, a Jewish singer and Holocaust survivor who has to undergo reconstructive surgery to repair her damaged face. Accompanied by her friend Lene (Nina Kunzendorf), she returns to Berlin to learn whether it was her husband Johnny (Ronald Zehrfeld) who had betrayed her to the Nazis. What follows is a stylishly told story that keeps up the intrigue right up to the final image (and maybe beyond?).
Blu-ray extras consist of a making-of featurette; a conversation between director Christian Petzold and Hoss; an interview with cinematographer Hans Fromm; and the theatrical trailer.
Movie: ***