(View From The Couch is a weekly column that reviews what's new on Blu-ray and DVD. Ratings are on a four-star scale.)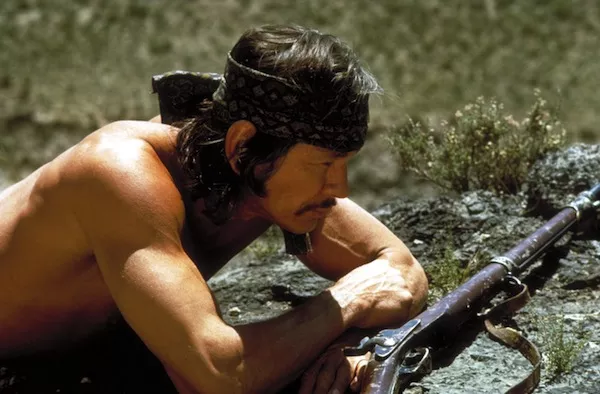 Charles Bronson in Chato's Land. (Photo: Twilight Time)
CHATO'S LAND (1972). Clint Eastwood was known for playing taciturn men in his '60s Westerns and '70s cop flicks, but his Man with No Name and his Inspector Harry Callahan seem as wordy as Rex Harrison's Henry Higgins when compared to some of the parts tackled by fellow tough guy Charles Bronson. Bronson's titular figure in Chato's Land is one such role — had the actor been paid by the word, he would have earned even less than the extras. Yet it's his actions, not his vocabulary, that spark this brutal Western whose revenge angle almost makes the one in The Revenant (reviewed below) seem as inconsequential as a typical one-upmanship tiff between Archie Andrews and Reggie Mantle. Bronson's Pardon Chato is a half-Apache who doesn't suffer fools — or racist sheriffs — gladly, as witnessed in the opening scene when he kills a heinous Marshall in self-defense. But the white townspeople aren't about to see his side, and so he heads for the hills, even as a posse is being formed to go after him. Leading the mob is the refined Quincey Whitmore (an interesting performance by Jack Palance), a former Confederate officer who believes in civility and taking care of matters in a proper manner. This is the exact opposite of some of the lowlifes under his command, particularly the vicious and ignorant Hooker brothers (Simon Oakland, Ralph Waite and Richard Jordan). Initially, Chato merely toys with the hunters and gives them plenty of opportunities to turn around with their lives still intact — that all changes, though, once rape and murder enter the picture. The ways in which Chato settles the score are imaginative (rattlesnake!), but even more intriguing is the dynamic between the various vigilantes and how they need to fear each other more than they do Chato.
Blu-ray extras include an interview with screenwriter Gerald Wilson; the theatrical trailer; and an isolated track of Jerry Fielding's score.
Movie: ***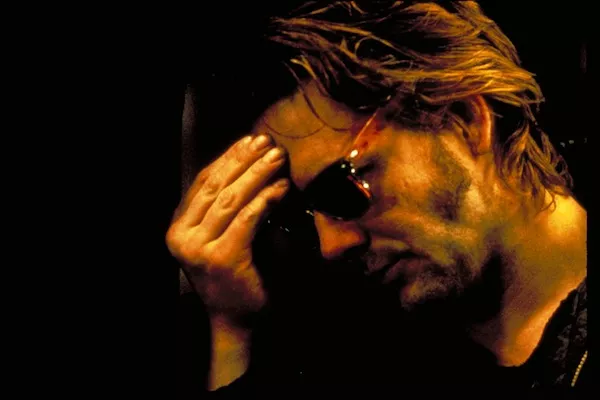 Mickey Rourke in A Prayer for the Dying. (Photo: Twilight Time)
A PRAYER FOR THE DYING (1987). Unlike his contemporary Alistair MacLean, Jack Higgins rarely enjoyed the privilege of having his immensely popular bestsellers adapted into successful motion pictures. The one semi-exception is 1976's The Eagle Has Landed, an all-star WWII yarn directed by the masterful John Sturges (The Great Escape) and a movie of which I am particularly fond. On the other end of the scale rests the critical and commercial dud A Prayer for the Dying, which so displeased its director and star after the studio took an ax to it that they both distanced themselves from the final product. Truth be told, it's hard to envision this ever being a good movie (reportedly, there's a director's cut that in all likelihood will never see the light of day), since so much of what's wrong with it can be found in both the casting and the major narrative turns. For his part, lead Mickey Rourke is just fine, bringing the proper measure of weary resignation to his role as Martin Fallon, an Irish Republican Army foot soldier who turns his back on all the killing after a bomb meant for British troops instead blows up a busload of young schoolgirls. He escapes to England, where gangster Jack Meehan (a ridiculous Alan Bates) promises him safe passage to America if he performs one last hit. That assassination ends up being witnessed by Father Da Costa (Bob Hoskins, spirited yet miscast), but — shades of Hitchcock's I Confess — Fallon uses the confessional booth to prevent the priest from fingering him as the killer. That's not good enough for Meehan, and it all ends with a ludicrous scenario involving the priest, his blind niece (Sammi Davis), and a ticking bomb. Liam Neeson appears as Fallon's IRA comrade, but he doesn't rack up nearly as much screen time as the contrivances, coincidences and clichés.
Blu-ray extras include an interview with director Mike Hodges; the theatrical trailer; and an isolated track of Bill Conti's score.
Movie: **
Leonardo DiCaprio in The Revenant. (Photo: Fox)
THE REVENANT (2015). Last year's most overrated film is a stylistic study in overkill, and it served as masturbatory material for a segment of American males who clutched it like a crucifix in an attempt to ward off the encroaching new world order they feel downgrades machismo and manliness. In these respects, this intermittently interesting picture has less in common with such accomplished frontier flicks as Jeremiah Johnson and The Last of the Mohicans and instead brings to mind Mel Gibson's garish snuff films The Passion of the Christ and Apocalypto, chest-thumping works of endurance rather than enjoyment. Set in 1823, the film casts Leonardo DiCaprio as the real-life Hugh Glass, an accomplished frontiersman and guide traveling with a military outfit. After a close encounter with a grizzly bear leaves Glass critically injured, redneck soldier John Fitzgerald (Tom Hardy), who hates Glass just because, agrees to look after him; instead, he leaves him for dead. The end game is the familiar revenge motif, but here such a simple scenario buckles under the weight of director Alejandro González Iñárritu's approach. His artfulness too often feels at odds with the threadbare story, and his attempts at injecting elements of mysticism prove to be heavy-handed. And then there are the paper-thin protagonists Glass and Fitzgerald, neither of whom are particularly interesting as screen characters. Cooler heads prevailed at the Oscars and Spotlight beat this for Best Picture, but it still managed to snag prizes for DiCaprio (better choice: Trumbo's Bryan Cranston), Iñárritu (better choice: Mad Max: Fury Road's George Miller) and cinematographer Emmanuel Lubezski (better choice: Sicario's Roger Deakins).
Blu-ray extras consist of a making-of featurette and a photo gallery.
Movie: **1/2
Joan Fontaine and Cary Grant in Suspicion. (Photo: Warner Bros.)
SUSPICION (1941). Suspicion marked the first of four collaborations between Alfred Hitchcock and Cary Grant, and while few would consider it their best joint project — most would say North By Northwest, I would say Notorious — it's a decent thriller in its own right. And speaking of "notorious," that's an accurate assessment of that abrupt finale, one of the most famous "altered endings" in Hollywood history (a 180-degree change from that of the source material, Anthony Berkeley's novel Before the Fact). Joan Fontaine, reunited with Hitchcock the year after their smashing success with the Best Picture Oscar winner Rebecca, essays the role of Lina McLaidlaw, a young spinster who comes out of her shell after she meets and marries Johnnie Aysgarth (Grant), a bachelor who, it turns out, doesn't have a penny to his name. What he does have is a history of bad bets and big debts, and once his sins start to catch up with him, Lina begins to wonder if her husband is capable of murder. Nigel Bruce, best known as Dr. Watson to Basil Rathbone's Sherlock Holmes in the series of Arthur Conan Doyle adaptations, is a delight as Johnnie's best friend Beaky, and the film contains the sort of neat touches for which Hitchcock was celebrated (check out that glowing glass of milk). An Academy Award nominee for Best Picture and Best Dramatic Score, Suspicion (newly released on Blu-ray through Warner's Archive Collection) earned Fontaine the Best Actress Oscar — she's just fine, even though the feeling remains that the victory was a consolation prize for losing the previous year for Rebecca. As for Grant, he earned a Best Actor nomination for another 1941 release, the melodrama Penny Serenade. Incidentally, one of the film's three scripters was Hitchcock's wife, Alma Reville.
Blu-ray extras consist of a retrospective making-of featurette and the theatrical trailer.
Movie: ***
Clint Eastwood in Thunderbolt and Lightfoot. (Photo: Twilight Time)
THUNDERBOLT AND LIGHTFOOT (1974). The story goes that Clint Eastwood was so impressed with Michael Cimino's work on the script for the 1973 Dirty Harry sequel Magnum Force that he gave the up-and-comer the opportunity to both write and direct his next picture. The result was Thunderbolt and Lightfoot, a satisfying mix of a buddy picture and a heist yarn. Eastwood stars as a bank robber known as "The Thunderbolt," who finds himself hooking up with a sidekick of sorts, a brash kid named Lightfoot (Jeff Bridges). The pair eventually cross paths with two of Thunderbolt's former associates, the profane and volatile Red Leary (George Kennedy) and the sweet but dim-witted Eddie Goody (Geoffrey Lewis), and it's decided the quartet will attempt a bank job. But the wild card is Lightfoot: In addition to possibly being too green to pull off such an elaborate crime, his habit of ceaselessly annoying Red with his wisecracks adds an uncomfortable tension to an already precarious situation. Bridges earned a Best Supporting Actor Academy Award nomination for this film — he's terrific, with his funny, freewheeling turn effectively loosening up Eastwood and allowing the superstar to appear more relaxed and less tight-lipped than usual. Kennedy is memorable as a raging bull, while Lewis makes Eddie wholly sympathetic despite the limitations of the part (Lewis would end up making seven pictures with Eastwood). Following this film, Cimino worked on 1978's The Deer Hunter, winning Best Picture and Best Director Oscars, and then for all intents and purposes ended his career with the infamous 1980 megabomb Heaven's Gate.
Blu-ray extras include audio commentary by film historians Lem Dobbs, Julie Kirgo and Nick Redman; the theatrical trailer; and an isolated track of Dee Barton's score.
Movie: ***
Peter Fonda and Vanessa Zima in Ulee's Gold. (Photo: Kino & Orion)
ULEE'S GOLD (1997). From Titanic completely capsizing L.A. Confidential to Helen Hunt winning the Best Actress statue for a subpar turn in As Good As It Gets, the Oscar ceremony for the '97 season got plenty wrong in what was actually a decent year for cinema. One of the most annoying victories belonged to Jack Nicholson, a great actor who certainly didn't deserve that Academy Award (his third) for one of his least interesting performances in As Good As It Gets. The better choice was the turn delivered by fellow nominee Peter Fonda, who delivered the performance of his career in this excellent indie hit from writer-director Victor Nunez. Fonda never possessed the talent or enjoyed the success of his dad Henry and his sister Jane, but here he landed a role that beautifully played to his low-key strengths: Ulysses "Ulee" Jackson, a Florida beekeeper silently struggling with the fact that his family has been torn asunder by both internal and external forces. His beloved wife passed away six years ago; his son (Tom Wood) is in prison for robbery; his daughter-in-law (Christine Dunford) is a drug addict; and his two granddaughters (Vanessa Zuma and 15-year-old Jessica Biel in her film debut), who live under his care, constantly ask him difficult questions about their splintered family unit. But even as Ulee attempts to shut himself off from the past, he discovers that circumstances won't let him, and he soon experiences an unexpected emotional awakening. Nunez made an impression (and racked up Independent Spirit Award nominations) with 1993's lovely Ruby in Paradise and Ulee's Gold, but since then, he's only been able to make two barely seen obscurities. That's a real shame, since he proved himself to be a refreshing new voice in American cinema.
Blu-ray extras include interviews with Fonda and co-star Patricia Richardson (who plays a helpful neighbor), and the theatrical trailer.
Movie: ***1/2