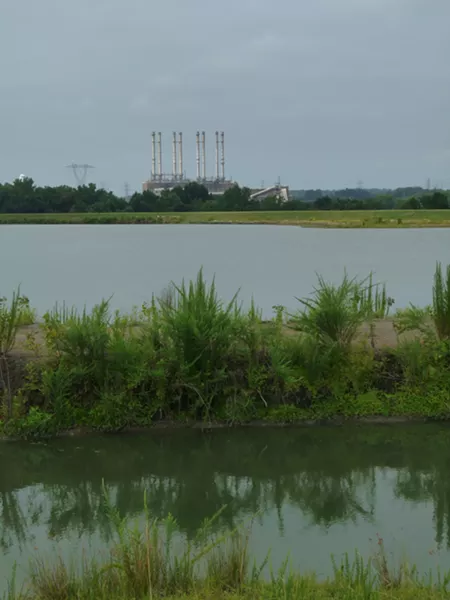 Photo by Rhiannon Fionn
Duke's Riverbend plant and coal ash ponds in 2009.
Back in March, the North Carolina Department of Natural Resources, now the Department of Environmental Quality, made news – and Duke Energy mad – when it fined the company $25.1 million dollars for groundwater contamination near its Sutton coal ash waste pits. Duke's response was to sue, and now the two parties have settled for what Sam Perkins, the Catawba Riverkeeper, says is a "diluted" amount.
But in a case of
dueling press releases
, Duke says the settlement was only for $7 million and that the rest of the money the state mentions is for cleanup costs that haven't actually been estimated yet.
"Lowering the fine – that's an understatement," says Cape Fear Riverkeeper Kemp Burdette, who watchdogs Duke's Sutton plant. "They've taken Sutton Lake's penalty from $25.1 million to basically $500k, so a 98 percent reduction in the fine," he added.
Instead of $25.1 million, the NCDEQ claims it settled for $20 million. But here's the rub: That amount is to cover "accelerated remediation" at 14 plants, not just the one. And the state can't tell me what "accelerated remediation" means. Beyond that, since a judge approved the settlement there will be no opportunity for public input. Near the bottom of the state's press release, the state wrote this:
Along with resolving the legal case, the estimated $20 million settlement prevents the state from incurring additional legal fees associated with protracted litigation.
That's PR-ese for "nanenahnah boo boo, you can't sue us now."
Burdette says the settlement smacks of the paltry $99,111 settlement the state offered Duke when it took over environmentalists' lawsuits a couple years ago, then rescinded after the company's 2014 Dan River coal ash spill. "We're right back to that same 'ol tired ass settlement they proposed early on when they didn't take any of this seriously. Well, they take it seriously now, but they seem to resent having to do their job," he said.
Check out
my full report for DeSmogBlog.com
, where I detail the state's attempt to keep our interview off the record – as if they were saying anything off-the-record worthy. Also included is Duke's hedging on whether or not the settlement plant will lead to a rate hike for its customers. Here's an excerpt:
"This is the single largest fine ever issued in North Carolina for environmental damages. We are the first administration against Duke Energy on coal ash. And this settlement allows us to hold Duke Energy accountable and to focus all of our efforts on the cleanup and closure process."

But the state's first coal ash regulations became law under a previous administration, and Feldman seemed unaware that Duke Energy's groundwater assessment reports were conducted by third-party engineering firms. She was testy when asked why certain plants were left out of the settlement — including the site of the company's Dan River coal ash spill in Feb. 2014, the third largest in U.S. history.

Feldman said the DEQ has received, but not reviewed, assessments for its Dan River and Riverbend sites. Riverbend is on the banks of the city of Charlotte's main drinking water reservoir.
Below is a video from 2013 showing Riverbend's coal ash ponds and their proximity to Charlote's drinking water.



Rhiannon Fionn is a long-time contributor to Creative Loafing and an award-winning independent journalist who has covered the coal ash issue since 2009. She is currently working on a documentary film, "Coal Ash Chronicles," and a cover story for CL that will appear in print and online in mid-October.