Editor's note: In this series, local author David Aaron Moore answers reader-submitted questions about unusual, noteworthy or historic people, places and things in Charlotte. Submit inquires to [email protected].
When I was a kid my parents used to take us to Carowinds. After a long, hard and hot day playing, we'd all pile onto the monorail and ride around to cool off in the breeze. I visited recently with my own children and was sorry to see the monorail is no longer there. Do you know what happened to it? - Paul Wilson, Charlotte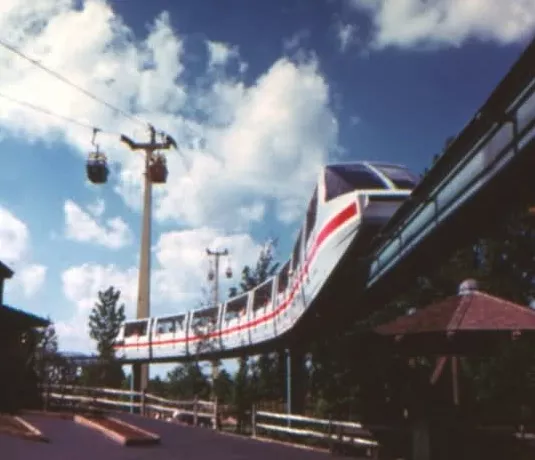 It's gone, as are several other less thrilling attractions, like the old train, the skylift, the "jalopy" car rides and a steamboat known as the Carolina Sternwheeler.
Carowinds, which opened on March 31, 1973, began as an old-school-style theme park that offered various rides and attractions for just about everybody. Now, white knuckle, flip 'n' scream rides are just about all the park offers.
"It seems like people are more interested in thrill rides," said a Carowinds spokesperson in a 1994 article that appeared in the Charlotte Observer. "All across the country you see thrill rides going into place. I think we're safe in saying you can see that here."
That same article detailed what ultimately happened to the monorail in question, the only one of its kind in the South.
Sleek, needle-nosed and reminiscent of a Japanese bullet train, the monorail took passengers on a mild spin around the park and outside the grounds to an undeveloped wooded area, with no stops in between. It was originally meant to serve a hotel that, per the park's original plans, would have been in the wooded area. The hotel was never built, and the monorail was pretty much a ride to nowhere.
Still, it was extremely popular, attracting a daily ridership of more than 7,000 during its heyday.
But in September 1994, just after 21 years of service and still looking every bit as futuristic as Moon Base Alpha on the old sci-fi series Space: 1999, the monorail was dismantled.
After being sold to Preferred Vacations Inc., it was shipped to Acapulco, Mexico, where it was reassembled to serve as transportation between the Vidafel Mayan Palace Resort and other nearby condos and attractions.
If you're feeling nostalgic about the old park, take a look at this eight-millimeter film on YouTube. Shot in the 1970s, it includes footage of the steam boat and monorail.
Moore is the author of Charlotte: Murder, Mystery and Mayhem. His writings have appeared in numerous publications throughout the U.S. and Canada.