Editor's note: In this series, local author David Aaron Moore answers reader-submitted questions about unusual, noteworthy or historic people, places and things in Charlotte. Submit inquires to [email protected]

Charlotte used to have several drive-in movie theaters. With warmer weather finally here, I started to remember what a good time it was to watch a film outdoors. I'd pile in a car with friends, and we would spend the night outside in lawn chairs or on the hood of the car, watching some crazy horror flick. I thought it would be fun to go again, but I can't seem to find any. Are they all gone.? - Darryl Johnson, Belmont
Yes and no. In Charlotte proper, drive-in theaters have gone the way of restaurants like Wiener King and mass transit like the city's old trolley system. Up until last year, there was the old Belmont Drive-In, just across the Gaston County line, but it has since closed.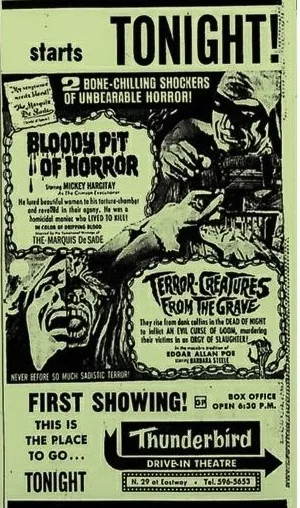 Years ago, Charlotte was brimming with the once-popular family entertainment getaways. They provided a fun and inexpensive night out on the town for a date, a party with friends, or quality family time with mom, dad and all the kids. Pack everyone into one of those old massive eight-cylinder sedans, pay the requisite price for a carload, hook one of the driver's side squawk boxes onto your door, and watch the latest big-screen hits or the best in bad B movie fare, usually in a double feature.
In addition to the Thunderbird - which touted the most neon-lit theater marquee in the region - and the Queen City, Charlotte boasted a number of other outdoor cinemas, such as the Fox, South and North 29, the York Road Drive-In, and the Viking Twin, among others.
But they didn't last long.
"My folks used to talk about going to the Queen City Drive-In on dates when they first met in the 1950s," said Vera Saxxon, who grew up here but now makes her home in Denver, Colo. "By the time my parents were taking my sister and me to the Thunderbird Drive-In back in Charlotte, it was the 1970s and drive-ins were already becoming a thing of the past."
As Saxxon indicates, the quality of drive-in theaters began to take a nose dive in the 1970s. Venues that kicked off decades earlier with mainstream family fare eventually switched to budget gore. Some would later opt for X-rated adult films.
With rising gas prices, small and cramped boring cars, and the advent of home video, people began to turn away from drive-ins by the early 1980s. In Charlotte, they now exist only in memory.
But all is not lost if you're willing to take a short drive to one of the city's nearby suburbs. You can still catch celluloid at its finest (well, sort of) on the big screen and under the stars at three locations that won't drain your gas tank.
Albemarle has the Badin Drive-In. The Bessemer City-Kings Mountain Drive-In still attracts crowds, while Shelby continues to entertain locals and nearby residents with screenings at the Sunset Drive-In.
Though many of today's film fans view drive-ins as obsolete, there's something to be said for the retro experience. On a temperate clear night, it's an adventure that can't be beat.
Moore is the author of Charlotte: Murder, Mystery and Mayhem. His writings have appeared in numerous publications throughout the U.S. and Canada.