On Monday the Catawba Riverkeeper Foundation announced that it has hired a new riverkeeper, who is kinda the same as the old riverkeeper.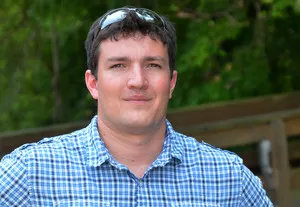 Catawba Riverkeeper Foundation
Sam Perkins
Lemme 'splain: Sam Perkins, now the fourth Catawba riverkeeper since the organization's inception in 1998, has been out and about on behalf of the foundation for more than a year, appearing on the news, policing the coal ash ponds on Mountain Island Lake, appearing at public meetings, and watch-dogging other river concerns.
During that time, the foundation has been searching for a replacement for David Merryman, the last Catawba riverkeeper. Rick Gaskins, the organization's executive director, has acted as an interim riverkeeper.
Perkins likened his new position to that of a general manager. But on top of overseeing the nonprofit, he's also directly involved in many of its environmental initiatives, including taking samples around coal ash ponds and testing sites that might have sewage or sediment contamination. The Catawba Riverkeeper Foundation is "the only organization completely dedicated to protecting the Catawba River, its dreams and creeks and watershed," Perkins said.
From The Lake Wylie Pilot:

"During the past year, Sam has proven himself to be energetic, knowledgeable and willing to work countless hours to help protect the Catawba River," Gaskins said.
According to a press release, Perkins received a master of science degree in marine sciences from UNC Chapel Hill, where he studied hydrology and geochemistry on the Haw River. Prior to graduate school, Perkins received two undergraduate degrees from Chapel Hill - one from the journalism school and the other from the Institute for the Environment.
So, there you go: New (river) boss is (practically) same as the old (river) boss.