Marilyn Manson w/ Picture Me Broken
The Fillmore
July 15, 2013
In the mid-90s, Marilyn Manson gave me nightmares. His video for "Sweet Dreams (Are Made of This)" was one of the most disturbing things I had seen in years. He brought shock rock - the kind done by Alice Cooper for decades - back to life. And then I saw him in concert. His 2000 performance in Greensboro, N.C., was energetic, rowdy, raunchy and, like the average car wreck, I couldn't take my eyes off of it. One week later, I saw him in Charlotte, and realized something - it's all an act. His show was exactly the same. He paced the same way, he said the same things to the crowd, his banter was all but read from a teleprompter.
Last night's concert at the sold-out Fillmore in Charlotte was no different. Watch an online video and you realize he, just like Cooper and plenty of other artists, does the same thing night after night. That's not so shocking... it's also not shocking that he does what he does very well.
He smears the bright red makeup on his lips. He writhes around on stage in all black - with a handful of costume changes. He paces and stares into the crowd while screaming lyrics with abandon. He tears up Bibles and tosses microphones. He walked around on stilts for "Sweet Dreams" and donned a fur coat for "The Dope Show." He had the majority of 2,000 people at the Fillmore singing along to every word he sang for roughly 75 minutes.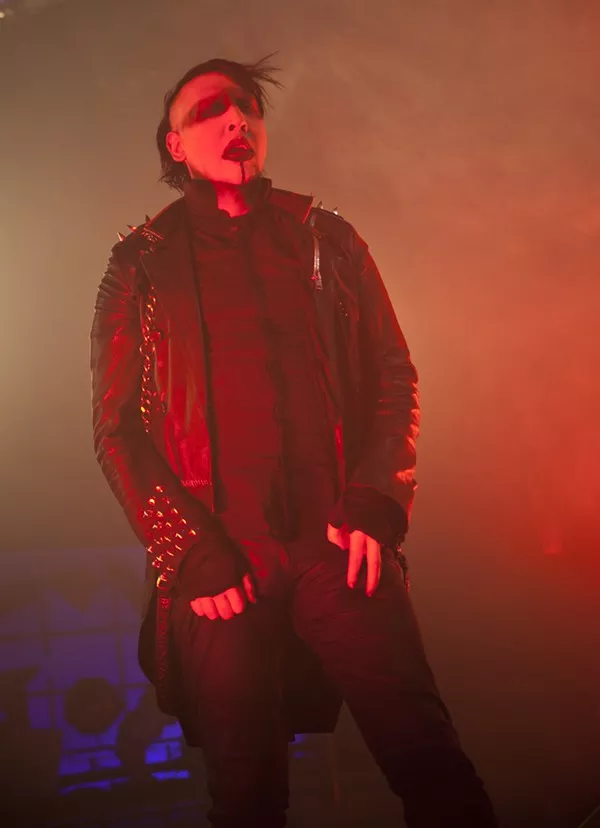 He ran through hit after hit - the guitars crunching, his vocals soaked in raspy anguish - while, sadly, dozens in the crowd paid attention to the backs of their cell phones in efforts to take photos and videos... and then it was over.
He performed one song, "No Reflection," from his latest album, Born Villain. There was no "Lunchbox," "Irresponsible Hate Anthem" or "1996." He didn't play "Tourniquet," "I Don't Like the Drugs" or "The Fight Song." Nothing from 2007's Eat Me, Drink Me or 2009's The High End of Low, though most people probably didn't mind that as much.
But while many fans were left wanting a lot more, what Manson did offer was solid and intense - musically, vocally and as an overall performance. If he didn't do it well, he would have disappeared a long time ago.
RANDOM NOTES:
* A handful of protesters gathered across the street from the Fillmore shouting religious things and basically telling all concert-goers they were going to hell. Does that ever work?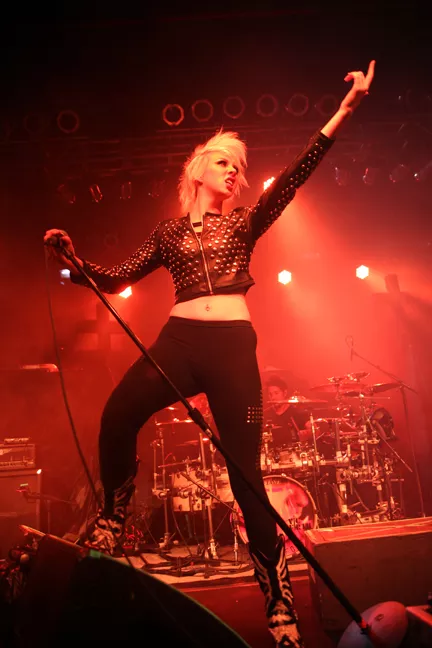 * The night opened with a solid set by Picture Me Broken, featuring Layla Brooklyn Allman, daughter of Gregg Allman.
* Manson mentioned that "The Beautiful People" was written in a Holiday Inn in Charlotte many years ago.

Setlist
Angel With the Scabbed Wings
Disposable Teens
No Reflection
Little Horn
The Dope Show
Rock Is Dead
Disassociative
Personal Jesus
mOBSCENE
This Is the New Shit
Sweet Dreams (Are Made of This)
Antichrist Superstar
Encore
The Beautiful People