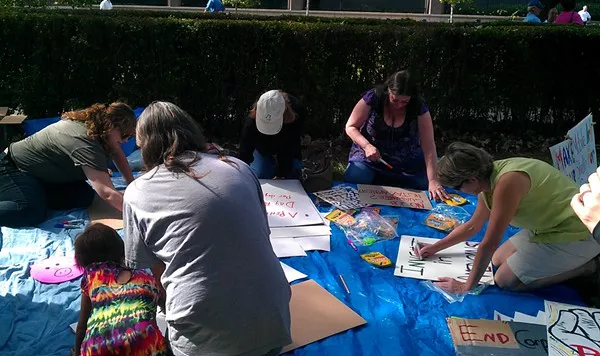 Making signs at the art station on Oct. 8
As promised in an earlier post, CL continues to bring you voices from the occupation of Charlotte — individual participants, in their own words, talking about why they joined the local Occupy movement.
On Sat., Oct. 9, we visited with Joseph from Greenville, N.C., who came to check out Occupy Charlotte so that he can learn more about the movement and take his new found knowledge back to his city's Occupying force.
We asked him the same three questions we've asked others in our "in their own words" series: Who are you? Where are you from? Why are you here?
He said, in part, "In the United States we have so much ability to provide for everyone. It's not fair that so many end up homeless and hungry when we can have so much wealth possible to us."
Listen to Joseph in his own words:
Further reading:
24 Hours with Occupy Charlotte
Occupy Charlotte: Working Out the Glitches
CMPD holds Occupy Charlotte press conference
Listen to voices from Wednesday's #OccupyUNCC
Who are the 99 percent?
Oct. 1: The birth of Occupy Charlotte