On Saturday, my former intern Saint Sarah tied the knot to her college sweetheart. There's something about watching your intern get married that feels as joyful as watching your daughter get married, but also as depressing as burying her. And not because of the "weddings are like funerals" analogy Brotha Fred and I made in our duet column, but because she's so much younger than me. It makes me feel like I'm starting a downward spiral to spinster. Like I should start wearing a fanny pack and get a cat, even though I don't like them.
She sent me an invitation with a personal message attached: "I know you hate weddings, but it would mean the world to me if you came to mine."
How can I RSVP no to that?
Turns out, it might have been the best wedding I've ever been to. A small, low-key, quick ceremony at the Ballantyne Country Club. A woman as the Best Man, and a Man of Honor versus a Maid. Macaroni and cheese balls and Scottish egg appetizers. Cupcakes instead of a wedding cake, and a groom cake in the shape of an X-Box. A DJ that gave everyone straw hats and sunglasses to do a conga line. Nothing was traditional about her wedding, other than traditions that are dear to her and her husband.
I always told Sarah to march to the beat of her own drum. And I couldn't be prouder of her for marching to the beat of her heart as well.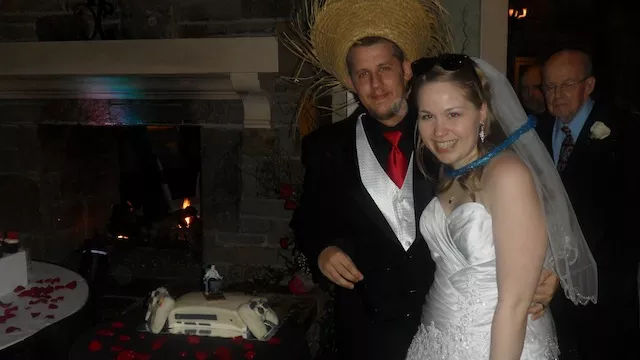 It wasn't a big production that would turn my sweet Saint Sarah into a bridezilla. It was a beautiful, intimate celebration of two people venturing into the real world together. They even had cocktail napkins explaining how they came to date ... he accidentally hit her with a car. Now that's a surefire way to get someone's attention!
That day I learned something from my intern. She taught me what I had forgotten about relationships. And she restored my faith in marriage by having a wedding that was about the marriage ... not the wedding.
So when planning a wedding, perhaps we should only pay attention to the details that matter, like our marriage. The wedding lasts a night, and the marriage lasts a lifetime (at least, that's the plan).