When you think of Vietnamese comfort food, it is only natural to let your appetite drift toward the piping hot, get-in-my-belly-and-heal-my-hangover-now bowl of pho. I get it. But, journey with me for a second into the realm of an equally comforting Vietnamese dish, one that soothes and slurps and fits right into the summer repertoire, thanks to room-temperature vermicelli noodles, fistfuls of fresh herbs and grilled meats. I'm talking about bun, and Viet Thai near Pineville-Matthews serves a mean and satisfying bowl with variations to suit nearly every palate.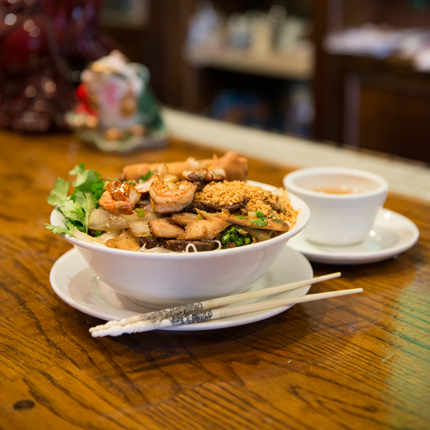 Today, we're talking about the House Special, or the No. 28. That's what you will say when you order it. The official name for it is Bun Dac Biet, which loosely translates to "bun with all the things." It is a combination bowl topped with shrimp, beef, pork and chicken, plus a slender, crispy egg roll for good measure. Bun makes for a perfect lunch or light summertime dinner. Diners get a heaping nest of vermicelli noodles topped with marinated and grilled shrimp, pork belly, beef, chicken and onions. Viet Thai adds julienned carrots and cucumbers and garnishes with an ample bunch of cilantro. As with all bun, diners receive a side of nuoc cham, fish dipping sauce made of fish sauce, garlic, chiles, vinegar, sugar and sometimes lime (Viet Thai does not include lime in its nuoc cham). Promptly dump the pungent, sweet-savory sauce onto your bun bowl, along with your own concoction of hoisin sauce and/or sriracha, and start making magic. The joy of eating bun comes when all the flavors begin to harmonize into something other than their singular components. The nuoc cham loosens up the cool noodles and things start getting deliciously messy.
Paul Khamvongsa, manager of the family-owned Viet Thai, says that his family (he is one of seven children) would grill out together, and when they were too lazy to put everything inside a wrap, they would simply put it in a bowl. As a child, he didn't realize that he was eating bun the whole time. Viet Thai offers a wide variety of bun combinations to choose from and at a max price point of $12.50 per bowl, it's well worth it.
Got a favorite dish in Charlotte? Share it with me at [email protected].
Viet Thai is located at 8314 Pineville-Matthews Rd #901.