"Come on down and party with the Mad Monsters!"
That's the sage advice given by Joe Moe, and his exuberance is understandable. Moe, who created the Mad Monster Party along with Eben McGarr, has seen the selection of Charlotte as a host city for the event pay off. And after two successful conventions, the pair are back with the third annual Mad Monster Party, to be held March 21-23 at the Hilton Charlotte University Place.
Cassandra Peterson, better known as Elvira, Mistress of the Dark, will sign autographs as herself on Friday and Sunday and as her alter ego on Saturday.
As before, there will be celebrity signings, vendor booths, unique exhibits — but why prattle on, when one of the men behind this incredible event is on hand to personally give us the lowdown?
Creative Loafing: I know I speak for a lot of Charlotteans when I say that I'm thrilled Mad Monster Party is returning to our neck of the woods, as it looked like it might be moving to Charleston or somewhere else. Can you elaborate on the difficulties you had with venues and on the success of being able to keep it in town?
Joe Moe: Our former venue was in constant transition with ownership, management and every other element. It began to feel as if we were begging them to let us bring them a successful show that had already brought dollars through their doors for the past two years — and that benefitted the Charlotte community they themselves were trying to be a part of! After struggling to negotiate just to maintain the deal we'd already established with them for two years — and getting nowhere — we finally threw our hands up and the Hilton Charlotte University Place threw their arms around us and welcomed us to their deluxe venue. And it's really been a step up and a great experience from then on out.
A burlesque show, a charity auction — sounds like you have some interesting events lined up. Can you tell us about some of them?
By design, there's something for everyone. Panels, screenings, shows, celebrities signing autographs and surprises day and night. Elvira will appear on Saturday. Oh, and the actress who plays her, Cassandra Peterson, will be there on Friday and Sunday. Speaking of the burlesque show, the absolute queen of burlesque, Gia Nova, will be performing her dark and lovely brand of striptease!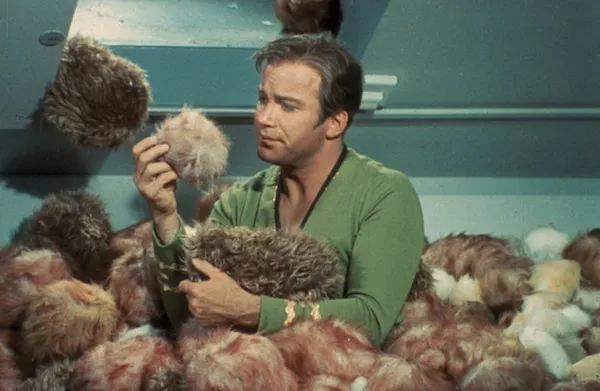 William Shatner, Star Trek's James T. Kirk himself, will be at the Mad Monster Party Friday and Saturday. (Photo: Paramount)
It's interesting how you sometimes book celebrities who have all worked on one film or series; e.g. this year with The Rocky Horror Picture Show, The Twilight Zone, etc. When this happens, is it a conscious decision from the start to go after these people, or does the idea sink in after you've booked a couple of people with overlaps and then it expands from there?
Eben is a mad genius when it comes to his obsessive drive to populate our shows with hard-to-get or even first-time guests and to make sure everyone fits into the Mad Monster creative programming. His OCD is our gain as he finds ways to bring in guests everyone is dying to see. William Shatner is thrilled to be coming to discuss The Twilight Zone and not that other sci-fi TV show. You know? The title will come to me ...
Shatner and Hulk Hogan are obviously two of the big-ticket items, but are there other specific celebrities that you've been hearing online fans especially excited about seeing?
Elvira, Jane Badler [the TV miniseries and subsequent show V], John Schneider, Henry Winkler and Corey Feldman seem to be causing quite a buzz. We get a lot of e-mails about Doyle from the Misfits and Cherie Currie from the Runaways, too. I think all of our guests have a pretty strong following of their own.
Personally, I'm thrilled about Dick Miller's appearance. I'll be catching that new documentary about him (That Guy Dick Miller) next month at a film festival. Have you had a chance to see it yet?
For us hardcore grown-up fans, Dick Miller is an icon. He's popped up in so many great horror films. This is such a terrific opportunity to meet and thank the man who appeared in so many of our nightmares. I haven't got to see That Guy yet, but I love that guy.
OK, you've been visiting here for a few years now. You must have some favorite local eateries or bars. Care to give them a shout-out?
The crew loves to eat BBQ at Mac's Speed Shop. And Eben took me to my first Cracker Barrel. That may be common to you all, but for this Hawaiian boy, it's pretty exotic!
(The Mad Monster Party will be held March 21-23 at Hilton Charlotte University Place, 8629 J.M. Keynes Dr. Both single day and weekend passes available; prices vary. Details: www.themadmonsterparty.com.)
CELEBRITY SIGHTINGS
Richard Kiel, a.k.a. Jaws in two James Bond adventures. (Photo: MGM)
Over three dozen celebrities are currently scheduled to appear during the three-day run of Mad Monster Party. You can go to the website at www.themadmonsterparty.com to see the complete list; in the meantime, here are 10 noteworthy figures who caught my eye.
Corey Feldman — Friday the 13th: The Final Chapter; Gremlins; The Goonies; The Lost Boys; Teenage Mutant Ninja Turtles; Bordello of Blood
Ken Foree — Dawn of the Dead; Knightriders; From Beyond; Leatherface: Texas Chainsaw Massacre III; The Devil's Rejects; The Lords of Salem
Sid Haig — Blood Bath; Spider Baby; THX 1138; Galaxy of Terror; House of 1000 Corpses; The Devil's Rejects
Richard Kiel — The Twilight Zone; Eegah!; Kolchak: The Night Stalker; Jaws in The Spy Who Loved Me and Moonraker; The Humanoid
Dick Miller — A Bucket of Blood; The Terror; Piranha; The Howling; Gremlins; The Terminator; countless more
Michael J. Pollard — American Gothic; Scrooged; Dick Tracy; Skeeter; House of 1000 Corpses (plus, an Academy Award nominee for Bonnie and Clyde)
Tom Savini — Makeup artist & actor: Martin; Dawn of the Dead; Friday the 13th; Maniac; Creepshow; Two Evil Eyes
Anne Serling — Daughter of The Twilight Zone creator/host Rod Serling; author of As I Knew Him: My Dad, Rod Serling
William Shatner — The Twilight Zone; Incubus; Star Trek; The Devil's Rain; The Kingdom of the Spiders; Visiting Hours
Henry Winkler — Scream; Little Nicky; Click (and, of course, Fonzie on Happy Days)
Plus, a special shout-out to The Rocky Horror Picture Show trio of Barry Bostwick (Brad), Little Nell (Columbia) and Patricia Quinn (Magenta)
MAD MOVIES
A scene from Alien Abduction. (Photo: IFC Films)
A convention that celebrates movie monsters wouldn't seem complete without monster movies on hand, so once again, Mutantville.com will present the Mad Monster Party Film Festival. Over the course of the weekend, there will be screenings of feature-length flicks as well as blocks of shorts.
A couple of the titles, All Cheerleaders Die and Alien Abduction, are being shown courtesy of the Back Alley Film Series, while another, the enjoyable documentary Adjust Your Tracking: The Untold Story of the VHS Collector, was previously brought to town by BAFS but is certainly worthy of added exposure at the MMP. Other titles include a special screening of the pilot for the new CW sci-fi series The 100; Satann, described as an Indian remake of The Exorcist; and the thriller The Morningside Monster.
In addition to the works included in the film festival, the Mad Monster Party will also present a pair of special screenings. One is a sneak preview of Smothered, written, directed and starring former The Dukes of Hazzard star John Schneider (and sponsored in part by BAFS), while the other is The Rocky Horror Picture Show, with cast members Barry Bostwick, Little Nell and Patricia Quinn on hand (and presented by That Type and Cinebarre).
For complete details, head to www.themadmonsterparty.com.