When Justin Fedor came into the Hygge West podcast studio for this week's episode of Creative Loafing's Local Vibes, he was a bit dazed, looking as though he'd just been held at gunpoint. As it turns out, that's exactly what had happened.
Fedor and some friends had been hanging out at his home in Plaza Midwood the night before when an armed man came in, demanding money. No one was hurt in the incident, but Fedor was clearly traumatized. We didn't talk about it on the podcast — he wasn't ready for that. But he did say one thing before we began rolling tape that pinpoints the kind of guy Fedor is. After the perpetrator ran out the door, some of Fedor's friends made some pretty negative comments about the man and suggested they should have had a gun in the house. Naturally, they were angry and scared and wanted revenge. But Fedor — one of the two people in the house who had the gun pointed at his head — told them to knock it off.
"We don't know why this man was so desperate that he felt the need to come in, armed, and demand money," Fedor said. "He may have needed it for his family."
That's not the reaction most people would have after just having a gun put to their head. But that's the kind of guy Justin Fedor is.
For the past four years, Fedor, 40, a member of the Charlotte bands New Familiars and Ancient Cities, has been putting on tribute concerts to benefit Levine Children's Hospital. He started doing the concerts after several of his friends were simultaneously dealing with sick children. Right at the time he was organizing his first Levine benefit, in 2013, Ray Manzarek, the keyboardist for The Doors, died. Fedor had an idea: the benefit would be a tribute to the music of the Doors played by several Charlotte bands.
Ancient Cities are Justin Faircloth (from left), Stephen Warwick, and Fedor. (Photo by McKay Pruitt)
Since then, Fedor has organized nine more benefit concerts for Levine, and raised $50,000, with benefits following the deaths of other legendary musicians: Lou Reed, later in 2013, and the Everly Brothers, shortly after the death of Phil Everly in 2014. But Fedor didn't want to wait for yet another rock-star death to continue his benefits. He's branched out to doing tributes to cities and decades. In 2015, on the 14th anniversary of the 9/11 attacks, he staged a benefit featuring a tribute to the music of New York City, with bands covering artists ranging from Bob Dylan and Simon & Garfunkel to the Velvet Underground and Ramones. He's also done tributes to decades: the '70s, the '80s and the '90s.
When Tom Petty died in October, Fedor decided his next benefit was a natural, and on Friday, December 8, Fedor's Ancient Cities will join The Business People, The Sammies, Jason Scavone, The Bleeps, Vermillion, Gogo Pilot, Ross Adams, Late Night Special and more to pay tribute to Tom Petty and the Heartbreakers, rocking out on songs ranging from "American Girl" and "Refugee" to "Don't Come Around Here No More." The latter will be done by Ancient Cities, and you can hear it on this week's Local Vibes podcast.
Petty tribute to benefit Children's Hospital
A few days after we recorded the podcast, I sat down with Fedor at Free Range Brewery in NoDa to get a little insight on where his seemingly endless fount of compassion comes from. Born in 1977 in Keene, New Hampshire, and raised in Greensboro, Fedor is the third born of four siblings, an older biological brother and younger biological sister, and an adopted older brother who is black. Growing up with a black brother in an otherwise white family gave Fedor a tiny window into racism to which most white folks aren't privy.
"I've been in a car with a bunch of high school kids when we'd get pulled over and the only person in the car who would get frisked would be my brother," Fedor said. "At one point, we moved to Rocky Mount, North Carolina, and we had a church ask us not to come back anymore because we had a black son in the family. I can't tell you how many schoolyard fights I had all the way through high school because kids would call me a [N-word] lover. Growing up in the South for us was a challenge."
It was also a lesson for Fedor and his siblings — in the power of loyalty, love and compassion. On Fedor's birthday in October, his brother Jason, the black brother, posted to Facebook a photo of the two of them with their father, who served in Vietnam, when the two boys were kids. Jason wrote, "My brother Justin once sullenly asked, 'Father, why did you go to war?' He calmly replied, 'Son, so you will not have to.' Happy Birthday to my younger and wise brother, born on Halloween. Your big brother loves you."
When Justin Fedor got himself a Blue Ridge acoustic guitar in middle school and began making music, he brought that compassion and wisdom with him. He played in a band that took inspiration from R.E.M. and the Velvet Underground during high school, and joined a jam band, None the Wiser, during his senior year in college at UNCG. A star soccer player in high school, Fedor had chosen UNCG for its outstanding soccer program, but gave it up for music.
Justin Fedor (Photo by McKay Pruitt)
"I remember calling my coach and saying, 'I started playing in this band and I don't really want to play soccer anymore.' I mean, when you start to look down the barrel of the gun" — he said, not even acknowledging the recent irony in his choice of expressions — "you realize that playing soccer your whole life ain't gonna happen. But you can literally play music your whole life. Like, I sat on the front row during Doc Watson's last show at the Neighborhood Theatre before he died, and he was in his eighties and still playing as well as he ever did."
Fedor was playing the regional circuit with None the Wiser when his girlfriend at the time convinced him to get a corporate job that took him to Arizona as the district manager of a clothing company. The job had great perks and he made good money, but Fedor wanted to do music, so he quit the job, moved to Charlotte and joined up with some old high school friends he knew here — Eric-Scott Guthrie and James Stratford, as well as Josh Daniel — to form the New Familiars, playing guitar, banjo and mandolin. That's when the tribute bug hit him. The New Familiars had opened a concert by The Band's drummer Levon Helm in 2010, and after Helm died two years later, Fedor and company began doing an annual Levon Helm tribute show.
A more bizarre opening slot for the New Familiars came when the band was asked to play before a speech by Vice President Joe Biden at the Fillmore during the Democratic National Convention in 2012. Fedor described it on the Local Vibes podcast as the weirdest show the band had ever done.
"They were like, 'OK, you're the Charlotte band and you guys are acoustic, so it'll be super easy — just walk up there onstage and play your little mandolin and banjo and it'll be great," Fedor said. "So we go up there expecting to do our adult-contemporary bluegrass number, and the first song in, the crowd was just not happy. The ladies in the front row start screaming 'Sly and the Family Stone' at us — like, 'Play anything but this country music you're playing.' So I turn and I look at Josh, and I'm like, 'I don't know — the only song we know that's anywhere in that world is Bill Withers,' and [Josh is] like, 'Uh, I guess.' And we play it and they loved it. It was like, 'Yes! Thank god we saved it.' Because I really wanted Obama to win and I'd really feel terrible if I ruined it."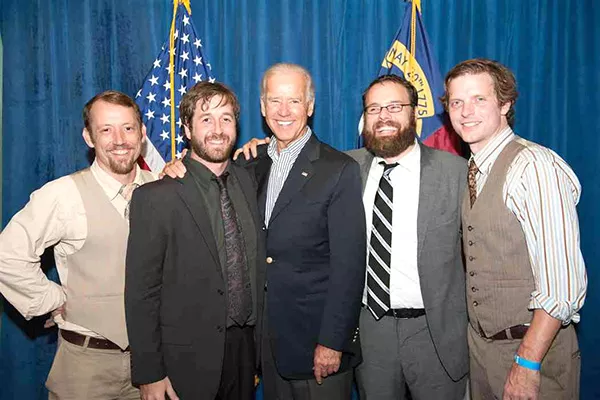 Vice President Joe Biden flanked by New Familiars Daniel Flynn (from left), Pat Maholland, Josh Daniel and Fedor.(Photo courtesy of Biden Press Staff)
After several years playing with the New Familiars, the band backed off from touring, and Fedor joined Ancient Cities as the band's bassist. He also plays solo acoustic music under his own name along with fiddler Frank Bronson. Earlier this year, Fedor and Bronson were asked to appear alongside Dolly Parton, Emmylou Harris, Steve Earle and others in the acclaimed docudrama Born In Bristol, about the iconic 1927 Bristol, Tennessee, recording sessions that introduced the world to country music and such country pioneers as Jimmie Rodgers and the Carter Family; those sessions are considered by many to be the genesis of modern country music. The film has screened at both the Cannes and Sundance film festivals.
But as much as any band or solo gig, Fedor, who perhaps ironically has no children of his own, considers his main gig to be a musical philanthropist who organizes tributes to raise money for sick children.
"My inspiration for starting these tributes was George Harrison's Concert for Bangladesh," Fedor said, referring to the 1971 benefit — featuring former Beatles Harrison and Ringo Starr, along with Bob Dylan, Eric Clapton, Billy Preston, Leon Russell, Badfinger and raga musicians Ravi Shankar and Ali Akbar Khan — that inspired many other mega-benefit concerts such as Live Aid, in the 1980s. "I kind of wanted to recreate the Concert for Bangladesh," Fedor said, laughing, "but I figured it might be difficult to get Ringo and Paul together to do something at the Neighborhood Theare.
Fedor's first Levine benefit was a tribute to the Doors
"But seriously," he continued, "what happened was that the Neighborhood Theatre had approached me about the New Familiars or Ancient Cities doing a show there, and both of us already had obligations, but I had a wild idea about bringing a bunch of bands together to do some sort of show to raise money for the greater good. And then Ray Manzarek died. And my friend's child had just died from a defective heart, and they had fought for three months trying to keep him alive. So a lightbulb just went off in my head: We could do a Doors tribute and give all the money to Levine Children's Hospital. And then after the show, it was like, 'Holy shit, we have to do this again.'"
Fedor's patronage has not been taken for granted by the hospital. "Levine Children's Hospital was built by the community for the community, and we are made better every day thanks to community volunteers like Justin Fedor," said Mark Griffith, Assistant Vice President of Major Gifts at Carolinas HealthCare Foundation. "We are grateful that he continues to think of Levine Children's Hospital as the beneficiary of his many tribute concerts."
On that dark night a couple of weeks ago, when a young man walked into Fedor's home and put a gun to his head, the young man had no idea what Charlotte would have lost had he pulled the trigger. But that didn't happen. And the fact that it didn't happen makes one think that somehow, in the cosmic scheme of things, it wasn't supposed to.
No one knows why the man chose to enter Fedor's home that night with a gun, but Fedor posted a message to him on his Facebook page shortly afterwards. It read, in part: "I will continue to fight for you. I see your desperation and I believe it can be defeated. Our system is broken. Education is failing you. Healthcare is failing you. I believe we can all come up together. I believe we can do a better job of taking care of one another, and I am sorry that you felt so desperate that you felt the need to threaten mine and my friend's life for a few measly dollars. No amount of money is worth a human life ... Peace be with you all. I am grateful to be here and hopeful that we will all see each other again further on down the road."
Compassion. It just seems to come naturally to Justin Fedor.