If you still don't know who
Ollia Tzarina
or
@oli_tzari on Instagram
is, then you are living under a rock. The jaw dropping, blue-eyed brunette designer is the mastermind behind the fluffy colourful coats that have taken over
Hollywood
.
Her coats have been seen on Ariana Grande, Jennifer Lopez, Mary J Blige, the Jenner's, the Kardashian's, Beyonce, just to name a few. With global clout, it's no wonder that the young designer is turning heads as an entrepreneur to keep an eye on. She has gained attention from many on Instagram including
Forbes
listed billionaires and superstars like Meek Mill who is only the biggest rapper in the world right now.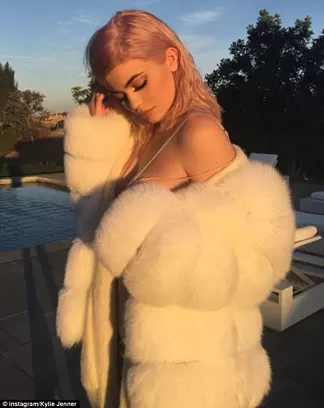 Kylie Jenner is regularly pictured wearing Ollia's designs
It's quite a dream come true for someone who was in her own words was "bullied throughout her entire stay at a very strict catholic school outside of London". Ollia persevered and went on to become an intern at Vogue and Tatler magazines. In 2015, Greek-Russian Tzarina launched her brand Tzarina By Ollia, in her bedroom. Within a few months many she was offering fur coats and gilets to A-list celebrities. The brand grew quickly and Tzarina diverted into the faux market where for the brand to survive you had to do volumes, work with influencers, and maintain mass distribution. She had a great offer to sell and took it. Tzarina sold the brand to an undisclosed buyer in 2018 and is now working on new and exciting projects.
Now, in partnership with Pakistani businessman
Asghar Khan
, she's working on new business. Together, the two are launching a couple ventures. A high-end first ever non-pharmaceutical, 100% bio skincare brand '
Bio Lab Exotique
' and a streetwear line '
The Basics
' which is made in Monte Carlo, where Ollia currently lives.
Clean Beauty is amongst the biggest trends in the beauty industry today. This organic high-end skincare range was created using ingredients sourced on privately sustained plantations in Africa.
Ollia's skincare brand has one sole aim: to show that chemicals are simply not needed when it comes to treating skin conditions such as eczema or even to help collagen production and provide intense hydration.
Bio Lab Exotique
has virtually no chemicals. A lot of brands claim to be pure organic but if you go to Sephora and check the ingredients, you will see this is far far from true unfortunately, says Ollia.
In a recently feature on a EuroNews channel, Ollia was asked what is so special about her new brand. Her answer was telling -
"I have been using brands such as La Prairie and La Mer all my life, but when I went to Africa and tested some of the most rare oils, those have shocked me! They feel and act like a max strength intensive treatment, this is how the idea of our line was born."
"We have ensured that we will only be dealing with suppliers who produce biodegradable materials in the most carbon neutral way. We were able to accurately assess this during our tour of farms and extraction facilities in Africa and were deeply satisfied."
Stay tuned and follow Ollia on Instagram
www.olitzari.com