"In a world of thieves, the only final sin is stupidity." Capitalism may be dying, but while it's on its last legs, we suggest you spend your hard-earned bucks on the following businesses and services...
Best Video Store - VisArt
Mickey Aberman paraphrases Mark Twain when he looks at the ups and downs of owning Charlotte's most beloved and hip video store VisArt Video.
"Reports of VisArt's demise have been greatly exaggerated," Aberman says with a chuckle. That's not to say the store hasn't had a few near-death experiences. In 2010, the shop nearly closed its doors for good, and in 2015 a move from Elizabeth to VisArt's current location on Eastway Drive precipitated a drop in patrons.
But it's all good now, in fact VisArt's vital signs are more robust than ever. The store, which stocks over 40,000 titles in categories including foreign, cult, documentary and mainstream films, opened its new screening room at a party featuring local filmmakers and their films in September.
Just in the past month, the room has hosted showings of obscure Halloween treats like Lucio Fulci and Bruno Mattei's batshit crazy Zombi 3. As icing on the cinematic cake, VisArt has relaunched as a reenergized and vibrant non-profit organization, supporting Charlotte films and filmmaking, and the perpetually cool store is poised to become an arts hub for the city's east side.
Best New Place - Oso Skate Park
Whether you blade, skate or scoot, Oso Skate Park is the best new place to boot. It's one-third skate park, one-third art gallery, one-third music venue and 100 percent badass.
Acting as a community gathering place of recreation, music and art, Oso Skate Park holds private lessons, children's skating and biking workshops while also giving the community a new place to congregate for arts and live entertainment.
Every Wednesday, from 9 p.m. to midnight it hosts a weekly art party complete with free supplies, a drum circle and flow. Even better, if you play your cards right, a membership to the skate park is only $1 per day.
Best Local Product - Cactus Club Co.
Get lost, Ms. Frizzle. There's a new magic bus in town and it's here to fulfill all of your aesthetic plant dreams. Cactus Club Co. is Charlotte's favorite mobile plant shop, popping up at events around the city with pre-potted cacti in a variety of sizes and prices. Stick one on your desk at work for a pick-me-up, or bring a handful home to add to your collection. Prices vary by size, so there's no excuse not to treat yourself.
Best Hemp-Based Product Selection - Charlotte CBD
When we wrote about the launch of Charlotte CBD back in April, founders Michael Sims and Dan Hentschke were rearing to open their new dispensary after traveling the state — and country — doing research on cannabidioils, hemp extracts and legal dispensaries out west. They hit some delays since then, but they've since locked down a location on Central Avenue. However, they've already been selling their wide range of products online, including our favorite extract, Kingdom Harvest, grown in the secluded mountains of western North Carolina.
When they do open, which they expect to do by the time this paper hits shelves, they plan to run the shop like one of the dispensaries they visited out west, bringing back one customer or group at a time to discuss individual needs and potential products that can help. That's customer service we can get behind.
Best Pop Up Shop - Charlotte Ballet Pop Up Shop for The Most Incredible Thing
The Charlotte Ballet's March performance of The Most Incredible Thing featured something truly unique. Yes, the Hans Christian Andersen fairytale choreographed by Javier de Frutos to the music of English synth-pop duo Pet Shop Boys was unique in itself, but it was an unexpected surprise in the lobby that earned this Critics Pick.
A magical pop up featuring books, music boxes and dolls perfectly matched the story and the performance. Curated by shopping aficionado Jordan Dollard, previously of Elsa Fine and currently of Front Porch Sundays, the shop showcased her attention to detail and creative side. We can't wait to see what she does for the spring performance of Peter Pan.
Best Place to Buy Vintage - Stash Pad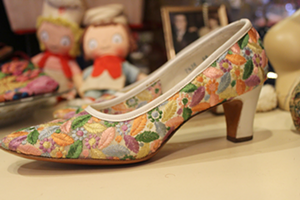 Do you need a vintage prom dress from the '80s? Probably not. But do you want it? Yes, you definitely do. Stash Pad in Plaza Midwood is a walk down memory lane for fashion and a vintage oasis for those who want more than just a dusty trip to Goodwill. Established in January 2015, this shop is great for expecting the unexpected, the good, the bad and the wonderfully weird.
Go ahead and get lost sifting through vintage tees, handmade hats, and DIY outfits that look like they came off the set of a Missy Elliot music video.
Best Local Fashion Designer - Erin Foley with RCB Fashion
We've had a girl crush on Erin Foley for a few years now and love how she has grown her business. Her shop, located along North Davidson Street, is a one-stop-shop for all your fashion and clothing needs.
From minor alterations to custom outfits, Erin can do it all with her sewing machine. She's gained an almost cult-like following for her custom wedding dresses, but Erin also makes one-of-a-kind pieces for people who know what they want and know how much they want to spend.
Best Salon - Salon 1226
We all can't have luscious locks like Ariana Grande, but you can get pretty damn close through the stylists at Salon 1226. Owners Edward Brown and Brent Davidson are getting ready to celebrate the salon's five-year birthday, and they've more than earned the milestone.
With a full range of services like color, style, tints, waxes, makeup and keratin treatments, Salon 1226 is your one-stop shop for all of your personal grooming needs. And they'll offer you a glass of wine or can of PBR upon arrival. Score.
Best Barber Shop - Charlotte Beard & Barber
If you're not looking for it, it's easy to miss this shop, which is tucked away on Commonwealth behind Armada Skate Shop. However, it's not so easy to miss the work of barbers AJ, Marcus, Joey and Lee. Local bands, DJs, bartenders, shop owners and cool kids are all sporting their handiwork around town.
They flock to Charlotte Beard & Barber for the craftsmanship, and for the vintage barbershop feel.
It's a place where you can get a straight razor, hot towel and sage life advice; where dads & sons can go for an authentically male bonding experience, and where bros of all backgrounds can build a sense of community over great conversations, PBRs from the beer fridge and some the freshest fades in town, beard or not.
Best Stylist - LeMond Hart from The House of LeMond
Dapper. That may be the best word to describe LeMond Hart, stylist, custom clothier and owner of The House of LeMond. When you walk into LeMond's Uptown shop, you're immediately greeted with a well-curated shop featuring vintage finds, hard to find brands, beard oils and all the essentials to keep the men of Charlotte fresh AF.
Although he has his own style, LeMond will help all of his clients and customers find the perfect pieces, including custom suits and shirts, specific to their style. You may go into his shop in basic banker blue shirts and pleat front pants, but you'll leave with an elevated style that only LeMond can create.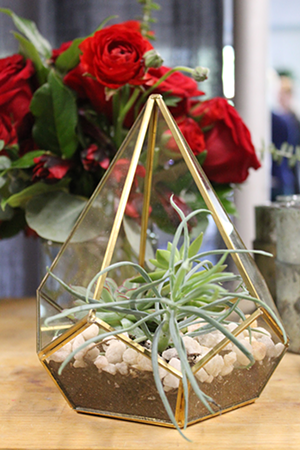 Best Flower Shop - Nectar
If you need flowers worthy of a #nofilter Instagram post, Nectar Floral Designs is the place. For the past 11 years, Nectar has been blessing us with its thoughtful, color-conscious bouquets and arrangements for weddings, celebrations and special occasions. Stop by their boutique in the historic McGill Rose Garden, or if you are local to Charlotte and surrounding areas, have your arrangement delivered straight to your home. Nectar also hosts weddings and events in the rose garden, so give them a call for your next function and let all of your flower dreams bloom.
Best Tattoo Shop - Canvas Tattoo
Don't make your next tattoo a contender for bad ink. Canvas Tattoo & Art gallery in Charlotte features artists with serious skills and variation of styles that have — literally — got you covered. Step into this clean, comfy and art-filled studio to experience a great session with one of the six artists in the shop, or pick out your next conversation piece for that blank space on the wall that you just can't seem to fill.
Best Sneaker Shop - Social Status
Need a sneaker fix? This shop in Plaza Midwood has what you need. Social Status is the mecca for the latest and greatest in sneakers and luxury clothing. The upscale urban atmosphere and futuristic item displays will make you feel like you're shopping in the middle of SoHo — it's that fancy, ya'll. This status-conscious boutique offers a carefully curated selection of brands like Champion, Puma, Bow3ery, Billionaire Boys Club, Kappa and plenty of others to help you live your most lavish, successful best life. Whether you're looking to reinvent yourself or add to your collection, Social Status has all the bases covered.
Best Comic Book Shop - Comic Girl
It's here and it's pro-queer! Comic Girl is an inclusive comic and coffee shop that features pro-LGBTQ, racially diverse and femme comics in addition to a selection of vegan munchies, and sweet, sweet locally roasted coffee. It's a positive space in the Queen city for anyone who needs to chill out, read some comics and simultaneously dismantle the patriarchy.
The shop also hosts events and benefits that encourage community growth and support the LGBTQ community. They also work to make comics accessible with the "Pay It Forward" board, which uses magnets paid for by customers to allow everyone to shop, regardless of their income. The "Pay What You Want" section features a wide variety of donated books that give all customers a chance to leave with something awesome.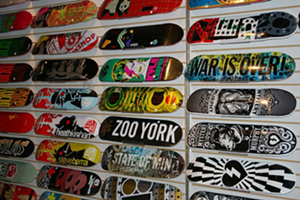 Best Skate Shop - Black Sheep Skate Shop
Streetwear is back with a vengeance, and Black Sheep has got the goods. The skater owned and operated shop has solidified their place in the Charlotte fashion scene as an independent retailer since 2003. The shop specializes in top quality skatewear brands such as Thrasher, Brixton, Vans, Nike and every other skate brand you rocked in middle school, but they also keep up-to-date with all the new collection drops you've been drooling over.
If you're not into that, keep it local and grab a Black Sheep brand hoodie to keep you warm during those cold Charlotte winters.
Best Jewelry Store - CLTCH
With owners Lesa Kastanas, Linda Martinez and Scott Weaver curating this Plaza Midwood staple, it's obvious why CLTCH is considered one of the most badass shops in Charlotte.
While CLTCH specializes in unique gifts, as well as a new spiritual devotion to herbs and crystals, it's the jewelry selection that makes this shop a standout. Need a statement necklace or pair of earrings to go with the ultimate revenge outfit that will make your ex cry? CLTCH has all of that and more. Don't forget to finish your outfit off with one of their handbags from their impressive collection.
Best Record Store - Digger's Delight
Digger's Delight opened this year inside Tip Top Daily Market. What originally started as a pop-up swap shop created by longtime music scene staples Scott Slagle and Kim Neal has turned into a full-blown market and event venue. This isn't the spot to come for every new release under the sun, but it's where to come when you're looking for rare and valuable grooves, an expertly-curated selection and the sage advice of purveyors who have put decades of their lives into making music.
They also have a wide variety of events poppin' off almost every day of the week. Everything from the Scrambled Eggs brunch party on Sundays to movie night on Wednesdays to Music Tastings highlighting new releases on the last Friday of every month. We can dig it.
Best T-Shirts - 704 Shop
Three former UNC Charlotte roommates ­— Scott Wooten, Jerri Shephard and Chris Moxley — started 704 Shop to help build a sense of pride throughout the Queen City. We'd say that mission is accomplished. Their designs have showed up on Ron Rivera and Thomas Davis, they've created special edition shirts for Pride, celebrated local sports teams and created a buzz all over Charlotte. From simple 704 logo designs to Keep Pounding spin-offs, the brand's collection of shirts and hats are must-haves around town.
Best Bottle Shop - Salud Beer Shop
Back in March, USA Today let the whole country in on a secret that everyone in Charlotte already knew: Salud is the shit. In the newspaper's list of the top 10 beer bars in the country, Salud placed fifth, thanks to first being chosen by a panel of beer experts and then voted into the top five by readers. We're no beer experts, but we drink plenty of it and Salud has been a favorite hangout of ours since it opened in 2012. Last year, the addition of Salud Cerveceria upstairs only added to the vibe, but we've always been more cozy in the intimate setting that is the original Salud.
Best Fusion for Your Chi - Haylo Healing Arts
Haylo Healing Arts Lounge is the literal one-stop shop to get your mind, body and soul right. The shop is known for the four badass women behind the tattoo machines, headed by shop founder Hayley Moran. Haylo's resident yogi Hillary Heath teaches yoga in a space next door and helps clients in the shop with breathing exercises and all sorts of alternative modalities. This March, Haylo added yet another fitting member to the team when they brought in their neighbors from down the street, Royal Peasantry. The Asheville-based designers are serving up eccentric looks from Tuesday to Saturday between 10 a.m. - 7 p.m. in the studio.
Best Head Shop - One Love Smoke Shop
One Love Smoke Shop is your exclusive spot for premium glass pieces, all handmade in the USA. Their gallery-style shop is located in the heart of Plaza Midwood and boasts top-notch brands like Mobius, Sheldon Black and Medicali to take your next smoke sesh to a whole new level. The shop's expert team provides excellent advice and consistently curates their pieces with your needs in mind.
Best Yoga - U.S. National Whitewater Center
The U.S. National Whitewater Center is known for its high-intensity sports: trail running, whitewater rafting and rock climbing. It also holds some of the coolest music series every season. But if you're looking to reconnect to nature and discover mindfulness, the center started a yoga series that will help you destress and relax.
Entire weekends are dedicated to the strengthening craft of slowly transitioning poses and breathing techniques. Find your center at the Whitewater Center and then afterwards grab a refreshing wine or beer and watch the boats flip on the river.
Best Gym - http://irontribefitness.com
Going to the gym and actually sticking to a workout plan is everyone's annoying cliche New Year's resolution. But it doesn't have to be that way. Iron Tribe Fitness is the least cliche way to get your ass in shape, and they want you to stick to it. Between 45-minute workouts geared towards your personal goals, personal accountability coaches and pre-planned meals, this gym is a no-fail way to get fit before you can even think about New Year's resolutions.
Best New Grocery Store - Organic Harvest
Plaza Midwood's brand new health food grocery store Organic Harvest occupies the 10,000-square-foot space on Central Avenue previously occupied by Healthy Home Market. Michael Maddox, the CEO of Alabama-based grocer Organic Harvest Community Grocery and Café, has a theory why Healthy Home failed.
"Part of [their] downfall is that ... they decided to bring in conventional products," Maddox explains. "You can't intermix conventional with organic. It just doesn't work."
Maddox knows what he's talking about, since he designed and launched the Plaza Midwood Healthy Home Market store in the first place, and left the company prior to its downfall.
A walk through the aisles of Organic Harvest, which opened earlier this month, feels like a homecoming. The set-up is similar to the space's previous tenant, so stuff is easy to find. The new store also combines the best of old — a friendly and knowledgeable staff, organic and natural groceries and meat, fresh produce and health and beauty products — while avoiding some of the overly processed and packaged items that Healthy Home started to carry near the end of its run.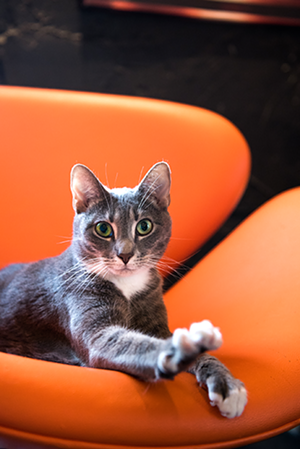 Best Place to Get Coffee or Pet a Cat - Mac Tabby Cat Cafe
Cats, cats and more cats! Lori Konawalik owns and operates Mac Tabby Cat Cafe in NoDa, allowing guests to pay for half-hour or hour-long sessions with the felines up for adoption. The cozy and funky space lets the little kitties roam free and you can play with them while you sip on some coffee (or kombucha).
Be careful, because if you stay too long, you might walk out with a new feline furball as a friend. Er, actually it's for a good cause so we condone being a little careless. If you do decide to adopt, the cats come microchipped, vaccinated, spayed/neutered and checked for illnesses and health problems.
Even if you don't adopt, the small fee for hanging out with the cats goes towards a good cause and it's hard to resist those furry little creatures.