"Still humping the Amerian Dream." The folks here are out there fighting the good fight on a daily basis, and deserve a tip of the cap for it.
Local Hero - David Tepper
When details about Jerry Richardson's sexual harassment of his employees came out in April, it became cringe-worthily clear that he had to go. But who was going to take his place? When billionaire businessman David Tepper began showing interest in buying the team, it seemed like more of the same from the good ol' boys' club. A 2009 profile on Tepper described a large pair of veiny brass testicles displayed prominently in his office and his penchant for chucking breast implants at people.
However, ever since making the purchase, Tepper has proven to be taking the Panthers franchise in a direction that would have been unthinkable under Richardson. He's been right there with team members working on providing Hurricane Florence victims with relief, he joined Panthers receiver Torrey Smith early in October to discuss bail reform with the local DA and allowed the signing of Eric Reid, a fervent supporter of Colin Kaepernick who would become the first Panthers player to take a knee during the national anthem. We only hope the good faith continues.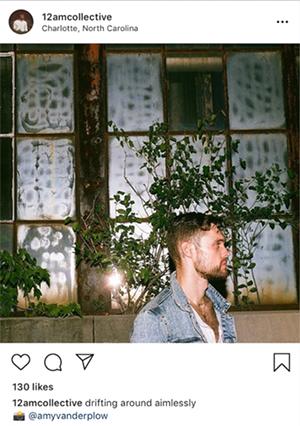 Best Instagram - @12amcollective
We all know that friend who seems like they're having so much fun on their social media channels, but you know they're not really 'bout that life. Such is not the case for the 12amcollective, whose video work covers everything from house parties to rap visuals to luxury real estate. Oh, and did we mention some dope ass photography, too? It makes us long for the days when we were out past midnight every night. Ok, maybe not, but these folks definitely know how to have a good time.
Best Twitter - Joe Bruno
In 2016, Joe Bruno started to gain attention on the #CLT Twitter scene when he became attached in many people's minds to the Year of the Highway Spills.
The year saw a number of vehicles spilling all sorts of weird stuff onto the city's highways, including paint, potatoes, glass, bees, pineapples and an unassuming car axle that caused a 20-car pileup. And WSOC reporter Joe Bruno was right on top of these breaking stories, using Twitter to post the traffic updates and, more importantly, the entertaining photos of the cleanup efforts.
Now, we know Joe as the political guy. While he still covers breaking news, he can mostly be found in the chambers with the county board and city council, bringing us live tweets at a furious clip. He recently covered a #MeckBOCC (Mecklenburg Board of County Commissioners, for all you non-Tweeters) meeting in which commissioners were arguing vehemently against live-streaming the meetings.
Luckily, they lost this effort at decreasing accessibility, but we weren't worried knowing we had Joe's tweets, streamed or not.
Best New Hope - Mujtaba Mohammed
It became clear long ago that Joel Ford had lost touch with the folks of District 38. In fact, as he wraps up his third term in the N.C. State Senate, he's looked more like a Republican than anything resembling a Democrat. We could go on about why we say that, but this is isn't about Ford, this is about the guy who's about to step in and take his place. Mujtaba Mohammed, 33, entered the race after serving on the Council for Children's Rights and then as a public defender in Mecklenburg County.
"Serving young children, low-income families, people who have a lot of problems, I realized again and again, the North Carolina General Assembly under Republican leadership had been oftentimes the biggest impediment to success at the city level," Mohammed told us in January before winning the Democratic primary against Ford.
Sure, if he wins this November against Republican opponent Richard Rivette, which we believe he will do easily, he may not flip a seat, but he'll give Democrats much more stability in a key seat.
Best Politician - Braxton Winston
When Braxton Winston was named CL's Local Hero in last year's Best of Charlotte issue, he was honestly more of a hope than a hero. At that time, Winston had come had come from gaining recognition as a protester during the Charlotte Uprising in 2016 to finishing second place in at-large votes for the Charlotte City Council Democratic primary. "He's not a politician. He's a concerned citizen who has decided to be the change he wants to see. He is the hero this city needs," we wrote.
Shortly after that issue hit stands, Winston finished the job, winning a seat on the council and helping usher in a wave of millennial newcomers to the Mecklenburg County Government Center chambers. From the jump, Winston showed he wanted to change the way folks engage with city council. Just as he was known for live-streaming the protests in 2016, Winston could be seen with his phone pointed out at the crowd during every meeting, letting his followers in, up until the council voted to live-stream the meetings from the city's accounts and televise them. That's a win for accessibility.
Since then, Winston has continued to be a pragmatic pol for the people, always speaking out about how Charlotte's most vulnerable community members will be affected by any given decision. For instance, just this month, Winston voted against a cleaning contract for a company that will clean four light rail stations, pointing out that the company pays its workers less than the city's living wage. That's leadership we can get behind.
Best Speech - Luis Rodriguez, Anti-RNC Speech
On July 16, tensions ran high in the city council chambers as more than 100 people spoke during a special public forum scheduled specifically to address the potential for Charlotte to host the 2020 Republican National Convention. There were obnoxious hoots and hollers throughout, but for the most part, things stayed civil. Following the forum, city council members had a chance to address the crowd before voting — they approved the convention 6-5.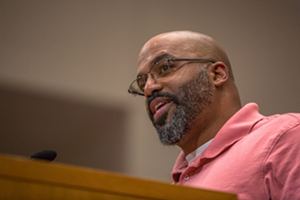 While our Best Politician winner Braxton Winston gave a convincing speech about the implications of hosting a convention with ties to white supremacists and an immoral president, it was community organizer Luis Rodriguez's allegorical speech to council that still sticks with us. Rodriguez told the story of a childhood friend named Mikey who wasn't allowed to play at Rodriguez's house because he had lice.
"Mikey wasn't a bad kid but he had a condition that made him coming over out of the question, not unless we wanted lice of our own to deal with," Rodriguez said. "Right now, the GOP is full of fine people, I am sure, but the GOP has a bad case of lice; KKK lice, neo-Nazi lice. It's undeniable. You can see them with the naked eye. And just as sure as my mother knew then, we know now, you can't let people come into your house with lice and not expect to get lice yourself."
Best Columnist - Greg Lacour, Charlotte Magazine
Greg Lacour spent nearly 10 years covering city and county government in Charlotte for the Charlotte Observer, and he was a hell of a reporter then. But over the past year, his #DiscussCLT posts for Charlotte Magazine have transcended hard-news reporting to give much-needed context to the issues that the city is facing.
For example, in May, Lacour focused on the bigger issues surrounding #ScooterGate, when hundreds of electric scooters popped up on Charlotte streets without approval from city leaders.
"A problem arises," Lacour wrote, "when ride-sharing and dock-free smart mobility turn into tools used to shoot down funding for transit systems that potentially benefit everyone." He then pointed to a recently failed $5 billion expansion package for Nashville public transportation system, with a main point from the opposition being that buses and trains were outdated technologies and would soon be completely replaced by ride sharing. Lacour's ability to move back the lens and put Charlotte's headlines into greater national and historical context is a value to us all, and an important weapon in that "good fight" you always hear about folks fighting.
Best Nonprofit - The Relatives
Like that grandmother or auntie that you always knows has your back no matter what.
The Relatives is a nonprofit in Charlotte that connects homeless and at-risk youth to the resources that they need to find financial and housing stability. Altogether, it operates the Youth Crisis Center for 7- to 17-year-olds, Journey Place for young men aging out of foster care and On Ramp Resource Center, a drop-in facility. At On Ramp, case managers, housing coordinators and resource coordinators work together to provide those who come through the door with opportunities and pathways to stability. The center hosts community leaders and companies for workshops in life skills, houses clothing and personal hygiene products and helps clients find jobs and apartments.
The Relative's don't just drop clients in a job or apartment and say goodbye, however. Through intensive case management, clients are assigned a manager that constantly checks up with them to ensure that they have the resources and opportunities they need to better their lives.
Best Programming - Behailu Academy: Meals, Minds and Movement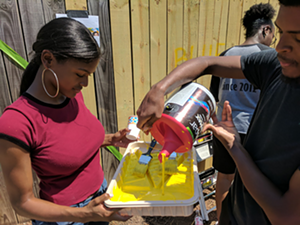 If you've driven down Matheson Avenue between NoDa and Villa Heights since May, you've seen the beginnings of a brightly painted mural that's the work of a group of kids with Behailu Academy, an arts-based youth development organization in NoDa.
The mural is going to be a beautiful piece of interactive art once it's finished, but the true beauty comes in what birthed the mural, a series of discussions that has taken place throughout the year called Meals, Minds and Movement. The monthly dinner meetings are designed to spark discussions around social issues and have already touched on power, privilege, race, gender, class and sexual orientation.
A June 6 MMM meeting tackled the "New South," and invited city leaders to come speak with the Behailu children — most of which come from low-income neighborhoods and Title IX schools — about immigration, refugees, citizenship, being a good neighbor and other similar issues. It's not too late to join in on helping these kids better understand their city and, more importantly, help you better understand the issues they face every day. The series wraps on Nov. 6 with a final dinner discussing all the past conversations that have taken place throughout the year.
Best Demonstration of People's Power - March for Ed
While this march didn't happen in Charlotte, per se, the educators of Charlotte and their supporters marched on Raleigh on May 16 to demonstrate that they were fed up.
So many educators and teachers look leaves of absence that the entire Charlotte-Mecklenburg Schools district had to shut down for the day. Marching for better pay and more resources to shape the young minds of our future, educators made sure their voices reached the ears of our state's legislation. The fight didn't stop after the march.
Educators across the country continue to fight for the respect they deserve as professionals, and those in Charlotte are no exception; they continue to wear red and speak up when they feel disrespected in schools. This one is for the teachers of Charlotte and North Carolina, keep fighting the good fight.
Best Demonstration of Youth Power - March for Our Lives CLT
In March, kids around the country were standing up against gun violence following the cold-blooded murder of 17 students at Marjory Stoneman Douglas High School in Parkland, Florida, on Feb. 14. A group of 10 high school students from Charlotte answered the call, as they rallied to organize a march that attracted thousands to First Ward Park on March 24 despite questionable weather and raised $3,335 for the national March for Our Lives fund.
"I couldn't get it out of my head for days," said Maddie Syfert, an 18-year-old Myers Park High School student who helped lead the march. "Then I was like, 'No one's making this march for Charlotte, so what's stopping me from starting it?' This is the first time I've been really politically active, but I don't feel like this is a political event anymore; I think it's more about students coming together."
And the more they continue to come together to fight the evil represented by groups like the National Rifle Association, the brighter future for all of us.
Best New Development - Family Justice Center
Beginning Jan. 11, anyone in the city who had conveniently ignored the ever-looming issue of domestic violence was forced to confront it when a spate of four killings occurred in five days, all of which were domestic-related. Following the deaths of Brittany White, 24; Christina Treadway, 34; Iliyah Miller, 3; Isaiah Miller, 7; and James Hawkins, 35; Charlotteans were looking for answers. Some folks were already on it.
At the time of the killings and Treadway's related suicide, Sgt. Craig Varnum, supervisor of CMPD's domestic violence unit, was already in talks with other community leaders to help put a dent in the growing issue of domestic violence in Charlotte. In December, CMPD announced in December that it will be partnering with Safe Alliance and other domestic violence organizations in Mecklenburg County to open a Family Justice Center here.
Based on a multi-disciplinary model in which different agencies operate within one location, the Family Justice Center will offer multiple services to domestic violence victims under one roof. The centers are meant to ease the burden placed on victims who often have to spend hours and sometimes days going from one agency to the next to fill out paperwork and keep up with court dates, a process that often leads to victims giving up and letting charges drop.
While a lack of high-profile domestic violence murders may have people paying less attention on the forefront, it's comforting to know that efforts are still moving forward behind the scenes.
Best New Way to Get Around - Electric Scooters
When hundreds of electric scooters popped up on the streets of Charlotte in May without warning, people slowly started to poke them, maybe kick them over to see if they would come alive, then they eventually hopped on and began zooming around the city. It's been quite a pleasant experience ever since.
In the first 30 days of Lime-S electric scooters in Charlotte, LimeBike charted over 22,000 rides from customers. That's exponentially better than the undocked bike share numbers that preceded the scooter program. We immediately went into contest mode, and our office record is 23.1 mph on a LimeBike scooter, which we find to be just a tad faster than the Bird brand.
Of course, recent conversations around regulations were threatening to ruin the fun after city council member Tariq Bokhari witnessed a person riding the wrong way on an Uptown street get hit by a car, but the city recently decided it wouldn't step in and would wait to see what the state does.
Our idea: follow the rules of the road, use common sense. That's all the regulation you need.
Best Hire - Charlotte Museum of History, Adria Focht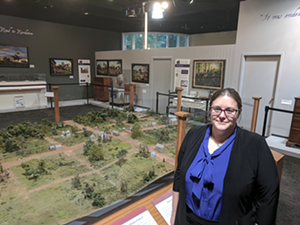 In June 2017, Charlotte Museum of History president and CEO Kay Peninger announced she was leaving the museum to take a job at the newly opening Museum of the Bible, our first question was this: Who's going to take her space?
In her four years with the CMoH, Peninger had brought the museum back from a troubling place financially, a downward slide that could have been credited to a mix of the recession and lack of exciting programming. In November 2017, the museum announced the hiring of Adria Focht, who led a similar comeback at the Kings Mountain Historical Museum as executive director.
At 35 years old, Focht is the youngest person to run the museum, and in her first year she has successfully built upon Peninger's legacy.
When we talked in August, Focht told us about her goals, which we think speak to her success: "My goal was just to listen to the community to hear what people think they want this institution to be for them, because that's how we're going to stay relevant is figuring out how we can use history to address needs in the community and engage people in history in a meaningful way that informs dialogue about the future."
Best Way to Not Waste a Summer - Nikolai Mather, UNCC LGBTQ Center
When he was 16 years old, Nikolai Mather came out as transgender. His hometown in Chatham County wasn't the worst place to do it, but it wasn't the best. Now, as a student at UNC Charlotte, he's brought his experience to the forefront of his activism, pushing for a new LGBTQ center on campus and co-founding the UNC Charlotte LGBTQ+ Coalition.
This ambition came about when he saw that there were no gender-neutral bathrooms in Levine Hall, where he must live for the first two years of his collegiate career and after linking up with Customer 49, a leftist organization on campus.
Mather says he learned a lot about organizing and fighting through bureaucracy alongside his team, the members of which sat at tables for hours on end to collect signatures despite full schedules of classes.
Best Podcast - WFAE, She Says
WFAE reporter Sarah Delia spent more than a year following the story of "Linda," an anonymous victim of a sexual assault that took place near Uptown Charlotte in 2015. On May 31, Delia and WFAE premiered a harrowing 10-episode podcast called She Says, which shares Linda's story and her difficult path through the justice system. The podcast included intrepid reporting, secretly recorded conversations with CMPD detectives and Linda's own disturbing retelling of her own assault. It also worked in stories from callers who would leave voicemails for Delia to share their own stories between episodes.
When we spoke to Delia in the lead-up to the podcast's finale, she discussed why the interactive aspect of the podcast was important to her.
"Linda's story is not everyone's story," Delia said. "There are pieces of Linda's story that I think will resonate with a lot of people, but then there are parts of her story that won't, or it's completely different. I can't tell everyone's story, but I can have you tell me your story, and we can play those back."
Best Cause - Kat Nelson, Queen City Needle Exchange
Following the legalization of needle exchange programs in North Carolina in 2016, Kat Nelson moved back from California and got to work. She spent months running the exchange out of her car, until she wrecked the car and became homeless. She kept things moving, but eventually became overwhelmed and had to hang it up.
Now, Nelson is back with the Queen City Needle Exchange, and she's got a few friends behind her. She currently runs QCNE out of an office at the Carolina CARE Partnership offices in southeast Charlotte on Friday afternoons, but she's also a part of the newly formed Charlotte Regional Harm Reduction Coalition, a group with a mission to bring a fully funded, around-the-clock syringe-exchange program to Charlotte. In our cover story about the coalition from July, Nelson said it's been an entirely new experience to see so many professionals in the city getting behind her efforts.
"I just care so much about it," Nelson said. "It's just so important to me. So seeing that there were professionals, and these people also, there were people willing to hear me out. I think the attitudes in Charlotte have changed a lot."
Best Underdog - Rep. Kelly Alexander
On May 23, N.C. Rep. Kelly Alexander Jr. filed House Bill 994, titled "Marijuana Reform Laws," in an attempt to, well, reform North Carolina's marijuana laws. The law would strip police of the right to use suspected marijuana possession as a reason to search a person's car. In fact, the bill would effectively decriminalize marijuana throughout the state.
Unsurprisingly, HB 994 never made much progress, but that's nothing new for Alexander. In fact, since he took office in 2009, Alexander has filed a marijuana-related bill in the North Carolina General Assembly six times — and six times those bills have languished in committee, failing to make it to the House floor for a debate, much less a vote. It's unclear to us when the state's leadership are going to wake up to the benefits of legalizing — much less decriminalizing — marijuana, but we support Alexander in continuing his Sisyphean struggle.
Best Meteorologist - Brad Panovich
Are you a fanovich of Panovich? We are.
During the hype of Hurricane Florence, Brad Panovich came out full force on social media and news stations, warning the city and the state of the dangers of underestimating the storm that was headed our way. Since then, we had the chance to sit down with the meteorologist who always knew he wanted to be a meteorologist. (Don't mix that up with being a weatherman, it's different.) With the amount of access to information that the general public has today, it becomes easy for the right information about real-time weather dangers and global warming alarm to become lost in a digital sea of speculation, lies and trolling.
"But as far as the trolling thing, I think that's more systemic of what's going on in our society, this anti-science, anti-expert kind of pushback," Panovich said. "I don't think they understand the science and expertise of some people, they just feel like everyone's either doing something against them or for them."
Best Political Process - Sustainability Resolution
The "Sustainable and Resilient Charlotte by 2050 Resolution" was adopted in Charlotte on June 25, marking an official government approval to develop a legit sustainability plan for the city, one that could lead to more clean-energy jobs and a less polluted environment.
Early on in the plans to lead this charge, Shannon Binns, the founder of Sustain Charlotte, said that semantics played a huge role in delaying any further progress.
"The most controversial thing was over language," Binns said. The choices are "carbon-free, [carbon] neutral and renewable." Carbon-free energy includes nuclear, he said, "which is kind of critical for getting Duke Energy on board. While they're not spelling out nuclear in the resolution, they're being realistic with trying to get the city to 100-percent zero carbon. Without nuclear that wasn't possible. Everyone can agree on zero carbon."
This resolution sends a clear message to Charlotte's population and to the rest of the country that the city is serious about protecting the health of the environment and the citizens. There's still a long way to go, but this is a great start.
Best Decision - Dropping Glo's Charges
It was a long road for Charlotte Uprising activist Glo Merriweather, one that will stick with them for a long time, but legally, at least, it is over. On July 31, just two weeks before Merriweather's trial on a felony charge of inciting to riot and a misdemeanor charge of assaulting a police officer stemming from the protests of September 2016, the Mecklenburg County District Attorney's office filed notices of dismissal, ending Merriweather's two-year ordeal.
This is a bittersweet victory for Merriweather, however. While they no longer have to live in fear of imprisonment, the ramifications of the charges they faced have left them financially drained and still unable to find a job. On Oct. 5, Merriweather posted a screenshot of a job rejection from Postmates that cited their two charges as the reason. "The truth of the matter is that even though all of my charges have been dismissed and I never should have been arrested, the ordeal is costing me work opportunities," Merriweather wrote. "Even going to jail and fighting my case wasn't enough. I now have to pay tons of money to get these things expunged. Until then, guess I won't be able work with kids, independent contracting positions, or a whole host of other opportunities."
Best Comeback - Rwenshaun Miller
There came a time in 2013 when Rwenshaun Miller was convinced that his only option was to take his life. Miller had spent the last three and a half years silently battling with bipolar disorder — self-medicating by going through a fifth of tequila every other day as he heard disembodied voices speaking to him on a regular basis. He tried committing suicide three times — only failing on the third try because a gun he had put to his head jammed when he pulled the trigger.
Five years later, Miller is the founder and executive director of Eustress Inc., a Charlotte nonprofit organization that works with clients who are struggling with mental illness, focusing on youth, athletes and the black community. On May 5, the American Psychiatric Association Foundation honored Miller with the APAF Award for Advancing Minority Mental Health. Released in September 2017, his book Injured Reserve: A Black Man's Playbook To Handle Being Sidelined By Mental Illness has gained traction throughout the year, including landing him a spot on the popular radio show The Breakfast Club.
When we spoke in May, Miller explained how meeting his first black therapist, Dr. Kendall Jasper, changed everything for him. "He definitely changed the game for me when it comes down to seeking therapy because he was a black man and he was cool — real cool," Miller said. "He made it OK for me to open up to him."
Now, he serves as that model for countless kids who will hopefully never end up in the dark places he has come out of.
Best Grassroots Group - Girl Develop It
"In Charlotte, the tech community is pretty small. I think for women, specifically, they do need some outlet in terms of getting into tech because it is a male-dominated field. So that's mainly our mission — to have a safe learning space for women who don't feel intimidated to learn about technology."
Christina Veale, Charlotte chapter leader for grassroots tech group Girl Develop It wrapped it all up pretty well when we met her at a Coffee & Code event she hosted at Central Coffee in South End in April. Since taking over as chapter leader less than five years ago, Veale has grown the local group to 1,700 members online. She's only doubled down on her efforts since then by starting the #TechYourSeat movement, which involves hosting conventions and bringing in nationally renowned women in the tech world to talk to local women looking to enter or climb the ladder.
Best Safety Net - Promise Resource Network; Center for Community Transitions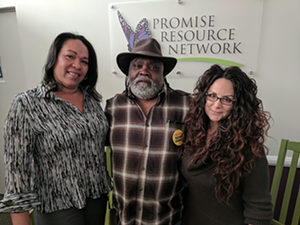 The fight against mass incarceration has many fronts, but one important one is on the back end; the struggle convicts face when they exit jail. Two organizations in Charlotte have been working to help those folks, and their efforts are beginning to gain some ground. The Promise Resource Network in east Charlotte recently signed a contract with the county's Criminal Justice Department to begin implementing a prison reentry program in Mecklenburg.
"Finally the recognition of the legal lived experience is starting to take hold and systems are starting to ask about everything from training peers to become peer specialists while they're incarcerated to peers working in the jails and prisons," said Cherene Caraco, CEO of PRN. "I'm hoping, and what we're seeing is the role of peers in the reentry system has the potential of becoming pretty significant in our community."
In west Charlotte, the Center for Community Transitions runs a 30-bed work release program for women that helps them transition into life outside prison, as well as a program called LifeWorks, which offers services to anyone with any type of criminal record. CCT communications director Adair Hill has also seen an improvement in the public's view of the work her organization does.
"That's the start of any kind of change that we're going to see is people have to first be able to recognize the humanity of people that have been incarcerated," Hill said.
promiseresourcenetwork.com; centerforcommunitytransitions.org
Best Use of Tax Money - Light Rail Extension
Want to avoid the commuter traffic on I-85? Interested in bar hopping from NoDa to LoSo? The 9.3-mile Blue Line Extension not only created a transit option between uptown and the University area, it opened things up all the way to Ayrsley for those who rarely travel that way.
Aside from the ease of travel, there's also plenty of artwork along the way helping to make Charlotte a more vibrant city and getting more eyes on the visual arts side of the city. The price tag was steep at $1.1 billion, but it's about time we started looking like the city we want to be.
Local Issue That Needs More Attention - Childhood Illiteracy
Just 39 percent of fourth-grade children in Charlotte read at grade level, according to the biennial National Assessment of Educational Progress results from 2015. When you look at African-American male students, that number is nearly cut in half, with just one out of five students reading at grade level.
While the numbers have gone up slightly in the last 12 years — 31 percent were at grade level when the NAEP first came to Charlotte in 2003 — it's not improving fast enough for Munro Richardson, executive director at Read Charlotte, an initiative that aims to have 80 percent of fourth graders reading at grade level by 2025.
"We're moving in the right direction, but not fast enough to get thousands more kids reading well," Richardson said. "The larger conversation about social mobility and economic mobility can't happen if students are not literate."
In the two-and-a-half years since Read Charlotte launched, Richardson and his team have been working to make sure kids are more prepared by the time they reach kindergarten, which he says will set them on the right path to stay at the skill level where they need to be. Until pre-K programs are made universally available, especially to Charlotte's most vulnerable kids, 80 percent by 2025 is looking like a long way out of reach.