The arts is what's kept us hanging around for the last 30 years, and we're proud to bring you the best in music, theater and visual arts coverage week in and week out. There are always the standouts, however, and if you're not familiar with the folks listed in this section, then get acquainted, you uncultured swine!
Best Freaky Theatrical Mastermind - Matt Cosper
When we say Matt Cosper is a weirdo, we mean it in the best possible way. As artistic director of his XOXO theater troupe, Cosper has done much more than break the fourth wall. At times, he and his actors seem to have broken the fourth dimension. Their 2015 production Bohemian Grove certainly played that way. What started as a missing persons case conducted by buffoonish police transformed into a mystical and mystifying traipse into the afterlife and beyond, making room for a talking broom, a mysterious dance set to the 1960s rock novelty tune "Alley Oop," and starched white nurses abducting audience members during an impromptu variety show. Last summer's #CAKE (Year Zero) upped the ante. Depicting a dystopian, disease ridden Charlotte, CAKE was hellish yang to Grove's heavenly yin. It's impossible to decode if Cosper's productions are plays, "happenings," or transformative experiences. So what's next?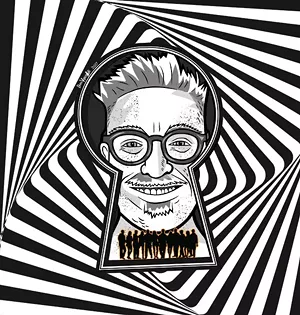 Most Innovative Theater Experience - '#CAKE (Year Zero)'
Experimental theater troupe XOXO is gleefully and unabashedly weird. Past productions have included the fractured fairy tale I Won't Hurt You, the wholesome yet horny holiday special A Very Tampone Christmas and the mythic acid western All the Dogs and Horses, but last summer's #CAKE (Year Zero), unleashed at Goodyear Arts' former digs on North College Street, may be XOXO's darkest and most dangerous vision to date. Across a broad emotional pallet, ranging from unnerving office-space intrigue to blood-spattered nightmares, artistic director Matt Cosper and his accomplished cast crafted a mash-up of crime thriller, slasher flick and self-guided tour of Uptown Charlotte. #CAKE sifted through the ashes of torture, oppression and the collapse of capitalism to find hope and compassion in the blackest heart of darkness.
Most Innovative Casting - 'Eat the Runt'
The best role in Donna Scott Productions' Eat the Runt, may have gone to the audience, because they got to play casting director. The wickedly funny workplace farce, which opened last September at the Harvey B. Gantt Center before moving to Charlotte Art League, was truly a different show every night, because theatergoers picked the players, texting their votes on which performer should play each part. The "cast your ballot to cast the show" approach was more than a gimmick. The constantly shifting roster of actors was key to the play's message about how we aid — or obstruct — diversity, because casting changes flipped the meaning of scenes. A simple kiss acquired added impact when that kiss crossed racial boundaries, or when the actors happened to be the same sex. With its innovative casting, this antic comedy gained dramatic heft as it shed new light on racial and sexual prejudices.
Best Performing Arts Explosion - 'BOOM Charlotte'
Last April, BOOM detonated in Plaza Midwood for the second year in a row, unleashing a bigger, brighter fireball of avant-garde and grassroots arts, dance, music and theater. For 2017, BOOM multiplied the number of performers and added two new venues. Twenty-Two gallery and International House joined the previous year's mainstays — Petra's, Snug Harbor, Rabbit Hole and a free outdoor stage dubbed the Intersection — and all were just a short stroll from each other. Despite the upgrade, BOOM's essentials stayed the same. It was cheap, with show admissions ranging from $10 to free; easy to navigate; and unconventional, with performances including a goth-rock musical set in the suburbs, an automotive-centered autobiography and dance piece for and by the visually impaired. It's official: With BOOM, Charlotte finally has the performing arts festival it deserves.
Best Dance and Acrobatic Experience - 'Sûr: An Acrobatic Journey in Search of Safety'
Presented by CarlosAlexis Cruz's Cirque du Soleil-style acrobatic troupe Nouveau Sud ("New South"), Sûr: An Acrobatic Journey in Search of Safety pulled back the curtain on a city plagued by police brutality, the vilification of the black and immigrant communities, and the disturbing tendency to see our neighbors as "the other." Nouveau Sud's supple, athletic performance at the Booth Playhouse last July was an alarm, sounding the message that Charlotte may no longer be safe for all its citizens, and a declaration that it's time for us to stop living in fear. Sûr offered a solution — a plea that we should isten to each other. It was great dance performance, as well as a vital message delivered with grace, strength and the belief that motion and gesture could cross boundaries more readily than 1,000 words.
Best Fire-Spitting and Swinging from Rafters - 'Bloom: Revolution'
Presented by dancer/aerialists Katie Rothweiler and Sarah Hahn, Bloom: Revolution was a performing arts showcase and celebration of the aerial, terpsichorean and incendiary arts that resembled a mash-up of Carnival in Venice, the garden of earthly delights and a (sort of) family-friendly bacchanalia. Last July, a small army of performing artists converged on the McColl Center to dance, swing from the rafters and spit fire for Bloom's biggest iteration to date. Three performances showcasing more than 60 artists were spread over two days, featuring adult-only evening bills and a family-friendly afternoon show. Highlights included Collette Ellis' hypnotic, gyroscopic performance with an eight-wicked fire staff, a gravity-defying pole dance by AFV Exotic Arts' Annie Vereen, and The Flying Femmes twisting and turning midair from a suspended metal cube.
Best Eclectic Art Scene Curator - Manoj Kesevan
Manoj Kesevan is a former architect, the prime mover behind Charlotte's Pecha Kucha nights, and founder of Que-OS, a platform for creative people to come together on a large scale to further a social purpose. Today, he can best be described as a Rogue Arts Ninja. In 2016, noting that that several cities smaller than Charlotte had fringe festivals, Kesevan joined forces with area artists including Quentin Talley, Camerin Watson and Sarah Emery and launched BOOM. The gathering of musicians, dancers, actors, spoken-word artists and performers that defy classification detonated an arts explosion in the Plaza Midwood neighborhood. In 2017 the festival was even bigger, pulling in more performers, extra venues and new partners, including the Tosco Music Party, AfroPop! and Urban Züe. Kesevan is tasked with topping last spring's success when BOOM returns in 2018, but anyone who knows him can attest he's more than up to it.
Best Actor - Jeremy DeCarlos
Among local performers, there are many strong candidates, but the runaway victory goes to Jeremy DeCarlos, who lapped the field — in range and productivity — with four scintillating outings. Draped in a braided Hussar jacket, DeCarlos just finished channeling his inner Jimi Hendrix as the devilish St. Jimmy in American Idiot. That was the last of his Actor's Theatre gems over the past year, including some cross-dressing preaching in Bootycandy, his insouciant devotion in Stupid F@#%ing Bird, and his amazing transformation from a Jerry Lewis-like nerd to an Incredible Hulk-ish monster in The Toxic Avenger.
Best Actress - Shar Marlin
The field of contenders is larger among the ladies, but the roles were more thinly distributed, eliminating productivity as a decisive criterion. But which other benchmark should override all others? We're turning to Shar Marlin for her sheer power and imperial dominance in Ma Rainey's Black Bottom, a dramatic stunner that also showed Marlin's blues-singing chops. Dignity in the face of exploitation and discrimination. Diva!
Best Comedy - 'Women Playing Hamlet'
We're going to let Chickspeare split this prize with Donna Scott Productions for their joint production of Women Playing Hamlet. Glynnis O'Donoghue starred as the soap queen saddled with the lead role in the Mona Lisa of tragedies, with a galaxy of comediennes — all in multiple roles offering her questionable advice — that included Tania Kelly, Andrea King, Vivian T Howell and Sheila Snow Proctor.
Best Musical - 'Ragtime'
Folks who confine their diet of musicals in Charlotte to touring productions at the Performing Arts Center are missing out big time on the locally produced blockbusters playing out at smaller venues around town. Actor's Theatre, Children's Theatre and Theatre Charlotte all astonished with excellent productions this year. Maybe it was sheer luck, but Central Piedmont Community College's wintertime production of Ragtime was the most timely of the year, underscoring the sad fact that institutional racism, police brutality and prejudice against immigrants aren't quaint relics of the Jazz Age. As the martyred Coalhouse Walker, Tyler Smith's impassioned "We are all Coalhouse!" reverberated through a city in turmoil.
Best Drama - 'Jitney'
As Charlotte was fully wakening to how badly we have neglected and mistreated our underclass, theatergoers may finally have been zonked by the realization that our city is exceptionally rife with African-American acting and directing talent. Kim Parati made an auspicious directorial debut at Theatre Charlotte with a freshened-up Raisin in the Sun, but this was a vintage year for August Wilson — in two dramas directed by Corlis Hayes, Ma Rainey's Black Bottom at CPCC and Brand New Sheriff's Jitney at Spirit Square. Hayes brought out the best in John W. Price and Jermaine Gamble as the father-son antagonists in Jitney, with Gerard Hazelton adding a mix of comedy and poignancy as the gypsy cab company's resident lush. Move over OnQ Productions, there's a brand new black theater company in town.
Best Night at the Symphony - Mahler's "Resurrection"
While a well-played Beethoven symphony or a Mozart concerto might be the secret sauce to get newcomers to become Charlotte Symphony subscribers, many longtime concertgoers would prefer to dismount the warhorses and hear something off the beaten trail. There's plenty out there that will please both camps. Armed with an audacious orchestra and choir, and two soloists who have sung with Opera Carolina, Davidson College showed the way with a rousing performance of Ralph Vaughan Williams' A Sea Symphony, set to poetry by Walt Whitman. That's the sort of daring we hope for from Charlotte Symphony's British maestro, Christopher Warren-Green, and he delivered with Mahler's "Resurrection" Symphony No. 2. If you wanted to sample the full capabilities of the symphony, its chorus, and the guest vocalists Warren-Green can summon to Belk Theater, you should have been there.
Best Night at the Opera - 'The Girl of the West'
There was some audacity in the 2016-17 Opera Carolina programming as it partnered with Warehouse Performing Arts Center and the D9 Brewing Company to produce an evening of three short operas at the brewery in Cornelius. But most exciting was the Charlotte premiere of Puccini's The Girl of the West, as maestro James Meena collaborated with six other international companies, including New York City Opera and Teatro del Giglio in Puccini's hometown of Lucca. Singing was exemplary, persuading me that this second-tier Puccini opera was actually a first-rate work, and staging was anything but stodgy or conservative: much of the scenery was animated and bold, with authentic relics evoking the Wild West supplied by Wells Fargo — an appreciable, if infinitesimal, atonement for all the bank's Wild West chicanery.
Best Gallery Show Against Injustice - The World is a Mirror of My Freedom
Presented at the McColl Center in February, The World is a Mirror of My Freedom combined works from five of the center's current and alumni artists-in-residence, all of them black men, to explore African American masculinity, resistance, and resilience in a post-Keith Scott Charlotte and world. The science fiction comic book musings of Charlotte-based Marcus Kiser and Jason Woodberry were the launching pad for the exhibit, examining police violence against black men through the interstellar adventures of two adolescent astronauts. Local painter Charles Williams' haunting "I Can't Breathe" depicted the 2014 choking death of Eric Garner by a New York City police officer. With a mix of drawings, archival materials and photographic documentation of performance pieces, New York-based artists Shaun El C. Leonardo and Dread Scott contributed to the conversation about racist oppression. Scott's self portrait, a photo depicting the artist withstanding the blast of a high-pressure water hose, the same kind that was trained on men, women and children during the civil rights era, was particularly powerful. Mirror was a provocative and upsetting exhibit, essential viewing to those who value a just society.
Best Celebration of the Creative Spirit - 'Everything is Everything'
This retrospective of the work of painter TJ Reddy at the Projective Eye Gallery in the College of Arts & Architecture at The University of North Carolina at Charlotte covered a lot of ground. In his 72 years, Reddy has witnessed much, not least his railroading into prison by racist authorities in 1970. Reddy's sentence was commuted in 1978, and though his paintings do not directly document his incarceration, they address power misused. Psychological Castration pulled back the shroud on the Tuskegee Syphilis Experiment, where investigators studied the progression of syphilis in rural African-American men who were unaware of their condition. Other works presented acts of creation as a mystical process, whether they focused on his travels to the Caribbean or his bucolic-yet-segregated upbringing. Amid a riot of color, archetypical figures, like illustrations from a tarot deck, populated his work: teachers, mothers and the newborn. The show was a tribute to the practical magic that imbues us all.
Best Bonding of Beer and Photography - 'Through the Retrospective Lens'
Craft beer may not be the savior of Charlotte's art scene, but it certainly can't hurt. At least that's what art curator Megan Lynch thinks. With private galleries finding it harder to stay open, curators like Lynch are presenting shows in non-traditional venues like breweries. Through the Retrospective Lens, Lynch's exhibition at Legion Brewing Company last June, was a stellar example of bringing art to the people, in spaces where they already congregate. The show featured work from three local female photographers: Nancy O. Albert's textured studies of endangered building and disappearing environments, Monique Praechtl's oblique and whimsical landscapes, and Kris Solow's still lifes that turn everyday objects into abstractions. While factions debate whether non-traditional art spaces sprang up to fill the void left by the contracting private gallery sector, or if the combination art-and-taprooms are propelling the galleries demise, shows like Lynch's pointed a way forward - making art accessible and inclusive.
Best Political Artist - Mark Doepker
Doepker would get this award even if he didn't get attacked in his car this year by a racist who didn't like the "Black Lives Matter" cube on the top of his VW bug. But he did get attacked for that, and it goes to the heart of Doepker's work that he'd drive around the city making a statement that's pretty obvious to most decent people. "I've had several vulgar remarks and middle fingers," he told us earlier this year. "But I get much more positive reactions than negative stuff." Beyond Doepker's run-in with the local racist, his work speaks eloquently to numerous issues: the targeting of political activists, black hair, the beauty of the human body. And he does it all with grace and dignity.
Best Documentary Artist - Hannah Barnhardt
You've seen her sitting alone in a corner at Common Market or Hattie's or Snug Harbor, in horn-rimmed glasses, her little notebook opened, sketching rapper Black Linen performing, or drawing folks on a dance floor dancing, or capturing people sitting around a table at Amelie's sipping coffee and talking animatedly. Hannah Barnhardt is Charlotte's visual storyteller, and she's been doing it for years. You just may not have known what she was doing. But Barnhardt does more than just sketch people out socializing — she's an activist, she does incredibly honest self-portraits, she does all kinds of art and works in multiple mediums — but what she's known best for are her sketched snapshots of Charlotte nightlife. She owns this category.
Best Afropunk Artist - Dammit Wesley
To be punk is to directly challenge the status quo using do-it-yourself knowhow. That's what the original British punks did, and that's what Charlotte's current crop of young hip-hop artists are doing at places like Petra's and Common Market. Jimi Thompson, better known by his art moniker DAMMIT WESLEY, is a Charlotte visual artist who uses a punk DIY approach to push black and brown faces into white spaces. WESLEY pushed his way from the academic halls of Winthrop University to the local art scene several years ago, building a strong fanbase by doing live painting at nightspots around town and hosting art-creation events at places like Dupp & Swat and the Gantt Center. He recently set up shop at Camp North End with an art gallery and photo studio, BLK MRKT CLT. There, he's helping other Charlotte Afropunks sharpen their skills and build their portfolios in order to continue his mission of pushing more black and brown faces into white spaces.
Best Afrofuturism Artist - Marcus Kiser
In the mid-2000s, Marcus Kiser was a member of the GodCity collective that created art inspired by politics, hip-hop and comics. Local fans of pop art took notice of Kiser back then, and now his aesthetic has made its way to the walls of Uptown museums and galleries including the Gantt and McColl centers. With outerspace and futuristic themes speaking to larger political issues impacting the black community, Kiser's chosen genre of Afrofuturism has become a tool he uses to engage art lovers in uncomfortable conversations about gentrification, police-involved shootings and black identity.
Best Art Boutique - Dupp & Swat
Sibling art duo Dion and Davita Galloway having been making spaces for emerging artists of color to showcase their creative works for years. In 2017, a new sector of local art supporters was introduced to the curatorial genius of Dupp & Swat at Charlotte's Creative Mornings, and the boutique continues to showcase the power that a convening space has in moving the cultural needle forward. When Dupp & Swat was pushed out of its longtime NoDa location, it didn't stop the Galloways; they opened two new Dupp & Swat locations — The Studio, in Plaza Midwood; and The Concept, in Camp North End — where the duo can continue their work, nurturing emerging artists and bringing art lovers together to help organizations such as Urban Ministries amplify their messages.
Best Designer of Walking Billboards - Eric Ndelo
When textile becomes the canvas, Eric Ndelo sees it as an opportunity to educate others and make a statement about one's value system. Through the streetwear clothing brand DRCApeParel, Ndelo is creating opportunities to make global consciousness look cool. His graphic T-shirts — such as the Blood Phone tees that use a wheatpaste graffiti-style design pointing out the dangerous mining practices in the Congo connected to mobile phone technology — are conversation starters. That's just one of many; Ndelo has an entire line focused on social and political issues, and we can see his work as walking billboards roaming the streets of Charlotte.
Best Art Party Curators - Urban Zue
Charlotte is full of talented budding artists, right? But who are they? Where are they? And how do they come together? Those are questions Urban Zue aims to answer. This novel arts organization — run by a determined duo of natural A&R-type reps, Loude Zue and Zue Moe — throws multidisciplinary art experiences wherein Charlotte visual artists, performance artists, musicians, dancers and other creatives all gather together at one glorious happening after another. The idea is to provide spaces where collaborations are born, and that's exactly what's happened at Urban Zue's art parties.
Best Hippy Party Promoter - Oba Amitabha of Funkshun
When you want to channel positivity, just stand next to Oba Amitabha. You will catch a contact high of love, peace and happiness. Amitabha exudes hippy vibes in his style and demeanor. He's all about breathing out light and positivity in everything he does. From a simple one-on-one conversation with a passerby to creating large-scale social experiences, Amitabha wants to help others find their center together. The way he moves through the world carries over to the events he puts on in Plaza Midwood and at area camping sites. His summer concert series at Hattie's Tavern and his mountain trail retreats under the Funkshun brand help folks find ways to find balance and function. Hence, the name.
Best Set-List Storyteller - DJ SPK
In case you didn't know it, DJing is an art form. And Appollonia Khan, known as DJ SPK, has been putting in work on Charlotte stages and in nightclubs to make sure party-goers and concert attendees understand the intricacies of this art form. Lauded for her ability to share stories through her song selection and sequencing, SPK is about taking folks on sound journeys. Whether the story is as personal as two people falling in love, or a musical narrative to set the mood for a night at the club, SPK crafts the emotions for a room one track at a time.
Best Rock band - LeAnna Eden and the Garden Of
There are tons of great Charlotte rock bands, but none fronted by a black queer activist storyteller whose songs both move you and rock your socks off. And none whose frontwoman also serves as one of Charlotte's most passionate cheerleaders for great rock and hip-hop by black alternative artists. LeAnna Eden and the Garden Of likely would have been voted best band on the merits of their 2017 self-titled EP alone — songs like the slow-burning "Secrets," the grunge-era stomp of "Walk Away" and the meanacing, punk-blues squall of "Dirty Water" — but Eden's Session and Hip-hop Wednesdays events in Plaza Midwood, coupled with her recent black alternative music festival, Bla/Alt, at Camp North End, put Eden way above the rest. Another Charlotte musician who's had a stellar 2017. Look for lots more from this diehard DIYer.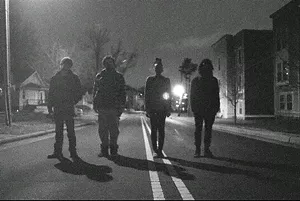 Best Afro Beats DJ - Kato
If you have never been to the continent of Africa, then Ifeanyi Ibeto is more than happy to take you there in one night of AfroPop!. Give Ibeto, better known as DJ Kato, two turntables, a mic and a djembe drum, and you will be brought from the '70's Afrobeat of Fela Kuti to the modern-day hip-hop-infused Afrobeats of today's Nigerian chart-toppers. DJ Kato not only focuses on creating the sounds of Africa, he helps to craft a nightlife experience that mentally transports party-goers to places far beyond Charlotte's city limits. From body paint to picture booths to strategically recruited and placed vendor tables, your world music experience has been carefully pre-planned by the creative mind of DJ Kato and his AfroPop! brethren.
Best Mixed-Genre Musical Group - Hip-Hop Orchestrated
When Kia O. Moore is not writing about music, arts and culture for the Loaf, the founder and director of Hip-Hop Orchestrated is gathering her tribe of talented musicians. H2O, for short, is a group of players from a variety of backgrounds — rap, classical, jazz, even marching band — working to bring about social change through music. To Moore, orchestrated hip-hop means, well, more than just blending genres and getting disparate musicians to rub shoulders. It's a way to break down barriers among Charlotte's diverse and often divided communities. With classical pianist Terrance Shepherd as musical director, H2O is a supple, shape-shifting and uplifting unit. A performance can start with Mozart, then gradually transition to jazz, hip-hop and soul. It's the soundtrack for a community building bridges.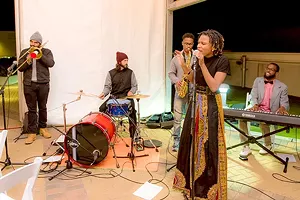 Best Concert (Local Act) - Deniro Farrar & Tribe
If you weren't at the Rabbit Hole on August 11, you quite simply missed the best show of the year. Not just because of the ultra-talented headliner, rapper Deniro Farrar — folks well beyond Charlotte know of his prodigeous talent — but also because of all the other local talents who were on this mind-boggling bill: R&B/soul singers Dexter Jordan and Autumn Rainwater, rockers Blu House, rap-rocker Nige Hood and his Folk Rap Band, rapper/producer Yung Citizen, just to name a few. And that's not including the talent that was in the house just to see the show: LeAnna Eden, Black Linen, Allamuto, Kevin "Mercury" Carter, DJ SPK, Celeste Moonchild, Tizzy and Kizzy of Th3 Highter, the list goes on.
Best Concert (National Act) - Run the Jewels
The first Run the Jewels show in Charlotte was never supposed to happen, but we're glad it did. El-P and Killer Mike stopped in at the Fillmore not as part of their scheduled RTJ3 Tour, but as a "Kickoff Party" to celebrate the launch of the digital beer publication October. The pair partnered with Asheville's Burial Brewing to serve concertgoers a specially brewed Stay G-O-L-D IPA beer that sold out so quickly that El-P wasn't even able to get a pint on stage. Oh, and the music was amazing, too, as expected. The duo's 70-minute set — introduced by opening act and hometown hero Well$ — did not disappoint. It's also worth noting that, as usual for a RTJ show, they opened up VIP to everybody, because they aren't hypocrites when it comes to the all-inclusive message they spread with their music.
Best Song - Elevator jay, "The River"
Back in July, we were blessed with a summer jam we expect to still be grooving to well into fall. Elevator Jay's "The River" is a song about fishing with the homies. It has an infectious, yet chill beat and a haunting chorus sample. It's the kind of feel-good song you crank up when the bright sun in shining in a Carolina blue sky, and the video features exactly that scene, with Jay casting lines on a fishing boat and smiling a contagious smile. The song and video are both beautifully understated and totally unforgettable, and the perfect first single to introduce Jay's amazing record, Ain't Nothin' Finer, which dropped in August.
Best Rapper - Lute
We knew Luther Nicholson was one of the best rappers to come out of CLT way back in 2012, when he released his debut mixtape as Lute, West1996, with cover art that was a bold and arrogant nod to Nas. Then J. Cole snapped up Lute for his Interscope imprint Dreamville and ... we waited. And waited. And waited. When Lute's Dreamville debut West1996 Pt. 2 finally arrived in late September, the Charlotte rapper proved to the world that the wait was well worthwhile. Lute told Mark Kemp and Ryan Pitkin on CL's music podcast "Local Vibes" that he was initially apprehensive about how his fans would accept him after so long, but they've welcomed him back with open arms. And we have, too. Here's to you, rapper Lute.
Best Activist Rapper - LaLa Specific
When Lala Specific speaks, you listen. That's rhymesayer LaShanta Richardson's slogan, and her lyrics do speak loudly to improving the human condition through self-awareness and life-long learning. Lala is a North Carolina rapper who takes it beyond the lyrics. She was the conduit for creating a space for UNCC students to share their stories via the freestyle cypher. And now she's teaching young kids how to use hip-hop as a way to find career opportunities both in front of the mic and behind the scenes. Lala Specific is so much more than just a rapper; she's an organizer, an awareness raiser and a fundraiser for causes she believes in, showing that art truly does have the power to change the world.
Best Emerging Rapper - Ahmir the King
While we welcome new Charlotte artists to send in their music for us to check out, it's unfortunate that most of the times, when folks find us as opposed to us finding them, there's a reason we haven't heard of them or seen them out playing shows. When we received an email from then-18-year-old high school student Isaiah Ford, aka Ahmir the King, the hopes weren't that high, but after one listen, it became clear that this kid had a future. His debut album, Black Tape, is a diamond in the rough, offering up an intense bevy of lyrical bravado, aggressive diss tracks aimed at unnamed Charlotte rappers and poignant diatribes on police brutality in the Queen City and beyond. Ever since he released this free album on Soundcloud in February, we've been patiently waiting for more.
Best Emerging R&B/Neosoul Singer - Autumn Rainwater
She's still got room for improvement in terms of her live performances, but Autumn Rainwater is a singer and songwriter to be reckoned with on album. Her 2017 song-cycle Leaf, released in March, is as personal as music gets, and it features a few other Charlotte hip-hop and soul luminaries including rapper Jah-Monte. With songs like "Lonely," "Cool," "The Old Me" and "Lake Wylie," Rainwater sings of trickling heartache in specifically Charlotte terms. It's an album to listen to when you're devastated. Or when you just want to feel understood.
Best Emerging Indie Band - Blame the Youth
With a musical palette informed by the likes of Erykah Badu and Haitus Kaiyote, and a love for neo-soul, indie and what they call "Meryl Streep Music," Blame the Youth is one of those rare bands that not only defy genre, they apparently set out to create a new one. Self-described as "an eclectic mix of alternative and soulful sounds with a little rock and jazz," the band — lead vocalist/guitarist Francisco Gomez, lead guitarist Alexa Rae Ramkissoon, drummer Kynadi Hankins, and bassist/backing vocals Amber Daniel — is a singing and playing Benetton ad of black, brown and LGBTQ. In a music scene rapidly becoming more and more diverse, Blame The Youth stood out almost immediately with their smooth delivery, and their all welcoming approach to race, gender fluidity, and creative culture. Keep an eye out for this crew, as they're going places.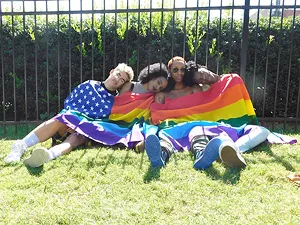 Best Singer in Any Genre - Mercury Carter
We set out to do a little introductory music story on former hot clothing designer Kevin "KevinVain" Carter, who as a singer began calling himself Mercury and putting up YouTube videos of his drop-dead gorgeous cover songs. Then we heard his homemade 6-song EP of original songs on Soundcloud and realized an introductory story just wasn't enough. So we put Mercury Carter on the cover of CL in April. Listen to his self-titled EP on Soundcloud — wherein he displays a vocal talent not unlike another Mercury, Freddie — or go watch him belt out covers of Maxwell or Aretha or Celine on YouTube. Wherever you go to get your fix of Mercury Carter, you'll end up with your jaw on the floor. This kid's about to blow up.
Best Math Rock Band - Cuzco
Seeing as how Cuzco is arguably the only math rock band in Charlotte today, this was a shoe-in. But there are plenty of other musicians in town who have toyed with precision instrumentation and weird tempo changes (we miss you, Calabi Yau!). Cuzco gets the award this year for its exponential musical growth during 2016, culminating in the release of its six-song EP in January, A Medicine For Melancholy, and a killer video for the track "Those Are Z's," premiered right here at Creative Loafing. The icing on the cake is the band's exquisite live instrumental performances that are more like art or film events than mere music. Don't expect your average rock-band experience when you see these guys. Cuzco is so much more.
Best Snotty Punks - Junior Astronomers
Yeah, yeah, they've been Charlotte's best snotty punks for years, but 2017 saw a more mature Junior Astronomers release Body Language, the band's album-long love/hate letter to Charlotte. The songs weren't all scrappy DIY slam-bam-thank-ya-m'am. Singer Terrence Richard gets reflective in his lyrics. And the music draws from a wider well. Take "That's Why," for example — it's mid-tempo, almost Southern boogie, though with a decidedly emo flavor. And then there's "Exit Party," which is downright gentle and sweetly tearful. But don't get us wrong: They're still snotty punks. The best around.
Best Scuzzy Garage Rockers - Modern Primitives
Every town needs one, and when it comes to low down garage jams that make you want to take a shower afterward, no one seems to do it better than Travis Phillips, Phillip Gripper and Tim Nhu, collectively known around town as Modern Primitives. The trio's been moving like a three headed viper through Queen City dives, venues and parties since 2011, bringing a sound that evokes Sky Saxon if he had grown up in Gaston County, or liked to wash down his magic mushrooms with a cold can of Miller Lite. Modern Primitives played this year's solar eclipse party sponsored by Royal Peasantry's gang, unannounced, and delivered a moody reverb-soaked set that affirmed their place on this list and in the hearts of Charlotte's garage rock fans.
Best Blues-Based Rock Band - Radio Lola
With this year's release of the band's debut album, The Burden in Our Bones, Radio Lola's Dani Engle quickly filled the void left when Deirdre Kroener exited Grown Up Avenger Stuff and left Charlotte's music scene without a powerhouse female rock vocalist to hang its dreams on. With live gems like "Birthday Suit" and "Floor 22," Radio Lola showcases Engle's blue-eyed-soul-gone-punk vocals with postcards-from-the-edge lyrics; Chris Hendrickson's swampy, fuzzed-out blues and rock guitar work that he'd refined for years in bands like Red All Over; Sean Nowak's classic, song-over-all drum style; and Kevin Synder's roots-man bass playing. Engle can slip from a moody lounge croon into a full-throated roadhouse roar on a dime, and Radio Lola backs her on her trips to the darkest borders of her heart.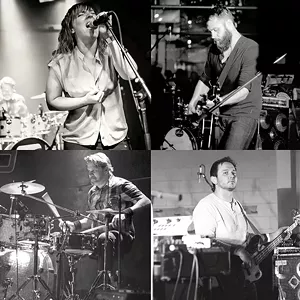 Best Avant-jazz improvisers - Ghost Trees
This duo wins "best jazz" of some sort every year, and it's not hard to see why. No musician in Charlotte blurts out better, more lyrical free-jazz than tenor saxophonist Brent Bagwell, and no percussionist holds it all together like Seth Nanaa. Jazz in Charlotte doesn't get more adventurous than Ghost Trees, whose members were also a part of the New York City-formed ensemble Eastern Seaboard, which cut two critically lauded albums for the avant-garde label Black Saint Records in the 2000s.
Best Gram Parsons-Loving Country-Rock Band - Amigo
Amigo keeps the torch burning for true alternative country-rock while most bands that boast the same in this town have slipped into Avett Brothers copycatism. Pedal steel guitars weave in and out of psychedelic organs and crunched telecasters, while barrelhouse pianos bash out chords that will send you sailing down the highway, into a mythical western sunset that only your wildest Flying Burrito dreams can take you. "I'm not a sucker but I play one in real life," sings Slade Baird, just one brilliant line in a library of similar gems that will send you flying out of whatever venue you see them at, ready to face whatever the hell that life decides to throw at you. Amigo are your real best friends, and they're going to make sure it stays that way.
Best Latin-fusion Band - Chócala
Out of the ashes of Patabamba came Chócala in 2017: Drummer Davey Blackburn with singer and percussionist Claudio Ortiz and his sister, singer Liza Ortiz, this time rounded out by saxophonist Michael Anderson from Snagglepuss. The band puts a few avant-garde twists, courtesy of Blackburn and Anderson, to timeless Latin styles, somehow retaining a healthy respect for tradition. It's a difficult tightwire to walk, but Chócala walks it with grace. What's more, Blackburn is one of Charlotte's louder cheerleaders for Latin music and culture; he also teamed up this year with Latin American Coalition talent booker Tony Arreaza, also a musician, to create the series Latin Night in Plaza Midwood at Snug Harbor.
[imge-12]
Best Stage Presence - Blu House
The word that comes to mind when Blu House hits a stage and starts playing is "transfixed." Whether performing a family-friendly affair or a no-holds-barred nightclub show, this Charlotte band will gain complete control of your eyes and ears. The vocals and guitar licks grab you, and the wild onstage antics will keep you glued. When the kiddos are not around, ski masks go on and shirts come off, as the group's bluesy-rock-meets-soulful-funk takes over. Whether your political house is painted red or blue, anyone can agree that Blu House offers a bipartisan experience for anyone looking to see a kick-ass rock band offer a punk-funk showstopper.