Whether you're spending your Saturday day drinking on a patio in Plaza Midwood or you got the club goin' up on a Tuesday in Uptown, we all need to let our hair down sometimes. Here's to the bars and hangout spots where we think we had some of the best times of the past year, but we can't quite remember.
Best Multitaskers - Salud
If you get bored easily but you're not a fan of hole-in-the-walls, Salud in NoDa is probably your best bet. The perfect example of gentrification in the area, Salud is where the artsy hippie and the modern hipster collide. Downstairs in Salud Beer Shop, a step up from Common Market, you'll find, "Sour beer, old-school hip-hop, wafflewiches and Nintendo." (If you haven't stolen one of their baby goblets with these exact words on it, you're missing out.) You may get dizzy traversing the stairs and murals when you take the back entrance upstairs to this summer's swanky summer add-on: Salud Cerveceria. Co-working space, event space, bohemian hangout, jungle-lover's safe haven. That's the best way to describe the open-air beer hall/garden. Get some work done, find your fave sour or play a game of shuffleboard. Between the art, games and beer, there's plenty to keep the ADD mind at bay when you visit Salud.
Best 180 - Hattie's Tap & Tavern
Jackie DeLoach, owner of Hatties Tap & Tavern, entered the new year with a new vision for her neighborhood bar. She planned to turn Hattie's into Charlotte's new music spot, and brought on former Double Door Inn soundman Zac McBee to raise the stage, soundproof the room and help Hattie's become a savior in a city that's seen numerous mid-size music venues shut down in recent years. However, as DeLoach stepped up the show bookings, she found the bigger, louder gigs were taking away from the chill vibes that had led many to call Hattie's "Charlotte's Cheers." DeLoach dialed it back, but still hosts low-key, local music acts about three nights a week. A pool table now stands where the stage once was, but we're not mad about it. Hattie's remains our favorite neighborhood bar in the city, where everyone knows your name. Billiards, anyone?
Best New Nightlife Spot - Camp North End
If you're unfamiliar with Camp North End, you won't be for long. City council has approved a massive redevelopment initiative for the 75-acre industrial site on Statesville Avenue, which used to be a Model-T Ford factory and then later a military missile-development plant. The future will bring apartments, hotels and retail, but for now, it's a space surrounded with graffiti murals by local artists, strings of globe lights, and extremely good vibes. It's hosted a handful of unique large-scale events like the AfroPop Block Party, and it currently offers a weekly Friday night gathering with live music, performance art, games, food trucks and local brews.
Best Karaoke Spot - NoDa 101
The NoDa 101 space has seen its ups and downs since Sin City stood there before it, but over the last couple of years, it has truly come into its own as NoDa's go-to karaoke bar, ready for your offkey howling (just kidding, we're sure you sound fine) seven nights a week. The karaoke starts at 9 p.m. on weekdays and 8 p.m. on weekends, so get there early to catch some of the regulars who really now how to belt it out. Our favorite is Young Jim, and you don't want to miss one of his performances, which almost always involves him breaking it down on his trusty trumpet. Or, stumble in later when the fun really begins, because that's when the props come into play.
Best Just Stay Away From the Edge - City Lights
Are you afraid of heights? Oh well, you'll have to deal with it if you want to experience the famous "Sparkle and Pop" cocktail (featuring a King of Pops pop) pictured in almost every IG post about City Lights Rooftop. Located on the rooftop of Le Meridien, City Lights captures one of the most beautiful views of the Charlotte skyline. Dress to impress and be careful of how much you're drinking, it'd be unfortunate if you got too close to the edge ... or wanted to jump when you get ready to pay your bill.
Best Bar To Get Dressed Up For: Sophia's Lounge
If you're tired of treating your Tinder lineup to basic dates, step it up a notch. Sophistication is what you'll find when you step into Sophia's Lounge. If being located in The Ivey's Hotel wasn't enough indication, this venue isn't a place you want to be anything but "dressed to impress." But don't get it twisted, despite the swanky decor, intimate seating, dim lighting and pricey craft cocktails and small plates, the environment isn't stuffy. You still may be able to get loose before getting lit across the street at Dandelion Market.
Best Bar to Get Undressed In - Uptown Cabaret on Sin Sunday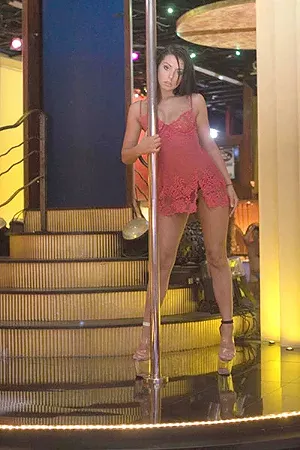 Whether you go for the breakfast buffet or for more visual sustenance, a visit to the strip club should always come with at least a little bit of self-reflection. Finding nirvana under the sultry lights is not guaranteed, but follow the Buddha's lead anyway and contemplate some shit. Like, could I do this? What would it take for me to get onstage and bare all? If you've ever wanted to try it, Uptown Cabaret hosts an amateur contest every Sunday as part of Service Industry Night (S.I.N., get it?). Karaoke, cash prizes and drink specials will help you beat that Sunday ennui and make you forget (or fervently hope for) the work week's imminent arrival.
Best Dirty Little Secret - Charlotte Area Power Exchange
Have you ever wondered whether your sexual fantasies make you weird? Do you get off on ideas that you would never tell your friends or even your partner? If so, you're not alone. This city is kinkier than you might expect. Good news: Bringing your wildest fantasies out of your imagination and into your actual sex life is possible! But practicing BDSM and kink comes with important considerations for the mental and physical well-being of both you and your partner(s). CAPEX is a non-profit BDSM education organization that offers discreet monthly programs about BDSM safety. With their expertise and practical advice, you'll be equipped to make your wettest dreams come true.
Best Place To Meet 140 Characters - #instaBeerUpCLT
Nothing makes us cringe quite like hearing the words "networking event" in a press release or Facebook invite, and there's no quicker way to ensure we won't be attending than to use that sort of evil, social-anixety-triggering language. Yet somehow, Remy Thurston and Corri Smith have managed to create the city's most chill, no-pressure networking event, where you can rub shoulders with all those folks you're always joking with on Twitter or stalking on Instagram (don't make it weird). The monthly beer-drinking event rotates from bar to brewery to taproom, so just make sure you keep up with the hashtag to know where the next one will pop up.
Best Place to Day Drink - Olde Mecklenburg Brewery
Olde Mecklenburg Brewery is not in Munich, but it's a good place to pretend you're in the Old Country for awhile. Eat a pretzel with beer cheese and enjoy good company and good weather in the brewery's immaculately landscaped biergarten. You won't notice that you're not in Europe until you're sloshed on German-style beers and there's no convenient public transportation to take you home.
Best Place to Be A Kid Again - Recess Charlotte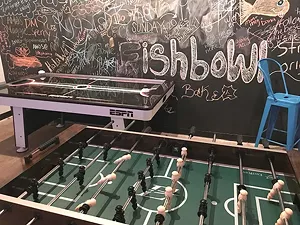 You know y'all like playing games right before cuffing season. So it shouldn't be a surprise that Recess is the best spot for you to put your gaming skills to good use. Corn hole, UNO, swings, giant Connect 4, Mancala and tetherball. Those are just a few of the games you'll find at Recess to play with your new squeeze or best friends. Decked out in childlike murals, seven televisions and complete with two serving stations, Recess' chill environment is the perfect training spot for stepping up your game. Did I mention they have a food and drink menu that's built for a big kid? Drink, eat and play responsibly kids.
Best Hangover Cure - Hydrate medical
Are you tired of dry heaving into the toilet? Thought you were a pro at swallowing until you tried to chug a Pedialyte the next morning? There is hope. Hydrate Medical is the perfect plan B that will make your walk of shame worth the hangover. Instead of relying on your sub-par "tried-and-true" methods of curing your hangover, turn to the pros for the best treatment in the Q.C. — Hydrate Hangover. For $129, you'll get an IV filled with a liter of magical fluids of Harry Potter proportions.
Best Hole in the Wall (or Condos) - Thirsty Beaver Saloon
Bras and bikers. That's exactly what you'll find when you visit the Thirsty Beaver Saloon on Central Avenue. Newcomers might miss this dive bar if they're not looking for the tiny little nook nestled between two buildings that make up a brand-new five-story apartment complex. That's right, the Plaza Midwood community staple refuses to be pushed out by urban development. If that's not bad ass, I don't know what is. Throw in the fact that they have a pool table, live music and the best pickleback shots you'll ever take — if that's even possible — and you have yourself a good ol' time.
Best Resurrection - Crown Station
When Crown Station closed its Elizabeth location, locals lamented the loss of one of the city's few true sanctuaries for local artists. With a wide-open booking policy, almost any aspiring act could get a gig at Crown Station to try out their sound in front of the local college kids or after-work crowd. So when Crown Station recently re-emerged at its new 3629 North Davidson Street location, in the shadows of an urban railway project that has split NoDa in half, we were dead pleased to find the same great attitude in an even bigger and better space. Crown Station is back: ready to give you coffee, tea, or a whiskey on the rocks, as well as a bigger stage and an excellent sound system for local and touring acts.
Best Place to Switch It Up - Petra's
Have you ever seen someone stumble over the spelling of a word while holding back vom? Ever had your face painted (no double entendre intended) by a drunk guy? Well, there's a place you can experience both. Despite popular opinion, Petra's isn't reserved for LGBT nightlife. From buzzed spelling bees featuring PBR tall boys to cultural adventures accompanied by Afrobeat, there's literally something for everyone at Petra's. The intimate atmosphere, diverse clientele and wide variety of events every single day of the week, make Petra's Plaza Midwood's best-kept secret in nightlife. Escape the norm of your fave watering hole, check out the events calendar (updated regularly on the website) and make a plan to visit Petra's ASAP. You won't regret it.
Best Place to Roll One - Queen Park Social
"I just wanna Rolly Rolly Rolly with a dab of ranch!" Well, you can do that and more at Queen Park Social. Recognized as a boutique social house, Queen Park Social offers cocktails and Tex-Mex/American food for your tastebuds and Skeeball, shuffleboard and pop-a-shot (to name a few) for your busy spirit. But the critical feature? Eight lanes of fun for bowling lovers — are there many of those left these days? Whether you're planning a birthday party or just looking for something to do other than watch babies hang out at a brewery, Queen Park Social has 18,000 square feet of space for you to explore.
Best Place to Smoke With Inclusivity - The Peace Pipe
No matter what night you decide to drop by The Peace Pipe, there will be a spot for you. This hookah lounge features comedy shows on Sunday, drag shows on Monday, trivia every other Wednesday and a bevy of other events. For instance, soon they'll be hosting a meeting of the international facial hair extraordinaires the Bearded Villains, who will raise money to stop human trafficking. Also, keep an eye out for open mic nights, in which attendees share any and all types of poetry, from spoken word to inspirational messages.