Christmas time is here
, let us celebrate the reason for the season! As we deck the halls, brave crowded shopping malls, attend company parties, host family gatherings, prepare delicious feasts, and so much more - it becomes challenging to slow down and ponder the miracle of Christmas.  As we celebrate the holiday season, may we turn to scripture and rejoice with gratitude for the greatest gift ever given.
Every birth is a miracle, and every child is a gift from God. But nearly 20 centuries ago, the miracle of miracles occurred. A baby was born, but He was the Son of God, Jesus Christ.
An Angel Appears to Joseph in a Dream

"Now the birth of Jesus Christ was as follows: when His mother Mary had been betrothed to Joseph, before they came together she was found to be with child by the Holy Spirit. And Joseph her husband, being a righteous man and not wanting to expose her to public disgrace, planned to send her away secretly. But when he had considered this, behold, an angel of the Lord appeared to Him in a dream, saying, "Joseph, son of David, do not be afraid to take Mary as your wife; for the Child who has been conceived in her is of the Holy Spirit. "She will bear a Son; and you shall call His name Jesus, for He will save His people from their sins." Now all this took place to fulfill what was spoken by the Lord through the prophet: "BEHOLD, THE VIRGIN SHALL BE WITH CHILD AND SHALL BEAR A SON, AND THEY SHALL CALL HIS NAME IMMANUEL," which translated means, "GOD WITH US." And Joseph awoke from his sleep and did as the angel of the Lord commanded Him, and took Mary as his wife, but kept her a virgin until she gave birth to a Son; and He called His name Jesus.
"Now when Jesus was born in Bethlehem of Judaea in the days of Herod the King, behold, there came wise men from the east to Jerusalem, Saying, Where is He that is born King of the Jews? For we have seen his star in the east, and are come to worship Him."
– Matthew 2:1-2
"When they saw the star, they rejoiced with exceeding great joy." – Matthew 2:10
"And the angel said unto them, Fear not: for, behold, I bring you good tidings of great joy, which shall be to all people. For unto you is born this day in the city of David a Savior, which is Christ the Lord." – Luke 2:10-11
The Love of The Father
The entire gospel comes to focus in these next few verses. Here, God sets the pattern of true love. God's love is not static or self-centered; God's love is self-sacrificing and freely given. When we submit to God, we recognize the insufficiency of our own efforts to find salvation and let God work through us by asking Him to do His will. 
"For God so loved the world that He gave His one and only Son, that whoever believes in Him shall not perish but have eternal life. For God did not send His Son into the world to condemn the world, but to save the world through Him. Whoever believes in Him is not condemned, but whoever does not believe stands condemned already because they have not believed in the name of God's one and only Son. This is the verdict: Light has come into the world, but people loved darkness instead of light because their deeds were evil. Everyone who does evil hates the light, and will not come into the light for fear that their deeds will be exposed." – John 3:16-20
Jesus said to them, "If God were your Father, you would love me, for I came from God and I am here. I came not of my own accord, but He sent me." – John 8:42
"These things I have spoken to you, so that in Me you may have peace. In the world you have tribulation, but take courage; I have overcome the world." – John 16:33
"For the wages of sin is death; but the gift of God is eternal life through Jesus Christ our Lord."
– Romans 6:23
"But when the kindness and love of God our Savior appeared, He saved us, not because of righteous things we had done, but because of his mercy." – Titus 3:4-5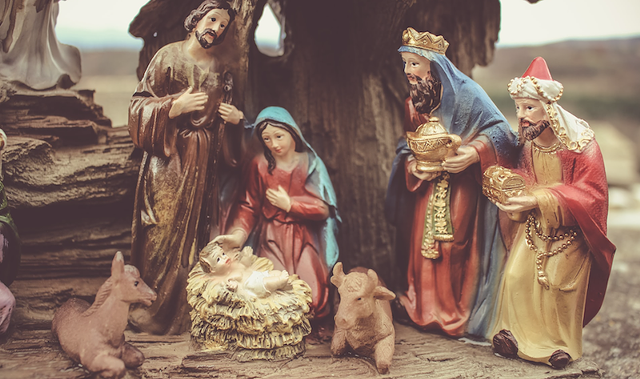 A Season of Giving
"In all things, I have shown you that by working hard in this way we must help the weak and remember the words of the Lord Jesus, how He Himself said, 'It is more blessed to give than to receive." – Acts 20:35
"A generous person will prosper; whoever refreshes others will be refreshed." –Proverbs 11:25
"Every good and perfect gift is from above, coming down from the Father of the heavenly lights, who does not change like shifting shadows." – James 1:17