Shelton and Clarkson both pressed their buttons to choose Marlowe during his blind audition. (Photo Courtesy of NBC)
NBC fan-favorite The Voice returned for its 15th season this week, rounding up a fresh crop of talented artists from all over the country. During last night's premiere, judges and team leaders Blake Shelton, Kelly Clarkson, Jennifer Hudson and Adam Levine all scrambled to put together teams, generating stiff competition between judges.
The fight for talent came to a head between Clarkson and Shelton last night when Kameron Marlowe — a Kannapolis native and current Charlotte resident — blew the judges away with his rendition of country singer Luke Combs' "One Number Away."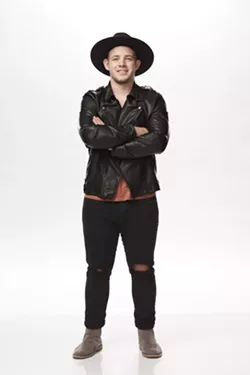 Kameron Marlowe was selected to Shelton's team on 'The Voice.' (Photo Courtesy of NBC)
Marlowe was only a few seconds into his performance when both Clarkson and Shelton, artists known for their country roots, hit their buzzers for Marlowe. Afterward, Levine told Marlowe that he immediately regretted not turning his chair around. Marlowe quickly accepted the offer for Shelton's team, expressing his gratitude for the surreal moment.
The 21-year-old revealed that his love for singing and country music began when his grandfather would take him hunting and fishing in the countryside. In the car, his grandfather would play country music as they drove around.
Marlowe began singing in his church at 10 years old and joined a band in high school. When his mother was diagnosed with a degenerative disc injury, he dropped out of college and picked up a job to help out. But he never stopped singing, and made it to the stage of The Voice, garnering the praise of country music stars Clarkson and Shelton.
After the premiere, Marlowe took to Twitter and stated, "Thanks to everybody for your support and especially @BlakeShelton for turning your chair glad to have you as my coach."
The show continues tonight, as The Voice brings more talent on stage for blind auditions to vie for the attention of the stars in their chairs.
Watch the video below for Kameron Marlowe's performance on The Voice.