Slipknot, Marilyn Manson, Of Mice & Men
PNC Music Pavilion
Aug. 2, 2016
With so many bands canceling gigs in North Carolina due to the HB2 law, a good number of artists who are performing are addressing the issue in one way or another. Part way through their set on Tuesday night, Slipknot singer Corey Taylor addressed the packed PNC Music Pavilion about the issue. 
"We thought about canceling this gig due to HB2, but we feel it's a problem that you have to deal with like family — from the inside," Taylor said. "And I'll guarantee you we'll be back, even if that fight continues." 
Not only were Taylor and the other eight members concerned about politics, on this night, they were concerned with everyone having a good time. Often referring to the audience as "family," Taylor and Co. offered a wide range of songs from the band's extensive catalog.
The threat of lightning cut Of Mice & Men's opening set short, but it didn't dampen the mood of the evening. Fans had been eagerly awaiting the return of Slipknot ever since their last Charlotte appearance at Carolina Rebellion two years ago.
While the band appeared to be a bit toned down — no clowns hanging from the spinning drum kits, Taylor's neck brace from recent spinal surgery kept his movements limited — sonically, they were as strong as ever. 
From the opening notes of "The Negative One," to the old school style of "The Heretic Anthem" and "Pulse of the Maggots" to the thunderous "Wait and Bleed," the nine members of Slipknot powered through a relentless set that lasted for an hour and 45 minutes before the dust finally settled.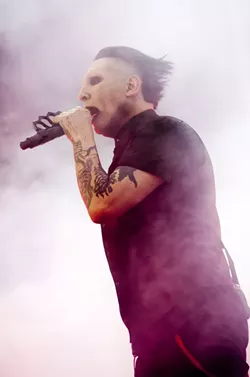 Marilyn Manson was the second opening act of the night, taking the stage a bit later than planned because of the weather, but playing an hour-long set of hits. There's been reports of Manson's set not being up to par, but that wasn't the case here... though he did seem a bit bored at times. 
Manson could be seen yelling at stagehands before breaking a mic stand over his knee. He appeared uncomfortable in the sweltering humidity of the night, constantly wiping off his face with towels. 
While some of his performance and antics — walking on stilts, burning a bible, etc. — were, at one time, surprising and entertaining, it's now become a bit cliche and routine. For an artist that thrived on creativity and pushing buttons in the past, his act has lost its visual shock value while the quality of the music has remained the same — mostly because the setlist focuses on fan favorites. 
While Manson himself might not have been enjoying the set, fans — throughout the entirety of the night's concert — sang along and were craving more when it was all over.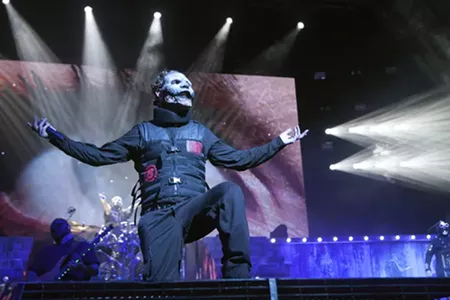 Slipknot setlist
The Negative One
Disasterpiece
Eyeless
Skeptic
Before I Forget
Killpop
Dead Memories
The Heretic Anthem
Psychosocial
Pulse of the Maggots
Left Behind
The Devil in I
Wait and Bleed
(sic)
Encore
Surfacing
Duality
Spit It Out
Marilyn Manson setlist
Angel With the Scabbed Wings
Disposable Teens
No Reflection
mOBSCENE
Killing Strangers
Irresponsible Hate Anthem
The Dope Show
Sweet Dreams (Are Made of This)
Antichrist Superstar
The Beautiful People