Garbage w/ Kristin Kontrol
The Fillmore
July 23, 2016

Kristin Kontrol (Photo by Jeff Hahne)
Kristin Kontrol, Kristin Welchez's latest music outfit following the Dum Dum Girls, is a synth-pop act fitting for Garbage's opening act. The music had a low-key, '80s feel, yet lacked the catchy bounce that tunes from that era often possessed. It's ok though. The general mood and anticipation of seeing Garbage was enough to lift the mood.
Garbage (Photo by Jeff Hahne)
Original Garbage members Shirley Manson, Duke Erikson, Steve Marker were joined by Eric Avery, an original bassist for Janes Addiction and Eric Gardner, who was filling in for the legendary Butch Vig.
As always, the band was on top of its game with Manson rocking her front woman status in leopard print attire and fresh hot pink hair color. The band mixed new and old songs, sometimes diving in and pulling out the unexpected (including deep dark goodies from its 1995 debut album, like "Super Vixen," "Stroke of Luck," and "Vow"), as well as gems from throughout the band's lengthy catalogue.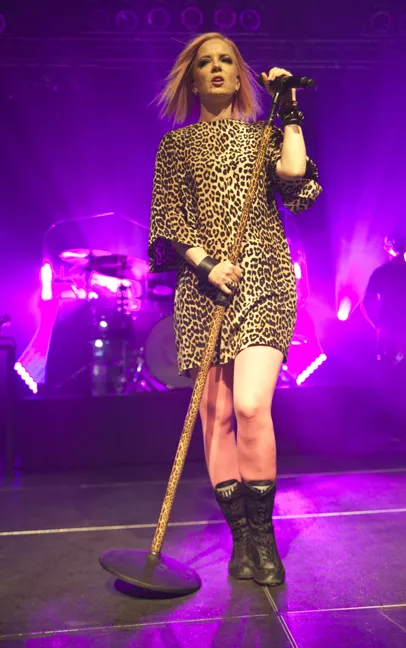 Garbage (Photo by Jeff Hahne)
Prior to breaking into "Sex is Not the Enemy," Manson addressed "Queer," from the band's debut album and a time period when it was a risky single choice. She addressed her respect for the LGBTQ community and their rights but kept things brief, telling her audience that she'd return to the subject later. That return came with her specifically showcasing her stance on HB2 — she strongly opposes the bill and knows that most of her fans do, too — and the debate on whether or not to play in Charlotte. All that was before she broke into "Androgyny," a track from 2001's
Beautiful Garbage
.
Garbage (Photo by Jeff Hahne)
Other highlights from the show included classics like "Paranoid," "Special," "Bleed Like Me," and "Only Happy When It Rains," played somewhat softer than it's recorded component, and "Push It." Prior to playing the latter, Manson welcomed an 11-year-old from the crowd onto the stage to play the drums. That kid is going to have one hell of a story to tell the grandkids.
Garbage came back for an encore and played "Sometimes" and "Empty," both from 2016's Strange Little Birds, and closed the set with "#1 Crush," a song that was remixed for the 1996 soundtrack for
Romeo + Juliet
.
Garbage (Photo by Jeff Hahne)
Setlist
Supervixen
Paranoid
Stupid Girl
Authomatic Systematic Habit
Blood for Poppies
The Trick is to Keep Breathing
My Lovers Box
Sex is not the Enemy
Special
Stroke of Luck
Doomed
Why Do You Love Me
Androgyny
Blackout
Bleed Like Me
Push It
Vow
Only Happy When it Rains
Cherry Lips
Encore
Sometimes
Empty
#1 Crush