White Trash Party #7 w/ Iron Cordoba
The Chop Shop
Aug. 27, 2011
The Deal: A few hundred people put on their trashiest outfits and head to the Chop Shop for an annual event featuring plenty of PBR and music.
The Good: I got to the venue around 10 p.m., just in time for the Trashy Bridesmaid Contest featuring some see-thru clothing and PBR. After a brief "wedding," about 15 minutes later, Iron Cordoba hit the stage for a roughly two-hour set of music featuring covers and some originals.
From ZZ Top's "La Grange" and Poison's "Every Rose Has Its Thorn" to a "condensed" version of Bruce Springsteen that summed up every song he ever wrote and a cover of "Fat Bottom Girls," Iron Cordoba not only spends time making sure the music sounds good, but also wears song-appropriate costumes, recruits dancers to adorn the stage and finds the props to make it all complete. "Girls, Girls, Girls" included a motorcycle being driven up to the stage.
It's not just a concert or performance — it's a show. They have scripts and videos to go along with the theme of the night, wear wigs when needed and get the crowd involved when they can. It's not a concert, it's a complete party.
The Bad: One female audience member with her thong hanging out — she competed in the Trashiest Costume Contest — said it best when the Camel Toe Contest began. "I may be trashy, but I'm not that trashy." The much-hyped Camel Toe Contest struggled for participation, though the winner walked away with a beach cruiser bicycle.
The Verdict: The brought the "trash" and the "trash" brought it. The annual event is quite unique in its form and function while remaining fun in its purest form.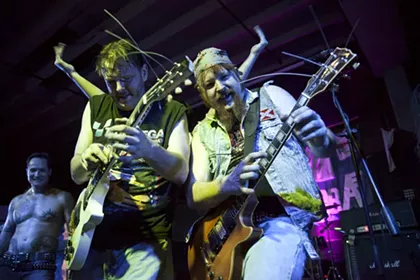 12 slides