The Love Beyond Walls team during the March Against Poverty.
A man walking 648 miles from Atlanta to Washington D.C. to raise awareness for poverty is passing through Charlotte today. Terence Lester began his walk on August 20, beginning from the spot where Martin Luther King, Jr. began his March on Washington.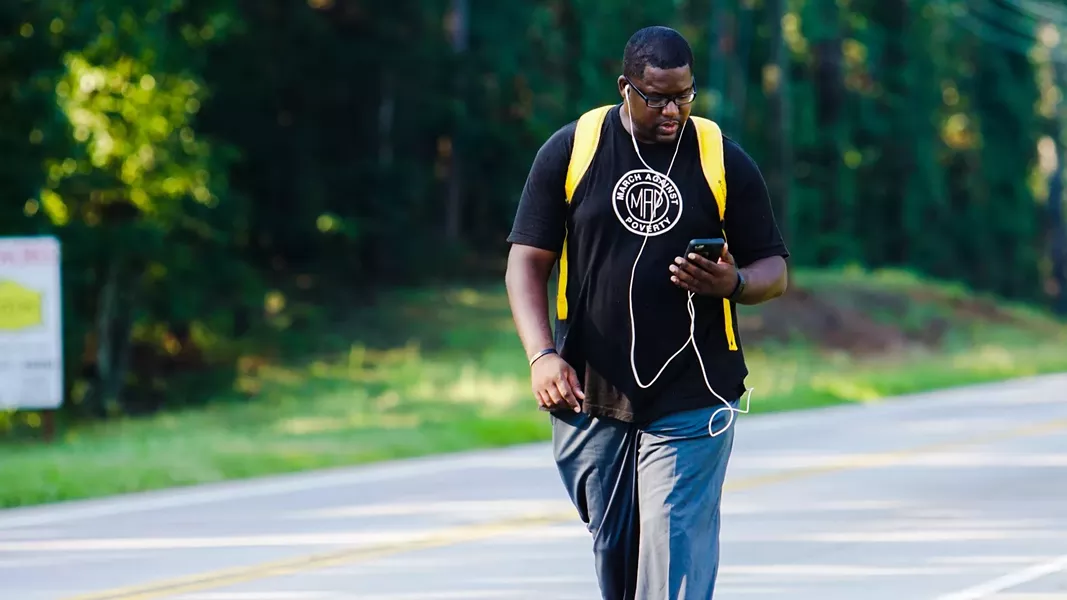 Throughout his journey, Lester has been documenting the stories of folks living in poverty in the towns he's passed through, doing so through his organization's
Facebook
and
Instagram
pages. He often speaks alone directly into his phone to give his insights into the people he's met on his march and what he's learned.
Lester is walking for Love Beyond Walls, a nonprofit that serves 400 to 500 people people each month through various missions like free laundry rooms, mobile makeovers and food pantries.
—————
CMPD is investigating a murder that occurred just before midnight last night on Clanton Road in south Charlotte. Officers responded to an assault call on the 500 block of Clanton Road at 11:44 p.m. and found a male suffering from a gunshot wound. The victim was pronounced dead on the scene. The victim's name will be released pending notification of the family, and the investigation into who killed him is still ongoing.
—————
The NCAA became the most recent organization to pull its money from North Carolina due to House Bill 2 last night, announcing that it will no longer hold seven championship events planned for the state during the 2016-17 academic school year.
"Fairness is about more than the opportunity to participate in college sports, or even compete for championships," Mark Emmert, NCAA president, said in a statement released by the NCAA Board of Governors. "We believe in providing a safe and respectful environment at our events and are committed to providing the best experience possible for college athletes, fans and everyone taking part in our championships."
In a response that proved just how out of touch the NCGOP has become, spokeswoman Kami Mueller fell back on familiar myths pushed by those in support of HB2, claiming that women and children were made safer by the law, while also introducing new leaps in logic to the conversation, drawing lines between the NCAA's decision and rape cases at Baylor University, calling the decision "an assault to female athletes everywhere."