The Southeastern Film Critics Association (SEFCA) yesterday named The Grand Budapest Hotel the Best Picture of 2014 in its 23rd annual voting. Writer-director Wes Anderson's unique comedy earned a total of three awards, with its other victories coming in the categories of Best Ensemble and Best Original Screenplay (Anderson and Hugo Guinness).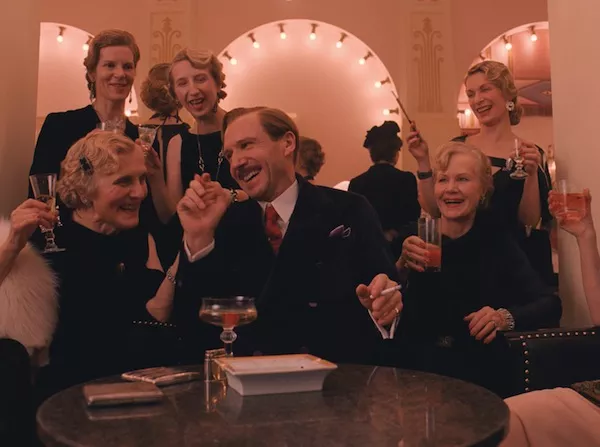 Boyhood and Birdman: or (The Unexpected Virtue of Ignorance), which respectively placed second and third in the tallying for Best Picture, were the only other movies to score multiple wins, each winning two prizes apiece.
The Wyatt Award, given annually to the "film that best evokes the spirit of the South" (past winners have included Beasts of the Southern Wild, The Help and Winter's Bone), this year went to director Ava DuVernay's Selma.
The Southeastern Film Critics Association is comprised of film journalists from nine states representing the Southeastern section of the United States. This year, 54 members participated in the voting, including Charlotte critics Sean O'Connell, Lawrence Toppman, Harvey Burgess and me.
In addition to naming its Best Picture, SEFCA also releases its Top 10 for the year. The complete list of winners and runners-up in all categories is below.
BEST PICTURE
1. The Grand Budapest Hotel
2. Boyhood
3. Birdman: or (The Unexpected Virtue of Ignorance)
4. Whiplash
5. The Imitation Game
6. Gone Girl
7. Snowpiercer
8. Nightcrawler
9. Foxcatcher
10. The Theory of Everything
BEST ACTOR
1. Michael Keaton, Birdman: or (The Unexpected Virtue of Ignorance)
2. Eddie Redmayne, The Theory of Everything
BEST ACTRESS
1. Julianne Moore, Still Alice
2. Reese Witherspoon, Wild
BEST SUPPORTING ACTOR
1. J.K. Simmons,
Whiplash
2. Edward Norton,
Birdman: or (The Unexpected Virtue of Ignorance)
BEST SUPPORTING ACTRESS
1. Patricia Arquette, Boyhood
2. Tilda Swinton, Snowpiercer
BEST ENSEMBLE
1. The Grand Budapest Hotel
2. Birdman: or (The Unexpected Virtue of Ignorance)
BEST DIRECTOR
1. Richard Linklater, Boyhood
2. Wes Anderson, The Grand Budapest Hotel
BEST ORIGINAL SCREENPLAY
1. The Grand Budapest Hotel: Wes Anderson, Hugo Guinness
2. Birdman: or (The Unexpected Virtue of Ignorance): Alejandro González Iñárritu, Nicolas Giacobone, Alexander Dinelaris, Armando Bo
BEST ADAPTED SCREENPLAY
1. Gone Girl: Gillian Flynn
2. Wild: Nick Hornby
BEST DOCUMENTARY
1. Life Itself
2. Citizenfour
BEST FOREIGN LANGUAGE FILM
1. Force Majeure (Sweden)
2. Ida (Poland)
BEST ANIMATED FILM
1. The LEGO Movie
2. Big Hero 6
BEST CINEMATOGRAPHY
1. Birdman: or (The Unexpected Virtue of Ignorance): Emmanuel Lubezki
2. The Grand Budapest Hotel: Robert Yeoman
THE GENE WYATT AWARD FOR THE FILM THAT BEST EVOKES THE SPIRIT OF THE SOUTH
1. Selma
2. Cold in July