It's been less than two years since my wife Sue and I saw the Broadway edition of Peter and the Starcatcher, playwright Rick Elice's adaptation of the Peter Pan prequel by Dave Barry and Ridley Pearson. So as a hardcore Pan fan, the memory of my disappointment was still fresh when the touring production opened on Tuesday at Knight Theater.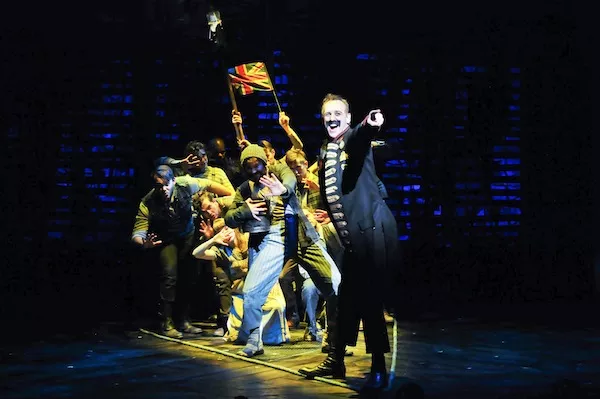 Photo credit: Jenny Anderson
How hardcore? Watching the Mary Martin-Cyril Ritchard musical face-off as Pan and Captain Hook was an annual boyhood rite, glued to my family's miniscule black-and-white TV. I adored the Disney animated feature, and the Peter Pan board game based on the film was probably the cheapest bliss my parents ever gift-wrapped for me. In my eyes, your parenting credentials aren't complete until you've faithfully read the James M. Barrie novel to your child at bedtime.
Well, I'm pleased to report that Sue and I enjoyed the touring Starcatcher far more than the New York edition. The connection between Elice's play and Barrie's up in the Big Apple was tenuous at best through most of the evening - pirates, treasure, fantastic voyage, and orphan boys, including a nameless orphan who hates all grownups. Deep into Act 2, the eternal adversaries, Boy and the piratical Black Stache, acquire their more familiar identities, but until then, we were hard-pressed to care or even to pay close attention.
There were musicians perched on both sides of the proscenium? Stache donned his handlebars in front of a vanity mirror? Cross-dressing mermaids sang immediately after intermission? We'd forgotten. The comedy largely laid an egg when we sampled the replacement Stache at Brooks Atkinson Theatre, and Elice's script never showed me any heart, let alone Barrie's gossamer spirit.
But at Knight Theater, John Sanders isn't merely trying to be funny as Stache, he is. Whether he was simply buying time to cover a bungled costume adjustment or going off on an inspired improv, Sanders was hilarious on opening night at the climactic moment when Stache lost his hand, clearly having a great time with the amputation. The witticisms appended to this catastrophe, one of my fonder memories from the Broadway show, were almost anticlimactic here.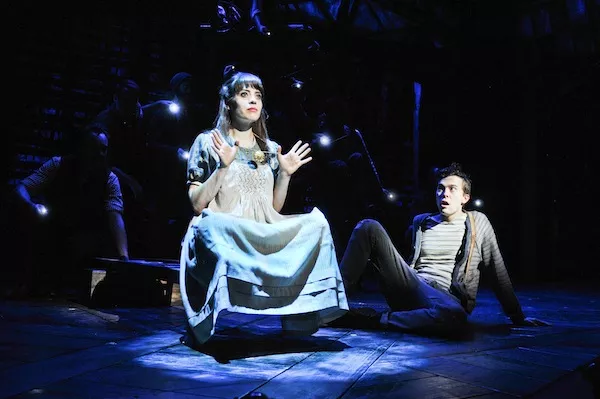 Photo credit: Jenny Anderson
I also prefer the chemistry between Joey deBettencourt as Peter and Megan Stern as Molly to the bland porridge I encountered from the original castmates in New York. More importantly, I can stitch them together more readily with the personalities we see in the Darling home when the curtain goes up on the subsequent Barrie fantasy. Something substantial happens between them during all the zaniness and the deconstructed staging, so when I saw Peter and Molly for the last time, I discovered that Elice's script does have considerable heart after all.
While Elice's monkeyshines - and the hyper stage direction of Roger Rees and Alex Timbers - were merely nominated for Tony Awards in 2012, Donyale Werle's set design, Paloma Young's costumes, Jeff Croiter's lighting, and Darron L. West all earned statuettes. All those outcomes are justified in a touring production that meticulously preserves all their work, thoughtfully tacking on a rococo proscenium that simulates the old-timey glitz of a Times Square theater. Nothing has been left behind in this wacky journey to Neverland.