I'm back in Winston-Salem for the fourth consecutive year, and, as always, it's for the RiverRun International Film Festival. My schedule selections at this year's 16th annual shindig will include movies starring Tom Hardy, Guy Pearce and dead cheerleaders, but the opening salvo consists of a pair of films featuring French treasures Jean Reno and Juliette Binoche.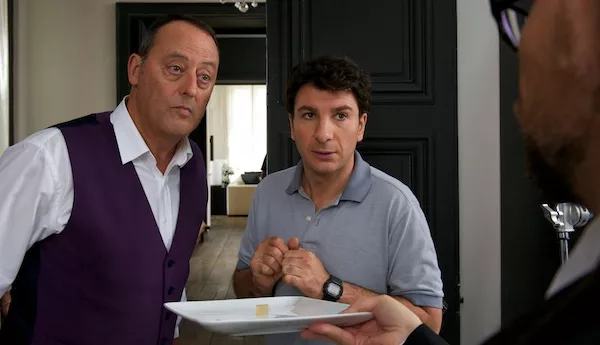 Cohen Media Group
Jean Reno and Michael Youn in Le Chef
LE CHEF - In the world of culinary cinema, if the Oscar-winning Babette's Feast is a 10-oz. filet mignon and Ang Lee's Eat Drink Man Woman is a 4-lb. lobster, then this French import registers as a delectable bonbon, small and insignificant but nevertheless sweet and satisfying. The fine French actor Jean Reno stars as Alexandre Lagarde, a renowned chef known throughout Paris for his prowess in the kitchen (it also doesn't hurt that he has his own cooking show on television). Although he's the driving force at a tony restaurant named after him (Cargo Lagarde), the sleazy owner (Julien Boisselier) finds his dishes too old-fashioned and wants to replace him with a chef who specializes in the new-fangled cuisine known as "molecular gastronomy." The only way he can be fired is if Cargo Lagarde drops from a three-star establishment to a two-star one, and that's likely as Lagarde is about to be visited by some rather cranky food critics just as he's set to introduce his spring menu. But unlikely help comes in the form of Jacky Bonnot (Michaël Youn), a wannabe top chef whose demanding nature in the kitchen costs him job after job. Lagarde takes a chance on Jacky, but even the veteran chef finds himself repeatedly exasperated by this young upstart's behavior. The French have long been efficient at producing streamlined comedies that offer spirited performances and many modest laughs (just stay away from the majority of the American remakes), and Le Chef is no exception. The subplot involving the relationship between Lagarde and his adult daughter Amandine (Salomé Stévenin), who resents her dad always spending more time in the kitchen than at home, adds nothing to the picture, but the rest is tightly scripted, with Jacky's antics earning the ire of his pregnant girlfriend Béatrice (Raphaëlle Agogué) and, in a riotous scene, Lagarde attempting to learn about molecular gastronomy from a flaky Spanish practitioner (Santiago Segura) of the dubious cuisine. All told, Le Chef goes down as smoothly as a warm glass of milk.
Clive Owen and Juliette Binoche in Words and Pictures
WORDS AND PICTURES - I was told that director Fred Schepisi, whose presence graced the 2012 RiverRun International Film Festival as he accompanied his film The Eye of the Storm (see the review as well as photos of Schepisi here), tried to return for the screening of his latest picture but was unable to get away. Twas a shame - he's a lovely gentleman - but at least this film represents him well. It's a better movie than The Eye of the Storm, with Clive Owen and Juliette Binoche delivering potent performances in the leading roles. Owen plays Jack Marcus, an English teacher at a prep school where the students are so engaged with social media that they've forgotten the beauty of the written word. Marcus himself has lost much of his former fire: A published author, he has long allowed himself to drown in booze, even having a vodka-filled thermos always on call in his car during school hours. The school acquires a new art teacher in Dina Delsanto (Binoche), a well-regarded artist whose painful rheumatoid arthritis has resulted in her not creating her own paintings in years. Marcus and Delsanto engage in a testy battle in which he insists that a word is more powerful than a picture and she firmly takes the opposite view. They draw the students into their war, but over time, their own personal problems take precedence over their school activities, especially as Marcus continues to drink heavily and make a spectacle out of himself at every turn. Scripter Gerald Di Pego has fashioned a fair and balanced screenplay that allows both words and pictures to make their cases (although, as a writer, I admittedly found more power in Marcus' superb speech to his students about the power of famous phrases uttered by Thomas Jefferson, Abraham Lincoln and Martin Luther King), and Owen and Binoche (who used her real-life paintings in the film) expertly punch across the passion of their characters. Although the students largely disappear from the proceedings during the film's second half - and there's one subplot involving a scandalous drawing that's feebly handled - the young performers are aptly cast in their roles, particularly Valerie Tian as the sensitive Emily (and among the faculty, look for Bruce Davison in a nice bit as Marcus' supportive colleague Walt).