What began as a few hundred concerned civic leaders and activists gathering in front of North Carolina's capitol building to protest far-right policies has turned into a nationally heard movement - that other states have started to copy.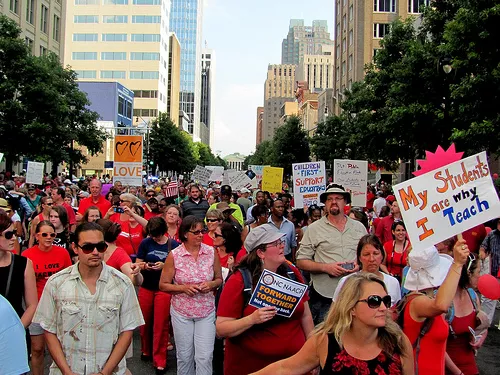 twbuckner (flickr Creative Commons)
Moral Monday protesters gather in Raleigh in July.
Next week, activists in South Carolina will began their own Moral Monday-style protests, which they've dubbed Truthful Tuesday, after the state opted out of expanding Medicaid under the Affordable Care Act and passed a voter-ID bill last year. Protesters are expected to gather in Columbia, S.C., to ask for a fully funded public education system, Medicaid expansion and for lawmakers to protect voting rights, the Charleston City Paper reports.
"Hopefully on Wednesday the 15th the headlines across the state will read 'Citizens Descend on Columbia' to demand legislators take action on these issues," George Hopkins, a College of Charleston history professor and Charleston chapter president of the S.C. Progressive Network, told the City Paper.
Georgia created its own Moral Monday last year. "The Moral Monday Georgia Coalition, which includes people of faith and citizens of Georgia, has been meeting every two weeks to plan for progressive actions during the 2014 Legislative Session," Atlanta Progressive News wrote in December. Read more here.