Pearl Jam
Time Warner Cable Arena
Oct. 30, 2013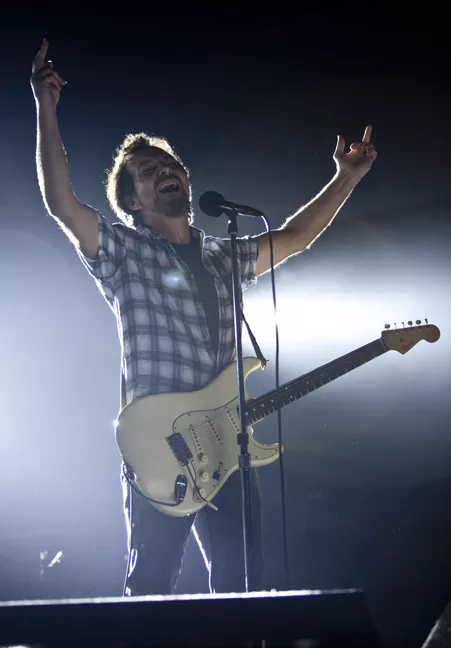 "It's been about 10 years since the last time we were here... did you not call us back?" Pearl Jam frontman Eddie Vedder asked the sold-out Time Warner Cable Arena crowd. "Well, we're gonna make up for all those years."
Dressed in black jeans and a short-sleeved flannel shirt, Vedder and Co. held true to that promise, playing 30 songs over nearly three hours on Oct. 30, 2013, giving everyone in attendance, well, a little bit of everything. While the setlist weighed heavy on the band's current No. 1 album, Lightning Bolt, the band did its best to incorporate something old, something rare, something covered and something bare - guitarist Stone Gossard's chest, to be exact.
"It doesn't really matter, but it's kinda nice... we've had the No. 1 record for two weeks," Vedder, who swigged from a bottle of wine all night, told the crowd. "So, we want to say thanks. It's nice to be No. 1, because sometimes you feel like number two. And we didn't even have to show our tits to do it," he added, as Gossard lifted his shirt.
It was a light-hearted moment that carried throughout the night, as Vedder shared his bottle of wine with the front row, guitarist Mike McCready wandered into the crowd and just about everyone in the packed uptown venue sang, screamed and danced along for the duration of the show.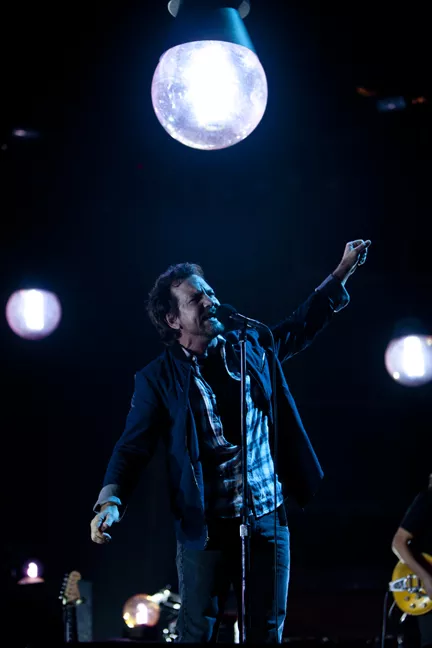 Kicking off its set with
Bolt
's slow and steady "Pendulum," Pearl Jam showed it's still still got it - even after more than two decades. Vedder's voice never wavered, and neither did the band's energy. Even toward the end of the show, McCready and Vedder still found plenty of time to leap around the sparsely decorated stage.
Of course the night's biggest singalongs came with the hits - "Alive," "Evenflow," "Daughter," "Better Man" - but there were plenty of fists pumping during "Given to Fly" and bodies swaying during "Black." The audience clearly knew the new material as much as the obscure and familiar, singing along to recent singles "Mind Your Manners" and "Sirens."
Applause erupted when Vedder told the crowd they'd be playing Bolt's "Getaway" for the first time ever. Fans settled into contentment as much when the band jammed out the ending of set-closer "Rearviewmirror" as when the band opened its first encore with a five-song acoustic set including the rarity "Bee Girl." Of course, cheers rang out again when the first notes of encore-closer "Porch" from the band's first album, Ten, began.
A second encore followed, as Vedder told the crowd, "We've got all this equipment and speakers here, and all of you, so we might as well keep playing." Covers of The Who's "The Real Me" and Bob Dylan's "All Along the Watchtower" helped close out the night.
So who says a bunch of guys with ages hovering around the half-century mark can't rock their assses off? And who keeps saying rock is dead? Pearl Jam proved it's very much alive and well and living in 2013.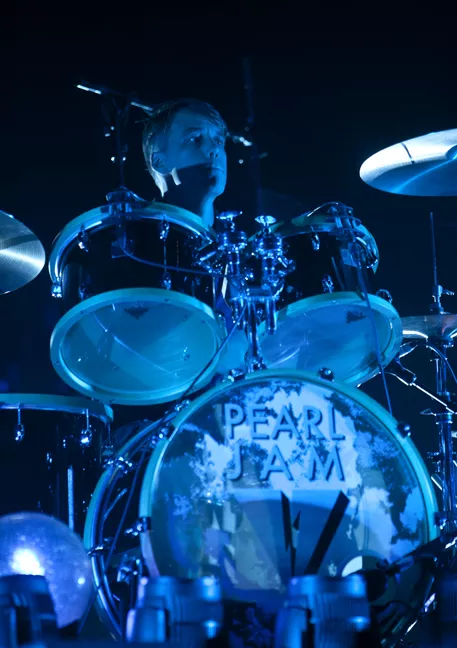 Setlist
Pendulum
Low Light
Present Tense
Last Exit
Do the Evolution
Lightning Bolt
Mind Your Manners
Severed Hand
Even Flow
Daughter
Getaway
Sirens
Setting Forth
Not for You
Immortality
Infallible
Unthought Known
Rearviewmirror
Encore
Bee Girl
Yellow Moon
Off He Goes
Just Breathe
Given to Fly
Better Man
Porch
Encore 2
Elderly Woman Behind the Counter in a Small Town
The Real Me
Black
Alive
All Along the Watchtower