Charlotte Planning Department Director Debra Campbell braved a crowd of anxiety-ridden restaurant owners, members of the local entertainment industry and concerned citizens Tuesday night to host the second of five Citizen Advisory Group meetings regarding land-use definitions within the restaurant and entertainment industries.
About 100 people were at the Charlotte Mecklenburg Government Center to discuss updating the definitions of "restaurants" and "nightclubs" and how potential new definitions would apply to zoning ordinances. Unlike the first meeting, Campbell facilitated conversation by breaking attendees into groups of 16 to 20.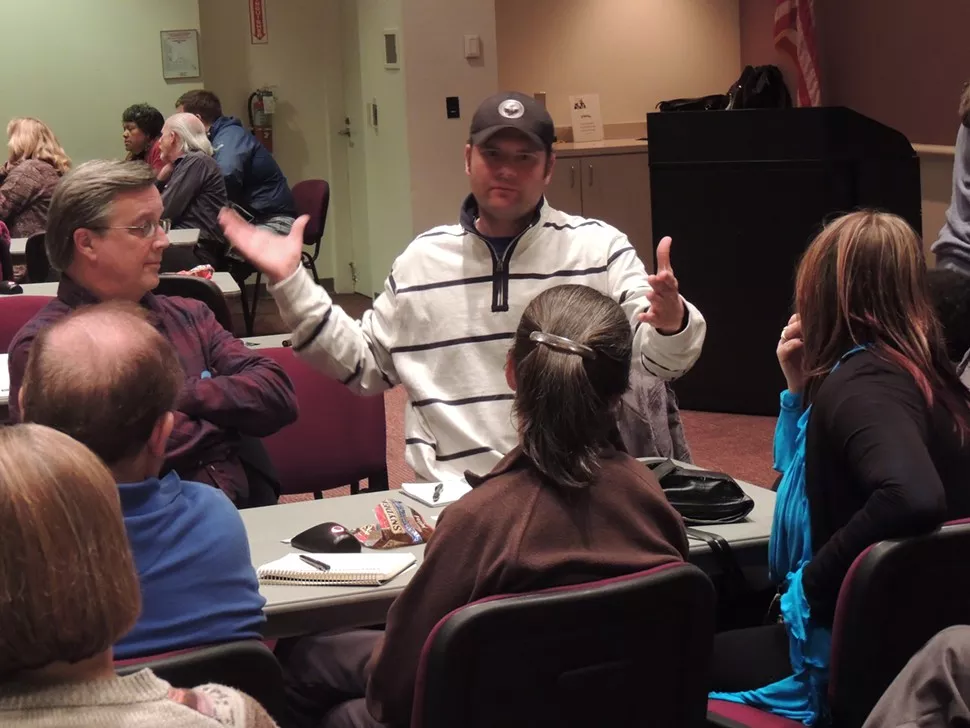 Chris Ingram, owner of Jack Beagle's and Salvador Deli, addresses his group.
As of now, a nightclub is defined as an establishment that serves alcohol and provides entertainment, including music and television. Nightclubs must be 400 feet or more from residential buildings or districts. Restaurants are defined as establishments that are designed, in whole or in part, to accommodate consumption of alcohol, and are not required to comply with any distance restrictions. The city has recognized that the definitions are confusing, since some restaurants and bars could technically be considered nightclubs, so it stopped enforcing the 400-foot separation requirement in 2012.
But residents still complain about noise and rowdy activity outside some bars and restaurants.
Some meeting attendees feared defining a bar - which technically isn't in the books - that plays music or houses pool tables as a "nightclub" would negatively impact businesses in neighborhoods such as NoDa, where homes push up against the busy bar district. Since many are within 400 feet of residences, they'd have to comply with noise restrictions - or fall victim to new ones.
Other business owners said that definitions aren't necessary as long as businesses complied with the city's noise ordinance and the ABC laws already in place. The noise ordinance, which took effect in June 2011, restricts the decibel level of outdoor music at certain times of night.
Between 2010 and 2011, 29 violations were issued by the city to businesses, all of which stemmed from complaints by neighbors. The majority violated the separation requirement, meaning that if police or zoning enforcement responded to a complaint and decided the business was within 400 feet of a residential area and operating as a nightclub - perhaps it had a pool table or karaoke machine - it was written up. Very few business were repeat offenders, Campbell said.
Some groups suggested creating new permits businesses could apply for that would relax restrictions for a small fee. Groups also suggested that "entertainment" be left out of future land-usage definitions, as it can encompass anything from live music to a television showing a basketball game, consequently lumping bars and large concert venues together.
The Planning Department will mull over the group's suggestions until the next meeting, on March 5, during which the Citizen Advisory Group hopes to begin work on official recommendations for City Council. A vote, if one is necessary, will happen in June.
Thomas Blue, a member of the Third Ward Neighborhood Association, said neighborhood representatives such as himself were outnumbered about eight to one by restaurant and entertainment-industry people at Tuesday's meeting. He was comforted, however, when he started to kick around ideas with his group.
"The vast majority of business owners and restaurant owners in Charlotte are responsible and responsive to their community," Blue said. "What we need is some sort of ordinance that will address those outliers who aren't."