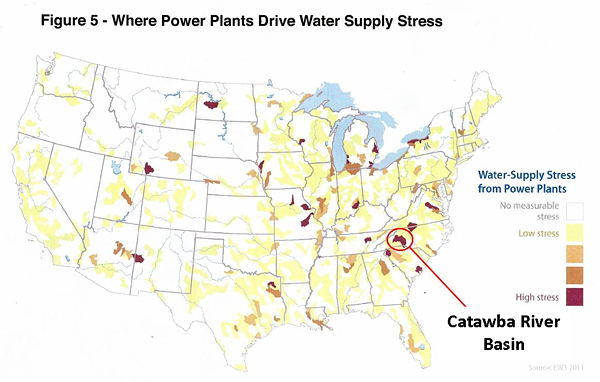 The Catawba River is stressed, and energy companies aren't helping.
Aurana Lewis of the Union of Concerned Scientists and Duke University presented the findings Monday night of a study she co-authored, "Freshwater Use by U.S. Power Plants: Electricity's Thirst for a Precious Resource." (It will be available online after 9 a.m. Tuesday.)
To sum up: It takes a lot of water to produce electricity and that consumption is putting stress on our freshwater sources.
On the Catawba River alone, energy companies "withdrawal 4.5 trillion gallons every day to cool their plants," said David Merryman, the Catawba Riverkeeeper.
He should know. The Catawba River Basin — the source of Charlotte and Mecklenburg County's drinking water and the river Merryman protects — was noted as one of the most stressed rivers in the country. In 2008 it was named one of America's most endangered rivers.
As far as what we can do to help lower the river's stress level, Lewis said, "Maybe we all should use a little less energy."
Her report, including information about the Catawba's stressors, will be the focus of WFAE's "Charlotte Talks" broadcast today, which airs live at 9 a.m. and is re-broadcast at 9 p.m. Tune in at 90.7 on your FM dial.
While in town, Lewis and other scientists are spending the day visiting with policy makers and business leaders, including some at Duke Energy's headquarters. This afternoon, they're taking a few members of the media on a boat ride after a press conference — so expect to hear a lot more about this report in the near future.