Fashion: Not only can it makes you look cool, but it can also make you feel cool, too.
Local apparel company Canvassed Apparel — known for gear catering to snowboarders, wakeboarders and skateboarders — is doing its part to raise money for the victims of Hurricane Sandy up north.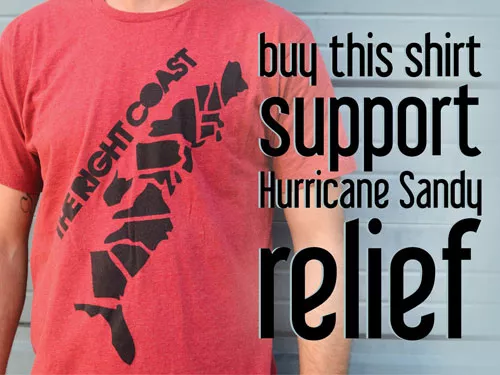 Due to the recent devastation of Hurricane Sandy's path up the east coast, Canvassed Apparel, a Charlotte-based clothing company, has released a special edition "Right Coast" t-shirt. $5 from every sale of this shirt between now and the end of the year to be donated to the American Red Cross to benefit Hurricane Sandy relief.

Also known as STZ (pronounced "steeze"), Canvassed Apparel brands heavily on the east coast's surf/skate/snow/wake industry. "We saw an opportunity to use our most popular product to generate support for those who are experiencing the aftermath of Hurricane Sandy," said STZ - Canvassed Apparel co-owner, Todd Clark. "The Right Coast tee design has been part of our line for quite some time. As our most popular graphic, we saw fitting to pair it with a message and opportunity for our followers to unite for a great cause."
"A big part of our philosophy is our philanthropy of social responsibility," Canvassed Apparel co-owner Todd Clark told CL in a previous interview. "We want to be that company that gives back to the community because the community is what makes you."
The special edition colorway of the Right Coast t-shirt is available at www.CanvassedApparel.com for $20, $5 of which will be donated directly to support the American Red Cross relief efforts for Hurricane Sandy.