One of the most exciting nights of a mini stylista's life is the prom. This is where it all begins.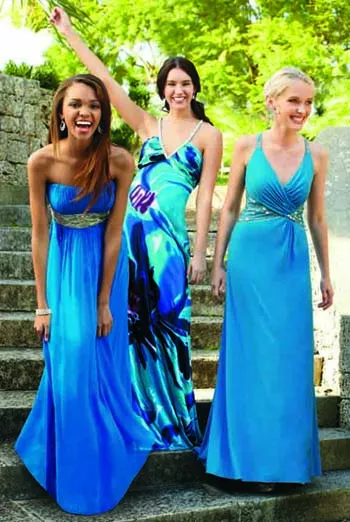 I remember a time when finding the perfect dress was all I could think about for months before the occasion. It really is all about the dress. Sorry guys, but on this night, the girls rule.
If you or another budding fashionista you know are still in search of just the right look, come out to Belk in SouthPark Mall (the second floor) at 2 p.m. this Saturday, March 31 and get some new ideas during their Prom Gown Fashion Show.
Two new designer collections will join the Belk's selection of prom dresses this year, and I for one am looking forward to seeing how fashion icon Jessica Simpson's collection will be. Her shoes, handbags and accessories somehow always find their way to the top of my "must haves" list, and I've heard her prom wear was designed to help girls achieve their own red carpet style. The looks are inspired by Simpson's own designer gowns and are designed to flatter a variety of body types.

The second addition is Aidan Mattox designs. Lots of celebs wear looks by this designer, so naturally, the dresses are inspired by the elegance of Hollywood. The looks are sexy, but not too grown up since looking classy is of the utmost importance this year. As is dress length.
By all accounts, in looking over the 15 different designers Belk is offering prom dresses by, it seems that long hemlines will be the style of the night. So, I decided to check in with the Belk PR team to get a few more style tips to share with all you excited shoppers. According to Michele Dickey from Panorama Public Relations:

* Everyone will be wearing satin, taffetas and chiffons. Chiffon takes on prints and high-low hemlines.
* The color palette ranges from neutrals to bold bright colors.
* A favorite silhouette is the big, Cinderella-worthy ball gown and the single shoulder strap.
* Â Don't forget bows and beaded embellishment - sequined fabrics scream bling.

Now, that's a perfect guideline for helping young ladies look their absolute best if I've ever heard one. Hope to see you all there!
T. Strong is a TV personality, personal stylist and fashion journalist who contributes commentary on Creative Loafing's Klepto blog in addition to writing for several other national media organizations. To learn more visit www.StyleMayvin.com or follow therealtstrong on Twitter.