Last night, Creative Loafing hosted its first ever Iron Fork event at [email protected]
For our first foray into a foodie event, I think it went pretty well. There were a few problems, but that's to be expected for a first-time event. You live and you learn, right?
As a judge, I probably had the best seat in the house ...
... front and center, for everyone to watch me eat. I certainly hadn't planned for that kind of scrutiny. And when presented with an inventive dish that I was unsure of how to tackle, such as that which was concocted by Chef Zack Gadberry of Vivace, all semblances of a poker face vanished. (Side note: It was really good.)
But congratulations go to Chef Geoff Bragg of The Peculiar Rabbit - he took home the Golden Fork award.
Here are some more photos from the event.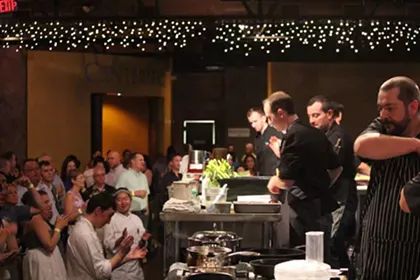 30 slides